Introduction
As full-time RVers, we sometimes have to get creative on how we get connected to the internet. For the past 2 years, our setup has worked pretty well for us.
This winter, we're staying in a family-run RV park in Vermont. It's going to get cold and snowy, and having fast and reliable internet is essential. As is typical, the RV park's WiFi is very slow, and AT&T signal here is terrible - fortunately Verizon has been fairly good so far, averaging around 10-15Mbps.
As it happens, this area is served by Comcast for Xfinity internet, and after speaking with the RV park owner, he was happy for us to have Xfinity cable internet installed...at our site! Several other sites are already wired up, but ours wasn't one of the lucky ones.
So we phoned Comcast to get the ball rolling and get ourselves some nice fast cable!
Laying the Cable
You'll want to plan ahead for this if possible - plan on this process taking a few weeks....or more.
Even though our neighbor's site has an internet cable, Xfinity insisted on doing a site survey which determined they'd have to run a new cable back to a junction box a few hundred feet away. Since this also crossed a small (unpaved) road in the RV park, they were unable to install a temporary cable for us.
After the surveryor, we should have been contacted by the construction team, but a week passed with no call. I contacted the local Xfinity store and they decided to just place the order which would schedule the construction team visit.
The appointment was scheduled for the following week, and we were a little disappointed when a technician in a truck turned up. He agreed a trench needed digging, and was only there to take photographs and put in a work order. That could take some time, especially as we enter winter and the ground freezes.
But, he revealed a new option that the site surveyor had said wasn't possible - we could put a splitter on our neighbor's line and use that! As long as the signal quality was strong, that would work fine since the line can support far more bandwidth than either of us will be able to use on our plans.
Since I didn't have the modem yet, he left me the splitter, a couple of MoCa filters and some weatherproof cables so I could install it myself later.
Cable Modem & RV Wiring
Xfinity offers the ability to rent one of their modems for $14 per month. Even though we'd only be here for about 4 months, I still preferred to buy our own than rent theirs - there are much better modems out there!
I went with an ARRIS SURFboard SB6190 modem which is capable of far higher speeds than the 100Mbps plan we're using - but it gives us the option to upgrade in future if we need more bandwidth.
Our RV came with two coax connectors on the outside of the RV that run to two coax connectors inside the RV, just above the TV - and right next to the rest of our networking gear. One of these coax connectors, labeled TV, has a booster built in and is designed for TV signals. We don't want that booster in the circuit, so I used the other port - labeled DSS SAT.
Note: Some RVs use low quality wire, or have very long runs for these connections. We're lucky in that Outdoors RV appears to use good quality wires and the run is only about 8ft straight up the wall and across the ceiling. If you can't use these connectors, you'll need to find another way to get the cable inside the RV.
Outside, I wired up the splitter and MoCa filters per the technician's instructions - very simple. This split the incoming cable to our neighbor and to us - I connected our cable to the coax connector outside, ensuring all fittings were nice and secure. Each connector had a rubber sheath at the end to keep things weatherproof.
Inside, I connected the cable modem to the coax connector above our TV, and plugged it into power. I followed the instructions to activate the modem with Xfinity and within 5 minutes, we were online.
The ARRIS SURFboard SB6190 is just a modem - it's not a router. We have a more complex networking setup than most in our RV, but to get us up and running quickly, I plugged it into the WAN port of our Pepwave MAX BR1 router using an ethernet cable.
Xfinity Plans
Xfinity offers plans with a whole range of download and upload speeds. We chose to go with their Performance Internet plan which offers 100Mbps download speed and 5Mbps upload for $39.99 per month. We also made sure to pick a plan with no minimum term limit, so we can cancel when we leave the RV park without penalty.
Right now we're running on our temporary line (i.e. the splitter on our neighbor's line) and it's working great! Honestly, if it stays like this all winter, that's fine by us! We ran a speed test shortly after we got connected, and we're pretty happy with the results!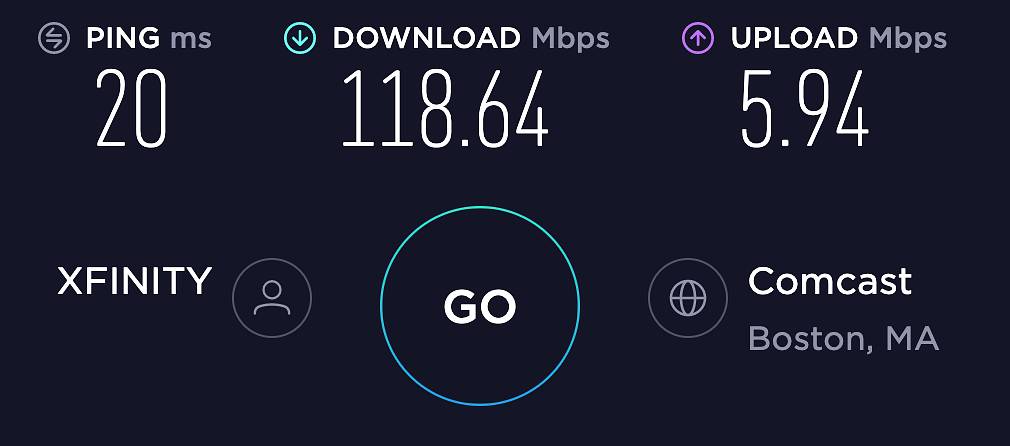 We'll be keeping our Verizon plan active anyway (we're grandfathered so we need to keep it going or we'll lose it) so if we do have any issues, we've got a fallback.
And if, for some reason, we decide we need more bandwidth, we can get speeds of 300Mbps, 600Mbps or even 1Gbps.
We were charged $79.99 for the installation which has got us connected so far with the splitter, but should also include digging the trench and burying a new cable for our site too...if they manage to get to it before the ground freezes!
Summary
If we keep Xfinity for 4 months, we'll have paid a total of about $340 including the modem, which works out at about $85 per month - plus the modem is ours to keep! That's only a little more than we're paying for our Verizon cellular data plan, and quite a lot less than we were paying for our AT&T plan (which we've canceled).
So overall, we're now paying less each month for internet than we were while on the road. Plus, it's much faster!
Being so far from the cell towers, there's a good chance that our Verizon connection could suffer during bad weather. While Xfinity may not be 100% reliable, it should be plenty for our needs - plus we still have the Verizon plan as a backup!
While getting hard-wired cable internet might seem like an odd choice for RVers, if you're going to be in one location for an extended period, it might just work out for you too.
Now, to find some things to download....
Photo by Leon Seibert on Unsplash.