As an Amazon Associate we earn from qualifying purchases.
In late 2019 I had stumbled across the Wyze Cam v2, an inexpensive wireless camera. With full 1080p HD quality, IR LEDs for night vision, connectivity via WiFi and being powered by micro USB, I picked one up to have a play with.
I was really impressed! Small, lightweight, and it even has RTSP support through an optional firmware install, so I was able to integrate it into Home Assistant too.
We didn't permanently install it, but rather just plugged it in when necessary. Sometimes when were boondocking alone in a remote location, we would leave the camera running inside if we were going to be out for the day.
After our big office remodel, we used its magnetic base to affix it to the stove hood on travel days so we could peak inside the trailer and make sure our office chairs were staying put!
But there was one big drawback. The Wyze Cam v2 isn't waterproof.
Yes, you can buy waterproof cases (and I did), but I didn't feel comfortable enough with them to install them on our trailer - especially given I'd likely have had to drill some holes to run the wiring to power them.
There were rumors in the Wyze forums that an outdoor camera was being developed. These rumors were confirmed by Wyze staff, and in July 2020 the brand new Wyze Cam Outdoor was made available for pre-order.
Wyze Cam Outdoor
Although the Wyze Cam Outdoor resembles the existing Wyze Cam v2, there are a few differences.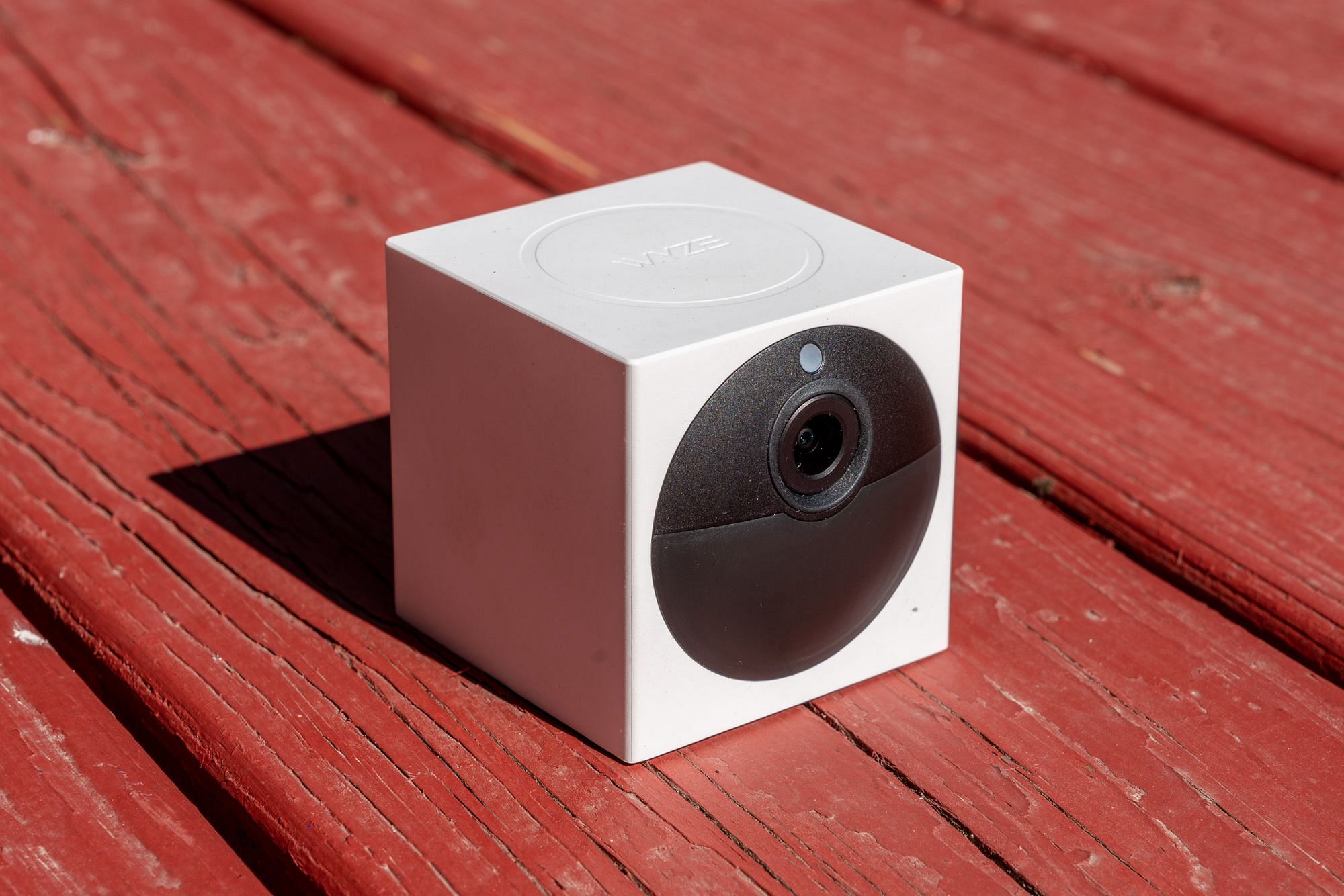 First, and maybe most obviously, it's IP65 rated meaning it's protected from dust ingress and low pressure water jets from any direction. In other words, it should be good for outdoor use, but don't go mounting it underwater!
Second, and somewhat controversially on the forums, it has an integrated battery (actually, 2x 2,600mAh batteries) so it can act completely wirelessly. Wyze claim that the battery should last 3-6 months (depending on usage and conditions) - more on that later.
The camera is charged using a micro USB port on the back, behind a small rubber cover. In theory I guess you could leave it plugged in all the time, but then it wouldn't be weatherproof so you might as well just use a regular Wyze Cam v2 instead.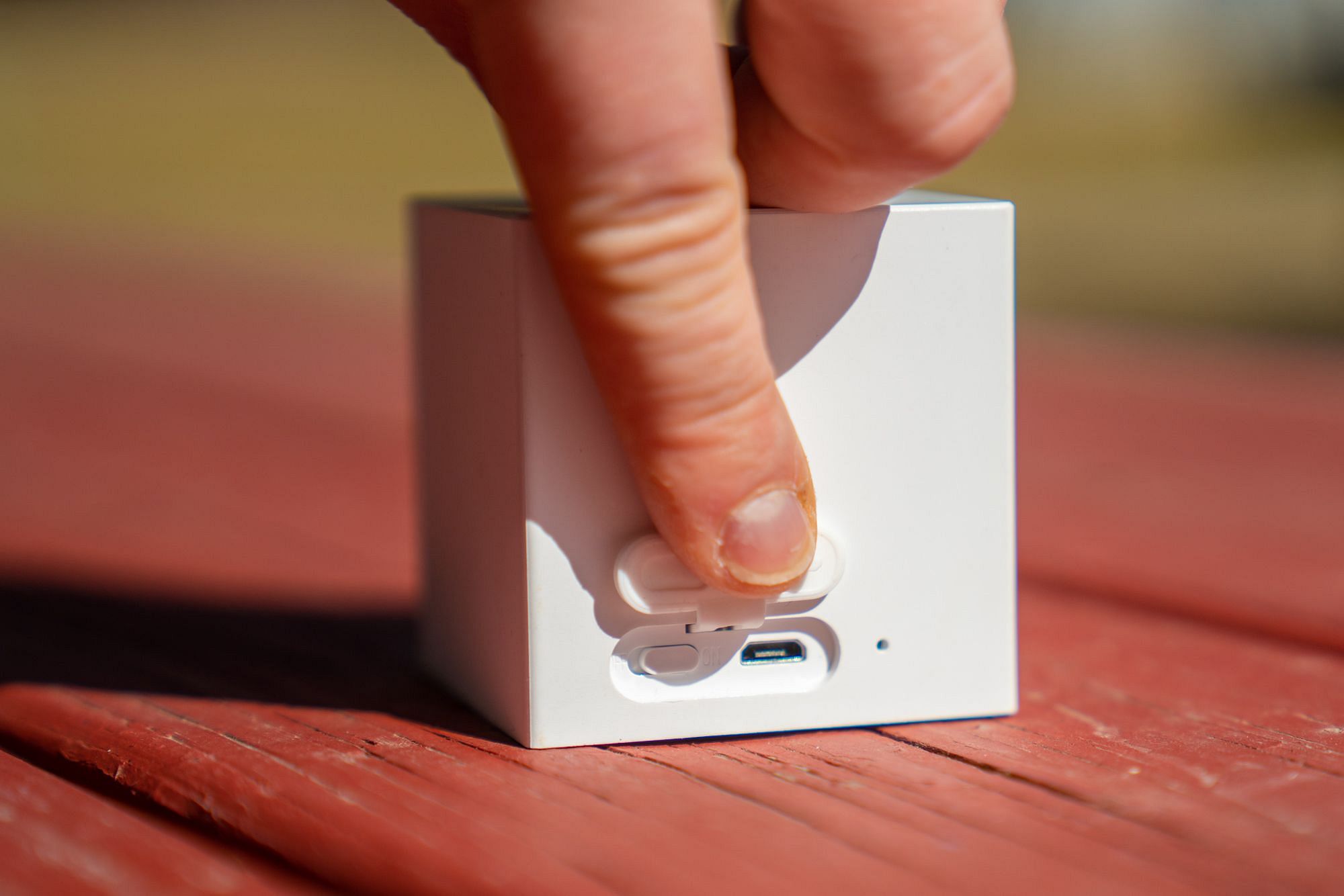 Last, and this is a big one, the cameras themselves aren't directly connected to your WiFi and the internet, but instead they connect to a base station which in turn connects to the cloud.
Wyze Cam Base Station
When it was first released, the base station was required to be connected to your network via ethernet. Since then however, they've updated the firmware on it so that it only needs to be connected via ethernet during set up, and after that it can be connected via WiFi - note that it only supports 2.4GHz and not 5GHz though.
Also, because of the way these cameras connect, they don't support RTSP - there's no option to feed these into a home automation system or NVR for example. Each base station can connect to up to 4 outdoor cameras.
Still, I was excited to try these cameras out so I jumped on the pre-order and bought a bundle including the base station and two cameras. You can now easily buy base station bundles with 1 camera, 2 cameras, 3 cameras, 4 cameras or just buy add-on cameras individually - but remember you'll need a base station!
Installation
Our pre-order was delivered in two separate shipments in September and early October. Since we're full-time RVers, we had had the shipments sent to our mailing address in Texas, and then had them forwarded onto us at a nearby FedEx location around mid-October.
I've read a few reviews where people struggled to get the base station and cameras set up, but I didn't run into any problems. For set up, I plugged in the provided base station power adapter, connected it via an ethernet cable to our network switch, and was able to pair the cameras.
Once everything was working properly, I put the cameras on charge and permanently installed the base station alongside the rest of our networking gear behind our TV in the RV.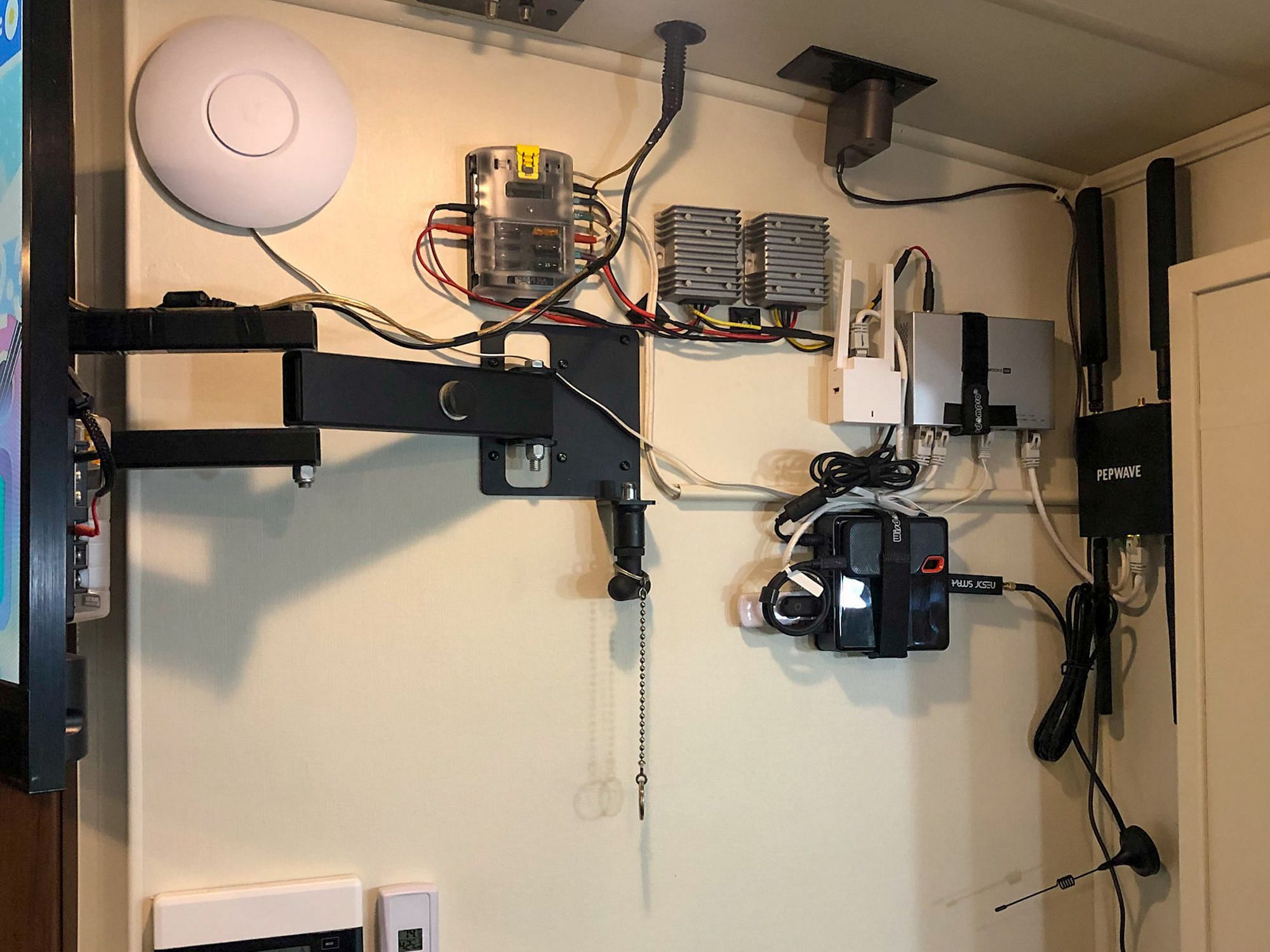 The base station adapter provides 12V power, so I was able to wire it directly to the 12V fuse block behind the TV and skip the power adapter - meaning it works even when we have no shore power and our inverter is off. In a normal home setting this wouldn't be necessary, but is a very useful feature for RVers like us who often have 12V readily available but 110V is a little trickier.
The cameras themselves are magnetically attached to a mounting bracket that offers a wide range of motion to angle the camera however you want.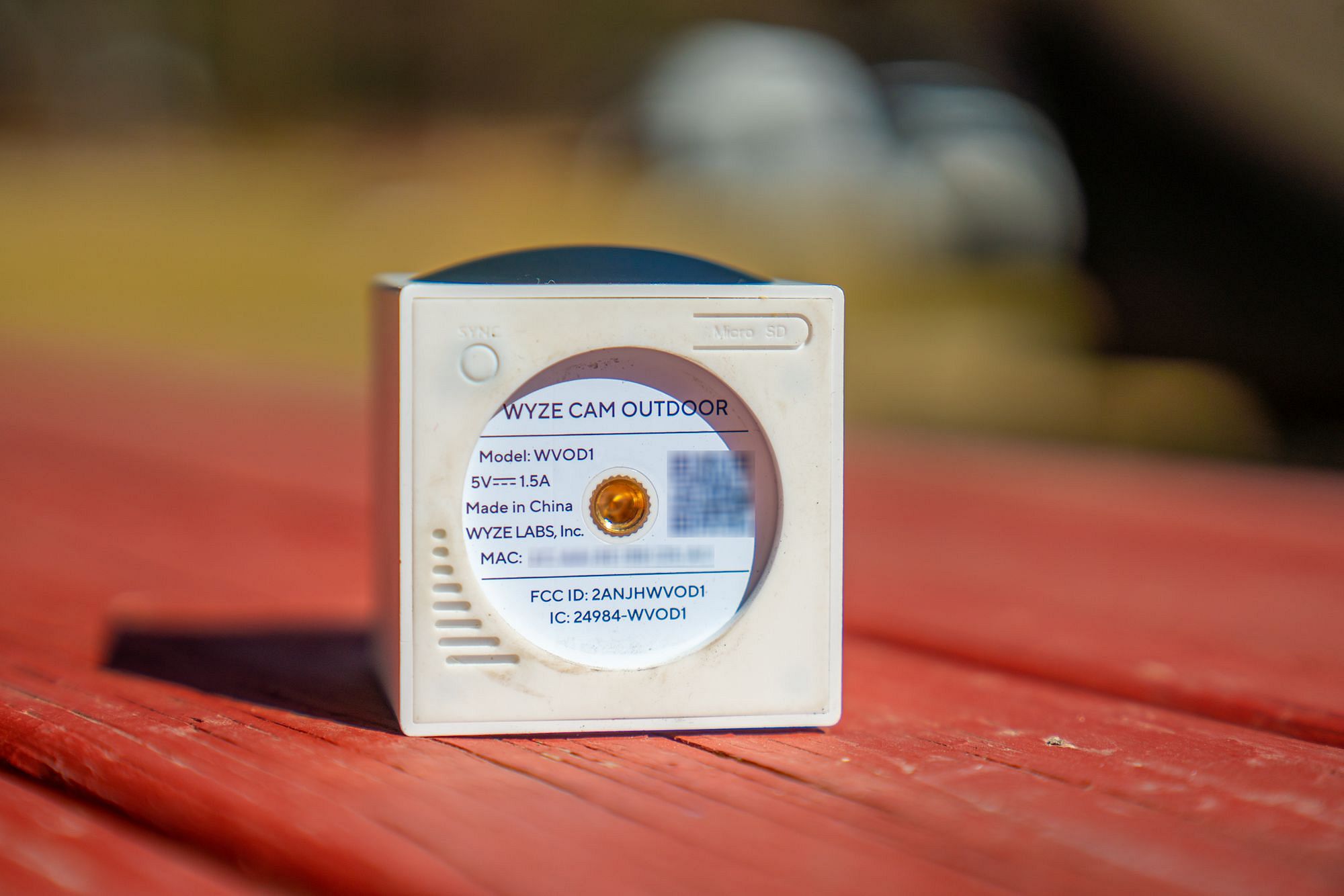 We chose to mount one camera on the front of our trailer, pointing directly forward. It's been particularly useful this winter as the camera is pointed at our truck so we can keep an eye on that too, but also see if the propane delivery truck has stopped by while we're out!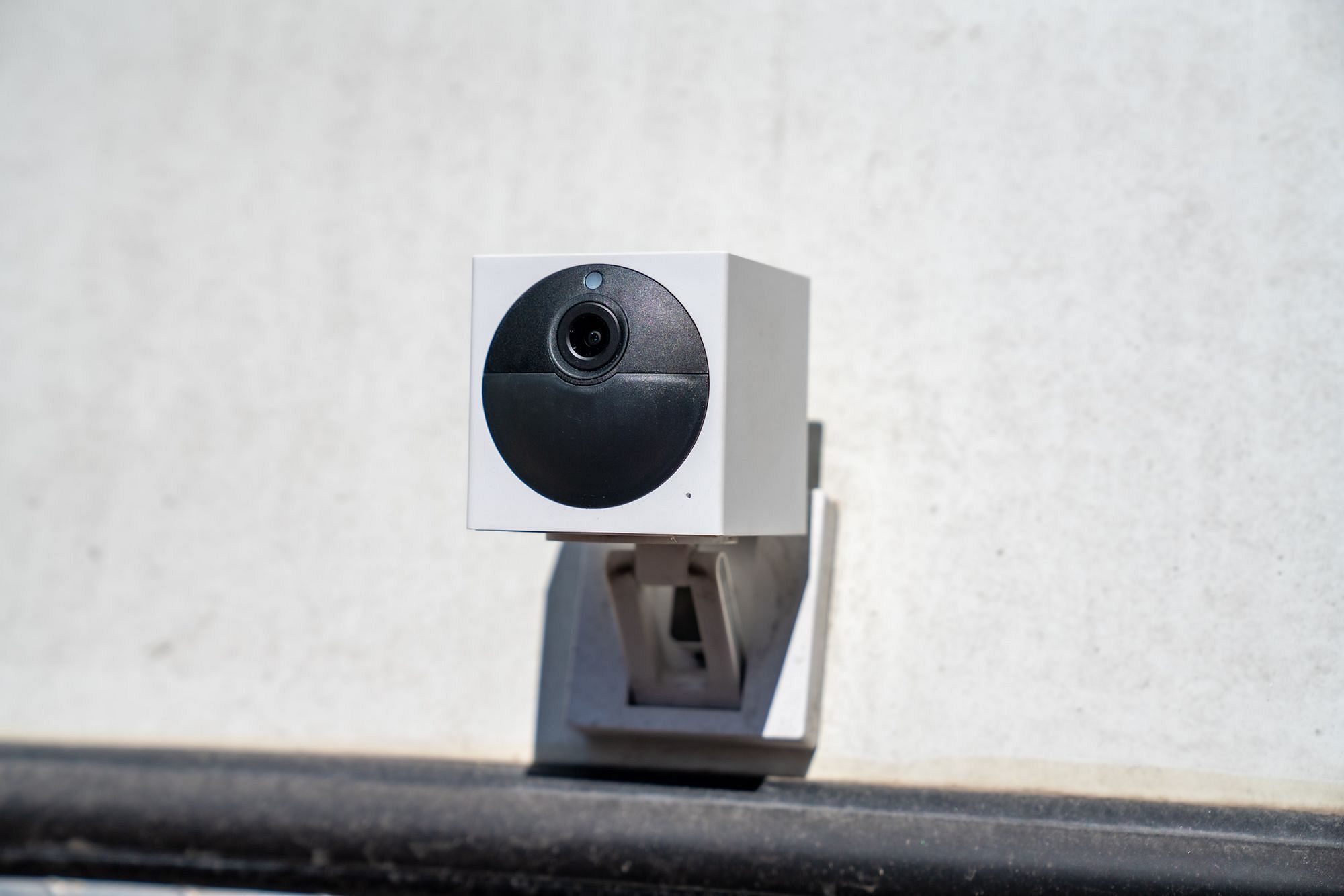 The second camera is slightly more security-focused, mounted on the side of the trailer, partially hidden by our awning support arms and aimed such that its field of view is covering the side of our trailer and the door. Someone approaching the RV likely wouldn't even see that camera, and it's mounted high-up above the reach of most people anyway.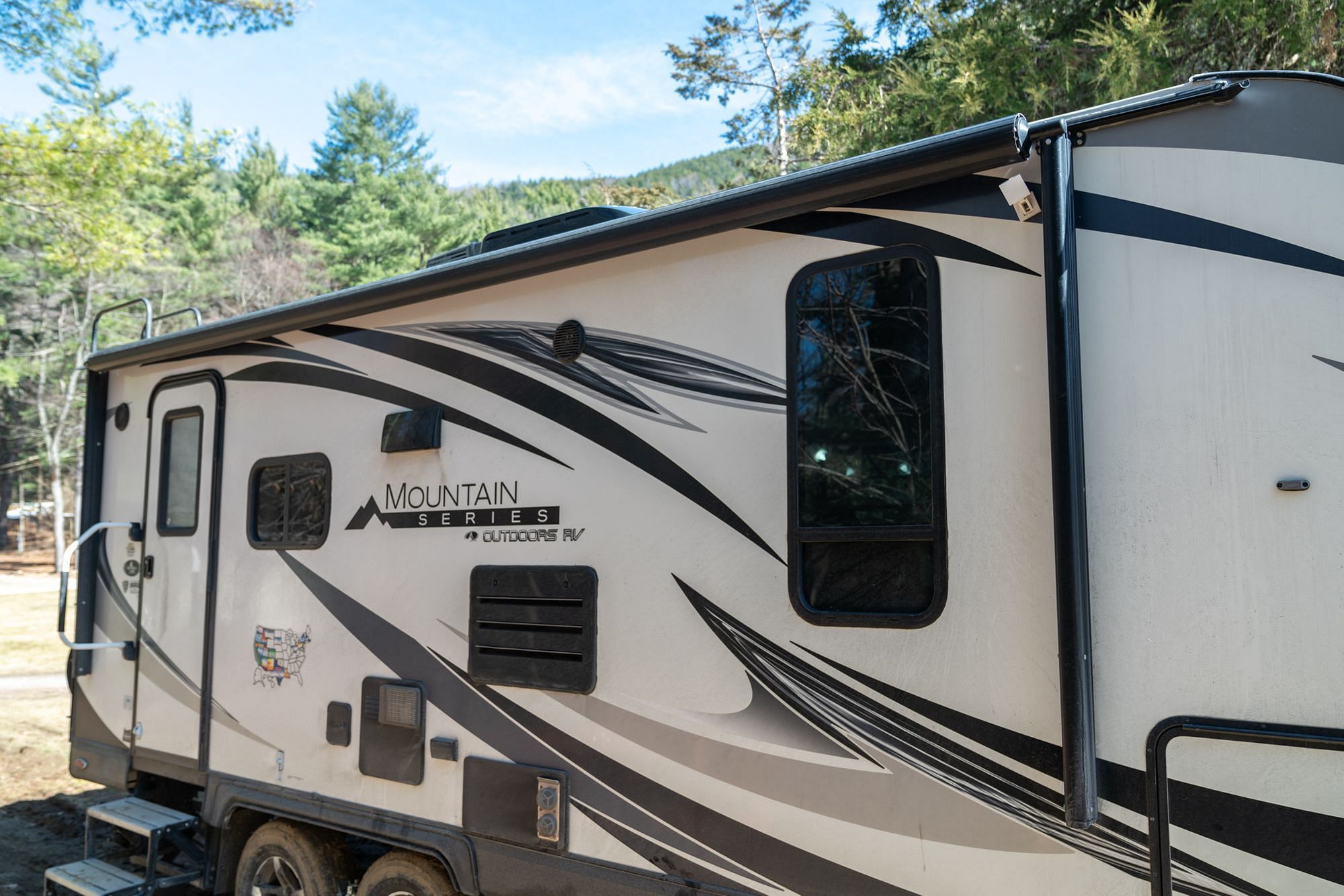 Rather than attaching the mounts to the RV with screws, we instead used 3M VHB 4611 tape. We've used this in several places around the RV to mount various sensors and electronic devices (e.g. our Apple TV) as it's not only incredibly strong but also resistant to temperature extremes and moisture.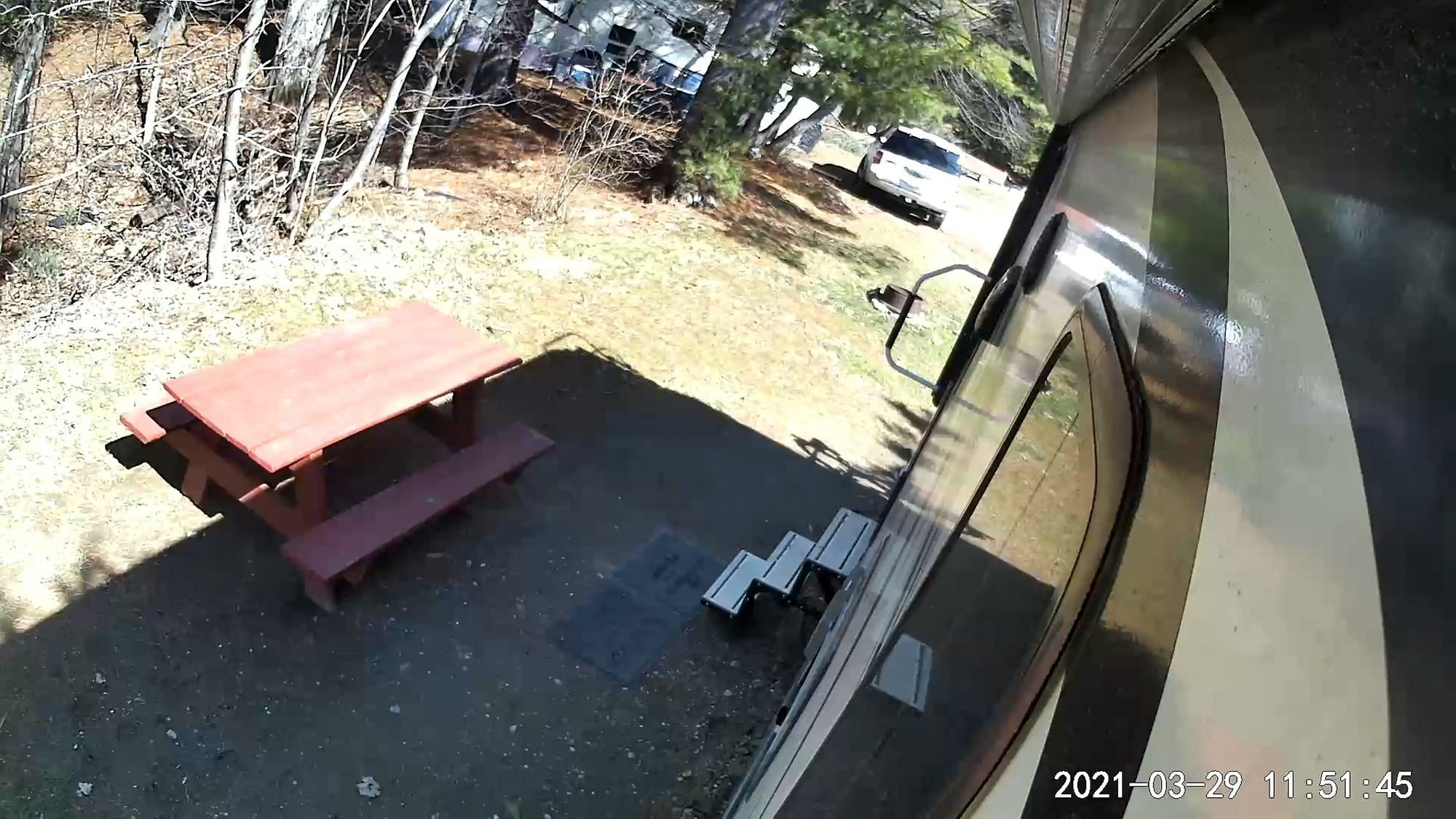 Although the magnet that attaches the camera to the mount does feel very strong, we remove the cameras from the mount when traveling. It only takes seconds to reattach each one though - no tools required!
Battery Life
The decision to incorporate a battery into the camera was pretty controversial on the forums - and honestly, I was a little apprehensive too. Some people were hoping for a hardwired option, or maybe a solar powered design.
However, at least for us, those fears have been unfounded.
In early November 2020, we arrived at our winter camping spot in Vermont and attached the cameras to our RV. The camera at the front is easy to get to so I did remove it to charge it once, but the camera mounted high-up on our trailer was much harder to get to and stayed in place all winter.
By the time we moved the trailer to head to Oregon in early March (about 4 months later), its battery was down to 30%. I was impressed!
Here's what Wyze has to say about the battery life:
The battery can last up to 3 to 6 months with normal usage (about 10-20 Event alerts per day). Battery life varies based on settings, usage, and environment temperature.
In our case, this camera had probably had fewer events per day (maybe 1-10 depending on the day), but had been in some pretty extreme conditions - days on end below freezing and dropping down below 0°F at times!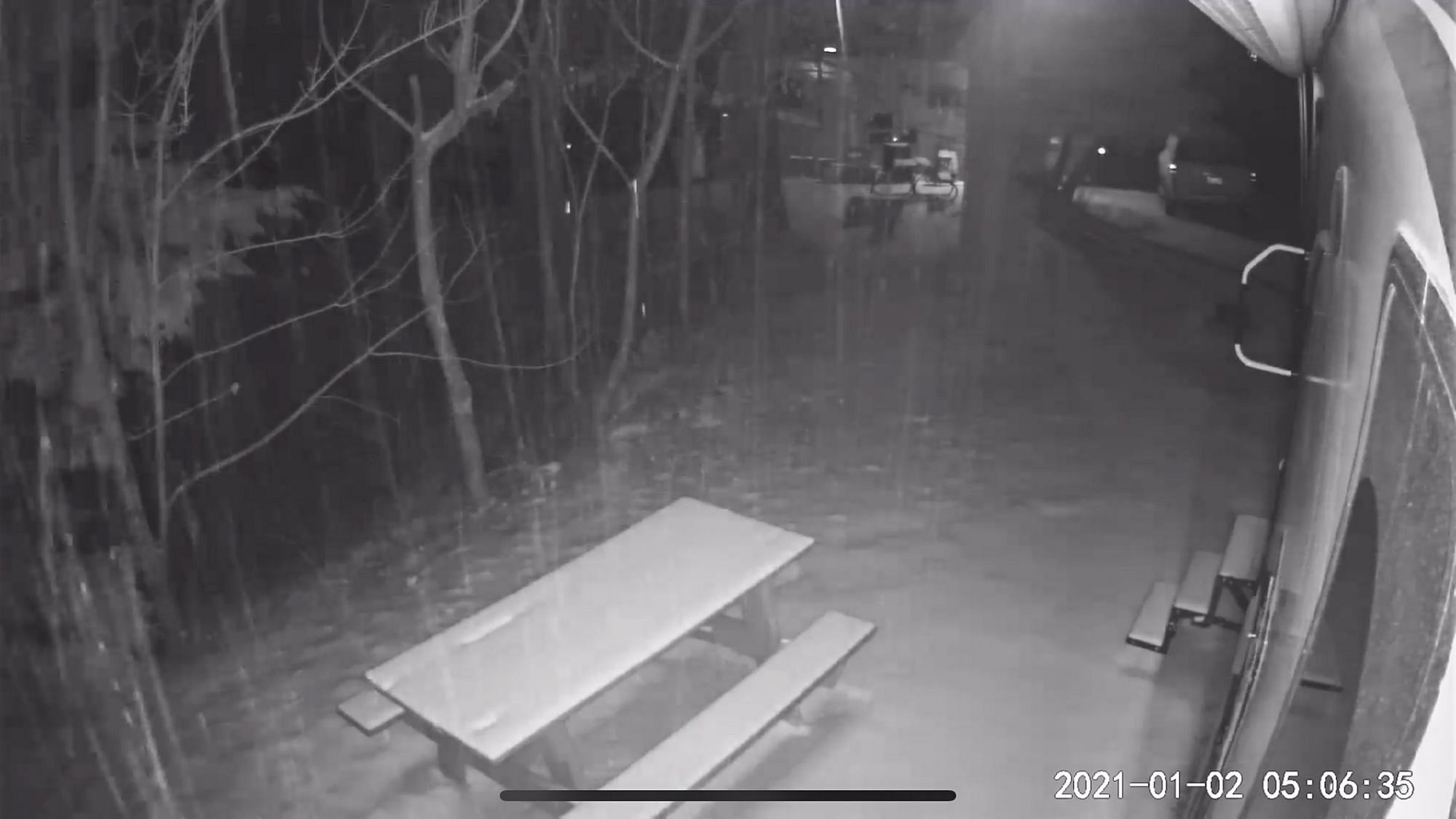 Our camera battery was still at 30% after 4 months in those conditions, so in my opinion, the guidance from Wyze seems pretty accurate, and the battery life is very respectable!
My hypothesis is that the cameras use very little power while idle, but anything that causes them to start capturing video will use significant power. So if your camera is mounted somewhere that will cause its motion detection to be triggered frequently, or you like to connect to the camera and watch the live stream, then expect the battery life to be significantly lower.
I've read a few reviews suggestion that the cameras take a really long time to charge - is that true? Well, maybe. Honestly, I've not charged them very often, and I've never timed it - instead we've typically just put them on charge overnight or for several hours during the day and they've been charged by the time we went connected them again.
For something that needs recharging so infrequently, I'm not convinced that slow charging is a big problem - it's no different to my electric toothbrush to be honest!
Motion Detection
Unlike the Wyze Cam v2 which uses a pixel comparison algorithm to detect motion (i.e. it looks for motion in the video feed), the Wyze Cam Outdoor uses a Passive Infrared (PIR) sensor. This was almost certainly done to improve battery life, but in our experience at least, it seems to work really well!
The PIR only has an effective area in the lower half of the frame, so it's important to consider this when choosing your camera placement - the app has a guide to help with this.
Also in the app you can set the detection distance and image sensitivity. To be completely honest, I couldn't really see a difference when I adjusted them up and down so I've left them roughly in the middle of the ranges and this seems to work fine. The cameras reliably pick up people walking towards our trailer or cars driving past on the road, but don't give false positives for branches blowing in the wind or heavy snow storms.
When motion is detected, the camera begins recording for 12 seconds and then enters a cooldown period - you can choose 1 minute, 3 minutes or 5 minutes. This is an important detail, as it means the camera will potentially stop recording before motion has stopped - e.g. before the person has left the scene.
There is a micro SD card slot on the camera which can be used for scheduled recordings or time lapses, or you can install a micro SD card in the base station and it will save the 12-second motion-triggered recordings there.
What I really like is that the 12-second recordings will be automatically uploaded to the Wyze cloud and stored for 2 weeks. This is completely free - no subscription required - and is exactly what we use.
Wyze Cam Plus
If the 12-second recording duration is a problem for you, then you might want to consider a Wyze Cam Plus subscription.
At the time of writing, a Wyze Cam Plus subscription costs just $1.99/month or $15/year per camera and adds a lot of features. Recordings are no longer limited to 12 seconds, and the cooldown period can be eliminated entirely.
Additionally, it provides specific detection for people, packages and vehicles (as opposed to just generic "motion") and their website promises that facial recognition and pet detection are coming soon too.
Again, there's no obligation to pay for a subscription to use your Wyze Cam Outdoor - they promise that the basic plan will always be free. But if you want more capability, then you might want to check out Wyze Cam Plus.
Vehicle Security
We always remove the cameras from our RV before travel, and typically just keep them inside the car - it's also a good opportunity to recharge them.
On our recent trip to Oregon and back, we were leaving the truck empty overnight - either as we slept in a hotel or our trailer. Although we didn't leave anything of value inside the truck, we did have a few things in there so wanted a little extra protection.
Since the Wyze cameras were sitting unused, we decided to turn them on each evening and leave them in the truck - one at the front pointing backwards, and another at the back pointing forwards. It wasn't a perfect arrangement, but was easy to set up and fairly discrete - if someone had come looking through the windows, it should have picked them up and alerted us.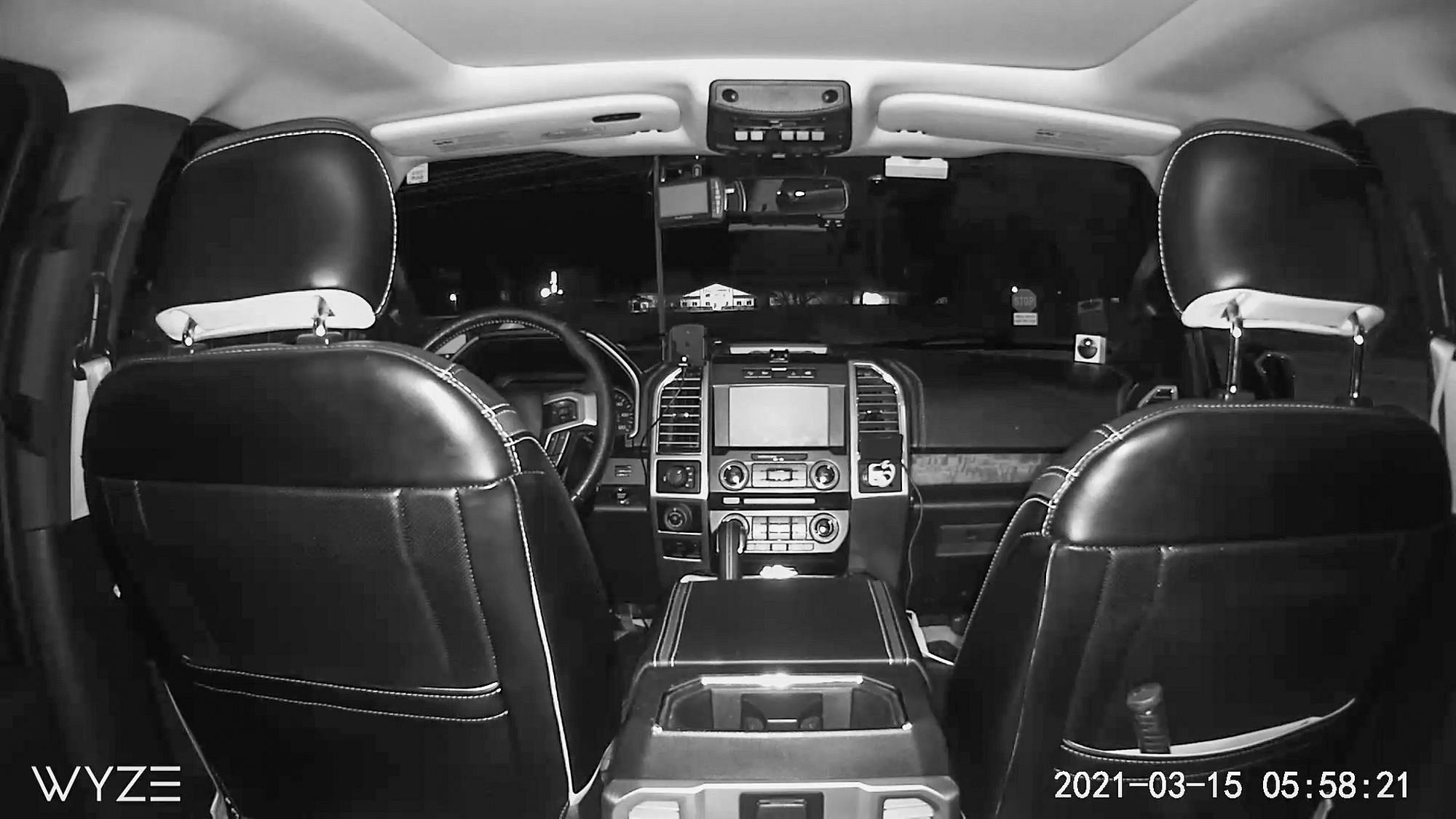 We have a cellular modem inside our RV, so with the truck hooked up to the trailer, the Wyze cameras had no problem reaching the base station in the RV and hence connectivity to the internet.
However, the Wyze Cam Outdoor also has a featured called Travel Mode. In this mode, it records timelapses and motion-triggered events to a micro SD card installed in the camera itself. So although you won't get the alerts, this could be an option to capture the recordings to review later.
Summary
Security isn't something we worry about excessively when RVing - if we arrived somewhere and it didn't feel safe, then we'd leave and find somewhere else.
That said, we still take basic precautions - like locking up the RV and our possessions. But even then, sometimes that's not enough - as we learned when thieves stole our portable solar panel, despite it being cable locked to the trailer.
For us, the Wyze Cam Outdoor is an inexpensive additional layer of security, letting us keep an eye on what's going on even when we're not at home. But the uses of a camera like this go beyond security. This winter we've been able to use it to see when we've had a package dropped off, or had our propane refilled.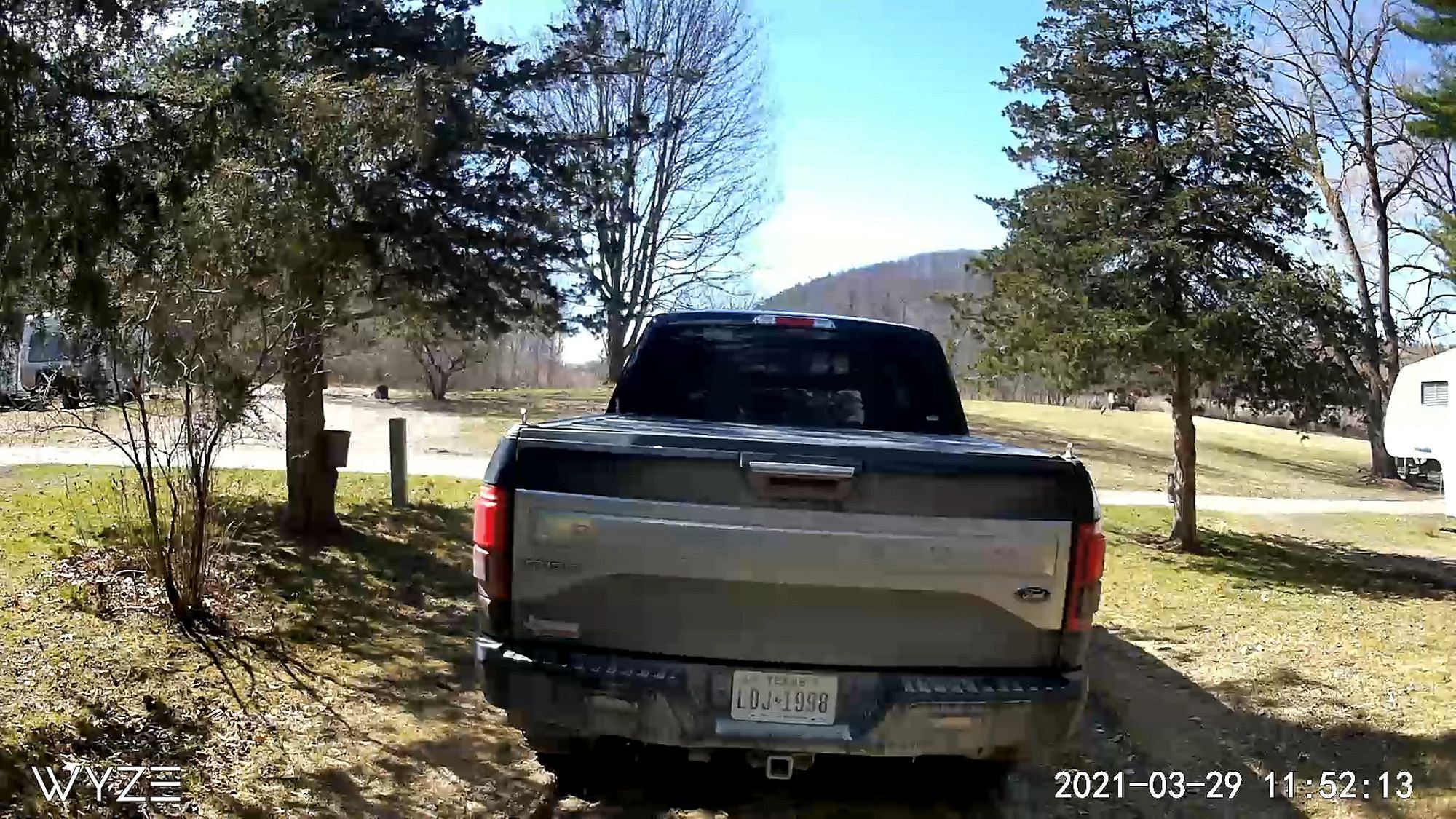 Early last year when we were in the Arizona desert, we even deployed our Wyze Cam v2 outside overnight (when we knew it wasn't going to rain) to try and capture the wildlife we could hear. The results were pretty awesome - we captured video of a tarantula climbing out of its burrow, and an inquisitive coyote coming to investigate our camp!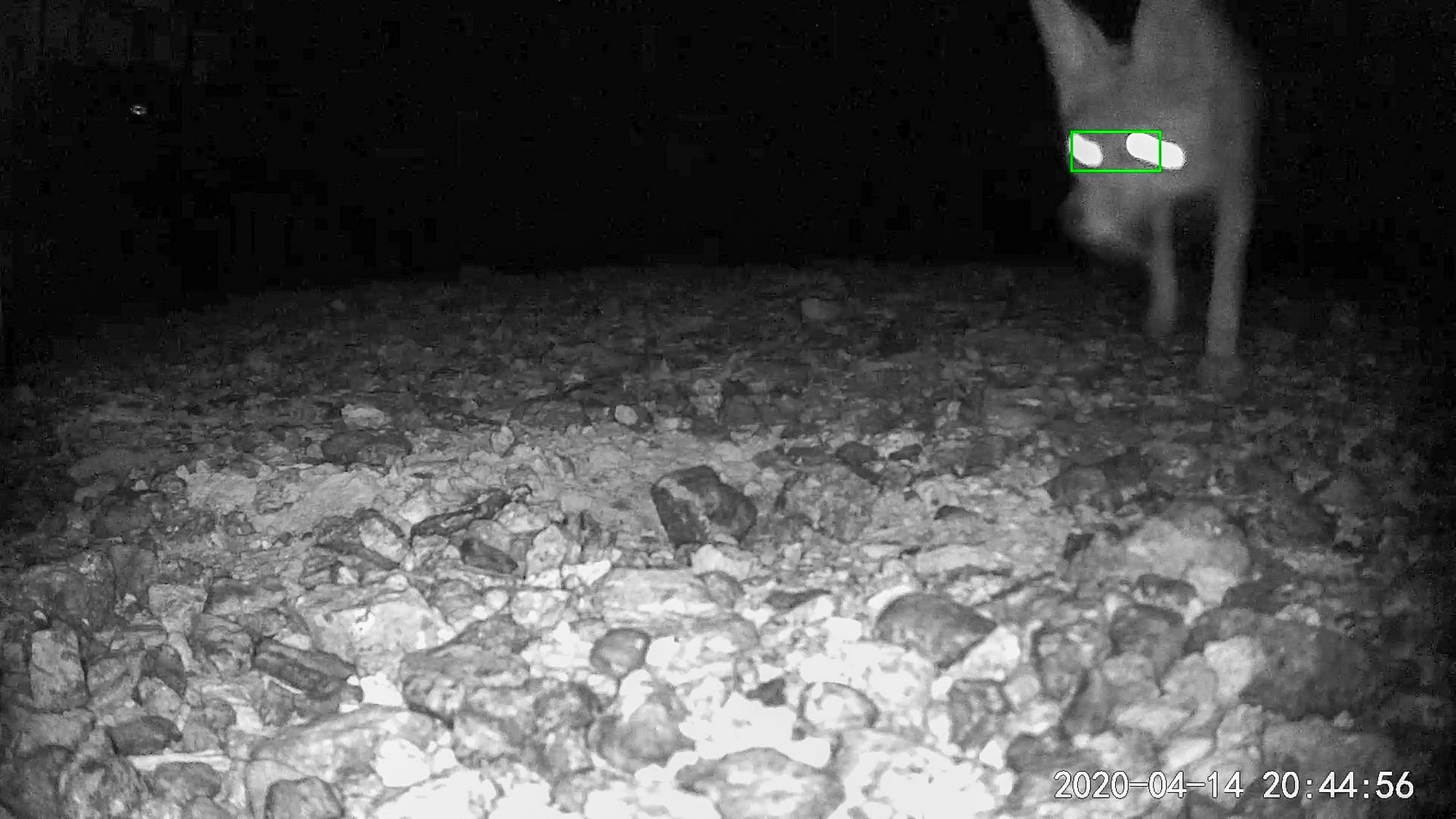 If you're a full-time RVer, then it's likely that you already have internet connectivity inside your RV (either for work or leisure) and may appreciate the additional security offered by the Wyze Cam Outdoor.
If you use your RV recreationally, then maybe you might consider using the Wyze Cam Outdoor while your RV is in storage. Even if it doesn't have internet connectivity, it may record any suspicious activity that you could later review and take appropriate measures to ensure your RV remains safe.
Obviously its uses go well beyond RVers. For a full home security system I'd probably lean towards a network of hardwired PoE IP cameras, but if you're looking for something simpler then the Wyze Cam Outdoor may be a great option for you with its easy setup, versatile mounting options and completely wire-free design.