Electrical service installed
Last Monday morning, our contact from the electric company came to check on the site and make sure everything was ready for the line crew to turn up and install our electric service. He gave us the green light and put us in the schedule - we were told it should be in the next week or so. It then proceeded to rain almost every day, and soon the week had come and gone with no sign of the line crew.
On Monday morning, with batteries low and a mixed forecast for later in the day, I went outside to run the generator. Coming back inside, I said to Diana: "I wonder if this will be the last time we have to run the generator to charge the RV batteries".
So, at 8:22am, I emailed our contact to see if he knew when we were scheduled. Just 5 minutes later, at 8:27am, I got a reply: "Matt, it is scheduled for today."
We knew from experience that they typically turn up shortly after 9am, so we quickly started getting ready. Sure enough, just a few minutes after 9am, the trucks started appearing - 3 large trucks and a pickup with a trailer.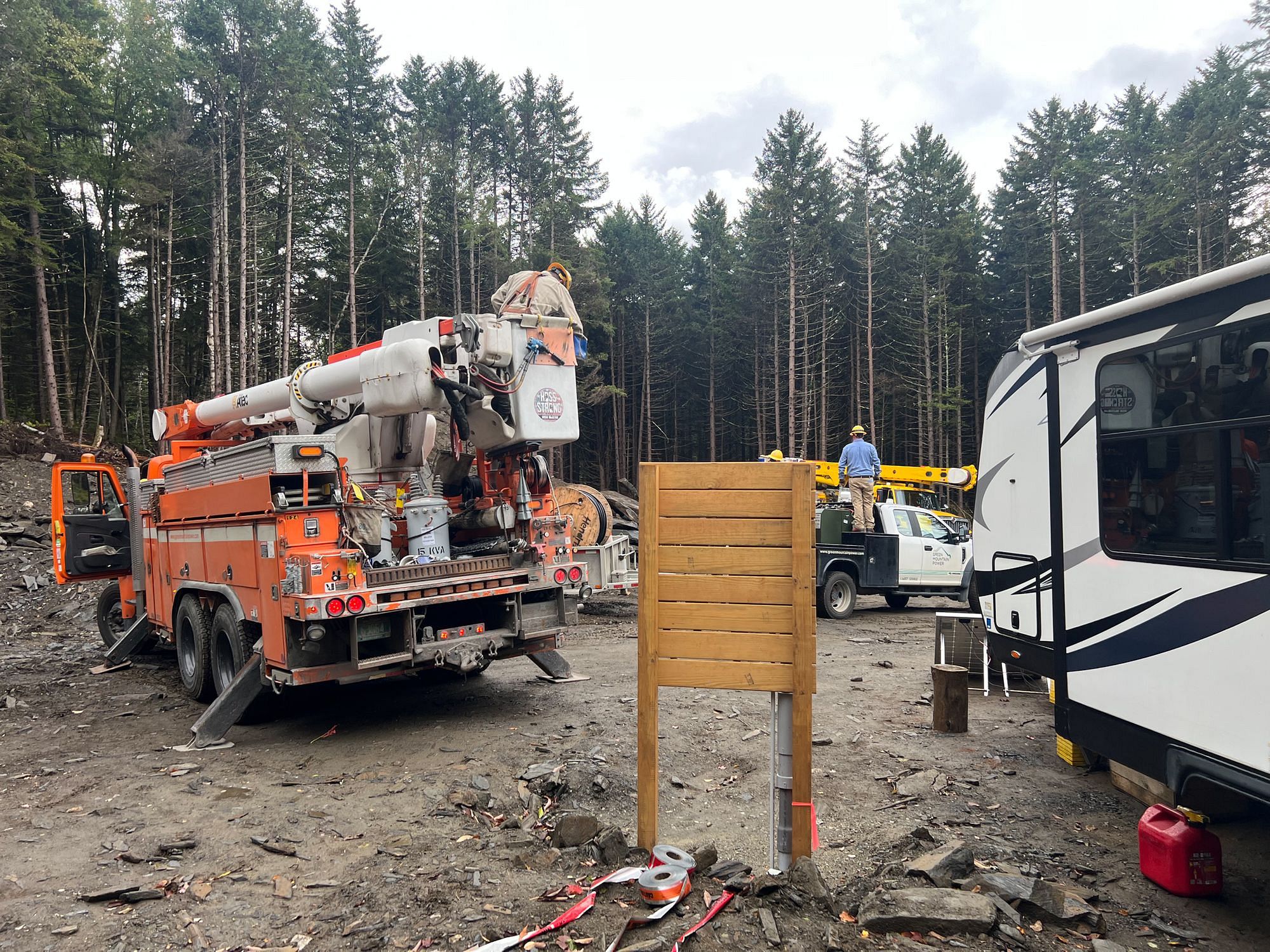 Over the next 4 hours, despite a 45 minute break for an intense rain shower that the weather forecast absolutely denied was happening, the crews worked in unison to install the primary service wire and transformer, and get us hooked up to power.
At 1pm the crew broke for lunch. Their work was done, we were live.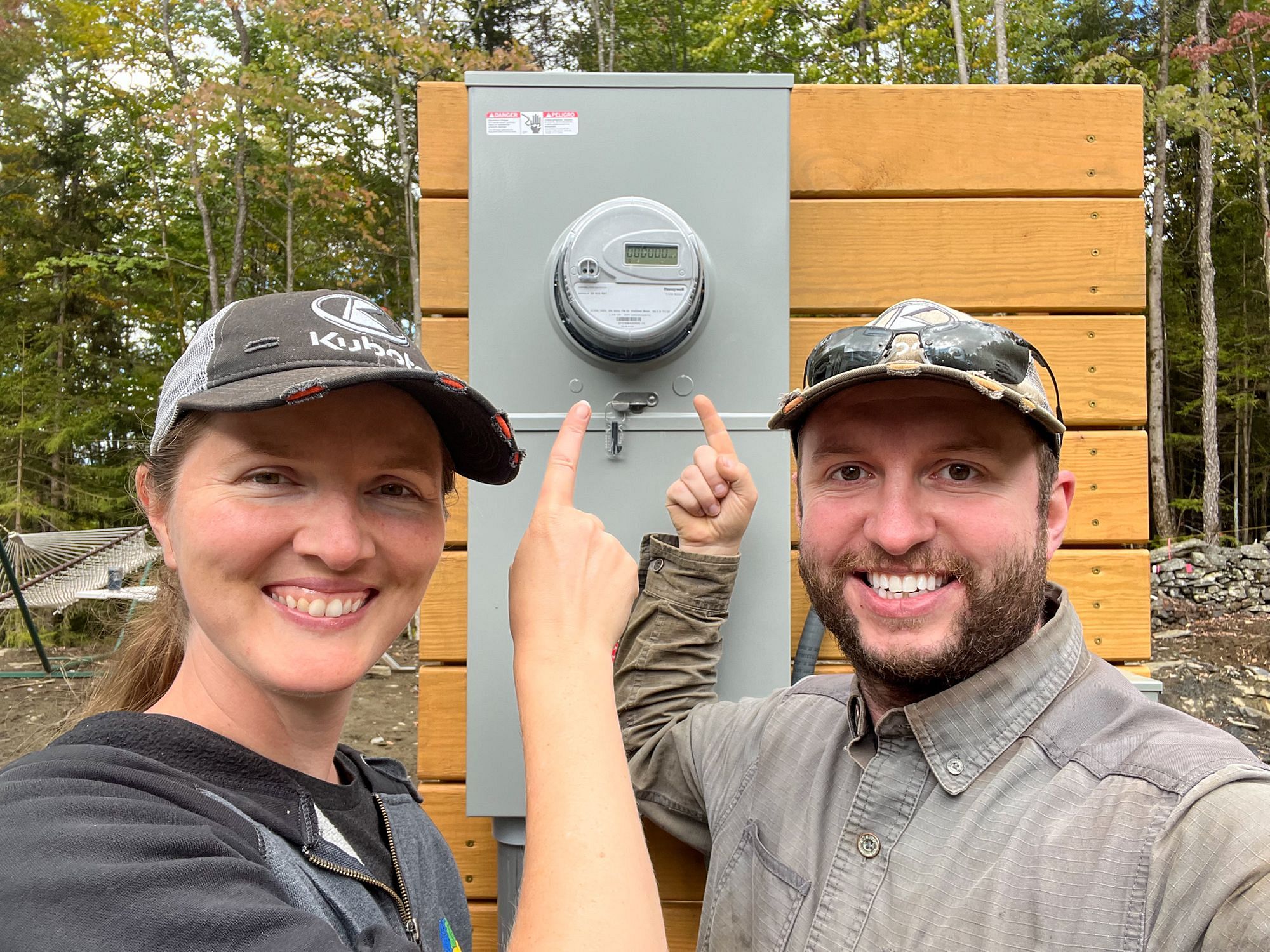 I did my final tests on the electric back board I had built, confirming all receptacles were wired up and working correctly. Excitedly, we plugged our 30A RV cord into our newly working 30A receptacle - our RV was back on grid. No more generator!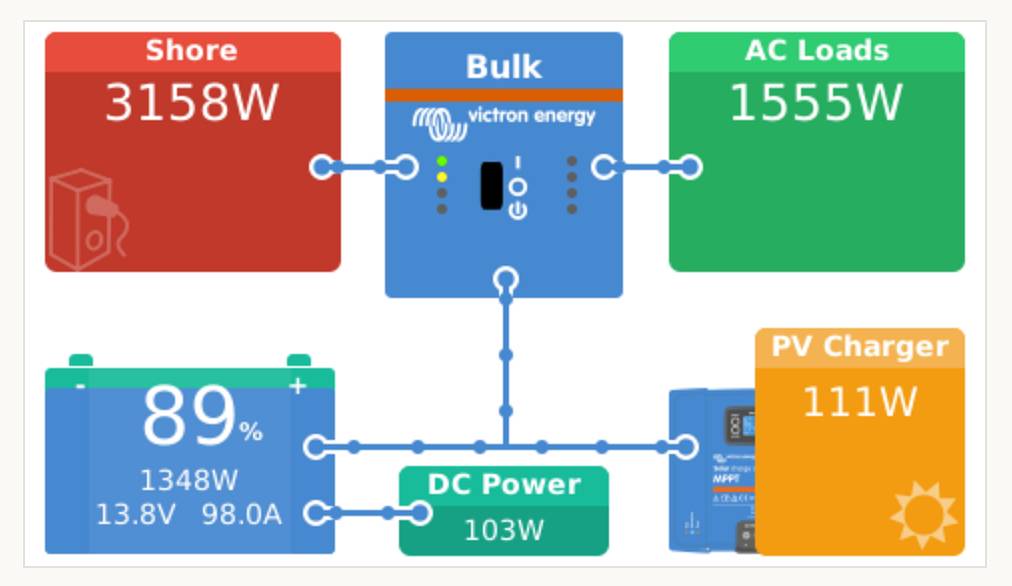 If you're interested to learn more about our decision to connect to the grid rather than go off-grid, then check out our blog post: Off-grid or on-grid?
And if you want to read more about our experience with installing electric service on our property all by ourselves with no electrician, I've begun publishing a new blog post series and the first part is out now.
Other blog posts in the series will follow shortly covering the installation of the primary service, transformer, electric back board and more.
Well installation blog posts
While last week's rain prevented us from getting much done outside, I took full advantage to catch up on some blog posts I've been wanting to write.
In particular, I wanted to finish documenting our entire well installation process, including the initial well drilling, installing the well pump, wiring up our temporary setup, and testing our water.
It's only been a couple of weeks since we completed the well install and had the water test results. Now with electricity connected too, it feels like our hard work is finally starting to pay off and we're making a lot of progress all at once.
Septic progress
Our focus now is on finishing the septic installation. There is work for us to do before the contractors come back and finish the site work - the largest part of which is to construct the mound on our leach field.
Yesterday's forecast was supposed to be dry, and in the morning we were able to lay sand in the trench from the tanks up to the leach field. However, before laying the pipe we need to compact the sand so today we went to pick up the plate compactor from our contractor.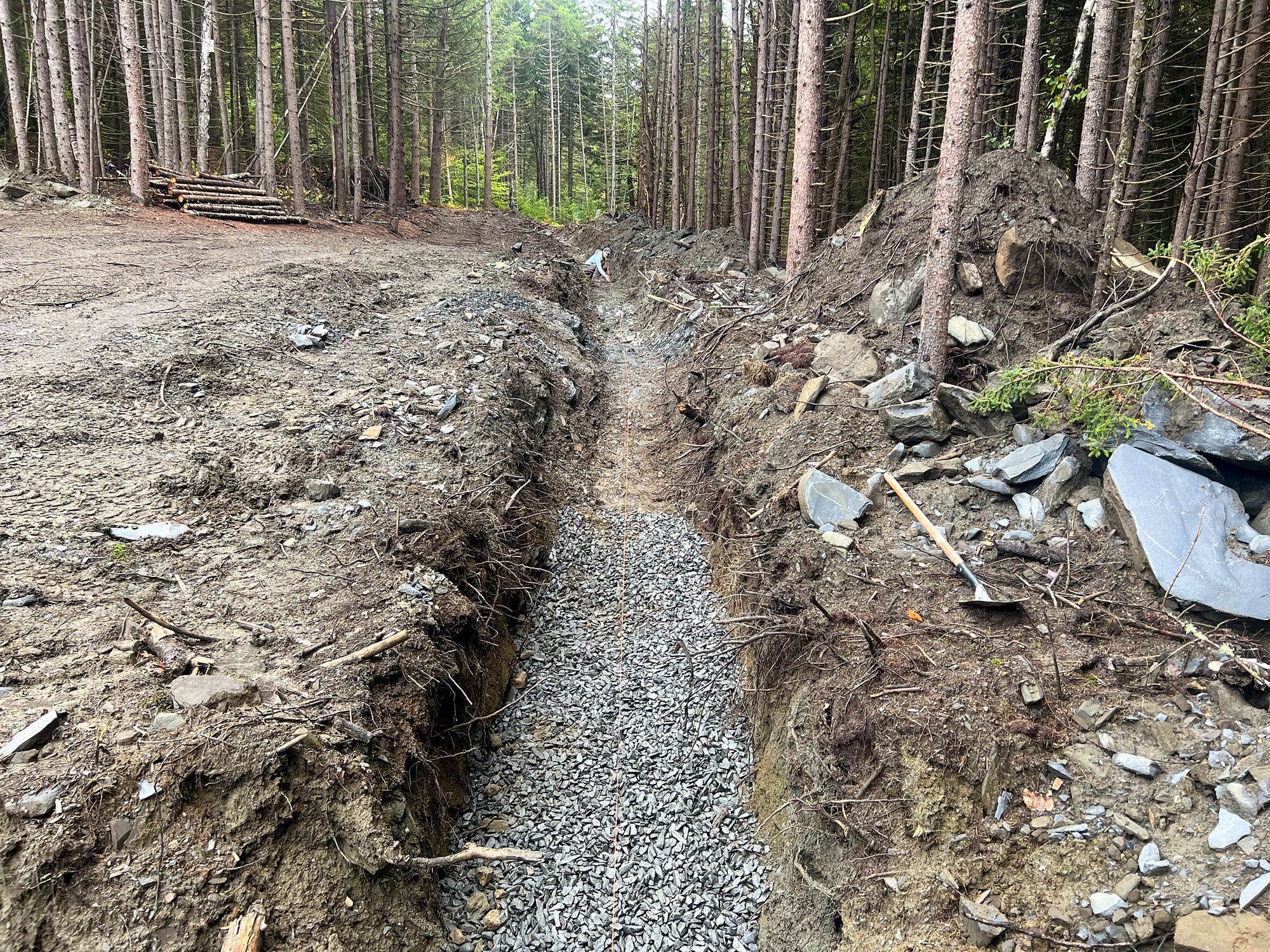 However, there's still about a day's work to be done around the tanks themselves - wiring up the pump and sensors, installing the mushroom vent, connecting the tanks, and installing the inlet baffle, pipe and clean-out.
Hazelnut tree planting
Rather than starting those yesterday we instead decided to spend a couple of hours tidying up the area around the shipping container.
For a while Diana has had plans to plant two hazelnut trees in a south-facing clearing alongside the driveway. With the equipment trailer temporarily moved, it was a good opportunity to get it done so while I moved bucket loads of top soil with the tractor, Diana spread it all out and removed the rocks.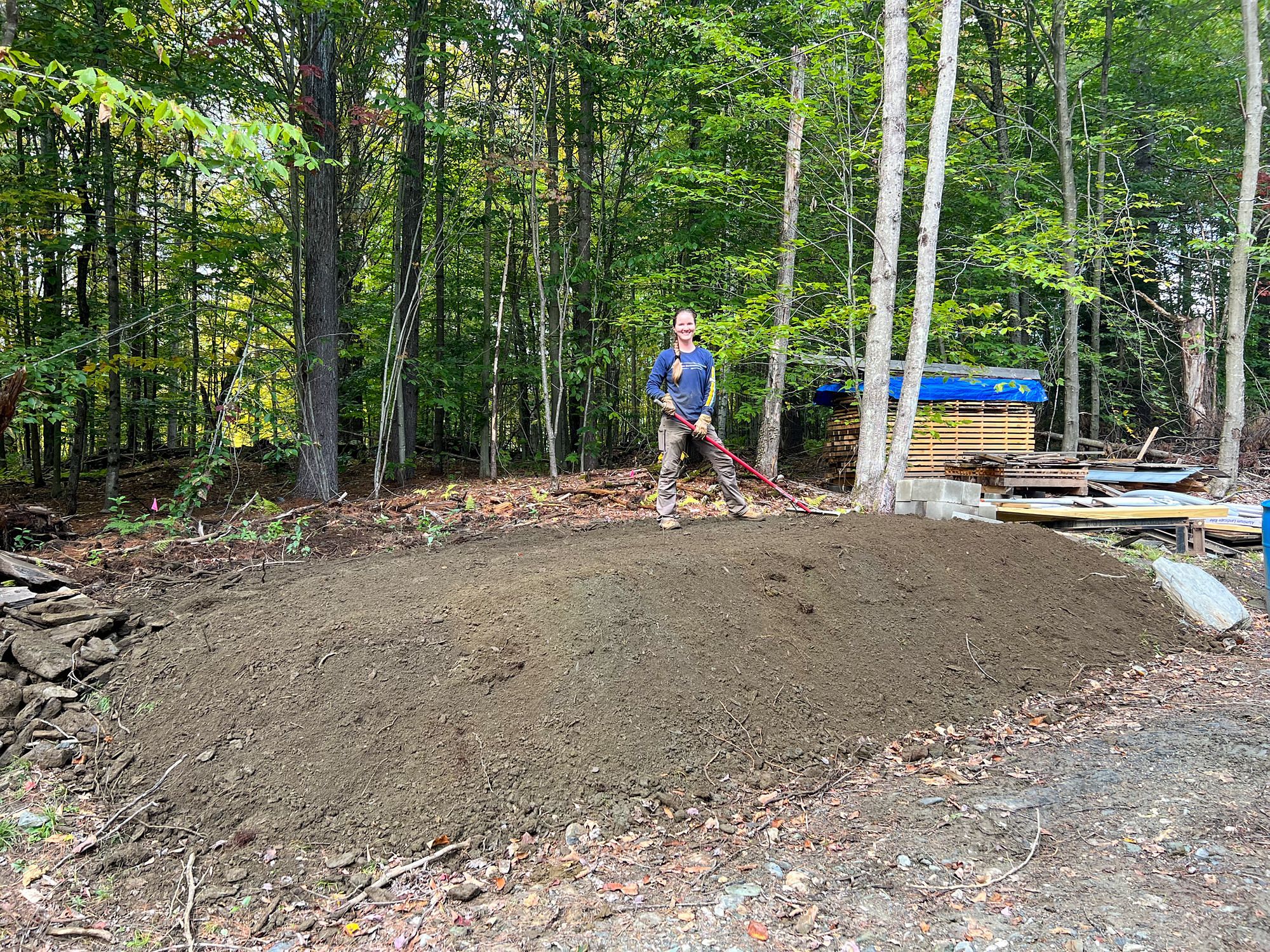 We finished by topping it with 3 bags of decomposing wood chips that have been sitting for almost a year. They were wet and heavy, but look fantastic! The last thing to do is transplant the hazelnut trees themselves.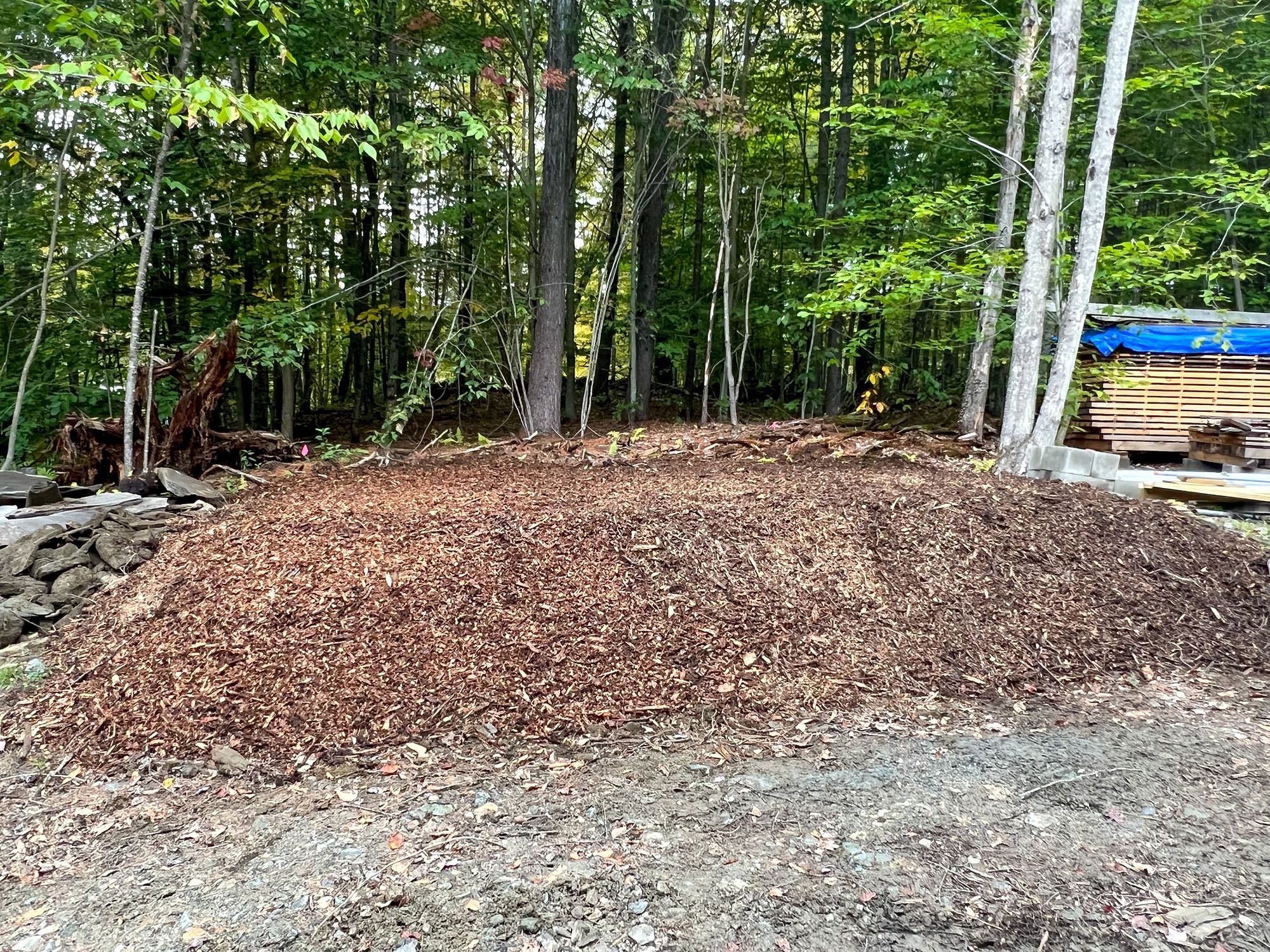 Summary
After a drier than average summer, September has turned out to be very wet! Burlington, VT is on track for the 4th wettest September on record.
While the rain has slowed our progress on some outdoor tasks over the past week or two, getting the electric service installed is a huge milestone that has material quality of life improvements for us.
We've been taking advantage of the rainy days to get some blog posts done, and it's exciting to share a lot of the progress we've made.
Fingers crossed there's some dry weather over the next few days and we can complete what we need to do on the septic system and then get our contractor back on site to build the mound!