For the past 6 months or more, we've been looking to buy some property to build our home base and last week we finally did it - we bought 40 acres of raw land!
While the sale was under contract, we didn't want to share any details that might jeopardize our negotiation position, particularly if things fell through. But now the sale has closed and the land is ours, we can share everything!
Video
Buying process
Earlier this year, in March, we had put an offer in on some land, but our offer was ultimately rejected.
That sent us back to the drawing board, but not back to square one. We expanded our search area, refined our requirements, but most importantly we decided to dig into the zoning laws a little more.
Zoning Laws
We had originally been looking for properties with no zoning laws, and since zoning laws are set by the town, this had been restricting our search. The rationale for no zoning laws is that we want to be able to live in the RV while we build our home, as well as have other RVer friends come to visit, and RVs are a common target of zoning laws.
But this time, rather than rejecting outright any property with zoning laws, we went through the towns one by one and identified those whose zoning laws would not prevent us from using the land the way we want.
That opened up half a dozen properties that we had previously discounted. So, we began our research on each one - uncovering as much as possible about each one, and visiting them in person.
It was that search that led us to the property we have just bought.
A week or so after visiting it ourselves, we visited again with our realtor. Together, we walked the property, checking its suitability for our intended usage. It checked all our boxes!
We continued our research, looking ever deeper for red flags or concerns. We found none. We shared everything we had with our attorney for an expert opinion, and after getting the all-clear we put in an offer.
After some negotiation back and forth, the sellers accepted our offer! This started the clock on about a month during which we could validate our contingencies, with the sale scheduled to close just a week after that.
Contingency Period
Contingencies are conditional checks inserted into the offer that give the buyer the ability to back out of the sale if the checks fail. These checks typically cost money, or require seller consent before commencing, which is why they aren't done prior to the offer being made.
When you're buying a house, it's common to include contingencies such as a house inspection as part of the sale. The process is similar with buying raw land, albeit the contingencies are a little different.
In our case, there were various things we wanted to check (e.g. connection to utilities, etc) but the biggest by far is the soil testing. In Vermont, you cannot build a house without a wastewater permit - in other words, a permit for a septic system. The type (and cost) of a septic system is determined by the soil on the property - this used to be checked with a "perc test", but nowadays it's done by inspection.
Fortunately, we had already found an engineer during our planning for the previous property we had offered on, and so less than a week after the offer was accepted, we were on site with the engineer and a mini excavator, digging holes to find a suitable location for a septic system. Our engineer also brought along the state inspector - this isn't required, but should help expedite the process when we submit the permit application.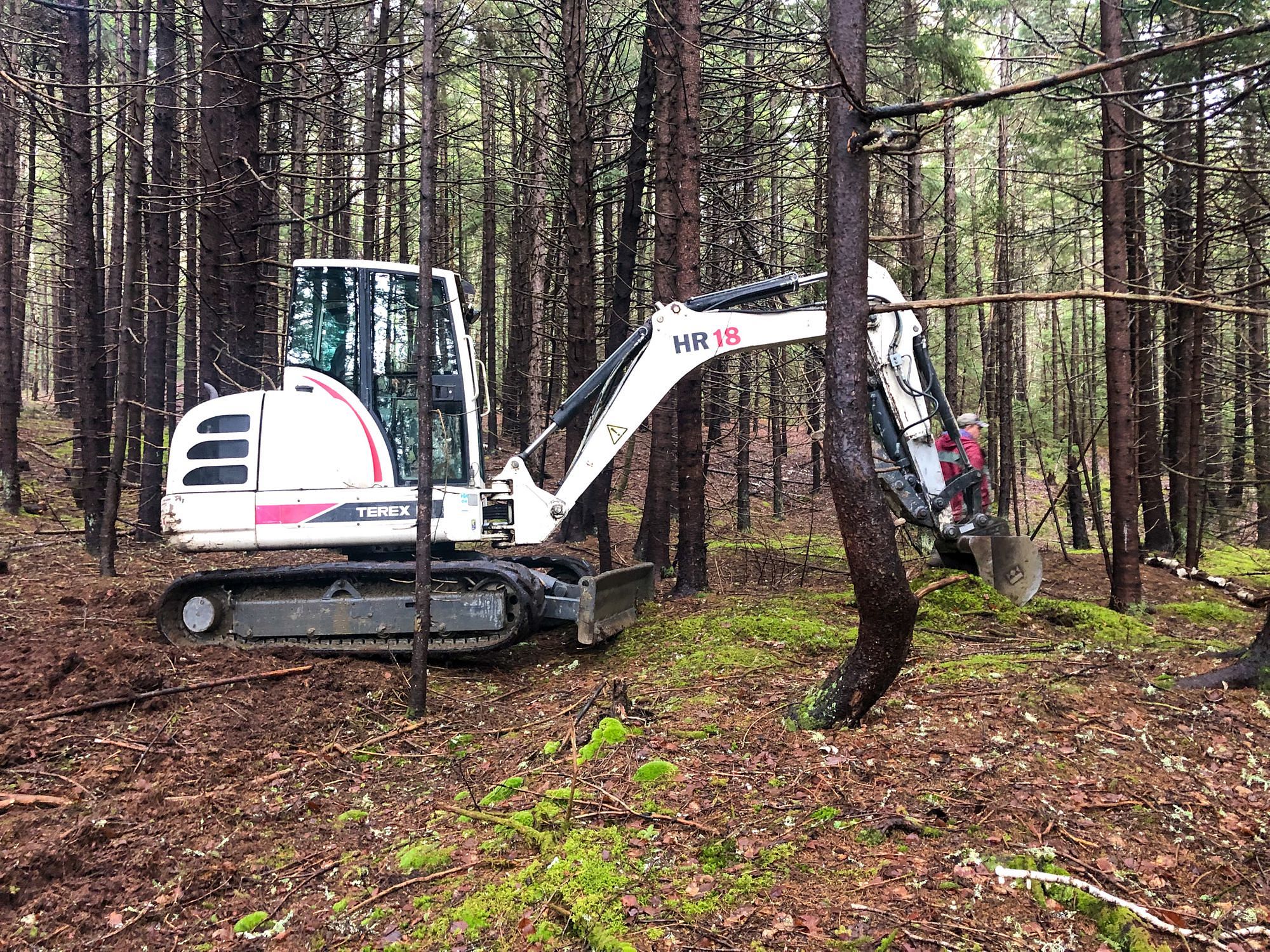 We knew this was going to be a challenge, because soils in Vermont are known for being poor. But after digging about 15 test pits, we finally found a suitable location. We had the green light on our biggest contingency!
Closing
The next few weeks were tense. We continued doing as much research as we could, looking for anything we could find to help inform our decision better.
Meanwhile, our attorney was working on the title search. A title search is a process where you follow the title chain back through history, looking for any "defects" in the chain - e.g. outstanding mortgages or liens, potential claims, etc. A typical title search goes back 40 years, but we asked out attorney to go back even further to reduce our risk even more.
During this time we were also planning for what we would do once we bought the land - contacting town officials, forestry consultants, utilities and more.
We did make a couple of big decisions during this time - the first was choosing an architect. We interviewed 5 different architects in the area, looking for someone who would bring energy, passion, creativity and novel thinking to a project like ours - an owner-build net zero Passive House. We have chosen, and will be visiting the land with them for the first time next week.
Another big decision was the tractor. We shared a little while ago that we had been tractor shopping, but what we didn't say is that we were tractor shopping with a very particular plot of land in mind!
We didn't want to commit until the sale had gone through (the last thing we wanted was a tractor and nowhere to put it!), but a few days before closing we called Chris at Essex Equipment who agreed to put a tractor to one side for us - a very generous offer given the current market!
In return, we told him that as soon as we had the email from our attorney that the sale was closed, our first stop would be to buy the tractor.
It didn't quite turn out that way....
On the day of closing, we knew our attorney would be executing the contract starting at about 10am and we were to expect everything to be done within an hour or so. By noon, we'd heard nothing. Then, we had an email from the attorney - due to some last minute tweaks, the seller was driving to the attorney's office to sign some final documents in person!
We couldn't wait any longer. We drove to Burlington in expectation so that we wouldn't have to waste an hour driving once the sale had closed. We killed time but still, nothing. Eventually we had an email - the sale was minutes away from being confirmed.
With nothing else to do, we drove to Essex Equipment and sat in the truck, checking our emails every few seconds. And that's why, within less than a minute of officially buying some land, we were sitting at Chris's desk to buy a tractor. Want to know what are buying? You'll have to wait a couple more weeks for that...!
Location
Before I jump into what we bought, I know a lot of people are going to be keen to know where we bought.
All we're going to share is that we bought land in central Vermont; we aren't going to share anything more than that. As much of a paradox as it is, while we enjoy sharing our journey and our adventures online to hopefully help and inspire others, we also value our own privacy.
We do NOT want anyone turning up at our property unannounced.
Our land
OK, enough about the process - what about the land itself?! Well, in a nutshell, here's what we bought.
Our land is approximately 40 acres of raw land in central Vermont. It slopes gently uphill from the road, revealing an opportunity for expansive views to the south-southwest - and with it, great solar potential!
The entire property is wooded, though it has two distinct stands of trees - one mixed hardwoods and the other softwoods. The hardwoods are ~50% maples (mostly sugar maples but some red maples too) as well as a mix of other trees including white pine, yellow birch, beech, ash and even some hophornbeam (aka ironwood)!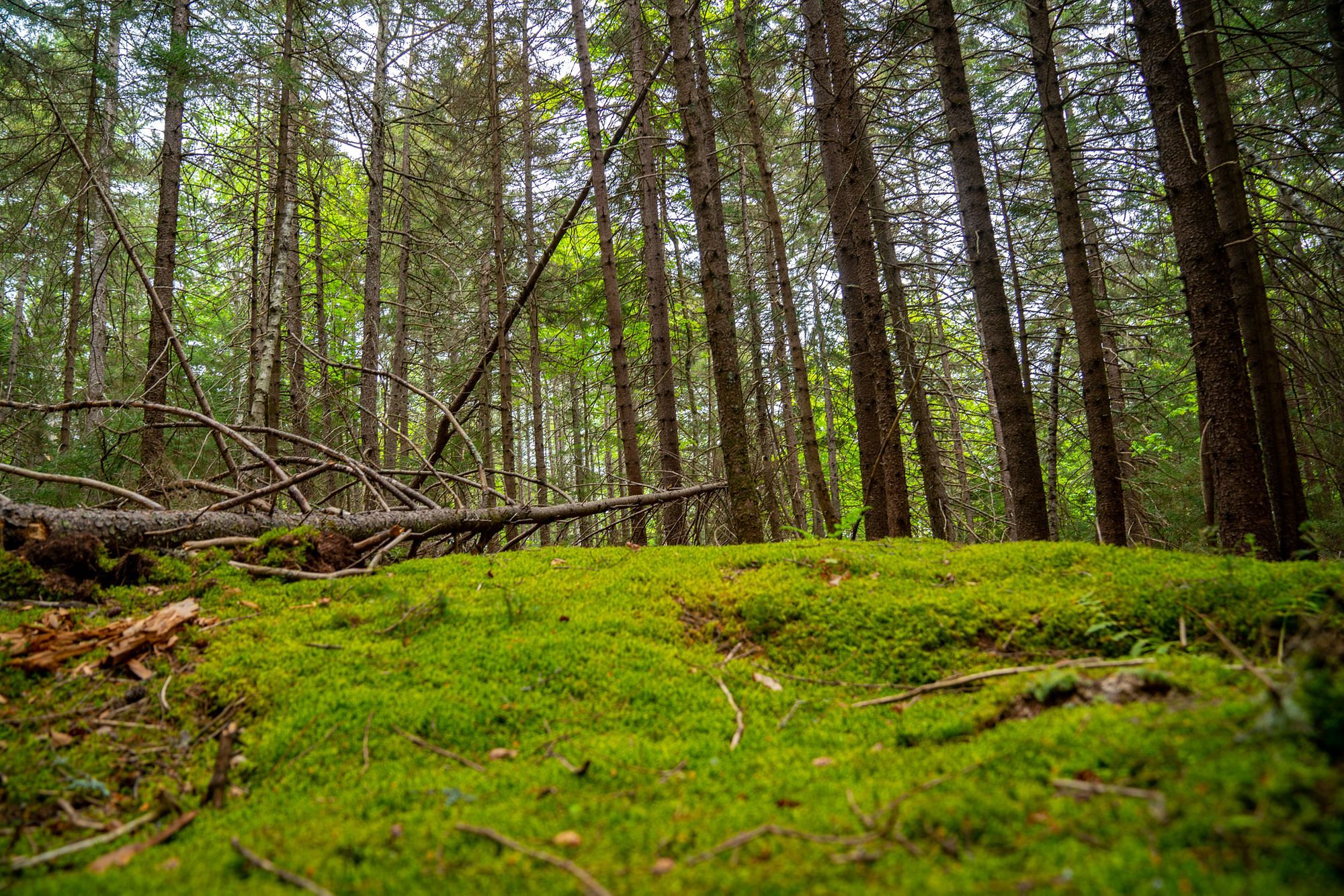 There are several old logging trails winding their way through the property, but these clearly haven't been regularly used for a long, long time! We tried driving our truck up and didn't make it far before it became too narrow and overgrown.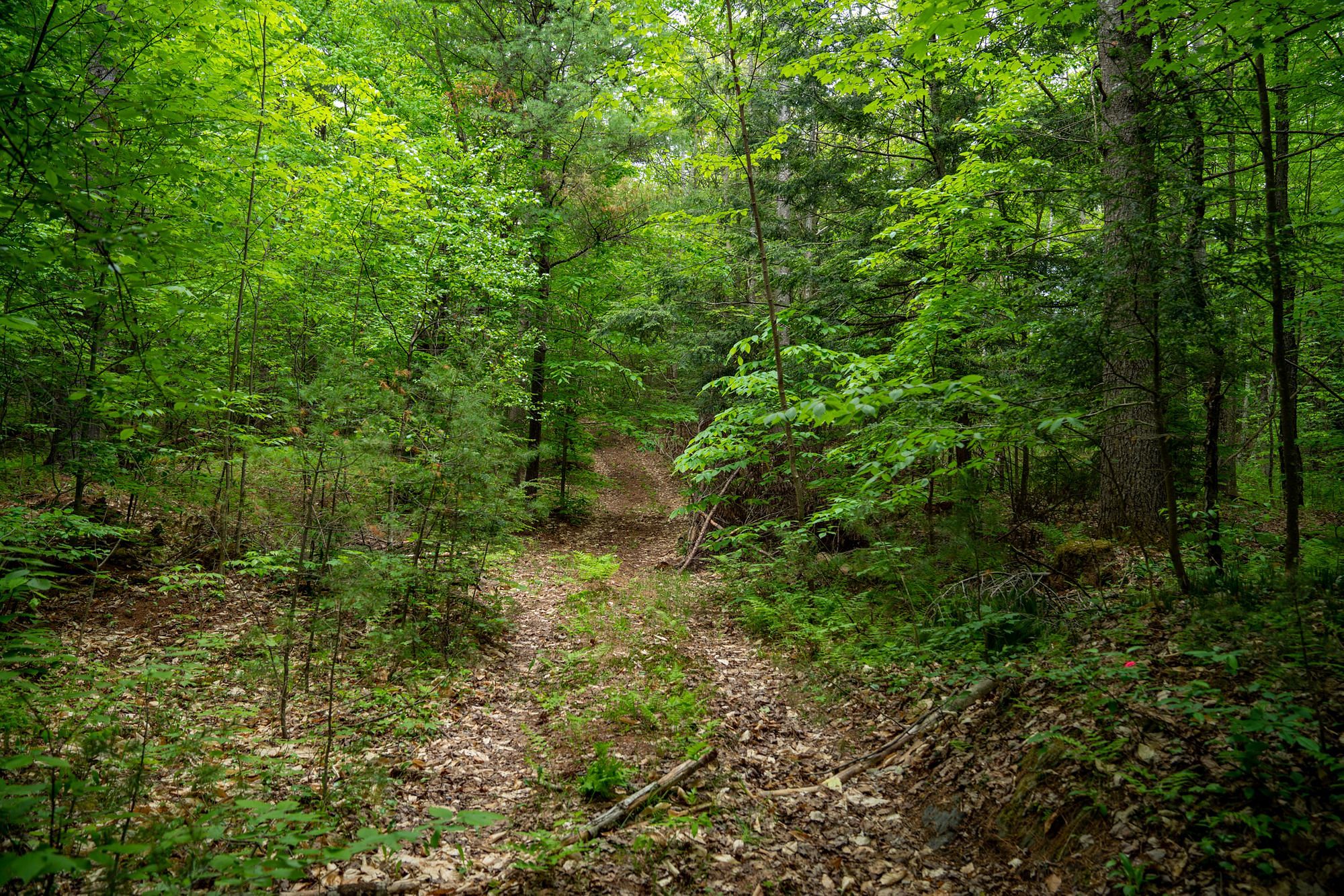 The property has a small pond (less than ¼-acre) that is heavily overgrown and could be an amazing restoration project in future. It is fed by a small stream, and drains by another stream that runs down and off our property. There's also another, slightly larger stream elsewhere on the property too.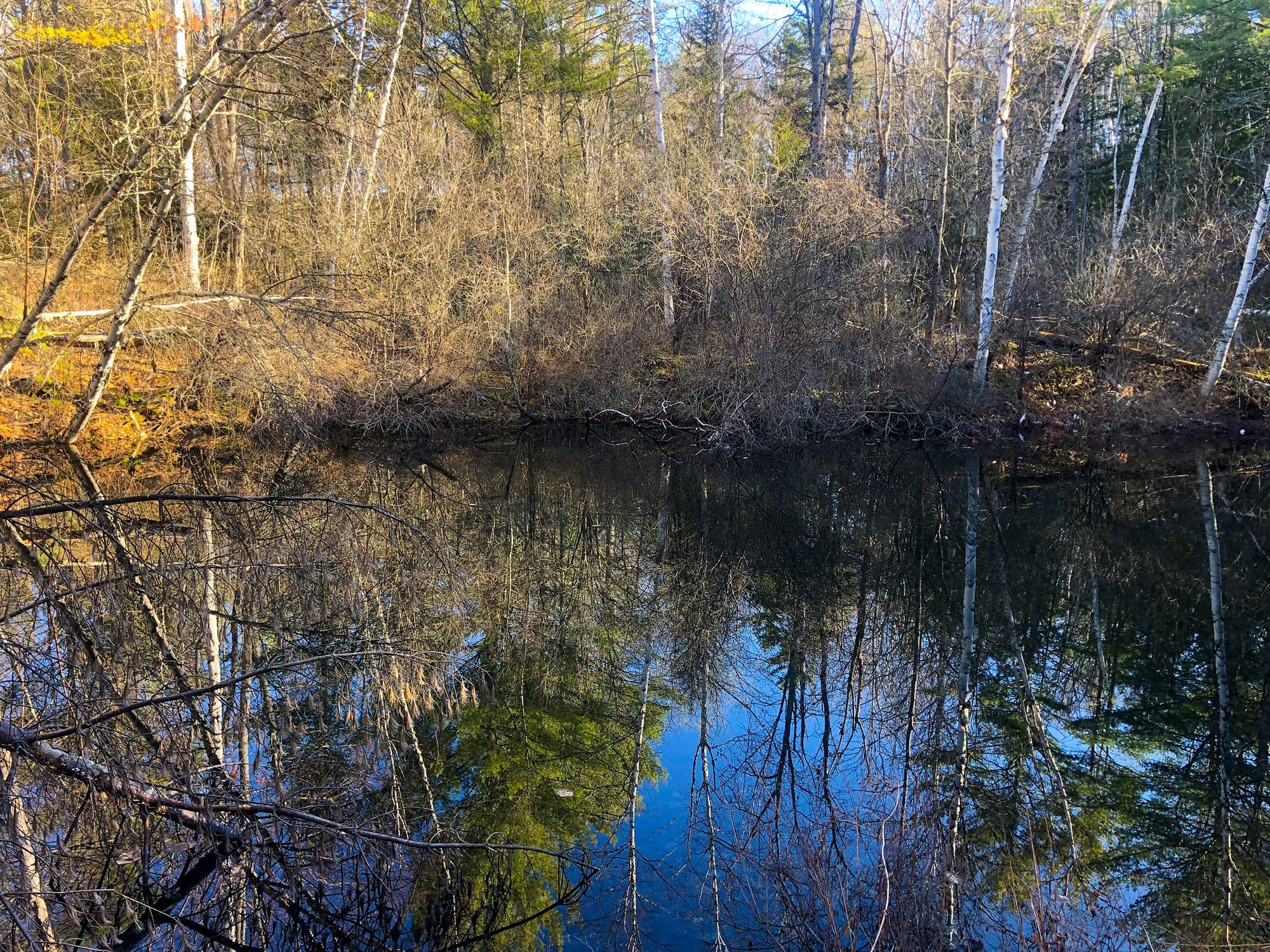 We have both electricity and super-fast fiber internet available at the road adjacent to our property, but we will have to drill a well for water and a septic system for waste.
All in, we're really excited! The property offers so much potential, not just to build our home base but also for all sorts of cool future projects! We've been out exploring the property every weekend since we first put in the offer, and every time we visit it looks totally different - the first time we visited it was still under 6" of snow!
Now that it's ours, we're exploring it even more - trying to find all the cool features and quirks that it has to offer so we can design even more trails to criss-cross the land.
What's next?
Buying this land was a huge milestone for us. Neither Diana or I have ever owned a property of any kind before, so this was a monumental accomplishment.
But it's just the beginning. There is a lot of exciting (and hard) work ahead of us! As we've talked about before, our goal is to self-build our own home - as in, literally us digging foundations, swinging hammers, installing plumbing and wiring the electrical. We have a lot to learn, and we're up for the challenge.
So how are we going to do it?
To keep it simple, we've broken the build down into three big phases.
Phase 1
Aspirationally, our goal is to finish phase 1 before winter this year. It's going to be tough, not least because there are several steps outside our control - particularly around permits.
The goal of phase 1 is to allow us to park the RV on our land with full hookups, and to get there means doing:
Electrical utility hookup
Fiber internet hookup
Septic system
Well
Driveway
RV pad
Since we won't have a house, we're planning to build a small (10x12) mechanical building that will be the terminus for the various utilities, as well as housing equipment for the well, etc.
One particular challenge is that our preferred building site for the house is about 1,000ft from the road. This means a long (and expensive) driveway and utility runs, but was necessary due to some topographic features of the land - it also affords us incredible views!
We can't do anything until we've checked off a few regulatory issues - namely a handful of permits and current use land update.
The driveway is so long and will require so much heavy machinery that we're not planning on doing that ourselves. But we can't pour concrete foundations, drill a well, install a septic tank or anything else that requires a big heavy truck to access the building site until we have a driveway!
Diana has been working hard on creating and maintaining the mother of all Gantt charts - capturing every dependency, task and piece of information so we can be as organized as possible.
Even if we do finish phase 1 before winter, we may not stick around anyway. As I've said before, we're not giving up on RVing so we might hit the road for some travel, or even leave the RV behind and head to Europe if travel restrictions are lifted - Diana and I haven't seen family in Europe for almost 3 years now!
Phase 2
This is the house build, and we don't expect to start until next spring. Fingers crossed material prices (particularly lumber) will have fallen by then!
Our property has a lot of trees that will need clearing for the driveway and house site, and many of these would be suitable for construction lumber. We had considered buying a sawmill, but they're currently subject to a lead time of about 6-10 months in some cases! We're exploring other options (including finding local sawyers) to see what we can do here.
The current forest management plan calls for the removal of about 10 cords of firewood per year, and we have no need for anything like that amount! That could equate to thousands of board-feet of lumber which seems like a great opportunity to us.
But generally speaking, next year will be all about the house build. Our goal is to build a modest-sized 3-bedroom house. We want it to be as eco-friendly and energy efficient as possible, so we're targeting a net-zero Passive House with on-site solar. One thing we're also looking to achieve is a zero-combustion home - that means no burning anything (wood, gas, etc) in the house at all, a big challenge in a cold climate!
Living in the RV for almost 3 years has taught us a lot about what we value most, and we're looking for a very functional home. We also want something that is sensitive to the surroundings and complements the land to create our home. We'll be relying heavily on our architect here.
Phase 3
In phase 3, our thinking is to add a barn - a combination of vehicular storage for the RV, tractor, truck and any other vehicles we might have, as well as a workshop and office.
We really don't have many specifics worked out here yet, but it's something we're being sure to think about so we can include it in our site planning from the very beginning.
Summary
It feels like so much has happened so quickly in the last week - it's almost scary to think that we've actually done it!
We're so excited to have hit this milestone, but our attention is now very focused on the future. Our plan is to spend as much time as possible on site, working on the build. For the first month or so, there may not be much we can do as we wait for permits and things to process, but once they're cleared and we have the tractor, the potential is limitless!
Our goal is to share as much as possible about our journey - not just the what but the how and why. As with our previous adventures, we want to not just inspire people, but help educate and inform as well.
Last, I just want to say a huge thank you to our realtor, Curtis Trousdale at Preferred Properties VT. Many people told us we didn't need a realtor and we should just go it alone, but there is absolutely no way we'd have arrived here without his help. From our very first meeting with him back in February, Curtis and his team have been invaluable - answering our (many!) questions and guiding us through the process. If you're looking for a great realtor in Vermont or New Hampshire then we would recommend you check them out!