Even though we haven't bought land yet, we're already planning out what we'll do once we have a property. Our goal is to buy at least 30+ acres so that we have space not just to build our house, but also some trails through the land. We're also looking for a wooded lot rather than open meadow.
With that amount of wooded land comes a lot of opportunity, but also responsibility to take care of the trails and generally maintain the land.
Why buy a tractor?
We want to build as much of our own home as possible. There will of course be parts we don't try to do ourselves, for example when it's something we don't feel confident doing safely, aren't allowed to do, or is just downright impractical (digging a well being one good example!).
But there are lots of activities during the build where having some large equipment would be great, such as:
Clearing land
Digging trenches, pits and foundations
Unloading heavy tools and materials
Hauling things around the building site
Some of these will be less relevant once construction is completed, but there will be a plethora of tasks that we will continue to need to perform, like:
Clearing fallen trees
Loading logs onto a wood mill (a longer term goal of mine)
Plowing snow from our driveway
Moving soil, mulch, brush, etc around the property
...and many, many more!
Several people have suggested we consider buying a mini-excavator while we're building the house, then sell it once we're done. I'll be honest, it's a pretty tempting option - a 10,000lb mini-excavator would give us a lot of capability on site during the build.
But long term, its utility is less obvious and they're expensive - costing up around $90k new! Also, different sizes of excavator are good for different things - mini excavators are cheaper and can maneuver around tight spaces more easily, whereas large excavators (e.g. 50,000lb) can fell huge trees, make light work of big projects, and even digging or hammering through ledge and rock. So even if we did own a mini-excavator, we'd likely end up renting a larger one from time-to-time anyway.
Longer term, a tractor will be a far more valuable asset to us. With a selection of attachments that we can add, it's a multi-functional machine that may not be the best in every situation, but offers good all-round capability. In the short term, during the build, when the tractor isn't enough, we can rent equipment such as mini-excavators and skid steers when needed - or hire that work out to the professionals when it makes sense.
Time to go tractor shopping!
Which brand of tractor is best?
Neither of us have never driven a tractor before (well, except as very young children). We certainly haven't owned one. So we don't have any brand affinity - but there are a lot of opinions out there!
Over the past month or two, we've been researching tractors in great depth - reading articles, perusing specifications, mining forums, watching YouTube videos (Messick's Equipment is fantastic), and asking friends. One theme that came up time and time again is to choose a brand of tractor that is common in your area.
From driving around central Vermont, the predominant brand is Kubota; there are several large Kubota dealerships within the area. Next appears to be John Deere. We have seen Massey Ferguson, Mahindra, New Holland and others, but they're far less common.
Honestly, my guess is that we'd be perfectly happy with any brand of tractor - we're unlikely to be the most demanding of operators. So based heavily on local popularity but also our own research, we're leaning heavily towards a Kubota tractor. Everyone has their own opinions here, and that's fine!
What attachments do we want?
Tractors alone can't do much - their utility comes when you start adding attachments. In case, like us, you're brand new to tractors, there are two main places you mount attachments: the front and back.
Attachments at the front are mounted on the front loader - this is the big set of arms that have incredibly hydraulic lifting ability. For our needs, we're planning on using attachments such as:
Bucket - for moving materials around
Pallet forks - for loading / unloading heavy items
Grapple - for moving logs and brush around
Attachments at the back of the tractor mount onto the 3 Point Hitch - a common standard on most tractors. Some rear-mount accessories we're thinking of include:
Snow blade - for clearing snow (front-mount blades are also an option)
Box blade - for grading roads and land in general
Ballast box - for providing additional weight and stability (in addition to loaded tires)
Trailer hitch receiver - for towing utility trailers or even our RV around
Both of those accessories are static - they don't take advantage of the Power Take Off (PTO) which is essentially a spinning rod from the engine for powering accessories on the back of the tractor. This is used for things like rotary tillers, snow blowers, mowers and powered rakes.
We're not planning on having large areas to mow, and we're not planning large scale farming, so we're not expecting to use those implements. Not to say we never will (a snow blower is one option we may reconsider), but it's not something that's a big priority for us now - and that's important as you'll see shortly.
What size tractor do we need?
Tractors large and small all have their pros and cons. Large tractors weigh more (good for traction), have more power, can run larger implements but cost more. Smaller tractors are lighter (less damaging to turf, etc), can maneuver in smaller areas and are cheaper.
So what size is right for us?
It's very tempting when tractor shopping to continually chase larger and larger numbers - more horsepower, more lift capacity, etc. But that's not our style - we prefer to start with our goals and then find the right tool for the job.
More horsepower means more power to tow heavier loads and use larger PTO implements. Honestly, neither of these things are super important to us - we're not doing massive agricultural work and can always make multiple trips if necessary.
Critically, horsepower has no bearing on the front loader's lift capacity - this is all down to the hydraulic pump and the size of the loader. While it's true that larger tractors typically have a large hydraulic pump and loader, that's not always the case, particularly between different engine sizes in the same range.
Most of our expected uses of the tractor involve the front loader, so that's the more important specification for us. But in reality, we're not planning on moving massive loads! As newcomers to this lifestyle, there's no harm in keeping things a little smaller and more manageable - partially unloading a pallet if we have to before lifting it, cutting logs a little smaller before moving them, etc.
Through all of our research, we decided we wanted a tractor in the 30-50hp range with a loader that can lift around 1,000-1,500lbs (at the pivot pin).
Cab or No Cab?
Tractors are quintessentially utilitarian vehicles but like modern trucks, tractors can now be kitted out with all sorts of options and accessories that turn them into almost luxury vehicles - air ride seats, air conditioning, phone chargers, GPS and electric everything.
But perhaps the most obvious comfort accessory is the cab. It provides the operator with an enclosed environment to protect them from the hot sun, insects, rain or snow. I'll be honest, it sounds pretty tempting.
It also adds $9k or more to the price of a tractor, which on a starting price of less than $30k, is a big jump!
Given that our anticipated usage of the tractor isn't as a day-to-day workhorse in an agricultural environment and is, dare I say it, a little more recreational, it's a little hard to justify that extra expense.
Yes, I fully realize it's 63°F and sunny outside as I write this, and when it's 0°F outside and snowing while I clear the driveway I might feel a little different. Regardless, for now we've decided to stick with a no-cab tractor.
This led us squarely to the Kubota Standard L Series - an economical line of utility-centric tractors from the 25hp L2501 to the 47hp L4701.
Test driving
Our online research had led us well until now, but what we needed at this point was to go and see some tractors in person, talk to some dealers, and ask lots of questions.
If you're not a current or prospective tractor owner, you may be blissfully unaware (as we were until a few weeks ago) that tractors are a hot commodity these days! And it's not just homesteaders catching up on their honey-do list during the pandemic who are buying them.
Apparently it's also doctors, lawyers and accountants with some extra cash burning a hole in their pocket! Exotic international vacations are obviously out, and RVs, boats and motorcycles are also in high demand these days - so they've been turning to tractors!
This has had two big impacts. First, new tractors are hard to find - one dealer we spoke with said we might have to wait up to 3 months! Second, used tractors are holding their value incredibly well (and they were already renowned for very low depreciation) such that in some cases they're selling for more than new!
In fact, that's a contributor into why we're looking to buy new. Not only do we value having a good relationship with a dealer we trust and a warranty on the tractor, but there are currently some great financing deals on tractors - the Kubota Standard L Series is currently available at 0% for 7 years with 0% down!
During the past few weeks we've visited all the dealers in the area, comparing our experience at each. So far, the standout experience has been with Chris at Essex Equipment in Burlington who helped answer loads of our (often very strange) questions. But most importantly, we had our first test drive!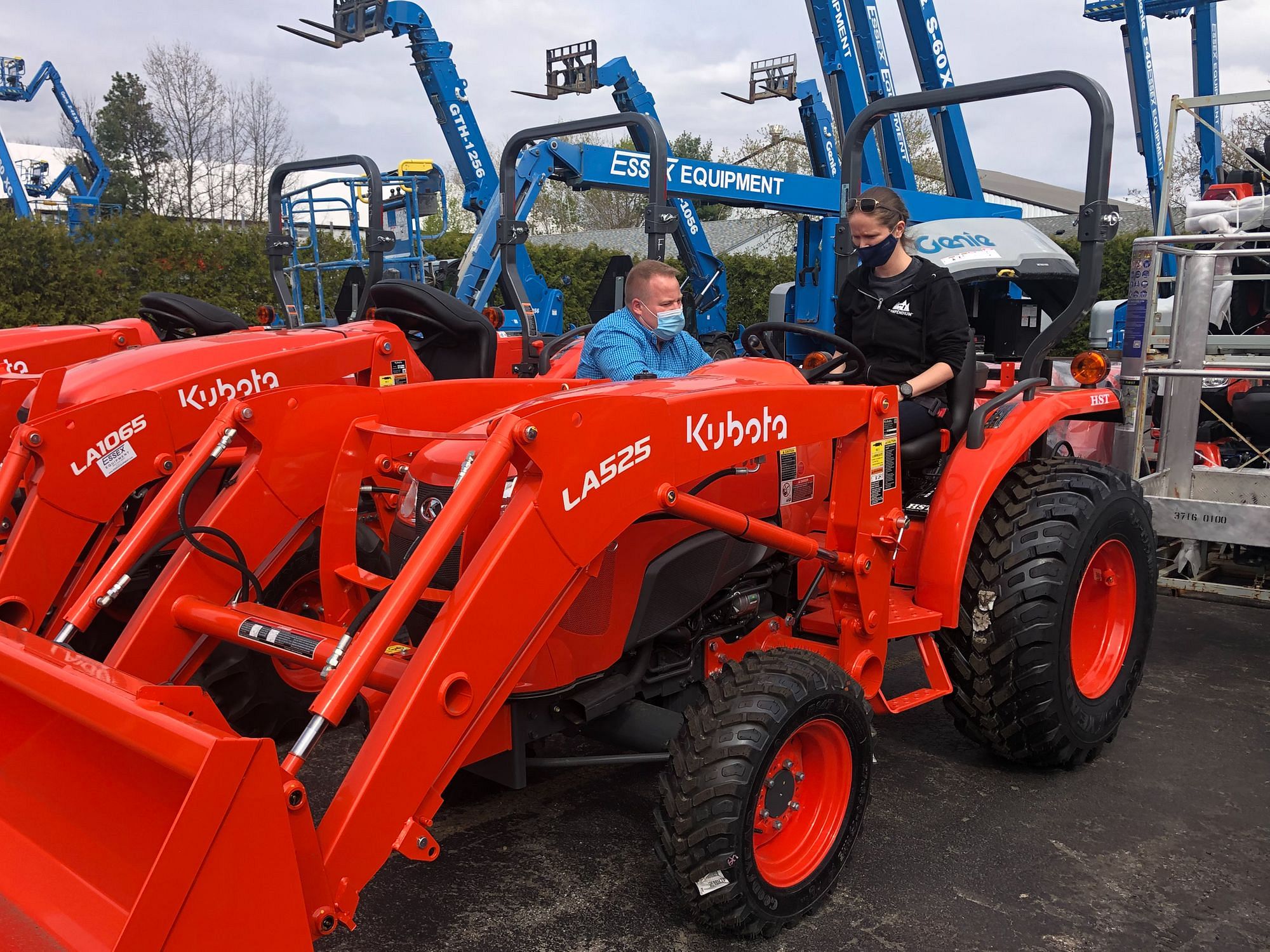 Based on everything we've learned so far, we've been able to rule out the L2501 and the L4701.
The L2501 is just too small for what we want and I think was introduced as a sub-25hp tractor just to get around the emissions regulations.
At the other end, the L4701 is a bit of an oddity - it sits on its own unique chassis, and while it's larger than the others in the range, it's only a small bump in price to get to the MX5400 (or if you can find stock, the recently discontinued MX4800) which offers significantly more capability.
That leaves just the 33hp L3301 and 39hp L3901. Right now, we're leaning toward the L3301 as we don't see much reason in spending more money for extra power that we don't need. But, it may come down to availability, and either would be a good fit for us.
The L3301 and L3901 are both available with 2WD / 4WD gear-drive transmission or 4WD hydrostatic transmission (HST). Although I grew up driving manuals and it would probably be fine for us, we're planning to go with the 4WD HST to make everything a little simpler for us novices - particularly with lots of maneuvering, backing up, and so forth.
So that's where we're up to - once we have our land, we're planning on buying a Kubota L3301 4WD HST tractor along with a few attachments that we plan to use on a regular basis.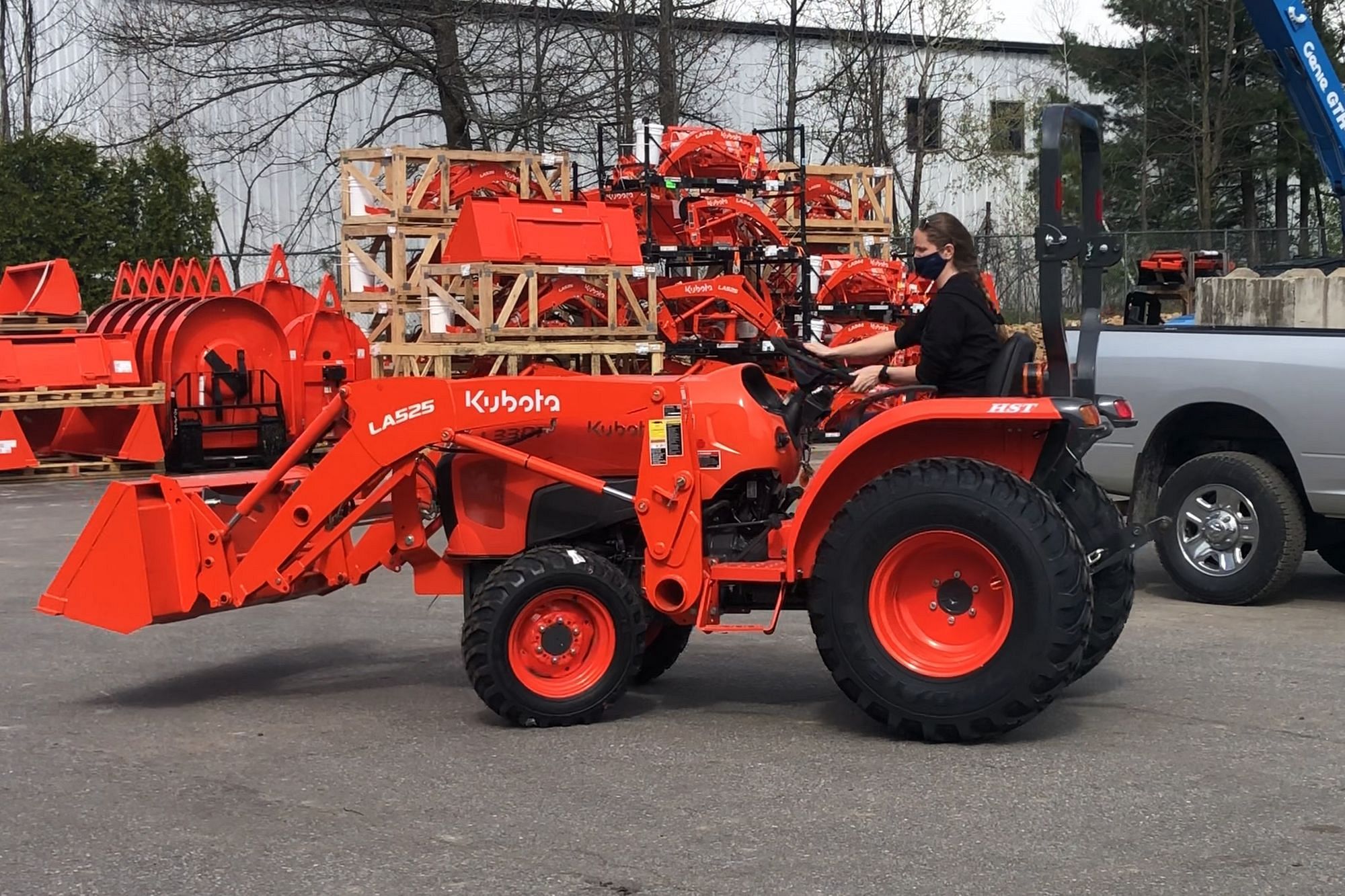 Fun fact: Diana has never owned a car before, and she'll probably be buying the tractor, so Diana's first ever vehicle will be a tractor!
Let us know in the comments below if you have any tips for us as we look forward to being first-time tractor owners!