Introduction
We spent 2 years researching which RV to buy before we eventually bought our Outdoors RV 21RBSS travel trailer. We considered everything - from diesel pusher Class A motorhomes to truck campers, from 5th wheels to vans.
We eventually settled on Outdoors RV because of the quality - they're built solid and designed to be taken off-pavement. Great not just for our adventurous lifestyle, but that durability is also critical for full-time living.
Our RV has held up great - it really delivered on its promise. But that doesn't mean it's perfect. And we're the kind of people who just have to tinker (well, OK, mainly me!). If I see an opportunity to improve something, I will.
Our Top 5 Mods
So if you're stuck at home, looking forward to going camping, now is the perfect time to work on your RV. Whether it's just routine maintenance or some upgrades to improve your quality of life in the RV, make use of this time and get your RV ready for when all the campgrounds are open again!
But where to start? We've done a lot of mods to our RV, and while they've all worked out well for us, there are certainly a few that stand out as favorites!
As an Amazon Associate we earn from qualifying purchases.
LevelMatePRO
Occasionally we get asked what our favorite RV gadget is. Despite our love of technology, we don't really think of ourselves as having that many gadgets - honestly, we just don't have the space to store lots of stuff!
But one of the few we do have is the LevelMatePRO. This thing is amazing!
It's a small box that you mount on a wall in your RV - we have ours tucked away above one of our bedroom windows. Using Bluetooth, it talks to an app on your phone and tells you how level your RV is.
Not only do we find this quicker and easier than using a level, but particularly when we're boondocking, we use it to find the flattest spot in an area before we even start leveling. Especially when combined with our Anderson levelers, it's an absolute game changer - and quite possibly a relationship saver!
Installation is incredibly easy and takes less than half an hour - we used Command Strips instead of screws and they worked great!
Pizza Stone
This one barely counts as a mod, but I consider it a must-have in an RV. We've all heard how RV ovens are terrible, right? Food is burned underneath and under-cooked inside.
It doesn't have to be that way!
Putting a pizza stone underneath the rack but above the burner helps to distribute the heat much more evenly, and your RV oven will behave much more like a normal oven.
You can also use a piece of heat-safe tile, but the advantage of a pizza stone is you can also use it to make pizza! But not just any pizza stone will do. When we first hit the road, we brought the pizza stone from our house. It was a good quality one, but couldn't withstand the very high temperatures and localized heat in the propane oven. It didn't take long before it cracked (with a very loud bang) into a dozen pieces.
We replaced it with a pizza stone designed for much higher temperatures - the cordierite can withstand up to 1,400°F! We still use foil to help keep it clean when we're cooking pizza.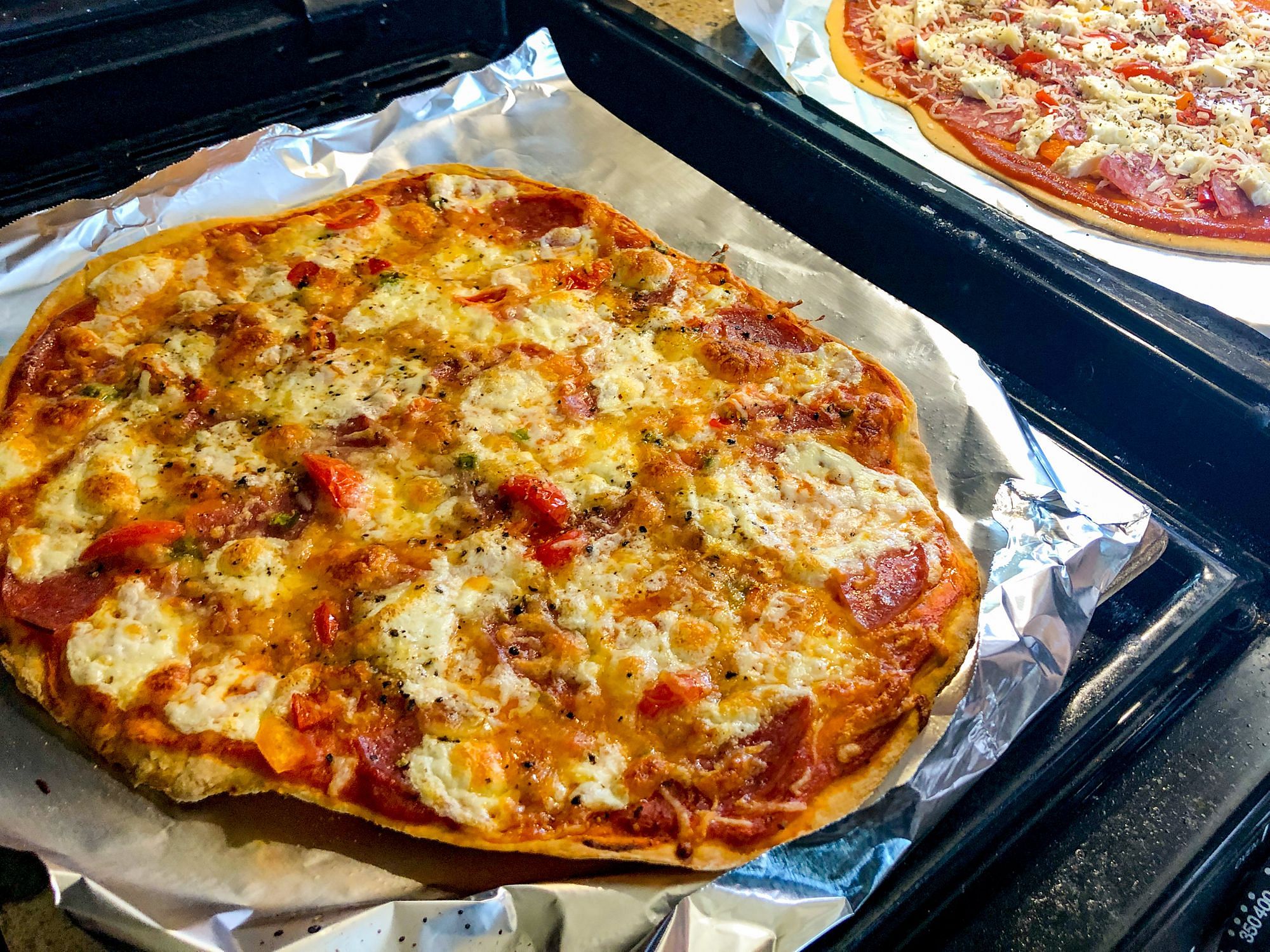 This new one has been working flawlessly for 18 months now. It stays in the oven the entire time - while we travel and every time we cook in the oven, whether it's to put pizzas on or just to distribute heat for baking.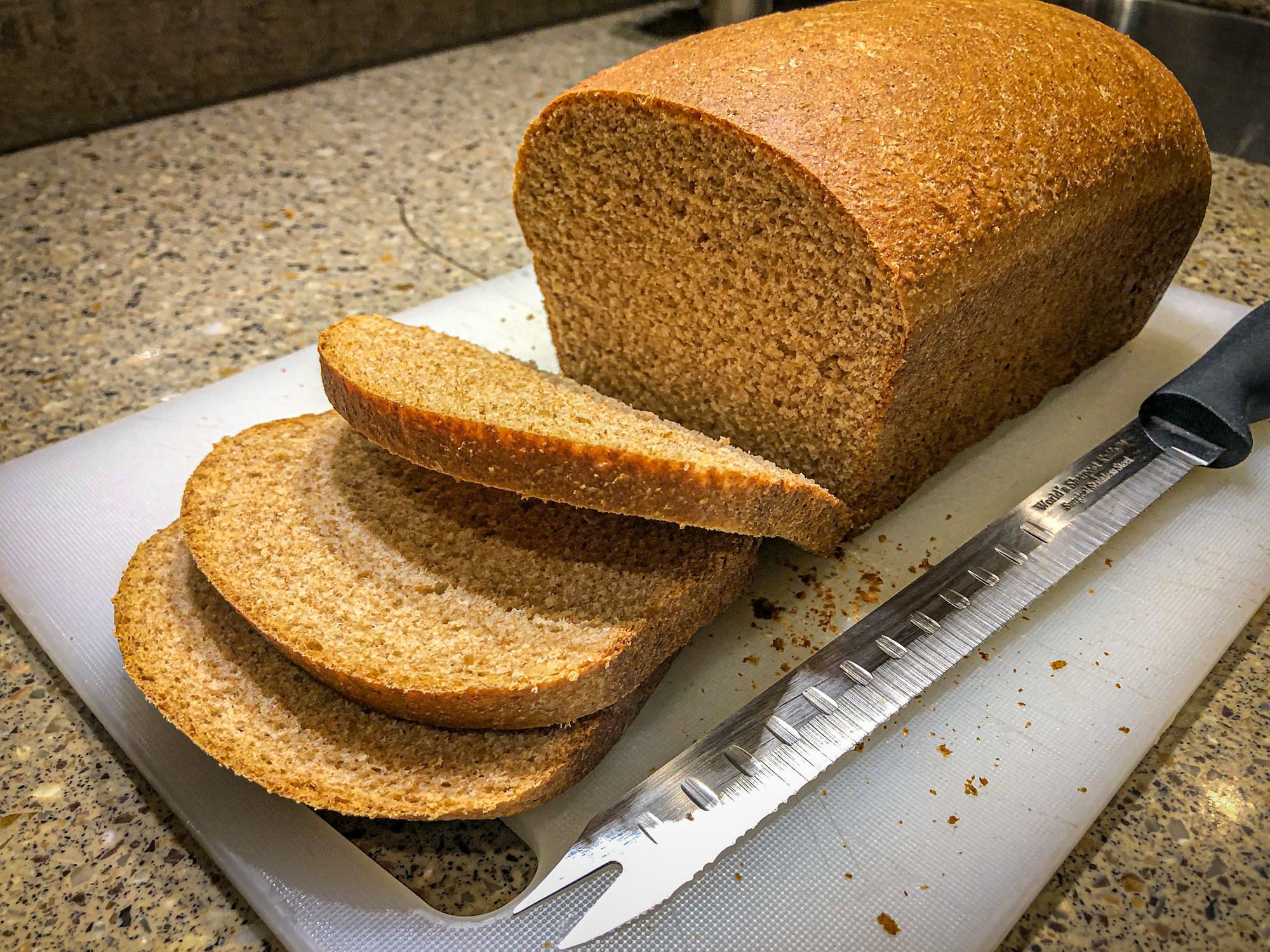 Best of all, no installation required - just buy it and pop it in the oven. Done!
DC-to-DC Charger
If you've seen any of the mods on our site, you'll know we've done some fairly major electrical upgrades in our RV - adding 300Ah of Battle Born Lithium batteries and a Victron 3000VA inverter, 600W of solar on the roof and a 200W DIY portable panel.
But if I had to pick one part of that upgrade that stands out, it would have to be our REDARC DC-to-DC charger.
While you may not have heard of it before, it's proven invaluable to us. It's a device that lets us charge at high speed from our truck whenever we're towing - or, if our batteries get too low, we can plug the truck in and idle it in an emergency.
It charges at 40Amps, enough to charge our batteries from 0-100% in less than 8 hours. While that's slower than a generator, I maintain that having this DC-to-DC charger is the reason we've not needed a generator in 18 months on the road.
It's a great feeling to know that on every travel day our batteries will get a good boost of charge, and it's a huge improvement over what we'd get from the 7-pin connector alone. It works with all types of battery, whether you have flooded lead acid, AGM or Lithium batteries like we do.
Installation is a little more involved as the REDARC DC-to-DC charger requires wiring on both your tow vehicle and trailer, but it's absolutely worth it. Even taking your time, it's easily doable in a day - probably a lot less!
Check out how we installed our DC-to-DC charger in our blog post below.
Kitchen Faucet & Water Filter
One of the features we love about our Outdoors RV is that it comes with a 78-gallon fresh tank - that's HUGE for a 25ft travel trailer.
But, for the first year on the road we never drank from it. We probably could have done - we always filled it with potable water, used an inline filter on the freshwater fill hose and kept the fresh tank sanitized. But when you're full-time, is probably good enough?
We would fill up jugs of reverse osmosis (RO) water at places like Walmart. It was another task for us on our errands days.
Eventually we figured there had to be a better way. After much research, we decided to install a new kitchen faucet with a dedicated drinking water spout, connected to a very high quality water filter. Check out our installation blog post below to see why we chose this very specific faucet and why we didn't go with a different option like a Berkey Water Filter.
At the time, Diana was skeptical. Was it really that much of a chore to refill jugs of water? Did we need the new kitchen faucet?
Now she's a complete convert. Knowing that we always have clean drinking water, quite literally on tap, is a great feeling! We've been in some areas renowned for their poor water quality (Arizona, I'm looking at you!) and we've never detected a hint of bad taste. We still carry a couple of jugs of water as an emergency backup (in case, for example, the water pump fails), but we use the water in the fresh tank all the time now.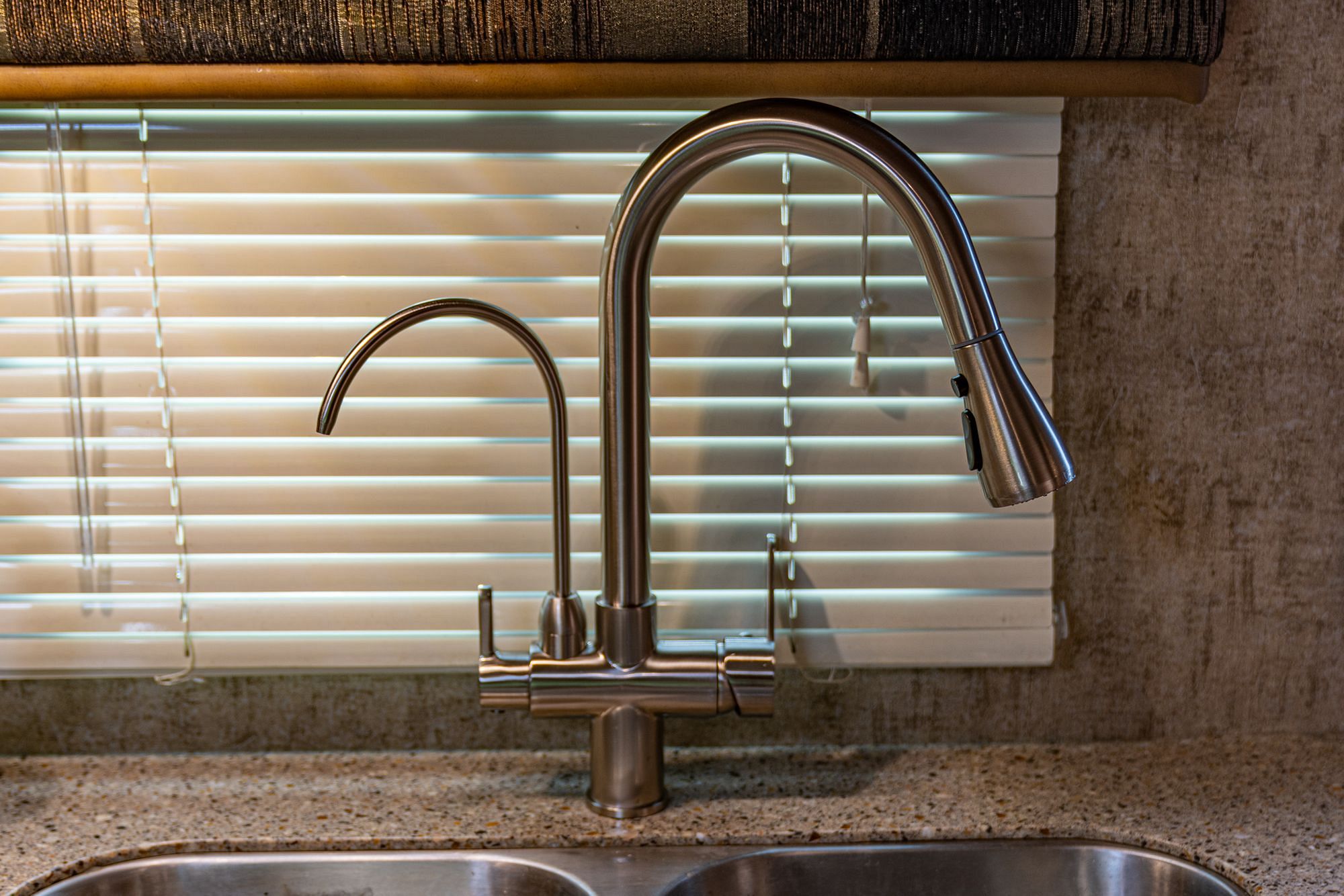 Also, just think how many jugs of water we'd have to be carrying right now as we're trying to stay off-grid, camping in each spot for 14 days before we have to move. Even (conservatively) assuming half a gallon each per day for drinking (ignoring cooking completely), that's still 14 gallon jugs for 2 people. No thank you!
Installation required only basic tools - one reason we chose this faucet was to avoid drilling any more holes in the countertop. In total, it took just a couple of hours to do, and has easily paid for itself in the amount of time (and money) saved by not having to carry and refill jugs of RO water!
Magnetic Dry Erase Fridge & Freezer Doors
Rounding off the top 5, is the mod we made to our fridge and freezer. We replaced the dark wood panel doors with bright white, magnetic dry erase material!
It was literally one of the first things we changed when we moved into our RV - even before our electrical upgrade. After all, we needed somewhere to sketch out our ideas!
As RVers, we know that the best things are those which have multiple uses. A wooden fridge door is pretty limited, but we use our dry erase fridge door for our grocery list, meal planning and, yes, sketching out ideas for new mods! Plus, the white color makes the small trailer so much brighter than the dark brown we had before.
But best of all, this mod is super quick and easy to do! With less than $30 of supplies from Walmart, a small saw and scissors or a sharp knife, you can replace both the fridge and freezer doors in less than an hour and a half! What are you waiting for?
Conclusion
We'll never stop modifying and upgrading our RV - it's just who we are (OK, OK, it's who I am!). But we try to only make changes to things that are causing us problems or we see a tangible opportunity for improvement. Instead of being blindly sold on buying every accessory on the market, we deliberately wait - once we truly understand the problem, we're better placed to solve it.
But these top 5 mods, upgrades and accessories are the ones that really stand out. These are the ones that have demonstrably improved our quality of life in the RV, and we'd instantly add to any future RV we might own.
Every RVer's needs are different - depending on whether you prefer RV parks or boondocking, have children or pets, and even the type of RV you have. So let us know in the comments: what are your must-have RV upgrades?
And as always, if you're looking for more ideas, be sure to check out the mods section of our blog as well as our gear reviews!