As an Amazon Associate we earn from qualifying purchases.
If you've seen some of our recent blog posts, you'll know we've been spending as much time as possible at the property milling logs and working on getting everything ready for winter.
A few weeks ago our plan had been to mill up until Thanksgiving and then start on preparations to leave for winter after that. But we decided that was cutting things a little close - was 4 days really enough time to get everything packed away? What if the weather didn't cooperate?
Rather than trying to cut things too close to the wire, we decided not to put ourselves under such pressure, so we decided not to move onto milling the 1x material and instead start packing up.
In hindsight, that was a Very Good Idea™️.
Stacking Logs
When our driveway was cleared, some of the logs were brought to the top but most of them were left by the sides of the driveway. The ones that were brought to the top were stacked up, but the bottom logs were still on the floor.
Before winter, we wanted to retrieve as many logs as possible from the sides of the driveway, and get them all piled up on rails so they were raised off the floor and less likely to start decaying.
For the most part, it went fine. We stacked two huge piles on spruce rails, one just of pine and one of hardwood - birch, ash, maple and even some cherry.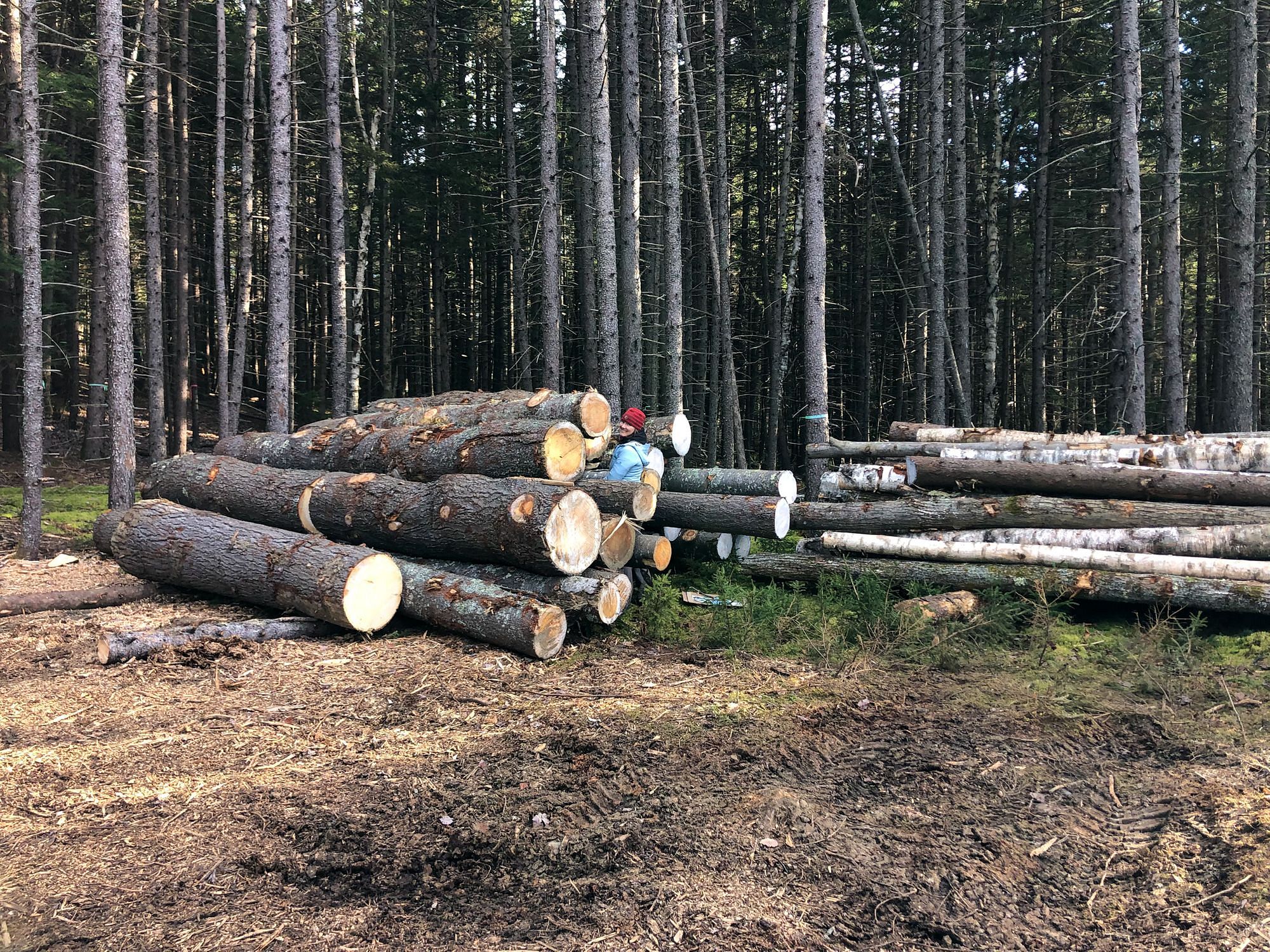 Some of the 17ft pine logs we had to cut into 8-1/2ft lengths so that our tractor could move them, and even then it was touch and go at times. With a couple of the logs the rear tractor wheels were lifting off the floor as I lifted the logs - pretty scary considering our tractor has loaded rear tires and a rear ballast box that weighs about 600lbs!
But we have one pine log, that we like to call "the monster", that I knew we wouldn't be able to lift, even if we cut it in half. It's 30" at the butt end, and about 26" at the "thin" end. If I had to guess, I suspect it weighs 2,500-3,000lbs.
It was lying directly on the ground, and we really wanted to raise it off the floor - it's our best log and we didn't want to lose it!
After coming up with a number of ideas, we eventually settled on a plan - use the steel ramps from the equipment trailer to roll it with the tractor up onto some other logs.
Diana was dubious. I was optimistic, but prepared for failure.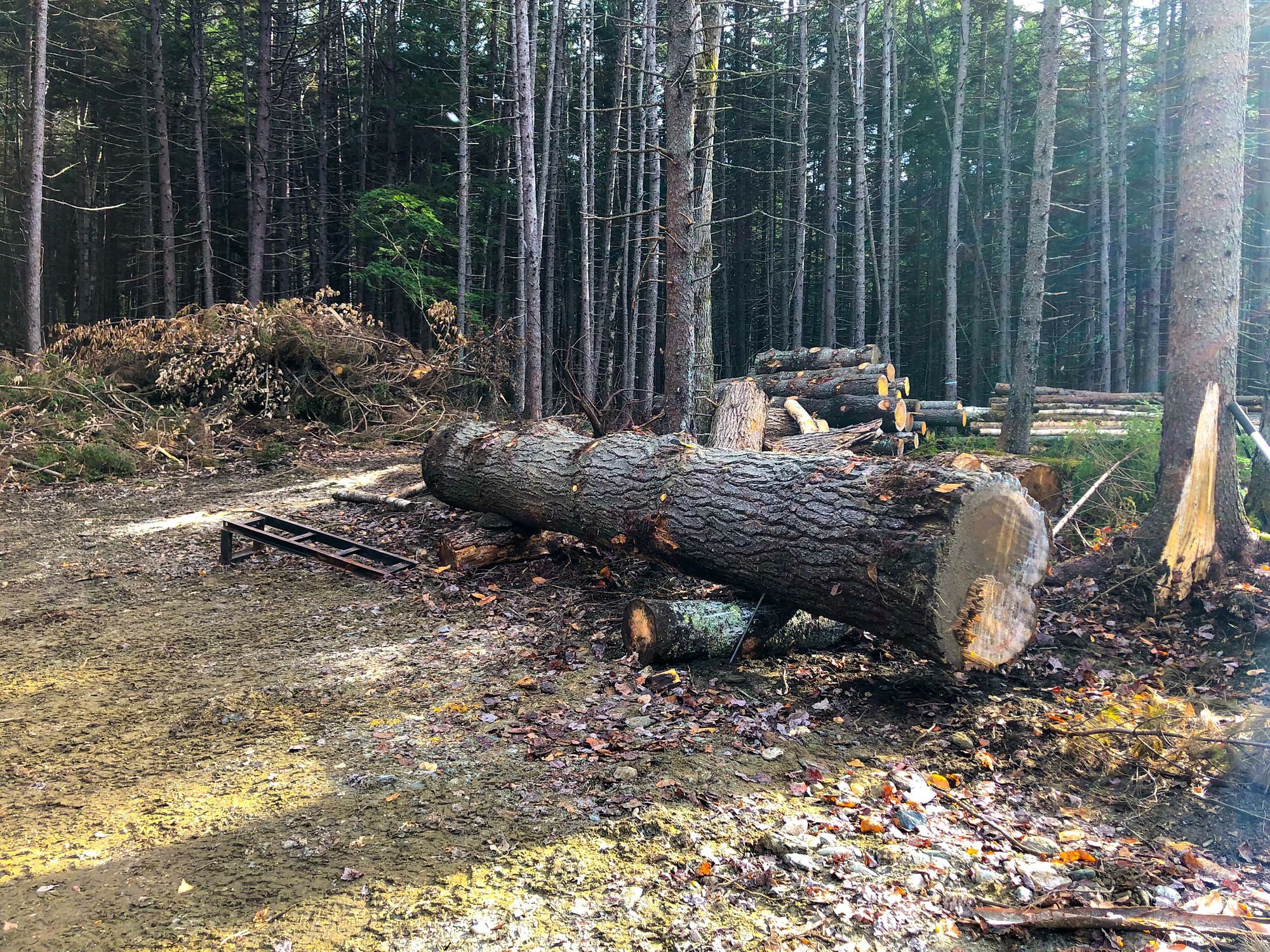 Remarkably, it worked! All our logs are now raised off the floor, and fingers crossed will still be OK by the time we're ready to mill them in spring next year.
End Grain Sealing
In addition to raising the logs off the floor, the other precaution we took to help preserve them is to paint the ends with Anchorseal 2.
This is a special water-based eco-friendly end grain sealer that will help to reduce moisture loss through the ends of the logs - if the ends dry faster than the center of the logs, they're more likely to crack.
We (and by "we", I mean Diana!) also painted the ends of all of the 2x4s we had cut for the same reason - to reduce the chance of cracking in the ends.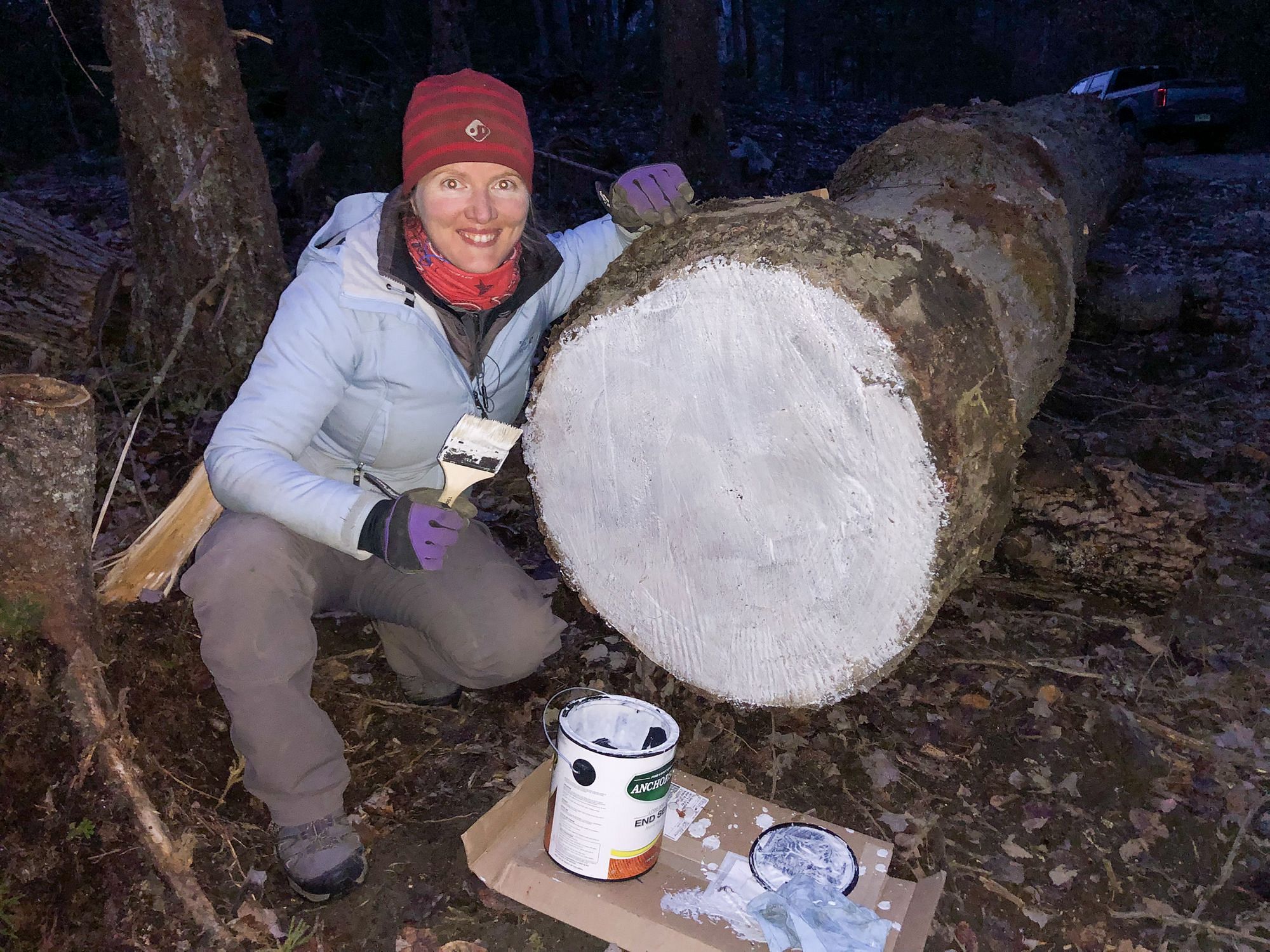 We worked some pretty long hours, and because of the clock change, we were often working until dark.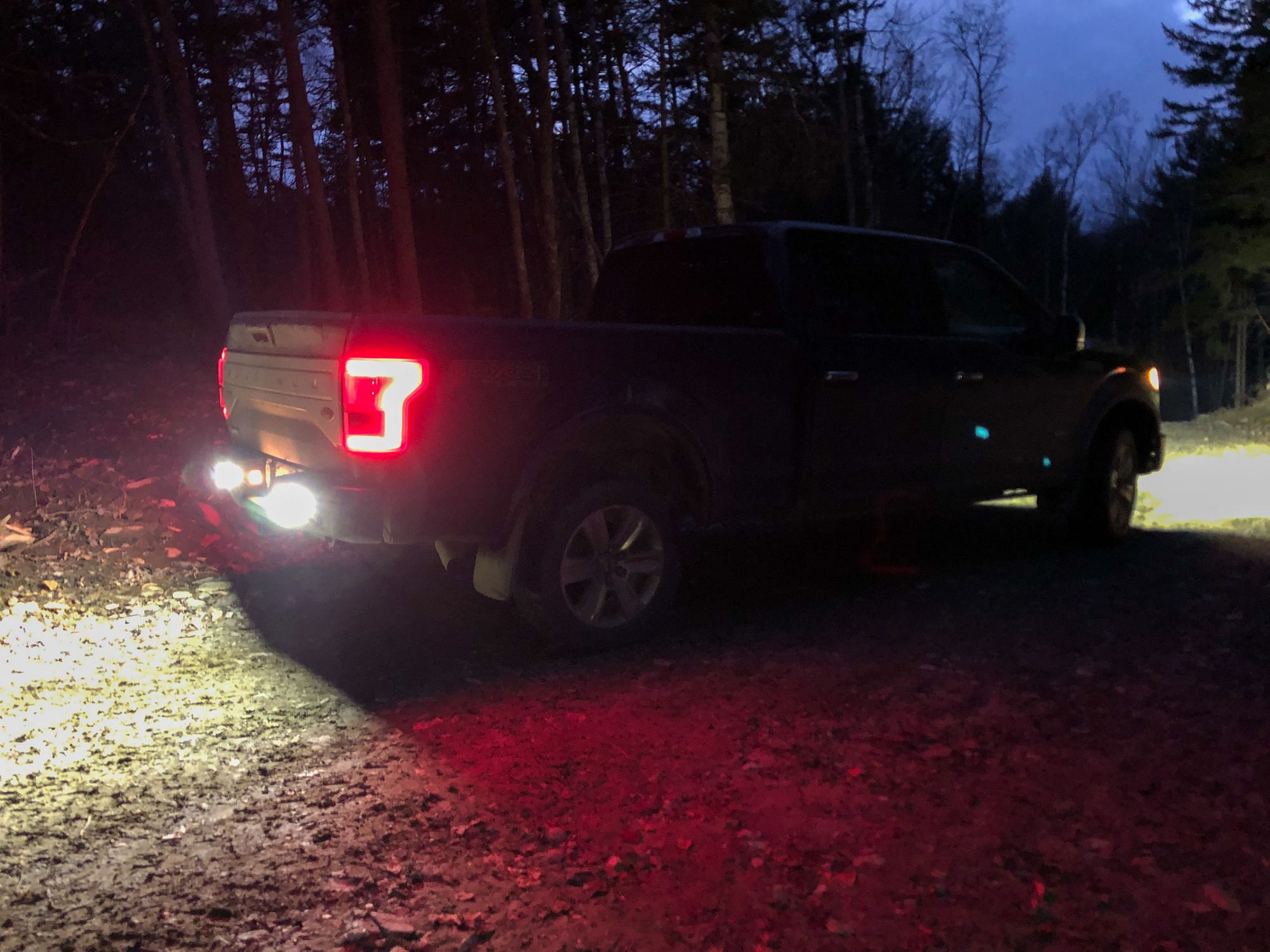 It was also bitterly cold - some mornings down to about 25°F when we started work. In addition to wearing about 6 layers each, we also brought along a new gadget - a small 200W rice cooker!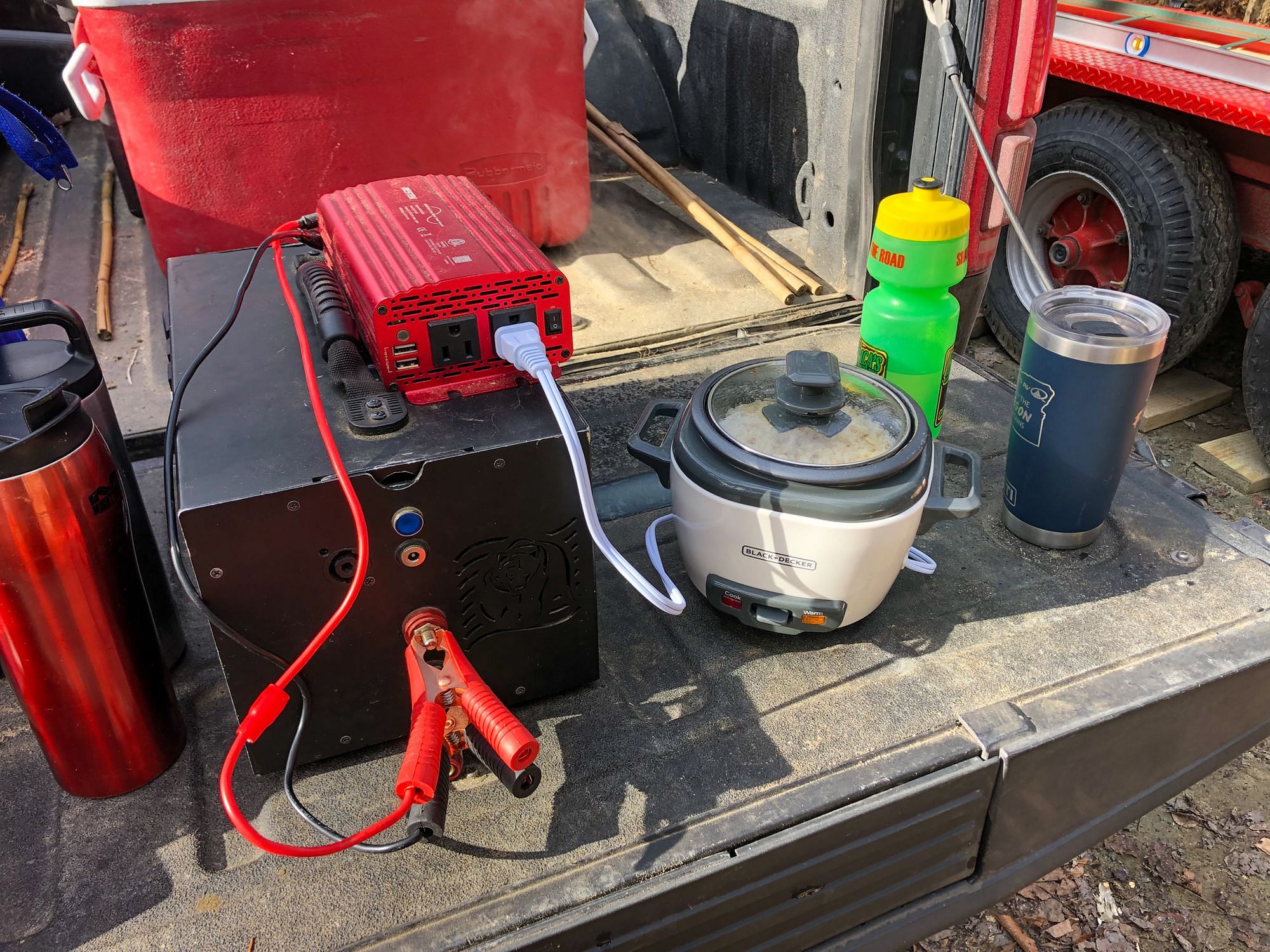 I picked it up on Amazon for very little money but it does a great job of heating up a portion of rice in about 40 minutes. Along with a Thermos flask of hot, home-made chili, it made for a much-needed hot lunch!
Packing Away
Since we're going to be leaving Vermont with the RV and heading south this winter, we want to make sure all our possessions are as safe and secure as possible - not just from theft, but from the elements as well.
Pretty much anything valuable that we can carry has been moved off-site to our secure heated storage unit - this includes all our tools but also some things we've chosen not to take with us in the RV this winter.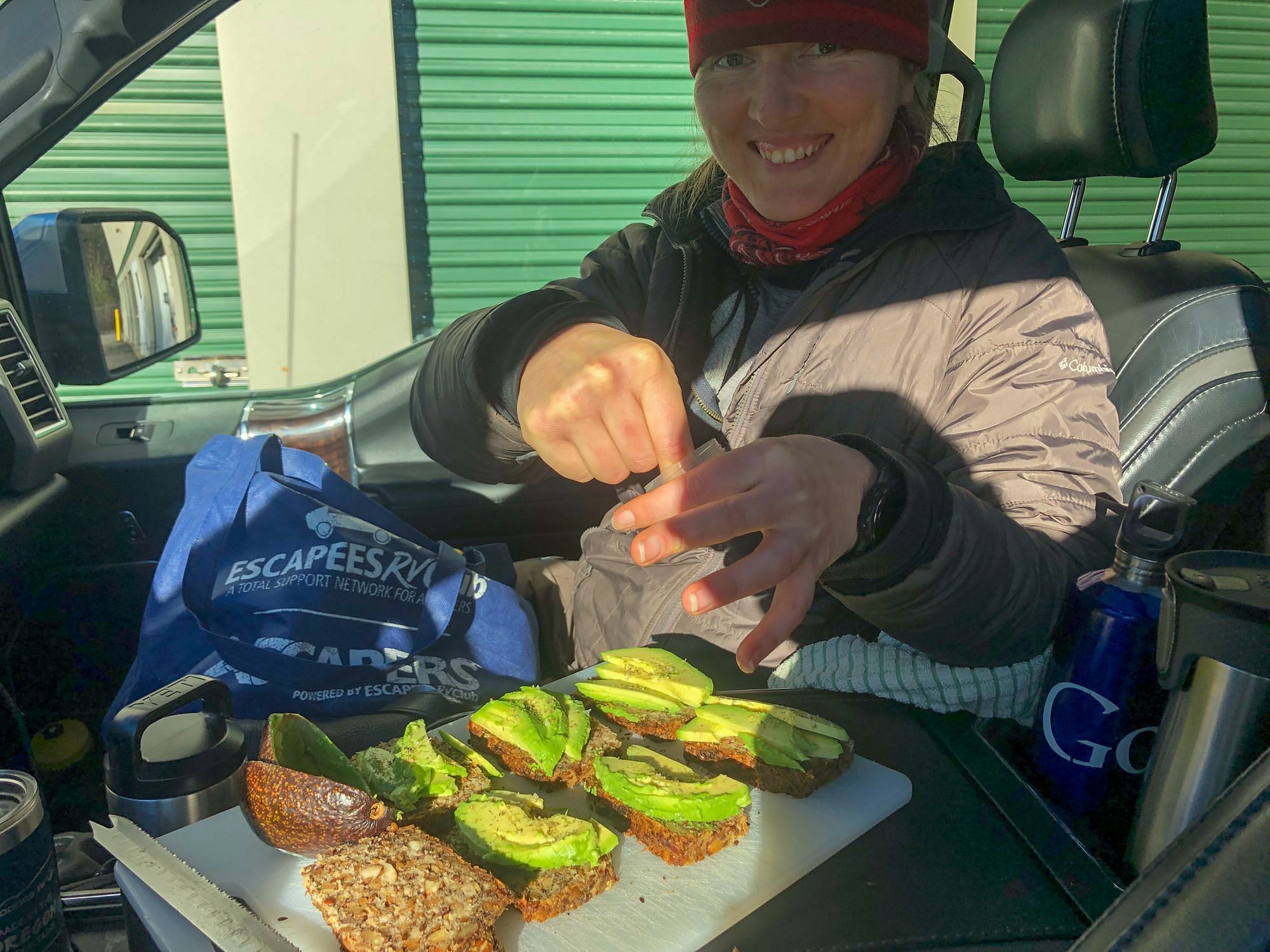 Which really leaves just three large items at the property - the sawmill, the tractor and the equipment trailer.
We loaded the sawmill into the shipping container, made sure there was fuel stabilizer in the tank, drained the lubricant and gave it a fresh oil change. The tractor too has been loaded into the shipping container, again adding some fuel stabilizer and following the manufacturer's guidance for storing the tractor.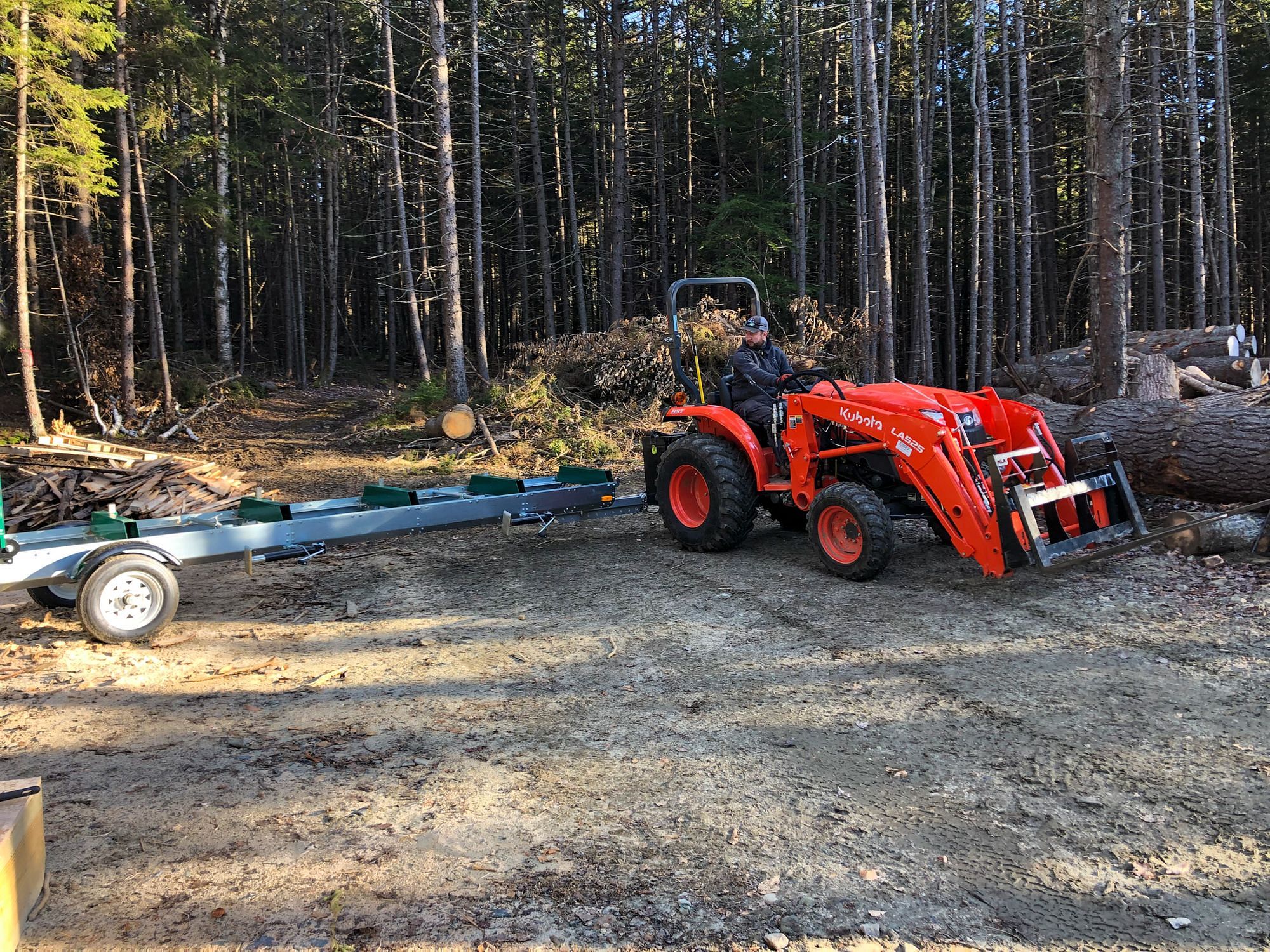 As well as ensuring the shipping container is securely locked, we've taken some additional precautions to secure and disable both the tractor and sawmill. While nothing is ever completely theft-proof, I'm hopeful that we've done enough to ensure that we'll find both vehicles safely where we left them when we return to the property in spring.
That just leaves the equipment trailer which is, unfortunately, too large to fit in the shipping container. Instead we've taken a few measures to ensure the trailer can't be moved - including removing all the wheels and coupler, and a few other security measures. Fingers crossed it's safe too!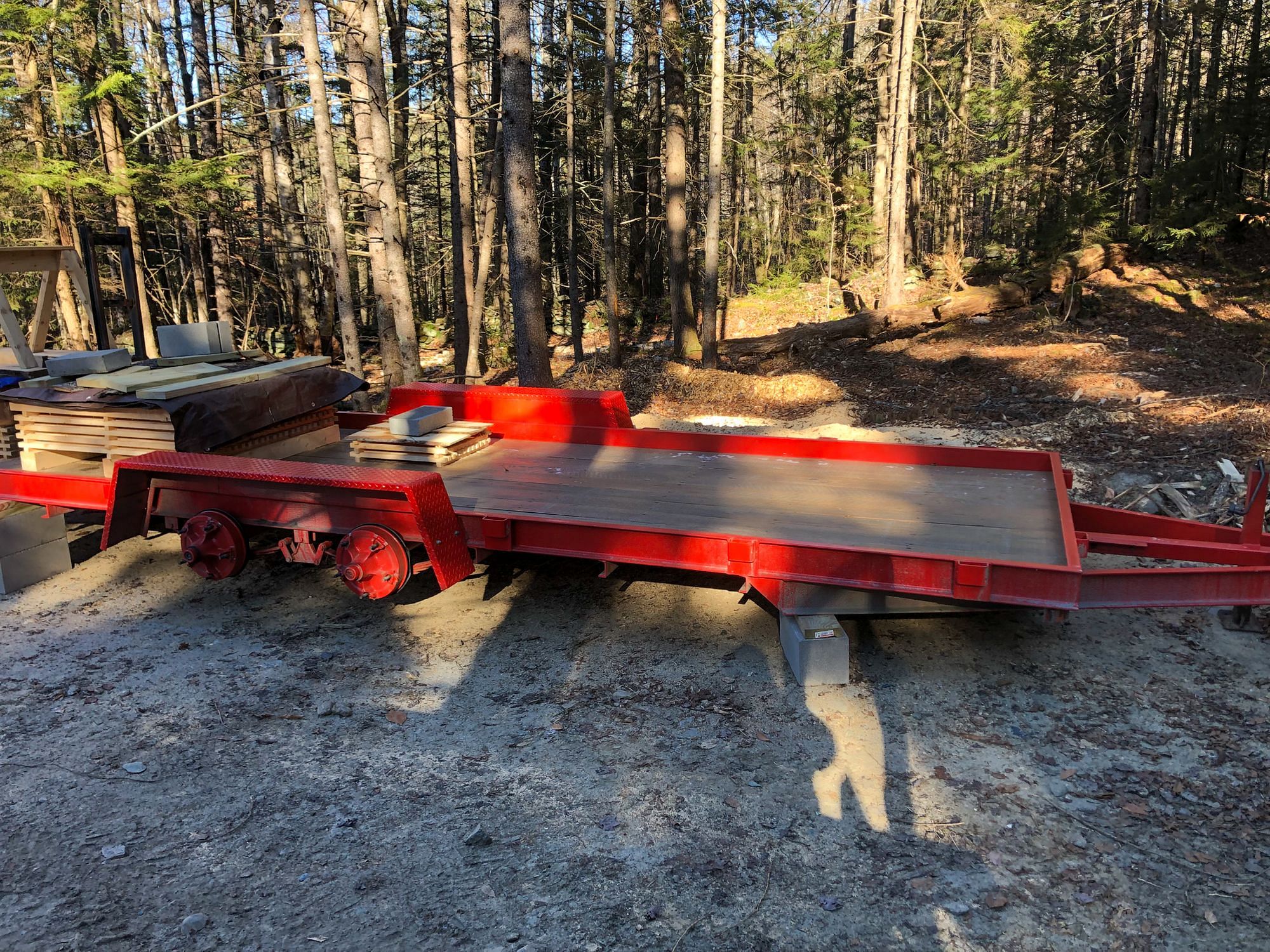 Road Closed
Even with many of the trees void of leaves, you really can't see much on our property from the road. We spent several hours tracing out the property boundary and posting the entire property - these posted signs worked great and we tacked them to trees using our Dewalt 5-in-1 stapler.
As we were walking the property, we stumbled upon some interesting things. The first was this skull, which I think is a black bear skull.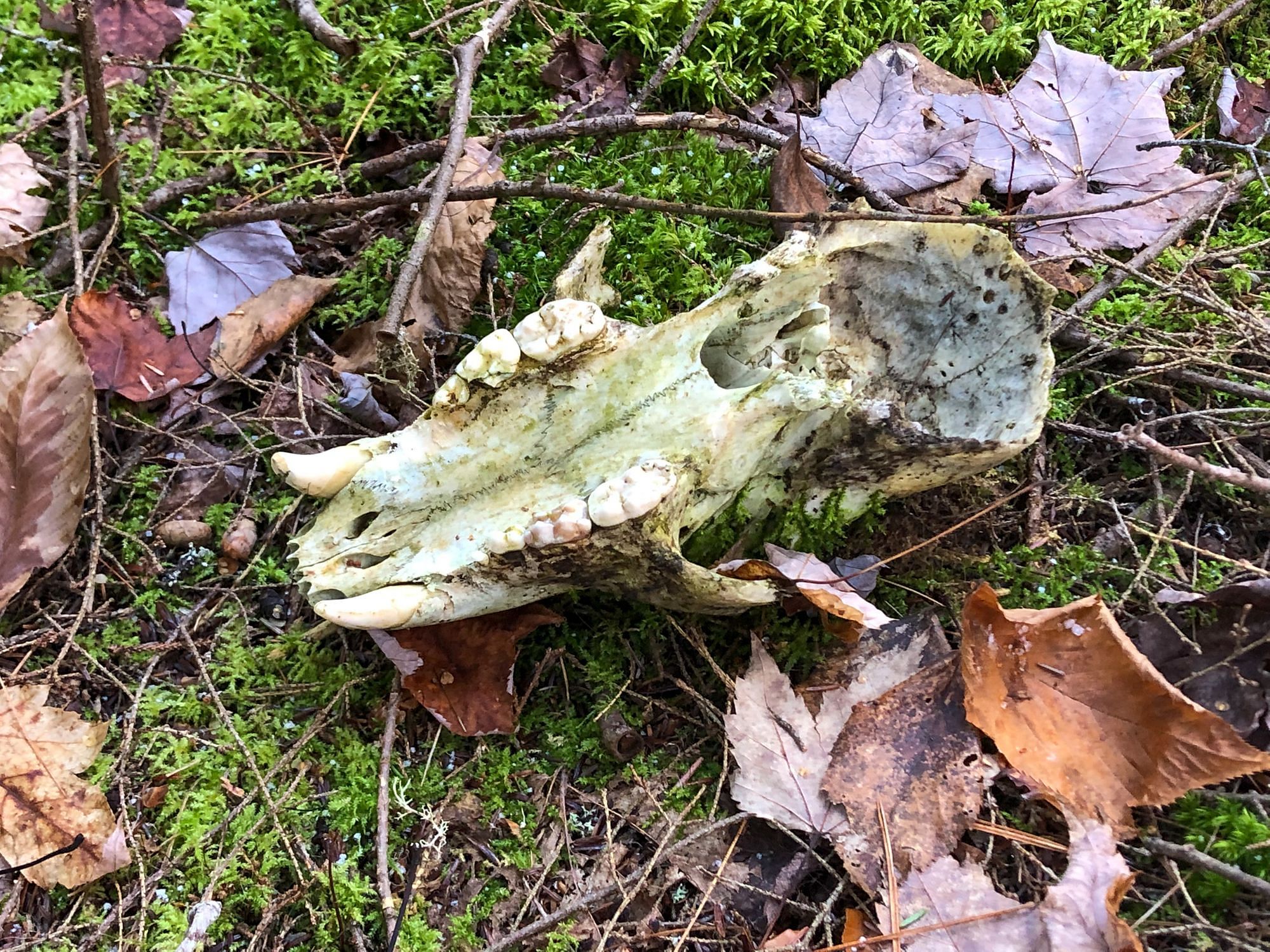 The other is these weird ice formations - neither of us have ever seen anything like this! They were clustered in a fairly wet area not too far from the pond - drop us a comment if you know how these form.
The driveway itself is closed off with a chain fence, as it has been since the driveway was first installed. We have cameras installed around the property and so far we haven't had any issues with trespassers - we've also put in lithium batteries to help with the cold weather this winter.
On top of this, the wintery conditions themselves will do a great job of rendering our property inaccessible, especially when the snow plows inevitably pile snow into our driveway entrance (we've removed the mailbox in anticipation of its destruction).
As a final precaution, just before we put the tractor away in storage we used it to barricade itself in, blocking the driveway with a couple of huge logs.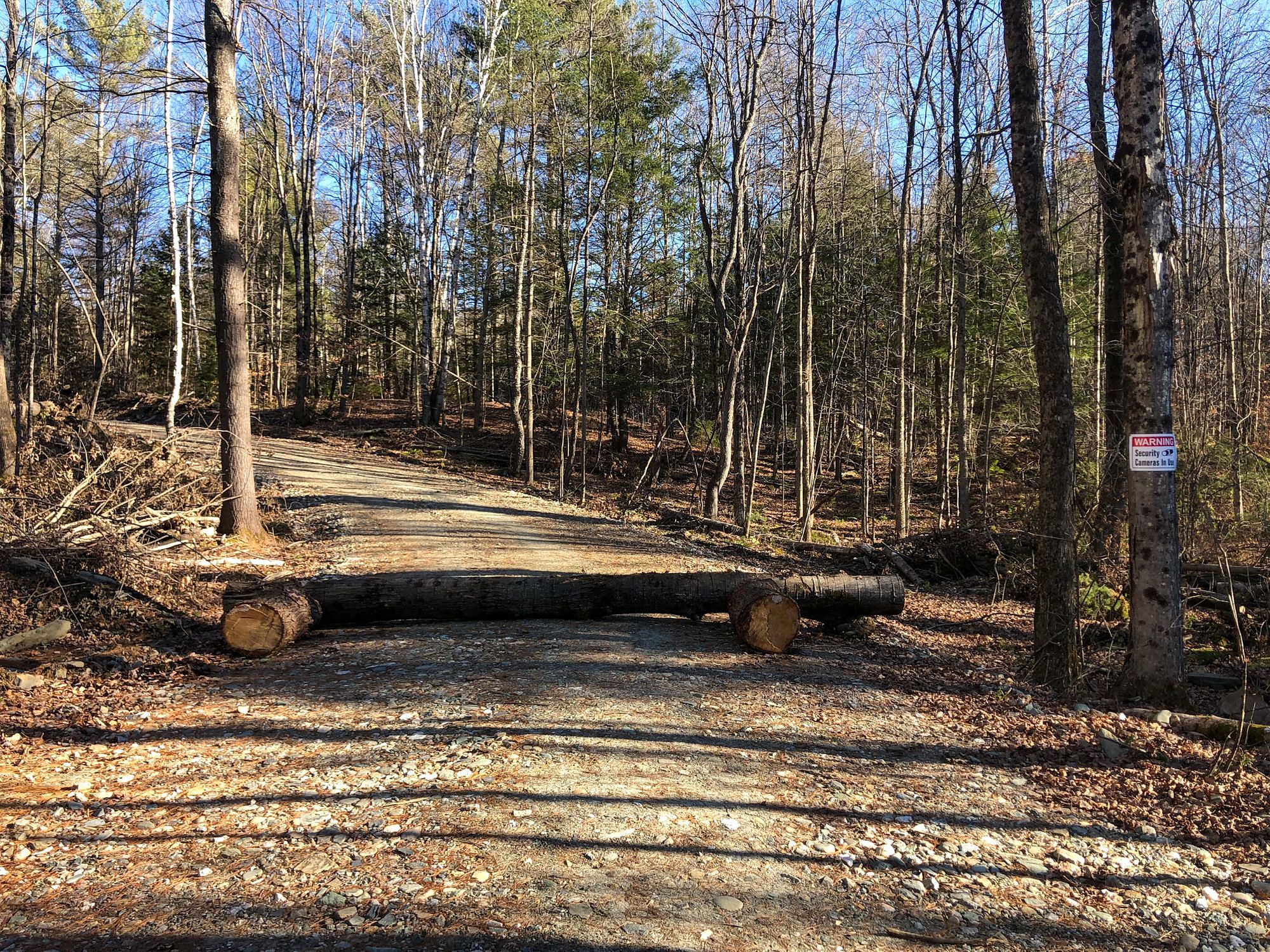 When it comes to security, I always follow the mantra: hope for the best and prepare for the worst. We feel like the neighborhood is really safe, and the neighbors themselves have been incredibly welcoming - several have offered to keep an eye on things for us this winter.
Hopefully the basic precautions we've taken will keep unwanted visitors out, and most importantly keep our property safe until we return in spring.
Thanksgiving
Since Diana and I don't have family in the US, it's become somewhat typical for us to spend Thanksgiving by ourselves. This year was no different, and we had a wonderful, relaxing, and peaceful day in the RV.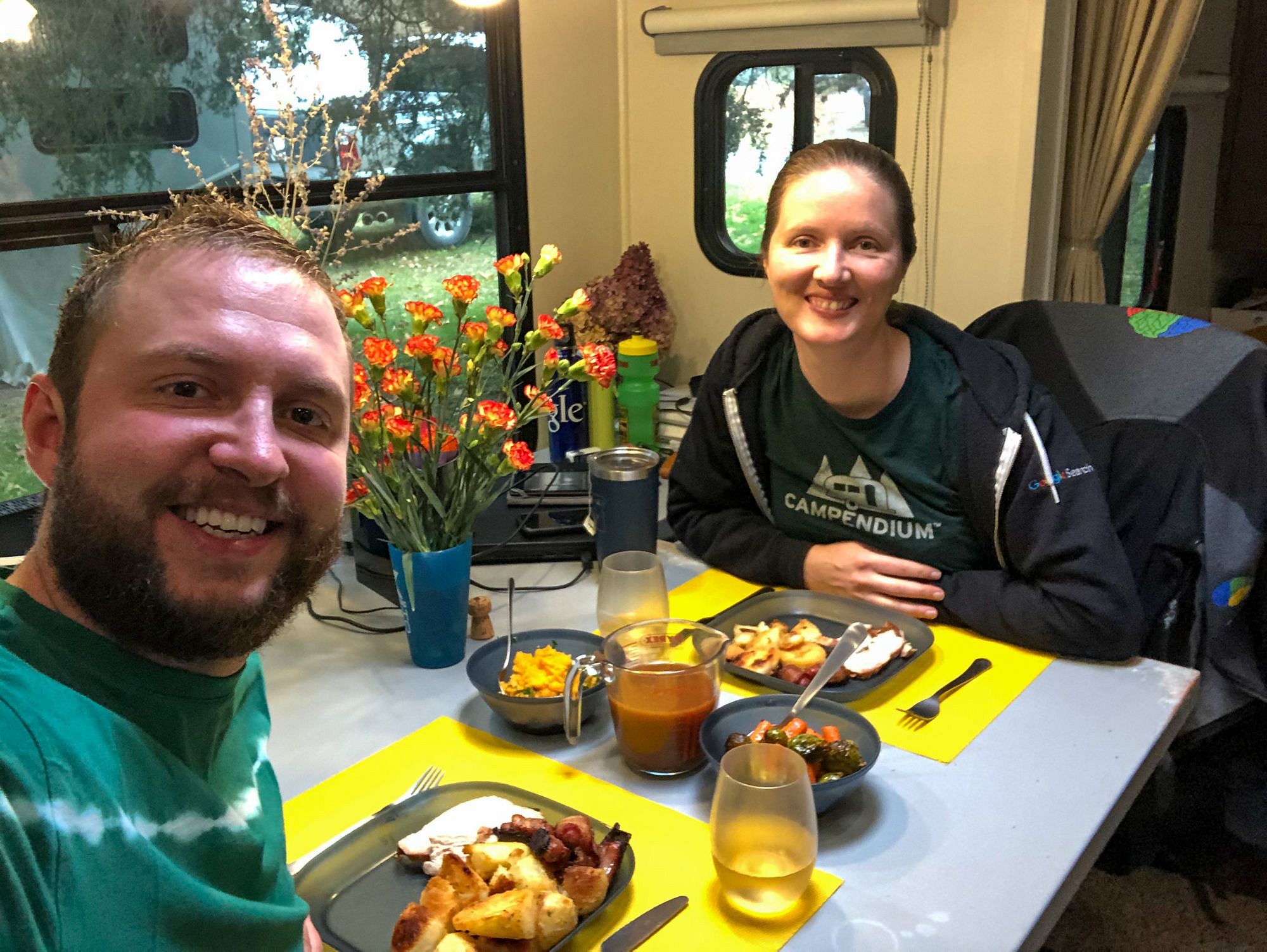 But like many others, food played an integral role in our Thanksgiving celebrations! As we had last year, we used our Instant Pot Air Fryer Lid to cook a turkey breast - with leftovers for days! We also used our MEATER+ to ensure it was cooked to perfection and again, it didn't disappoint.
The past month or two has felt like a sprint - cramming all our video editing, blog post writing and consulting into rainy days so we could spend every dry day possible at the property. It was non-stop.
Honestly, as fun as it was, we were beginning to burn out. It's been so refreshing to spend the last few days at a much calmer pace - no 6am alarm, no 2 hours of "commuting" to the property, no schedule, no itinerary, no never-ending todo list.
We have so many things to be thankful for, and we've enjoyed reflecting on those things this Thanksgiving. We hope you've had a wonderful Thanksgiving too!
Snow Storm
We took advantage of the good weather earlier this week to finish packing up our property - in fact, we finally made it back to our RV at 4pm on Wednesday, just before Thanksgiving. We were shattered, but importantly we were finished. We can relax, knowing that other than a few final preparations with the RV itself, we are ready to hit the road.
And just as well - on Friday afternoon a snowstorm moved through the area. We awoke to around 4-5" of snow, but some parts of Vermont received 10" or more!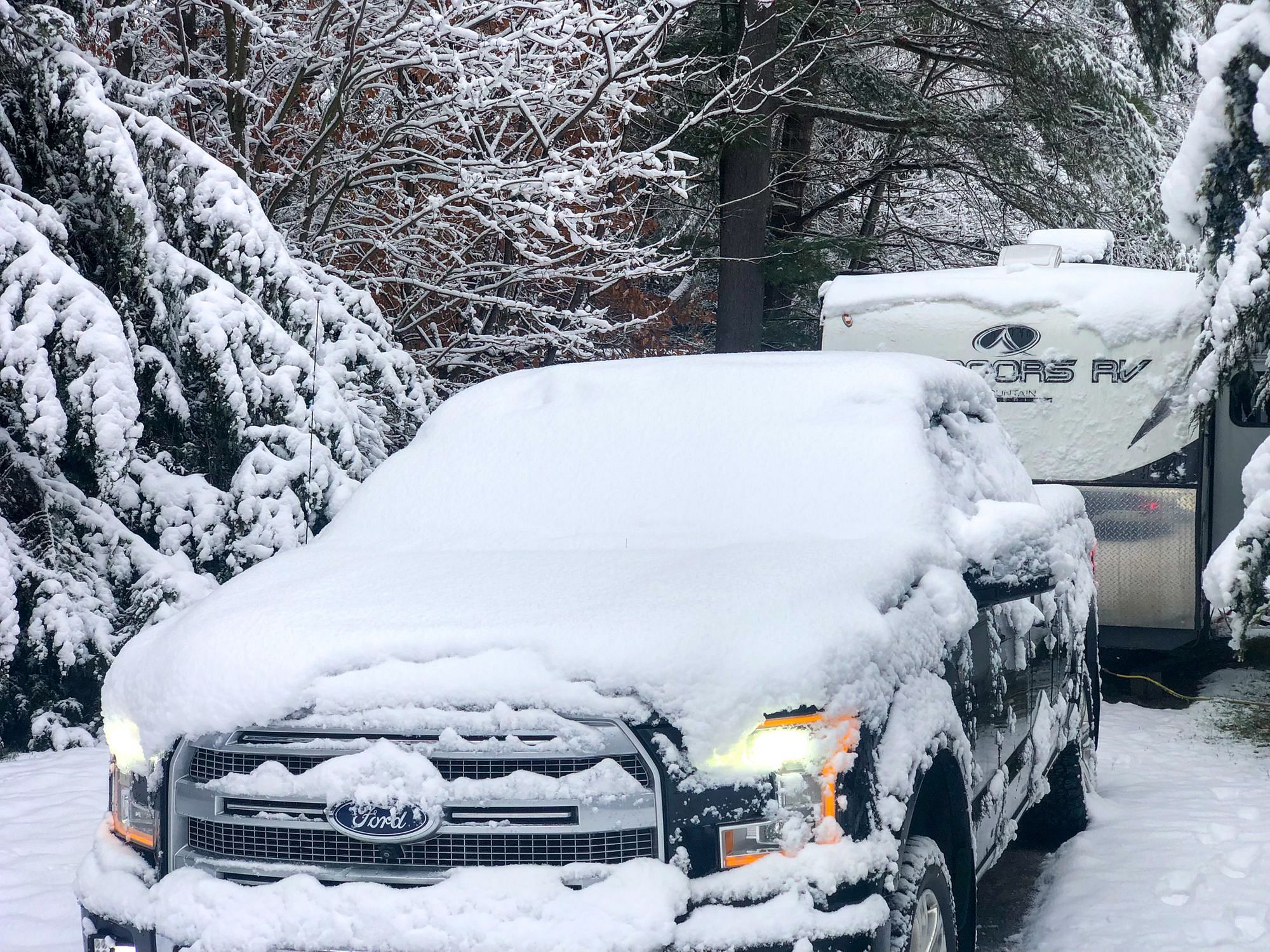 If we still had to pack away everything on the property, it'd be pretty miserable. Not only will things be covered in snow which means we'd be packing them away wet, but temperatures are due to plummet down to 14°F in the next few days!
As I said at the start of the post, with the benefit of hindsight, we made an excellent decision to pack away early.
The next few days we'll be finishing a few small preparations to get the RV ready to hit the road - flushing tanks, refilling propane and generally giving it a thorough clean.
It's more than 12 months since we arrived at this campground, and we've had an incredible time. We don't share campgrounds we're currently staying at which has been a bit of a challenge at times given we've been here more than a year! But look out for an upcoming blog post where we'll share all about this wonderful campground and why for us, it's one of our all-time favorites!
For now, we're enjoying the luxuries of full-hookups, not least the 400Mbps cable internet plugged into the side of the RV! One important part of that is backups, something we've been focusing on recently.
Anyway, that's enough for now - time for me to put my feet up and finish our Back to the Future movie trilogy!