Video
Introduction
Season 3 is going to be amazing, but we decided to have a little break after the craziness of Season 2 before jumping back in. Let's catch you up on what happened!
Forest Road 88
We left Albuquerque, NM in mid-May 2019, and headed north. Our plan wasn't actually to make it to Colorado, but to stop near Cuba, NM - a boondocking spot called Forest Road 88.
Unfortunately, the beautiful 70ºF weather we had become accustomed to the past week in Albuquerque vanished - replaced by freezing conditions and snow!
We figured the storm would pass, so we headed down the Forest Road. Big mistake! The ground was incredibly wet, with snow and ice covering huge puddles! We decided to abandon the plans and turn around. We reversed into a large clearing and promptly got completely stuck!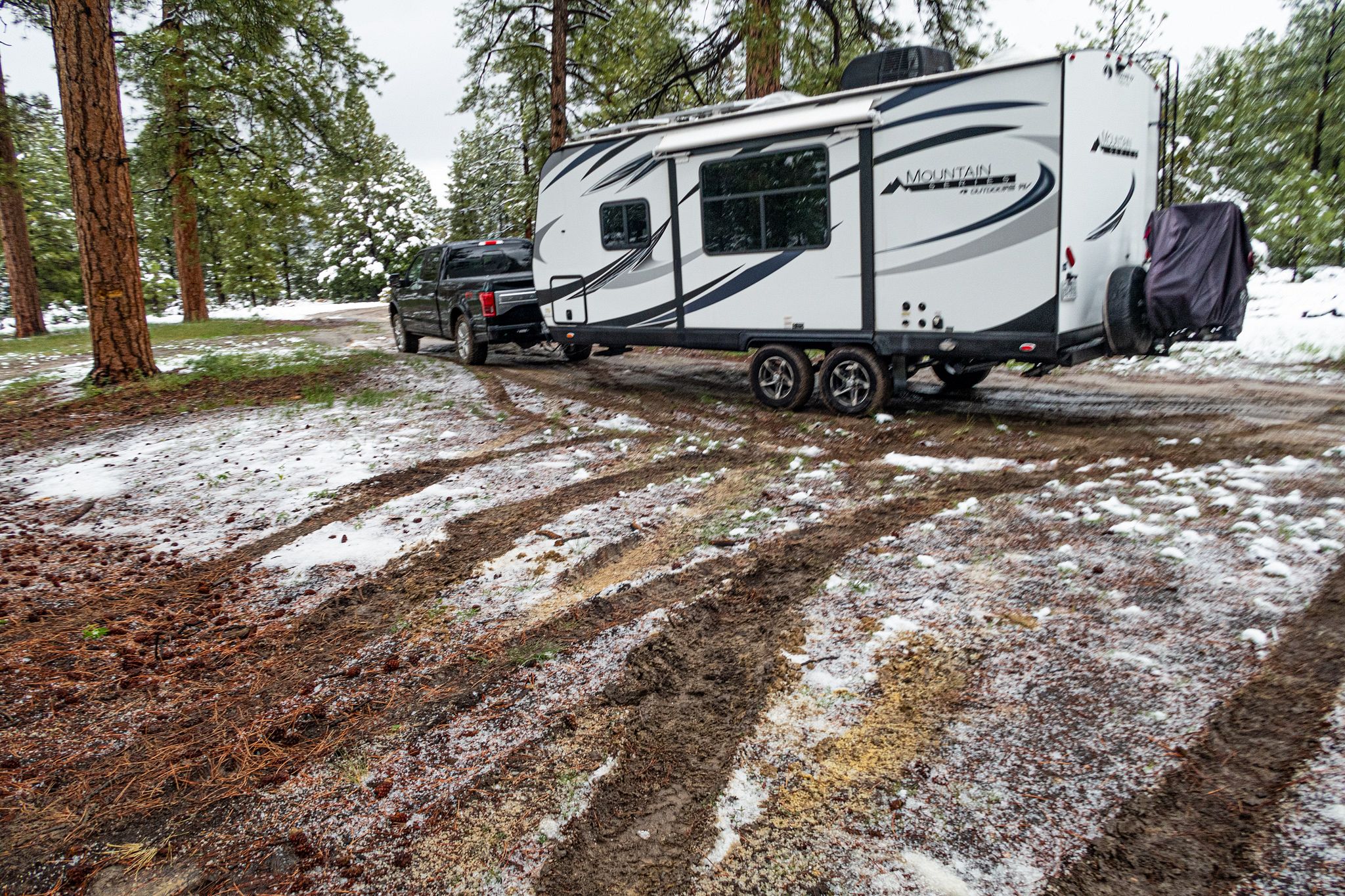 Even in 4WD low with the rear diff locked, all our wheels were spinning. With nobody around, we had no choice but to try and free ourselves. Through sheer determination, and a lot of rocking back and forth, we managed to get free after about 10 minutes.
Back on the road, we decided to continue north and find somewhere to camp.
Angel Peak Campground
And boy did we luck out! We stopped in at Angel Peak Campground - a free, BLM-operated campground near Bloomfield, NM.
Although free, it's not dispersed - it has defined sites. We drove around the loop, and found one free spot that we would fit in. We used every inch of our ground clearance and squeezed in.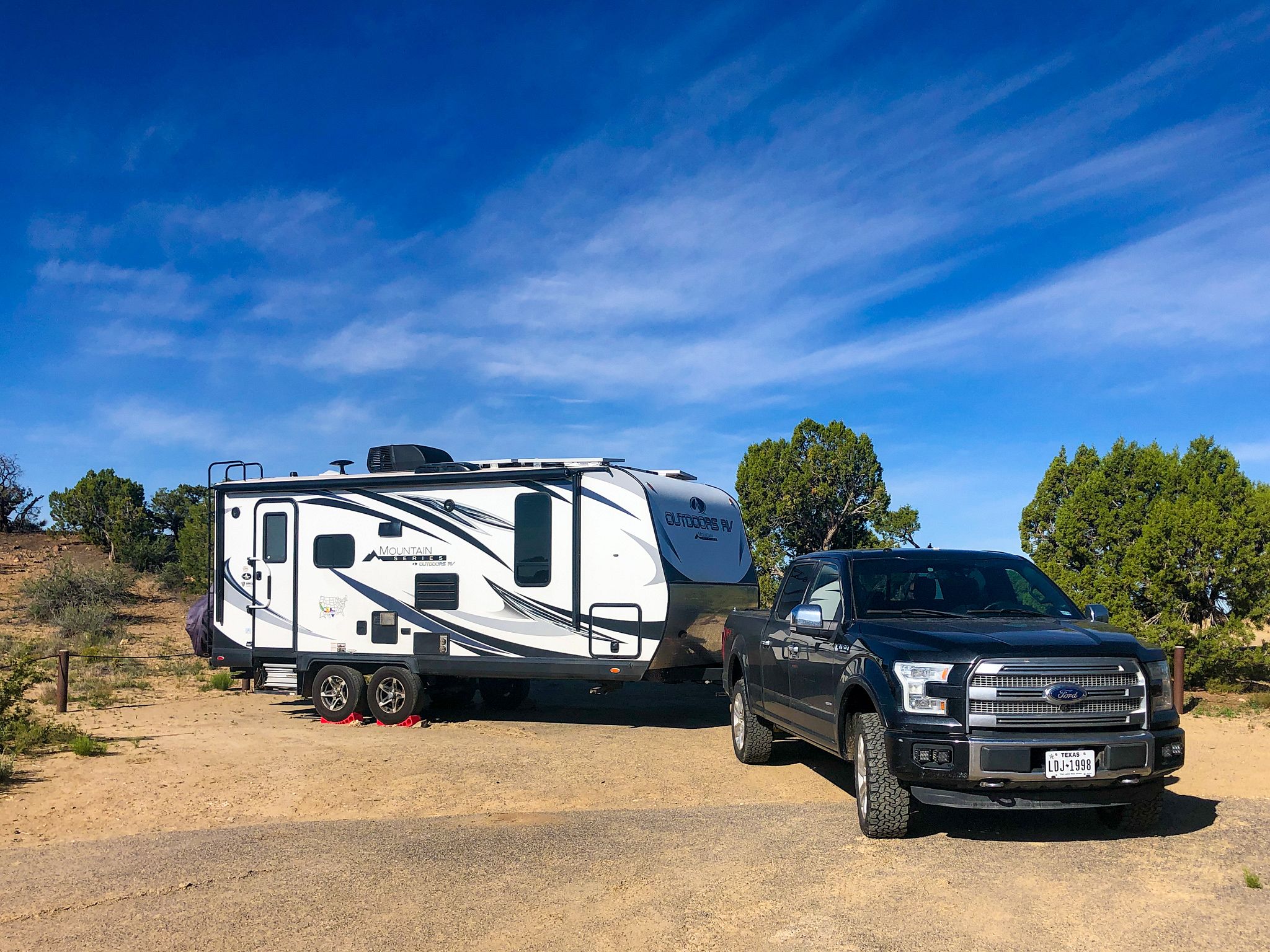 The views were simply spectacular!
We ended up dry camping here for 9 days - the truck never moved the whole time we were there! We lucked out on cell signal too - being on the edge of the rim, we had great signal, whereas just 50ft from our RV there was none!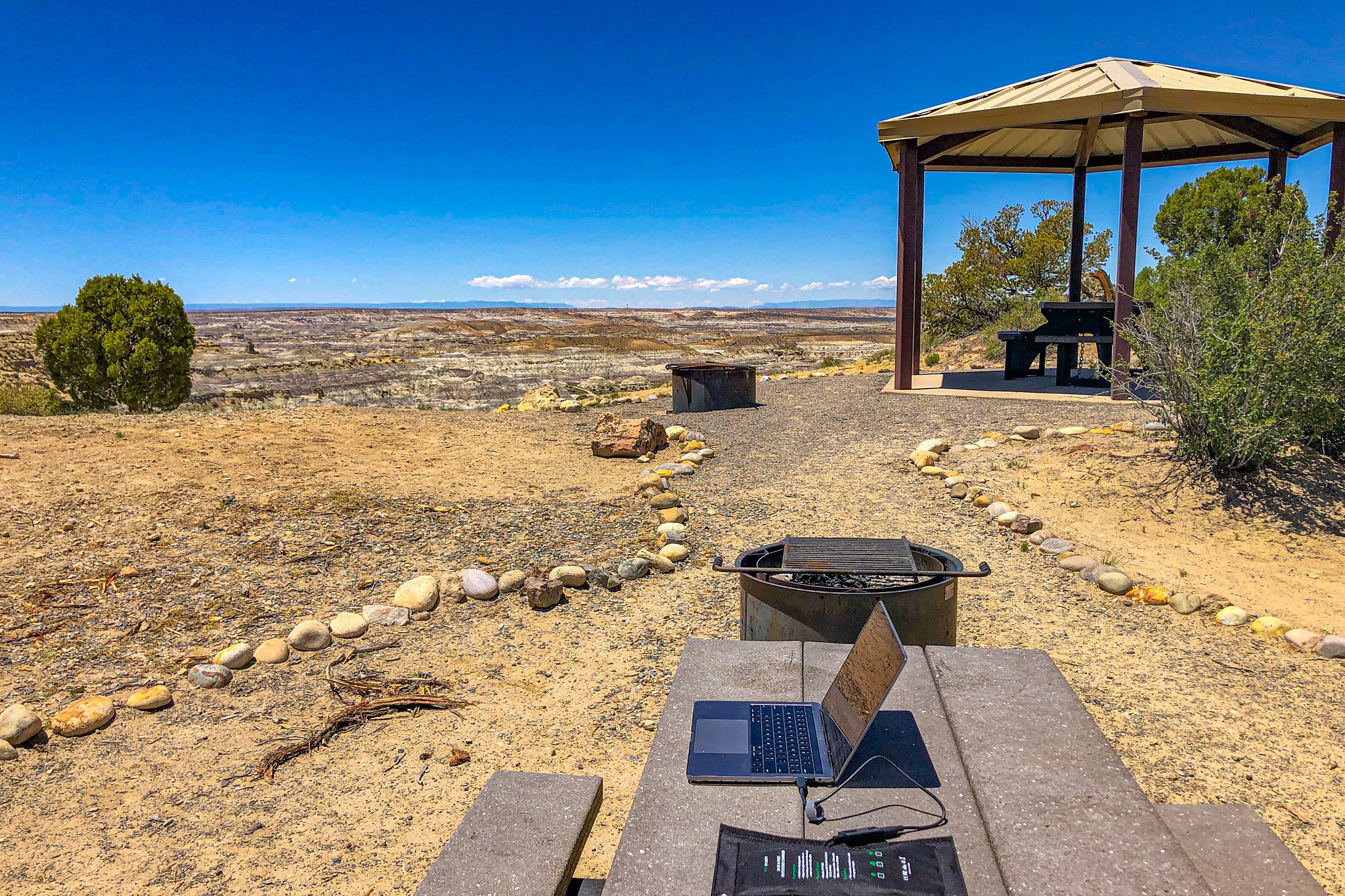 Durango
At the end of May, we left New Mexico and drove up to Durango, CO to camp with our friend Cass from Tails of Wanderlust. She had snagged an amazing spot - tranquil, with great cell signal and stunning views once again!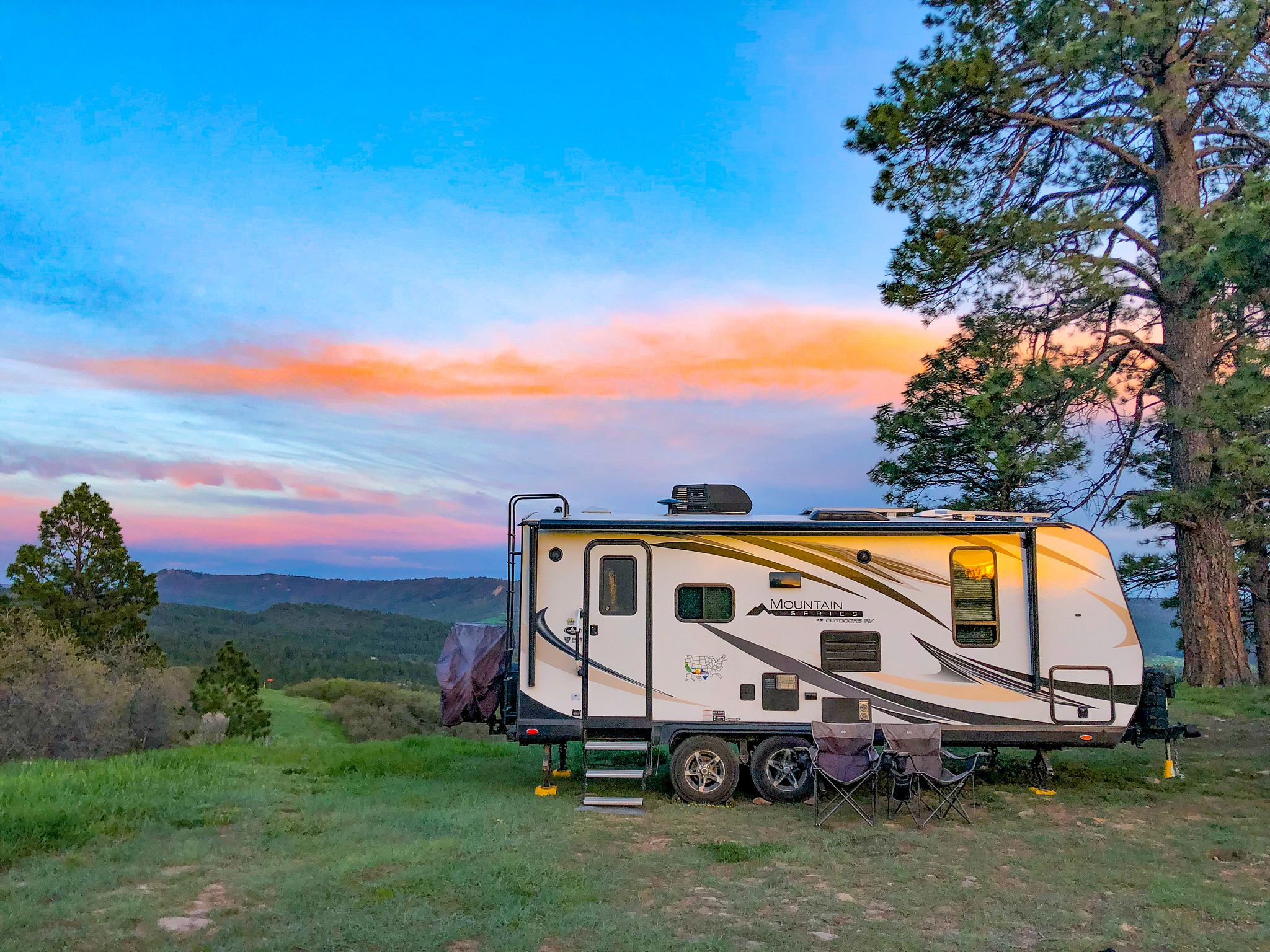 But our drive up wasn't uneventful. We were heading to Durango to do a Wilderness First Aid Course - something we had long been wanting to do given our lifestyle. We had to pay in person, so we stopped in on the way through Durango.
Unfortunately Google Maps led us astray - up a private road with no turnaround spot. I had no choice but to back into a driveway.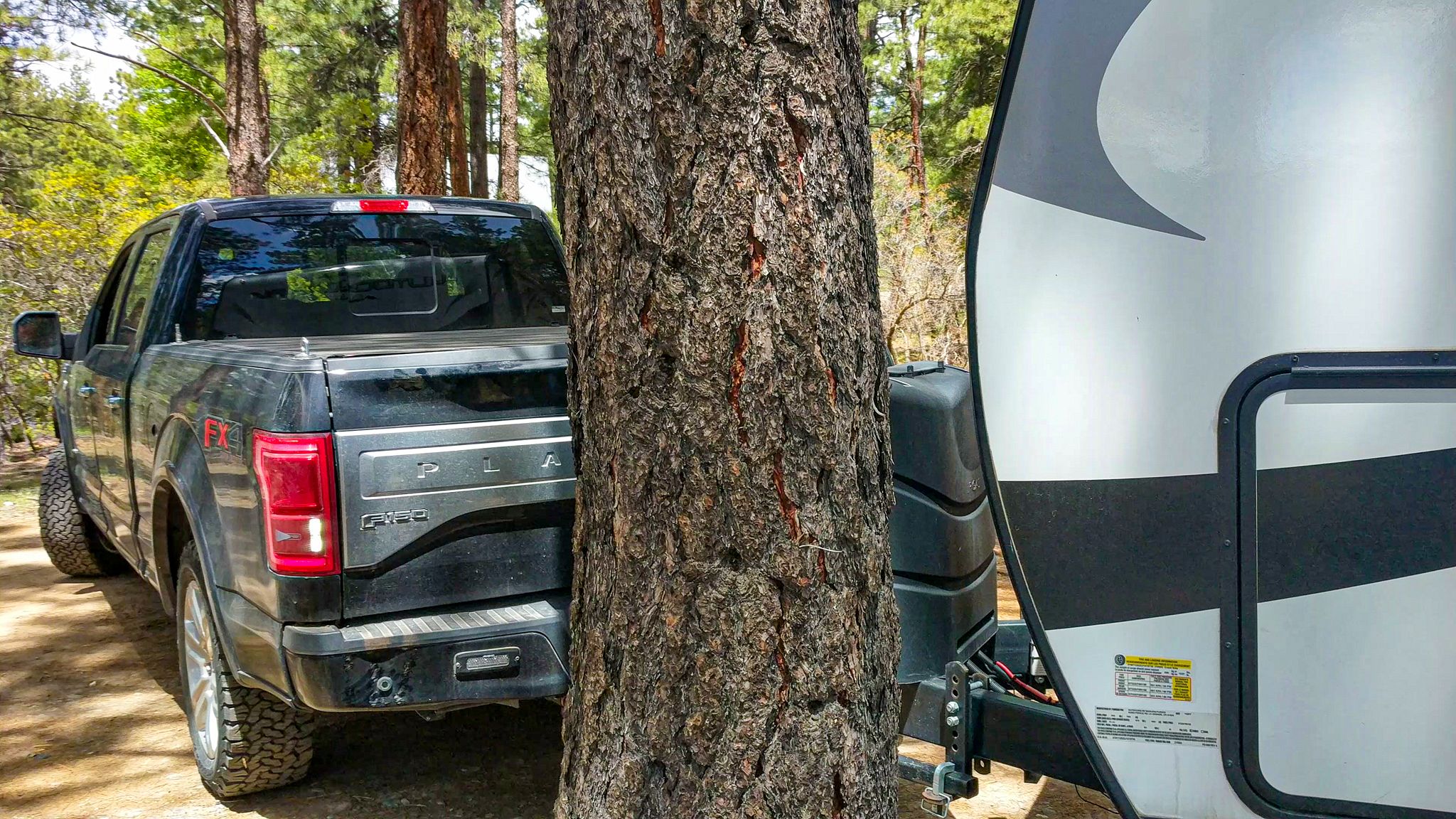 And I crashed into a tree!
Yup, with the trailer in tow, I managed to reverse the truck into a HUGE tree.
Fortunately, the trailer missed the tree, and since I was going so slowly, there was no damage to the tree. There is however a nasty dent in the rear truck bumper - right where the reversing sensor is...
Wilderness First Aid Course
The NOLS Wilderness First Aid course was fantastic - a 2-day course that covered the essentials for performing first aid in a wilderness environment.
If you spend as much time outdoors as we do, I'd highly recommend doing a course like this.
We also met some wonderful people who invited us over for dinner - an offer we took them up on a couple weeks later!
Habitat for Humanity
From Durango we moved over to Bayfield, CO. We stayed here for 11 days while I went to volunteer for Habitat for Humanity and helped build a house in Bayfield.
This was an amazing experience, and not only was it great to spend some time volunteering for people in need, but I learned so much too! Another thing I'd highly recommend if you can.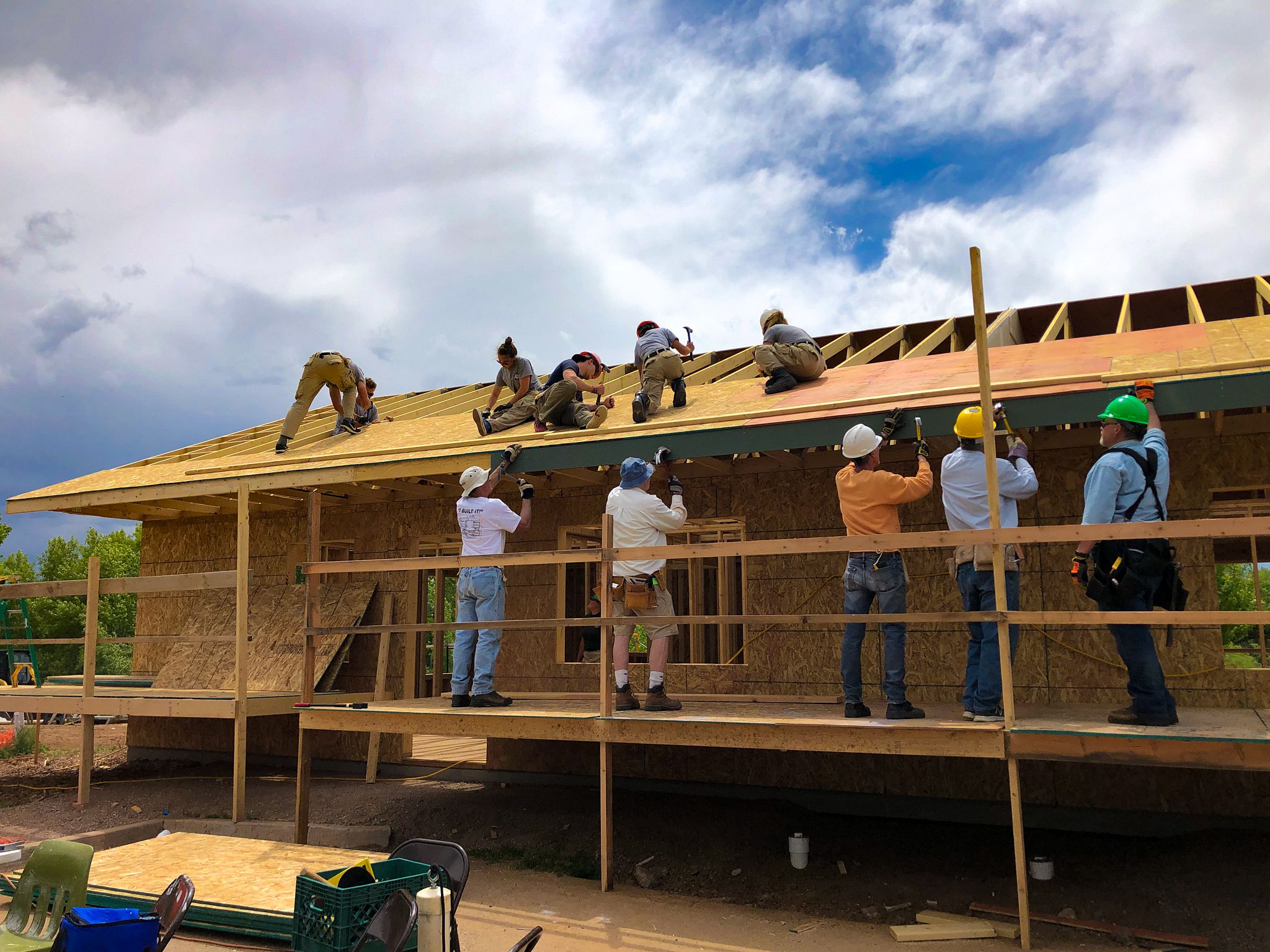 While we were camping in Bayfield, Diana and Cass went backpacking overnight with Cass's dog, Jasper. I stayed back to watch the RVs and look after her cat - a largely successful endeavor!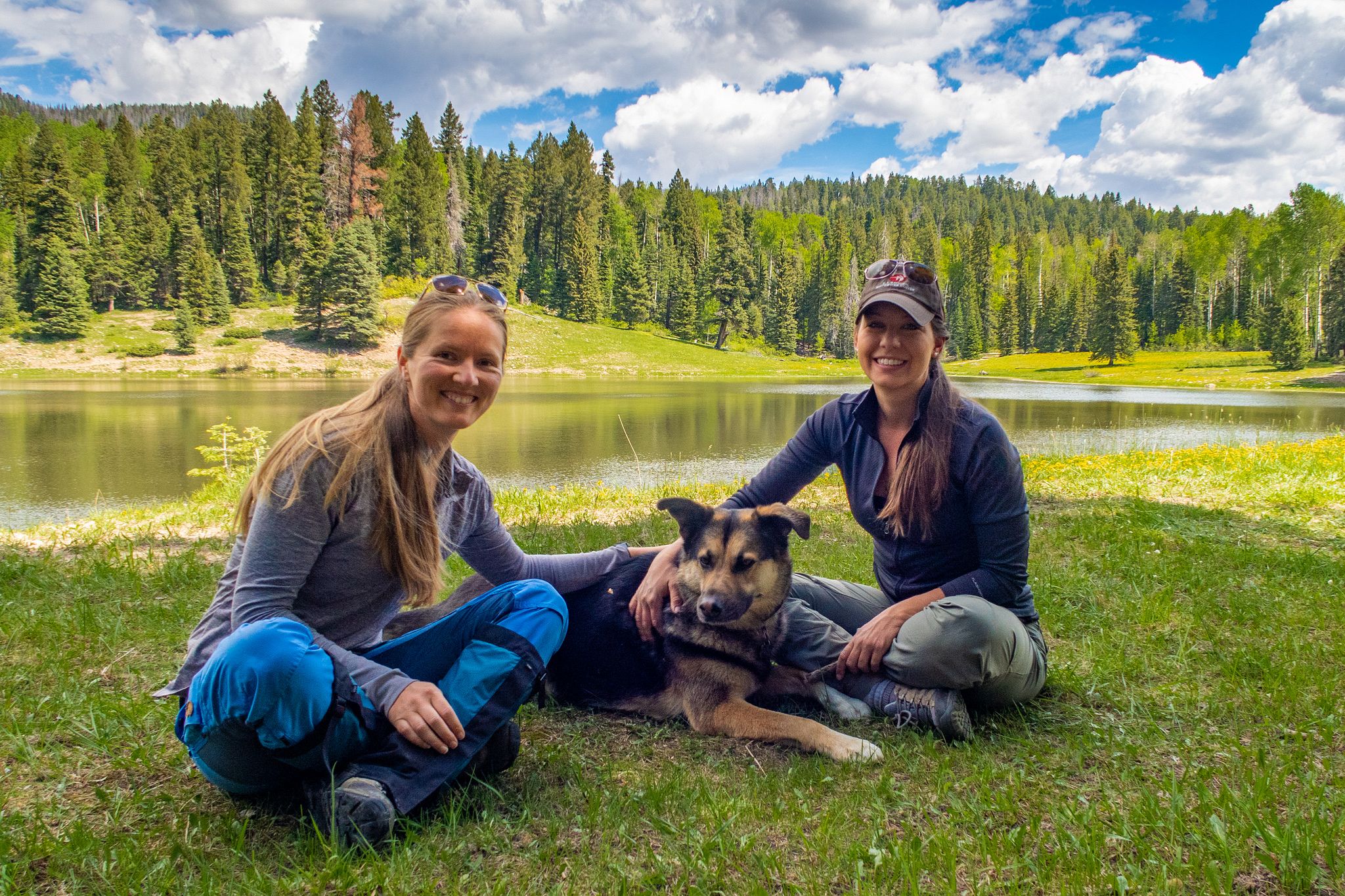 With the RV to myself I took the opportunity to install our new smart WiFI thermostat without Diana there to stop me! Although she wasn't convinced about it when she first saw it, she quickly learned to enjoy being able to turn up the heating while still in bed.
We also took a drive up to the Continental Divide and went hiking on the (now-closed) ski slopes. Jasper loves the snow and we had a lot of fun watching him roll around and play!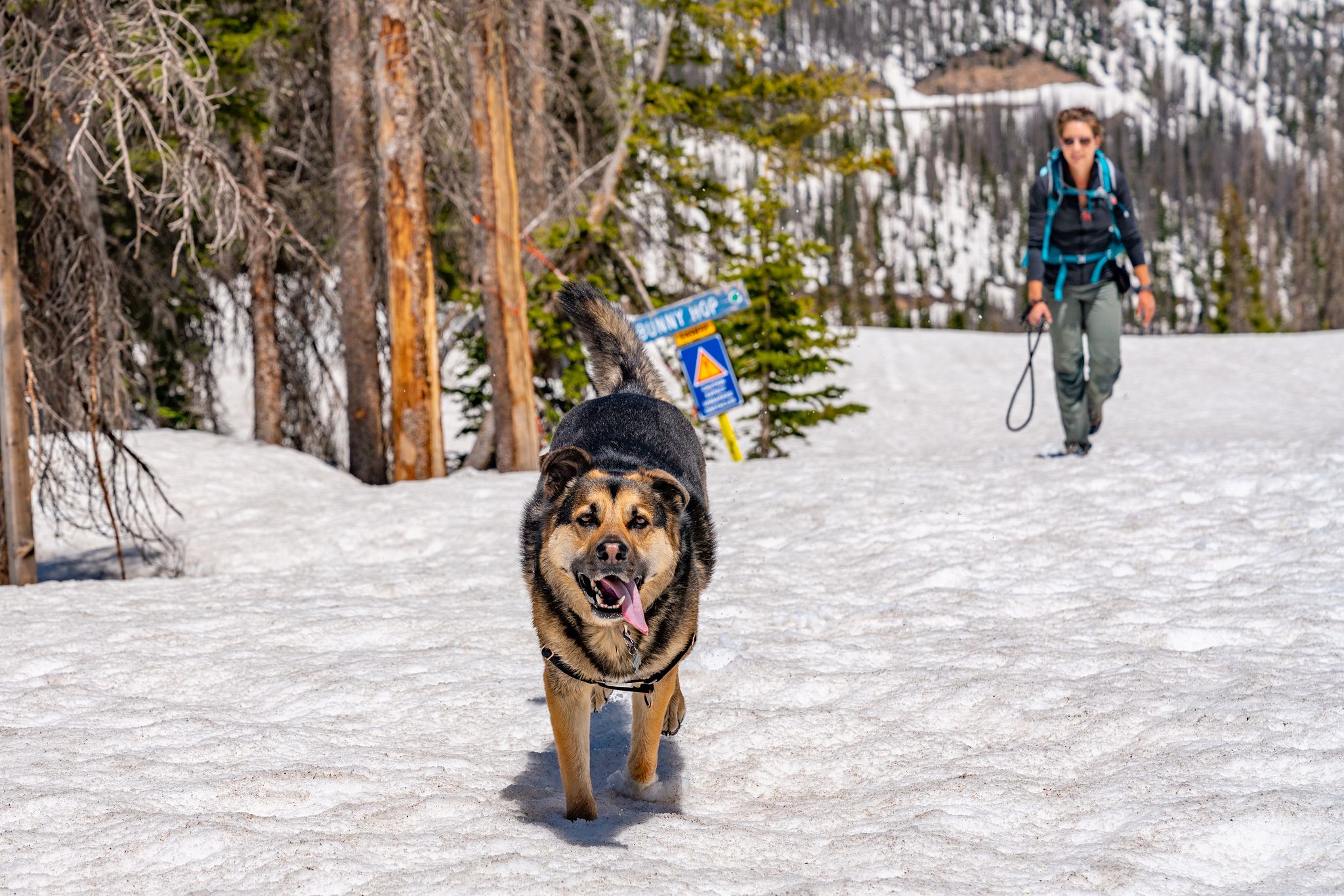 Xscapers Convergence
At the end of June we moved to Salaida, CO for the Xscapers 4th July Convergence.
Along the way we stopped for a couple nights at Pagosa Springs, CO to meet our new friends from the Wilderness First Aid course for dinner, and enjoy the wonderful hot springs in town!
It was great to see friends we hadn't seen for many months, and the whole convergence was a blast.
The area around Salaida is great for off-roading. Not only is our truck our tow vehicle, but we've also done several modifications to improve its off-road credentials too.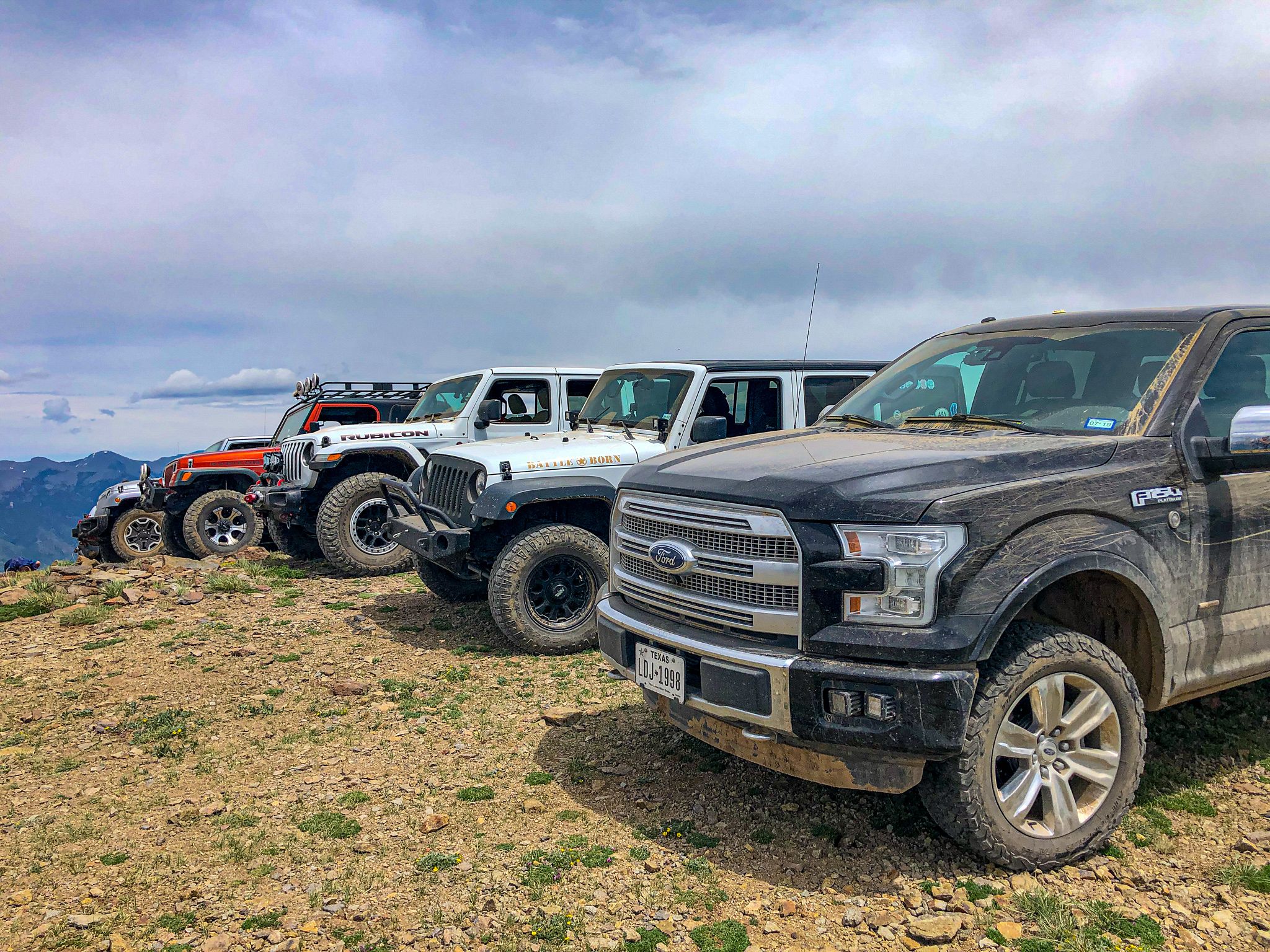 It didn't take much persuasion to hit the trails - joining several groups as we went and explored the nearby mountain roads. While the F-150 is much larger than the Jeeps that many others drove, it happily held its own - even managing some sections that a few Jeep owners backed out of!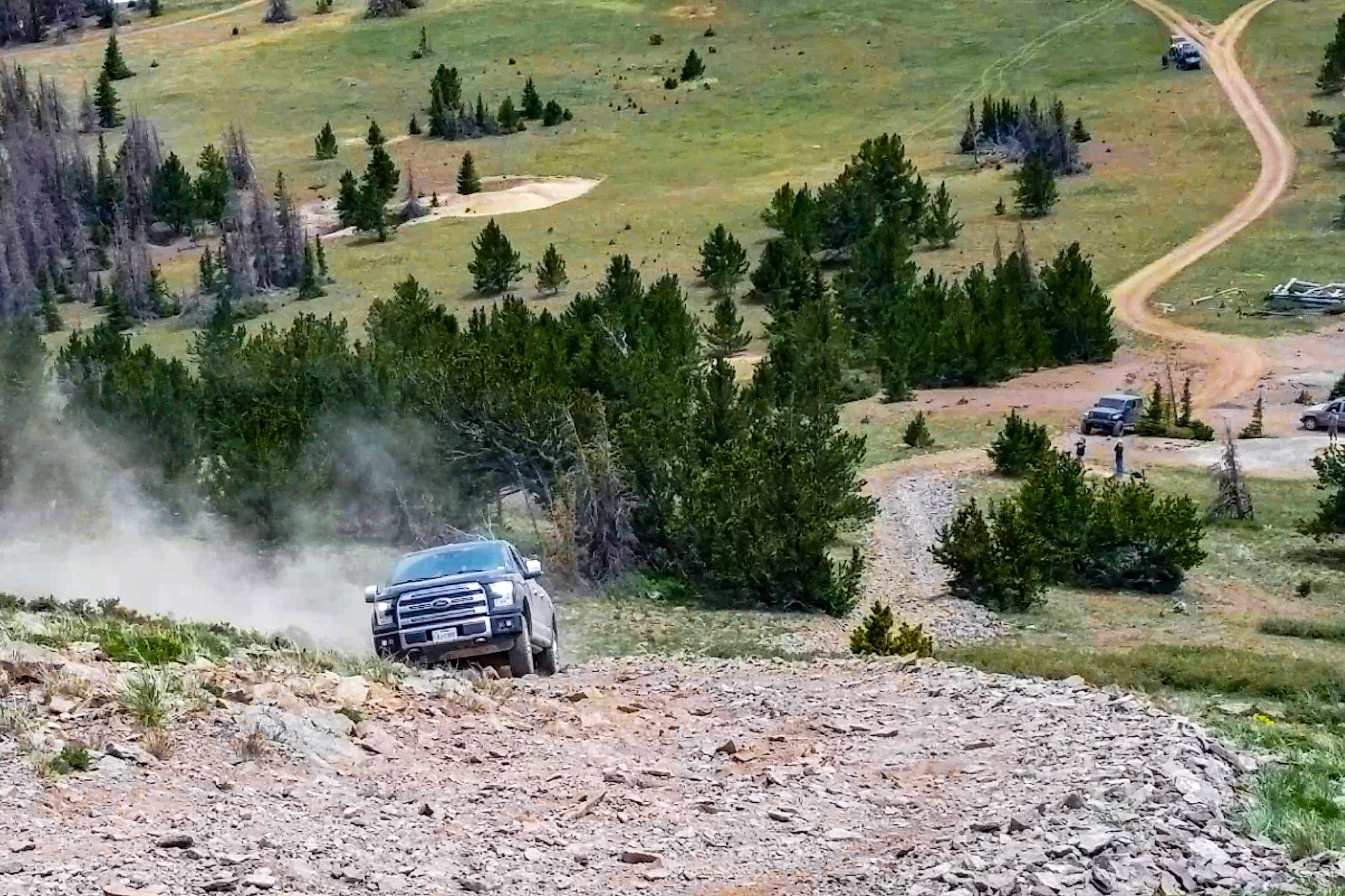 The rest of the event was a blast - a comedy night, pot luck and a white-water rafting trip amongst the highlights.
For the 4th of July itself, we were privileged to have been invited to take part in Salaida's parade. The Xscapers float? A semi-truck towing a huge 5th wheel trailer...towing a Jeep, towing a Casita, towing a cart. And well over a hundred Xscapers following behind, handing out candy to the (probably very confused) spectators!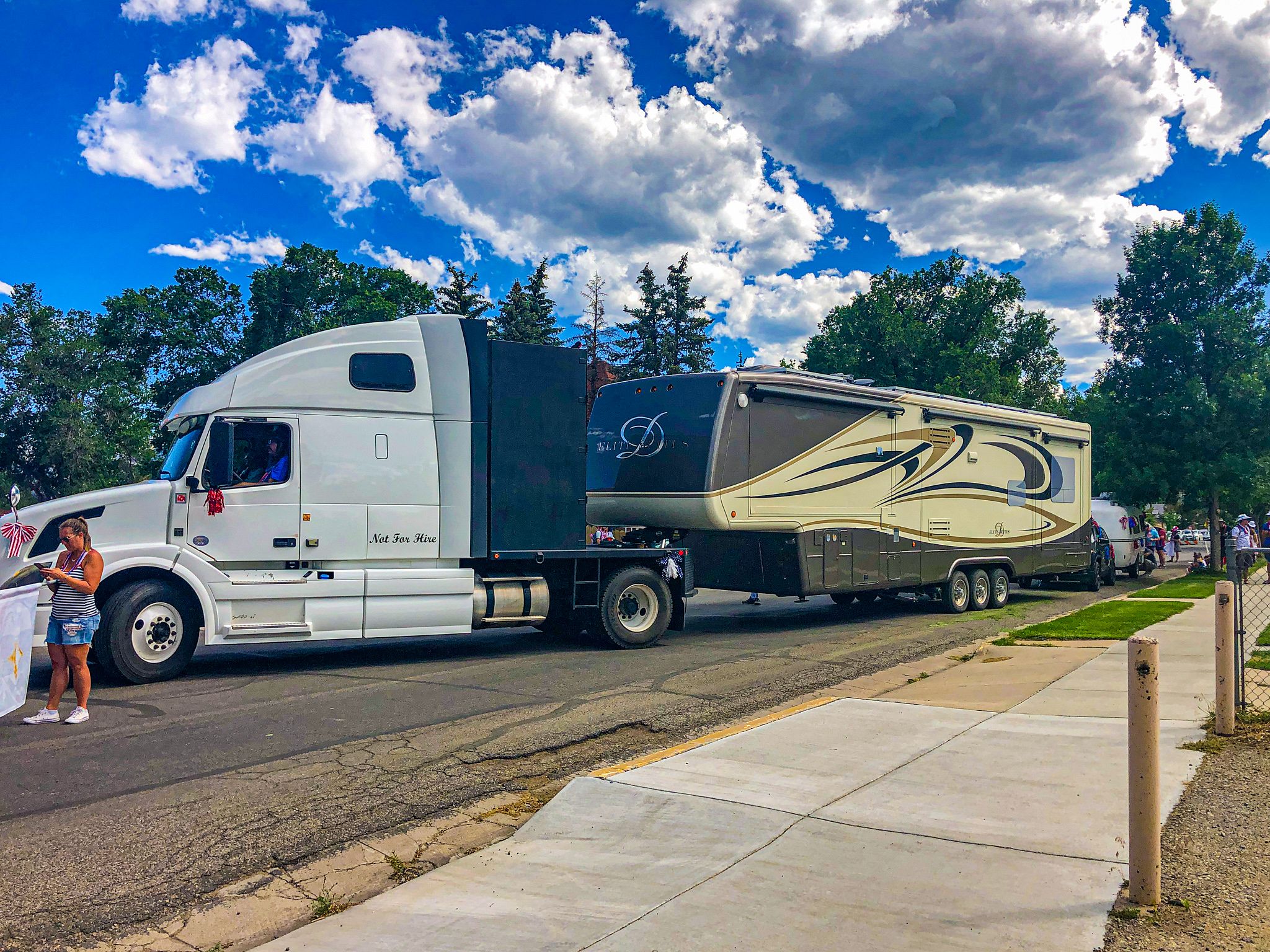 Mount Evans
A few days after the event, we met up with two of our followers - Craig and Vicki. They live in Colorado and they emailed us, inviting us to join them for a day of exploration.
We met them for breakfast and then we drove in convoy to the top of Mount Evans - a fourteener in the Rocky Mountains. The Mount Evans Scenic Byway leads nearly all the way to the top of the 14,271ft peak, making it the highest paved road in North America, and the 5th highest in the world!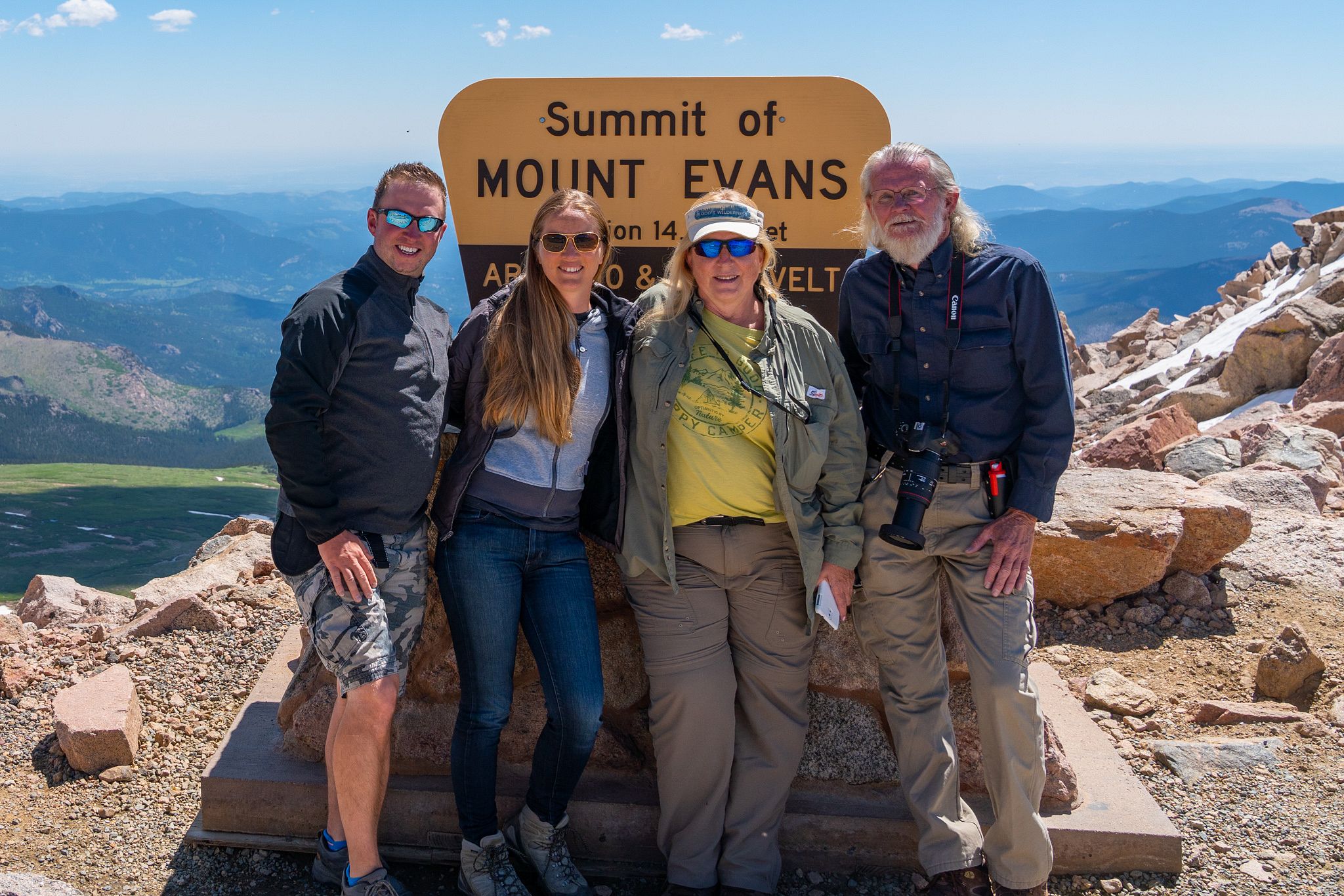 We had a quick picnic lunch before having to run some errands in town. Thank you to Craig and Vicki for a great day though!
Diana's Brother Arrives
For Season 3, we had a special guest arriving - Diana's brother Jānis! Also from Latvia, he now lives in Poland and had never been to the US before.
We picked him up at Denver Airport in mid-July, and brought him back to our RV. For the next 2 weeks, we converted our dinette into our "guest bedroom" and the three of us lived in the 25ft trailer together!
He was rapidly introduced to American culture with a grocery run to Costco & Walmart to pick up supplies before we headed off to see some National Parks!
National Park Units
In Season 3 we visited 10 National Park Units, although somewhat confusingly Great Sand Dunes counts as two - both Great Sand Dunes National Park as well as Great Sand Dunes National Preserve.
Since Jānis was only with us for 2 weeks, we tried to pack as much as possible into his visit, managing to explore all these National Park Units with him:
Rocky Mountain National Park
Black Canyon of the Gunnison National Park
Curecanti National Recreation Area
Mesa Verde National Park
Great Sand Dunes National Park
Great Sand Dunes National Preserve
While we enjoyed every one, Great Sand Dunes didn't go exactly as planned. Not only did we have a chance to put our Wilderness First Aid course into action, but later we had to use our Garmin inReach to call 911 for ourselves!
After Jānis flew out, we got right back to it, checking off another couple units in Colorado:
Colorado National Monument
Dinosaur National Monument
If you've been following our YouTube channel, you may have seen our videos of the Outdoors RV Factory Tour, and the Battle Born Batteries Factory Tour.
We filmed those on a brief out-of-state excursion on a 3 week trip from Colorado up to La Grande, OR and back via Sparks, NV.
On the way, we planned to stop in at a few more units, but sadly time pressure kept us moving. We did manage to sneak one in though!
Golden Spike National Historical Park
Finally back in Colorado, we checked off our 10th and final unit of Season 3, a very elusive one as it turned out!
Yucca House National Monument
We visited these over the span of just over two months - not the same crazy pace as Season 2 (twelve units in one month), but there are some big hitters in here!
Conclusion
Now that you're all caught up, make sure to subscribe to our newsletter and YouTube channel if you haven't already done so.
With more kayaking, hiking, trains, off-roading gone wrong and so much more, Season 3 is going to be huge!