As an Amazon Associate we earn from qualifying purchases.
It's been a little while since my last update blog post, so let me try to get you up to speed with what's been going on and where we're up to. Our lack of updates doesn't imply a lack of progress - far from it, a lot has happened and we've just been struggling to find the time to share it all!
Guest accommodations
We're not exactly set up for guests to come and stay at the moment. Since our remodel 2 years ago, our RV can only seat two at the desk, we have no guest bed and we're still off-grid so splitting utilities for extra people is a challenge.
But last week we had a visitor - an old college friend of Diana's - who came to stay with us for a few days, so we had to work things out.
Our only option was a tent - the small backpacking tent Diana and I used to use. Fortunately, the weather in Vermont was co-operative - not too hot during the day, and while it was a little cool at nights, it stayed dry throughout.
While she was here, we went cider tasting at Cold Hollow Cider Mill, and then picked half a bushel of Macintosh apples at a nearby orchard.
We've been experimenting with different ways to preserve fruit, and for the apples we decided to can two batches of apple butter using two different recipes - canning in our new 20qt Kitchen Crop pot is much easier than when we tried atmospheric canning in our Instant Pot!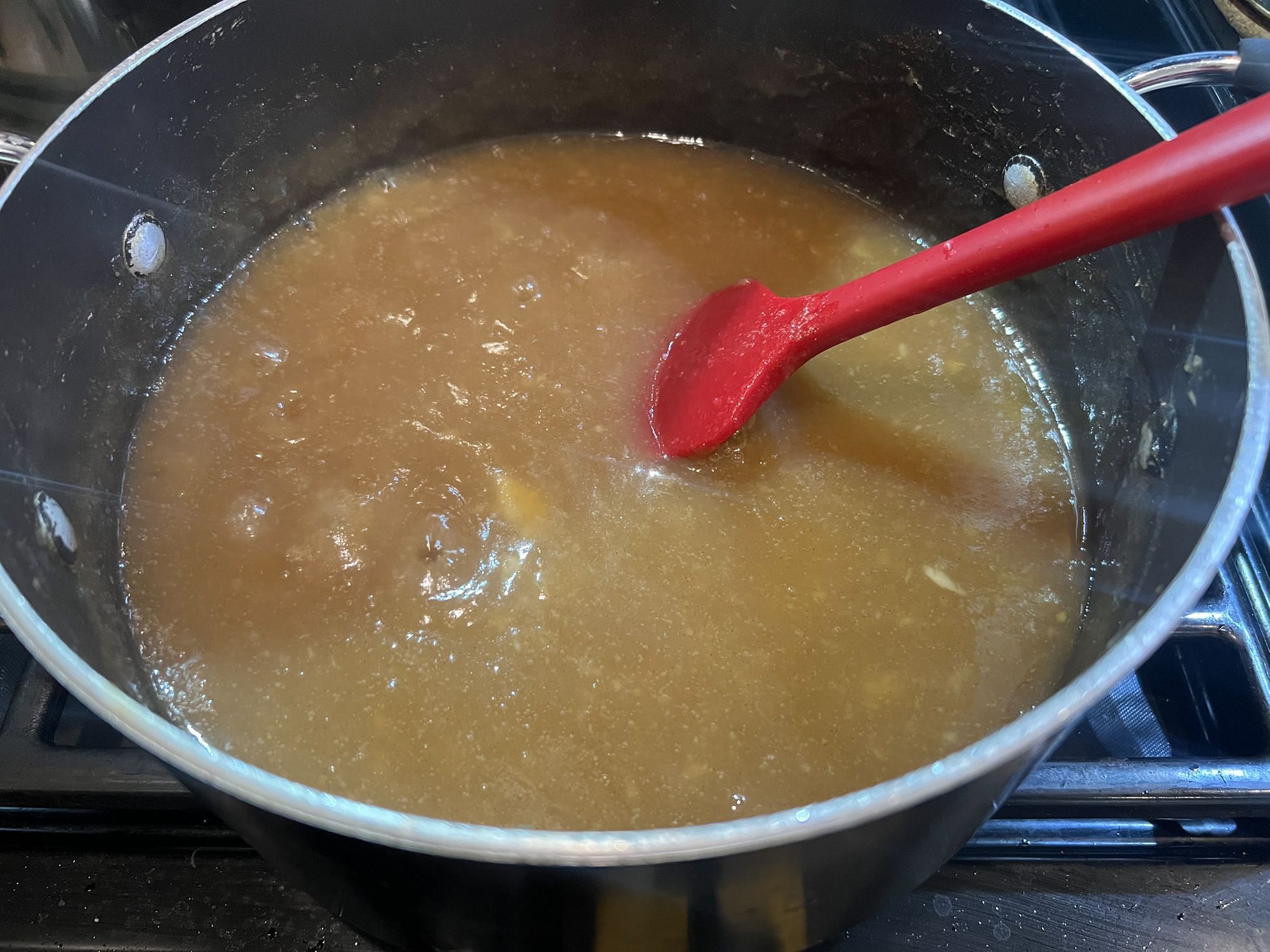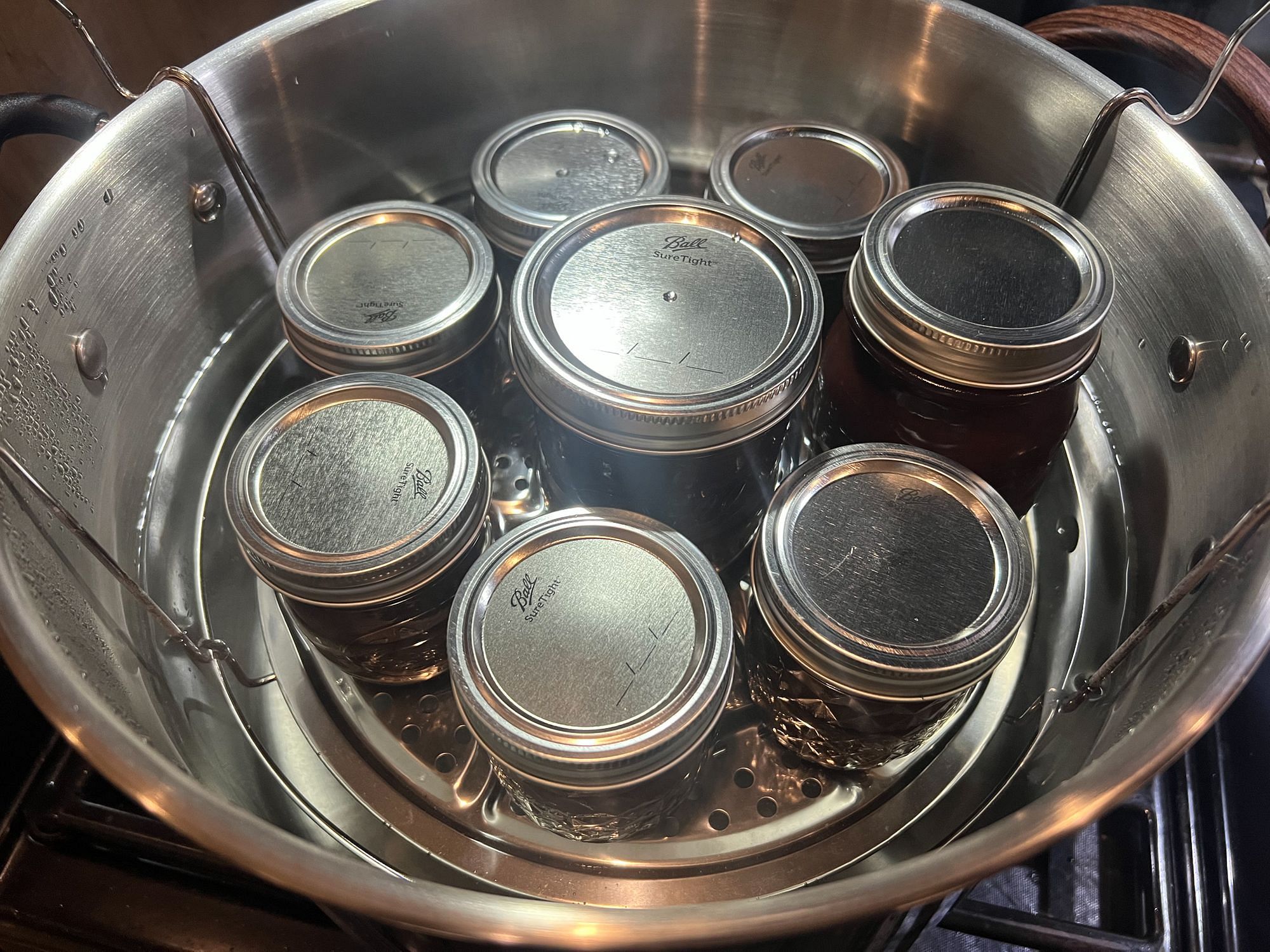 In the past we've tried dehydrating in the Instant Pot using the Air Fryer Lid, but we've since upgraded to a dedicated dehydrator and it is much faster! So we put it to use again and dehydrated some sliced apples too.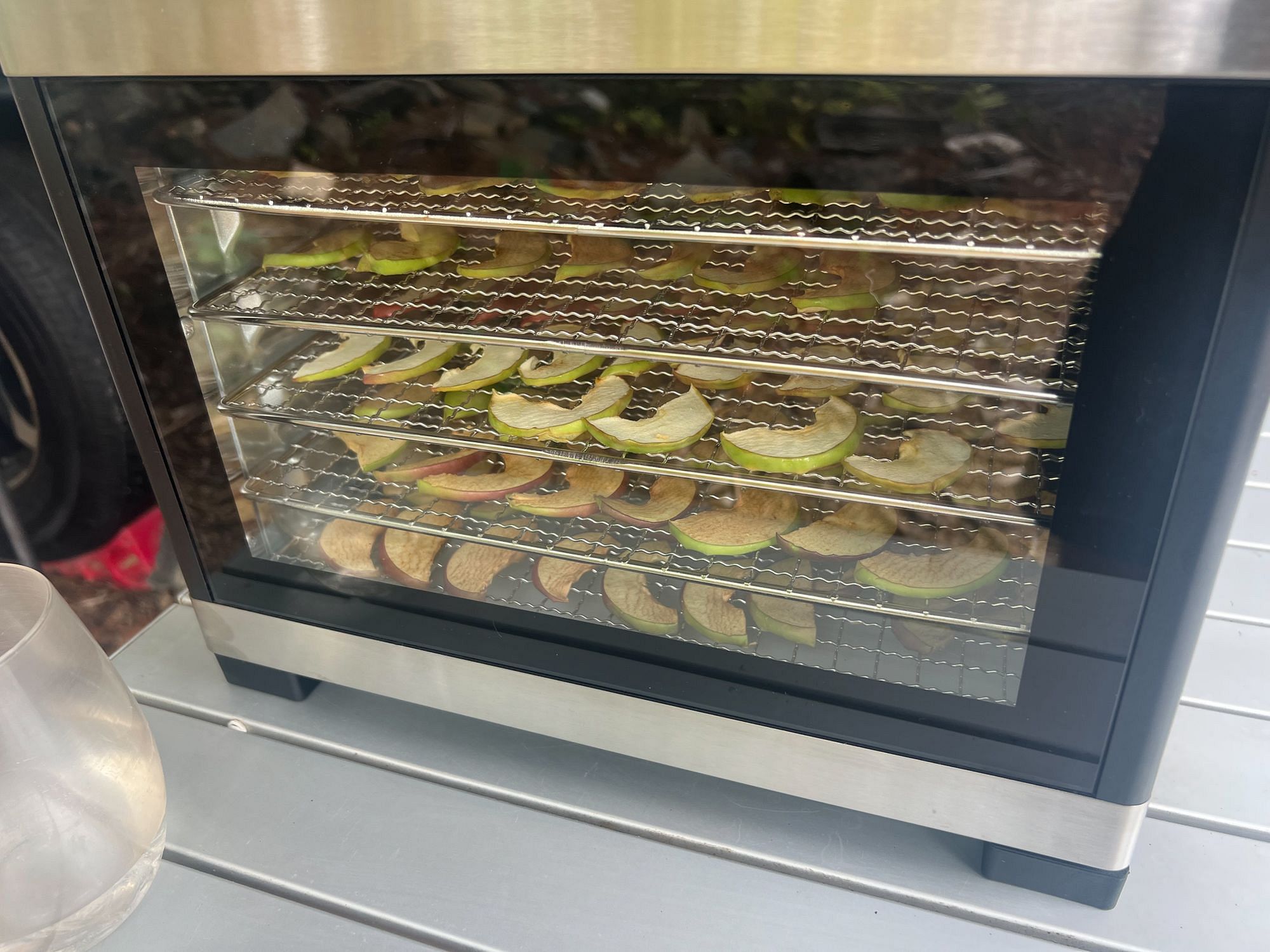 Buying our shipping container
A little over a year ago we rented a 40ft shipping container for temporary storage on the property.
Little did we know at the time how valuable it would turn out to be. Not only were we able to use it to store tools and materials, but we even stored our tractor and sawmill inside over winter. And this year we've been using it as a workshop.
The only downside: the cost! Almost $170 per month!
So this week we sat down to do the math - should we buy our shipping container? Find out what we decided in this blog post.
Power line clearing
A lot of the work we've been doing this year has been focused on utilities, and although I've been talking mostly about the well, we've also been making a lot of progress on the septic system and electrical service.
I promise a full blog post series will follow, but the latest work we've been doing is clearing trees. When we first laid out the utility pole positions with our electric company, they identified about half a dozen small trees that would need to be removed as they were in the direct path of the power line. No problem!
But then when the line crew visited, they told us something very different. Any tree or branch within 10ft of the power line (which, remember, is about 40ft above the ground) had to be removed.
Since we have no way of reaching branches 30-50ft above the ground, realistically that meant felling more trees. A lot more trees!
So over the past few weeks, whenever the weather was cooperative (read: cool mornings) we've been out felling, bucking, limbing and chipping again. Having finally taken down about another 20 or so trees (including one of the maples we tapped last year!), we're finally done.
Yesterday morning our contact from the electric company came out and confirmed we're all set for them to come out and install the primary wiring and transformer, then turn us on! Fingers crossed they should be here in the next week or so and we'll finally have power!
Lumber milling operation
If it feels like we've been felling trees all year, it's because we have. Between clearing the general house site, the leach field and trees under the power line, we've felled well over 300 trees.
While many of these trees were relatively small, less than 7" DBH (Diameter at Breast Height, a common way to measure tree size) and hence too small to mill, we have a lot of trees that can be milled!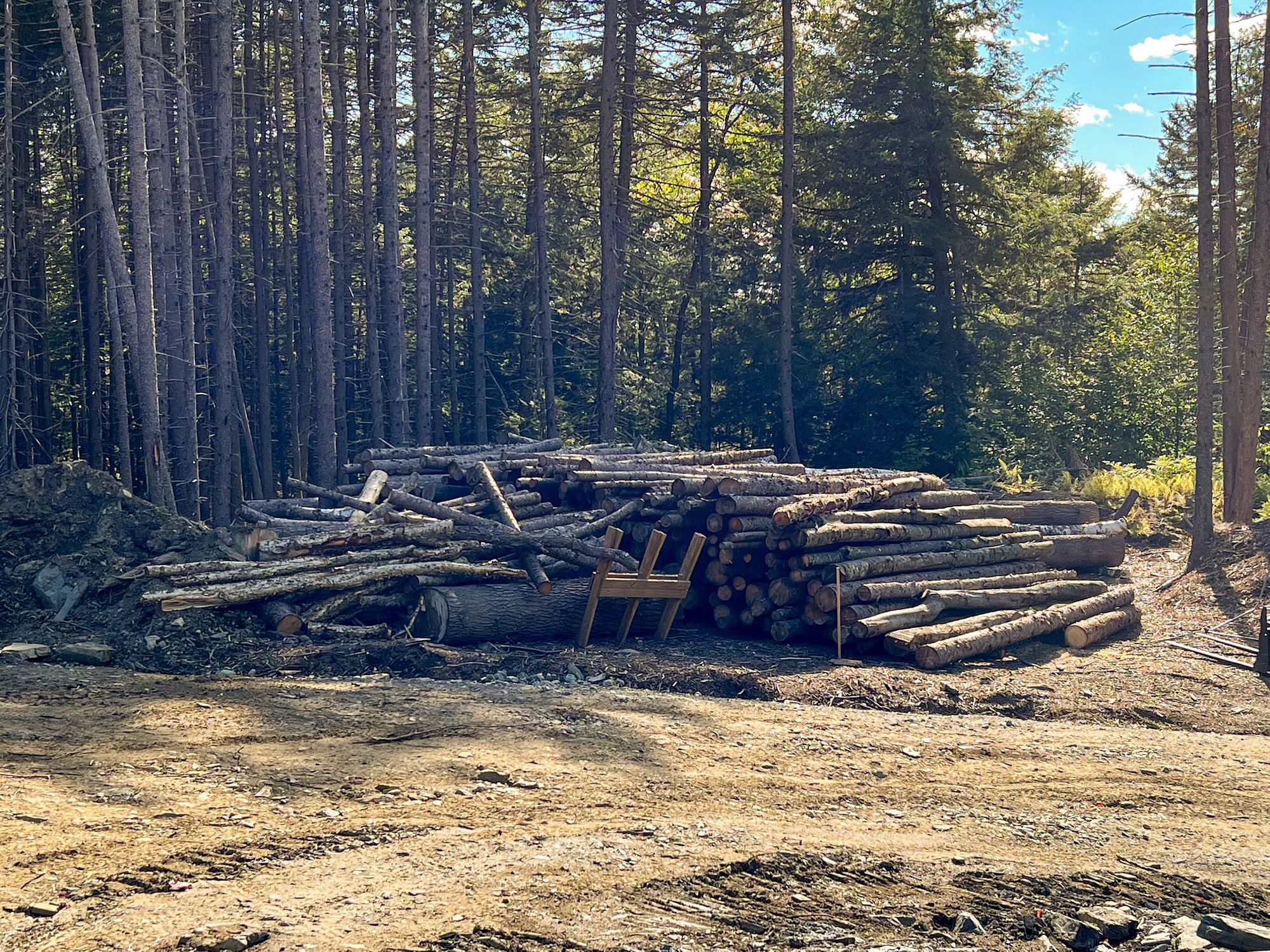 Ideally you don't want to leave logs sitting around for longer than necessary before milling - the ends can crack, the wood can deteriorate and bugs can infest them. Some of our logs have been piled up since last year when the driveway was installed, and even though we coated the ends with Anchorseal 2 to reduce cracking, we do really need to get on and mill them!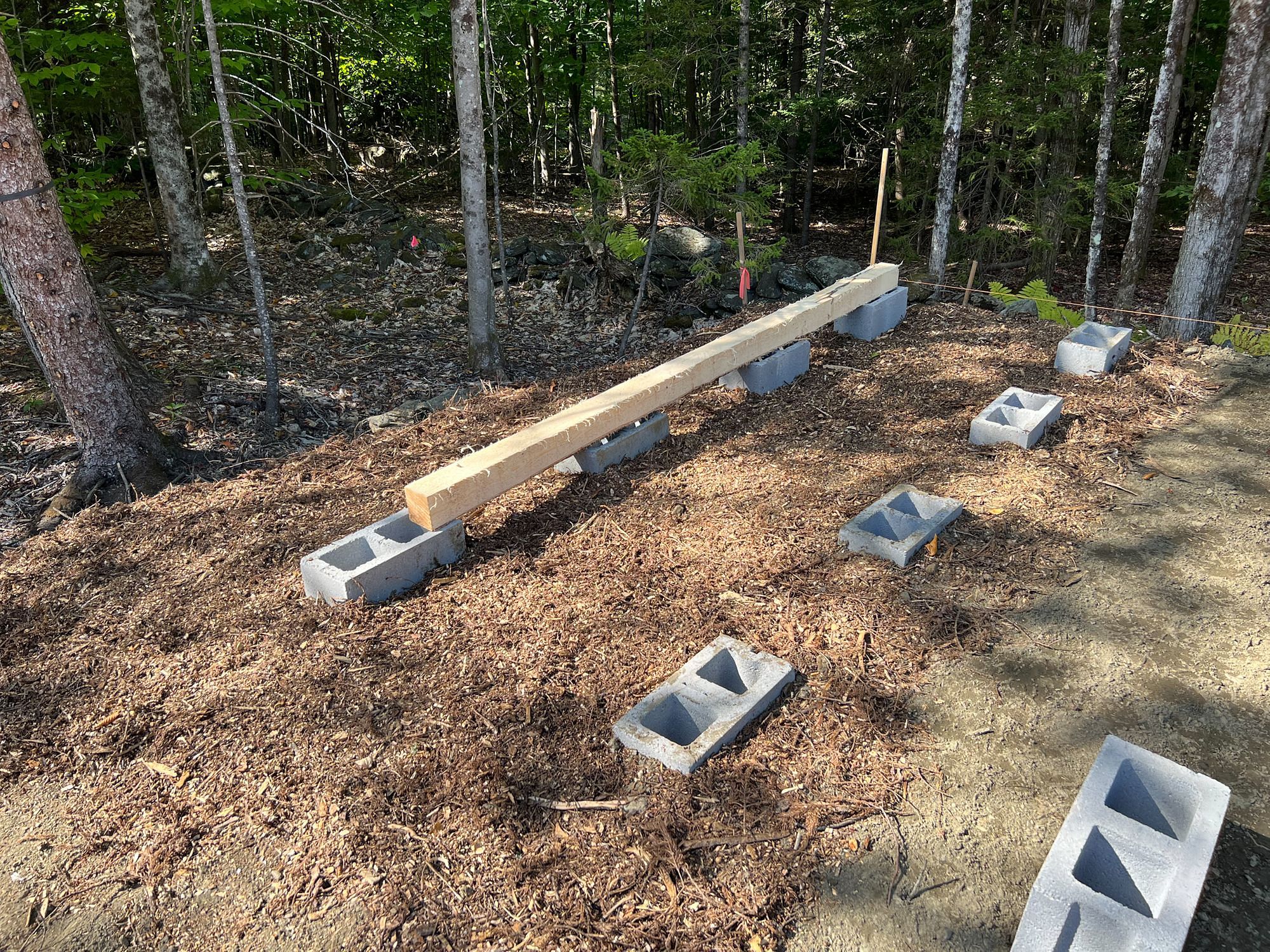 Last November we spent milling as much as we could, and it looks like this fall is going to follow a similar theme. We've got our sawmill set up again and over the next couple of months we're going to try and get as much lumber milled and stacked as possible!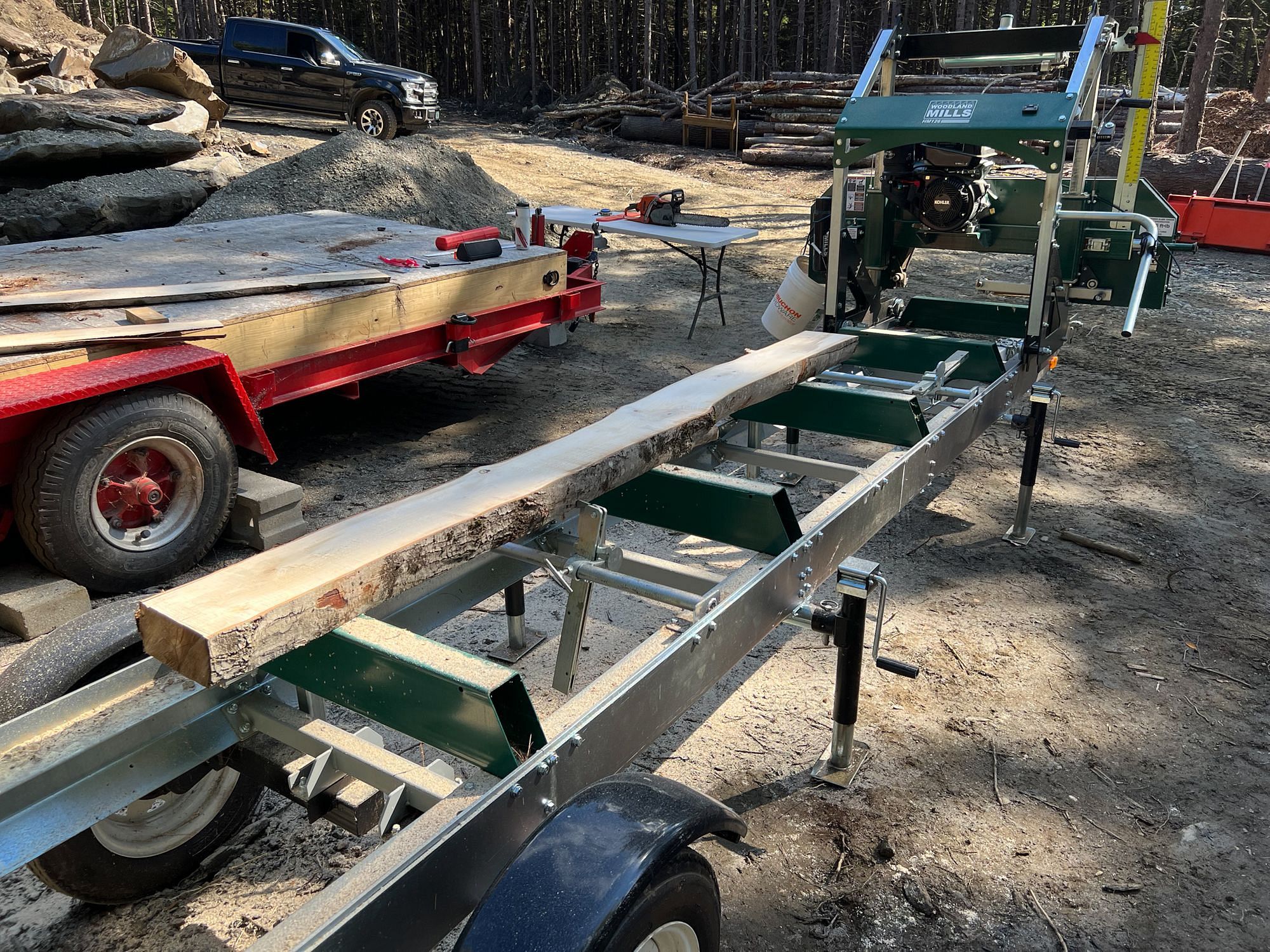 Oh, and we haven't forgotten about our solar kiln! We've been waiting to get some flat space cleared and graded so we have somewhere to put it and complete the build. Last week that finally happened, so continuing with the solar kiln build is also on our list of things to do this fall!
As an aside, it looks like we're going to generate a lot of sawdust. Each 8ft log produces about 1-2 buckets of sawdust, which means by my rough estimate by the time we've finished our log pile we'll have well over 20 cubic yards of sawdust!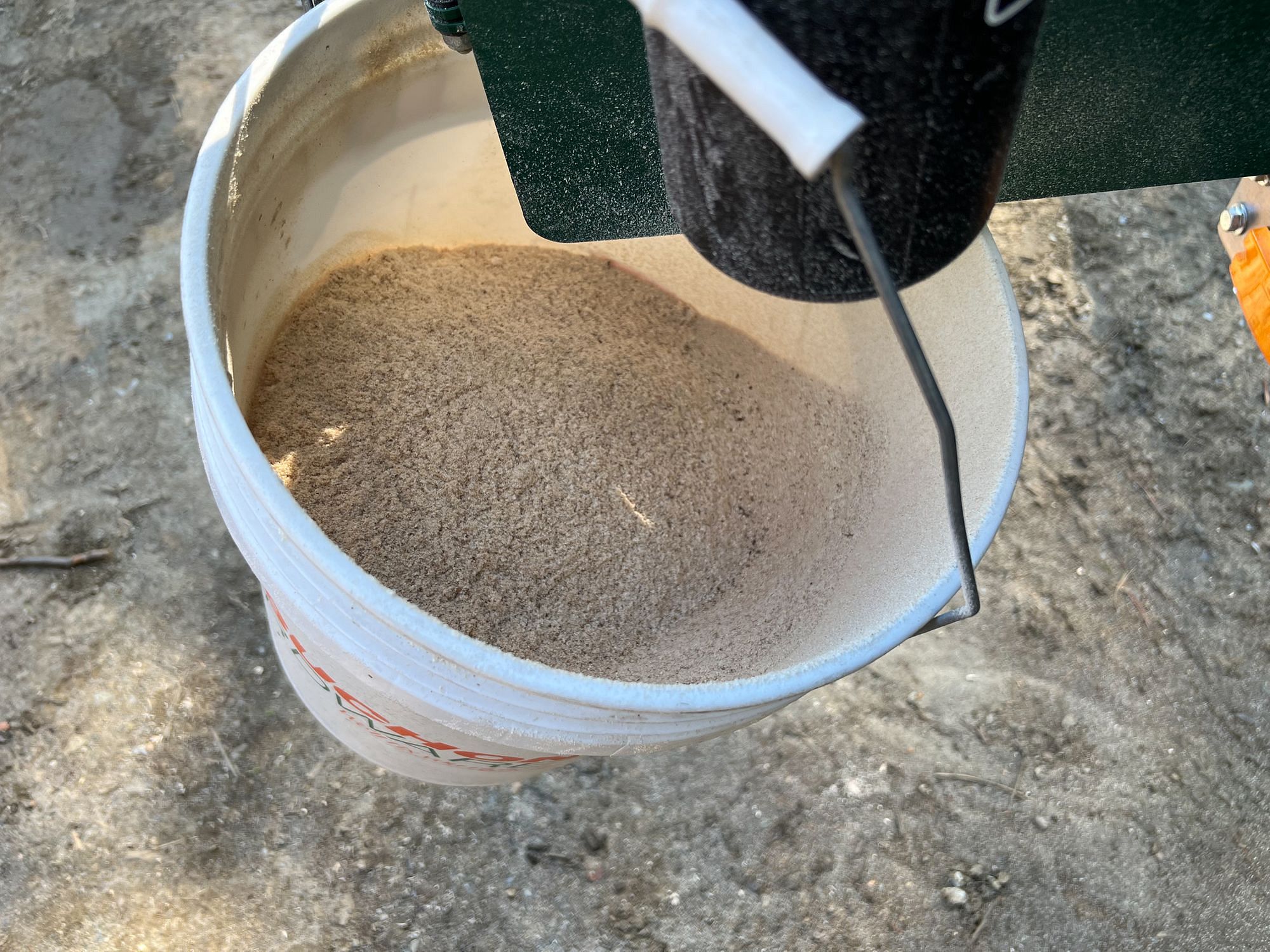 Any ideas what to do with it all?!
Moving house
Perhaps the big news in the last week is that we hooked the RV up to the truck for the first time in more than 6 months. Time to get back on the road!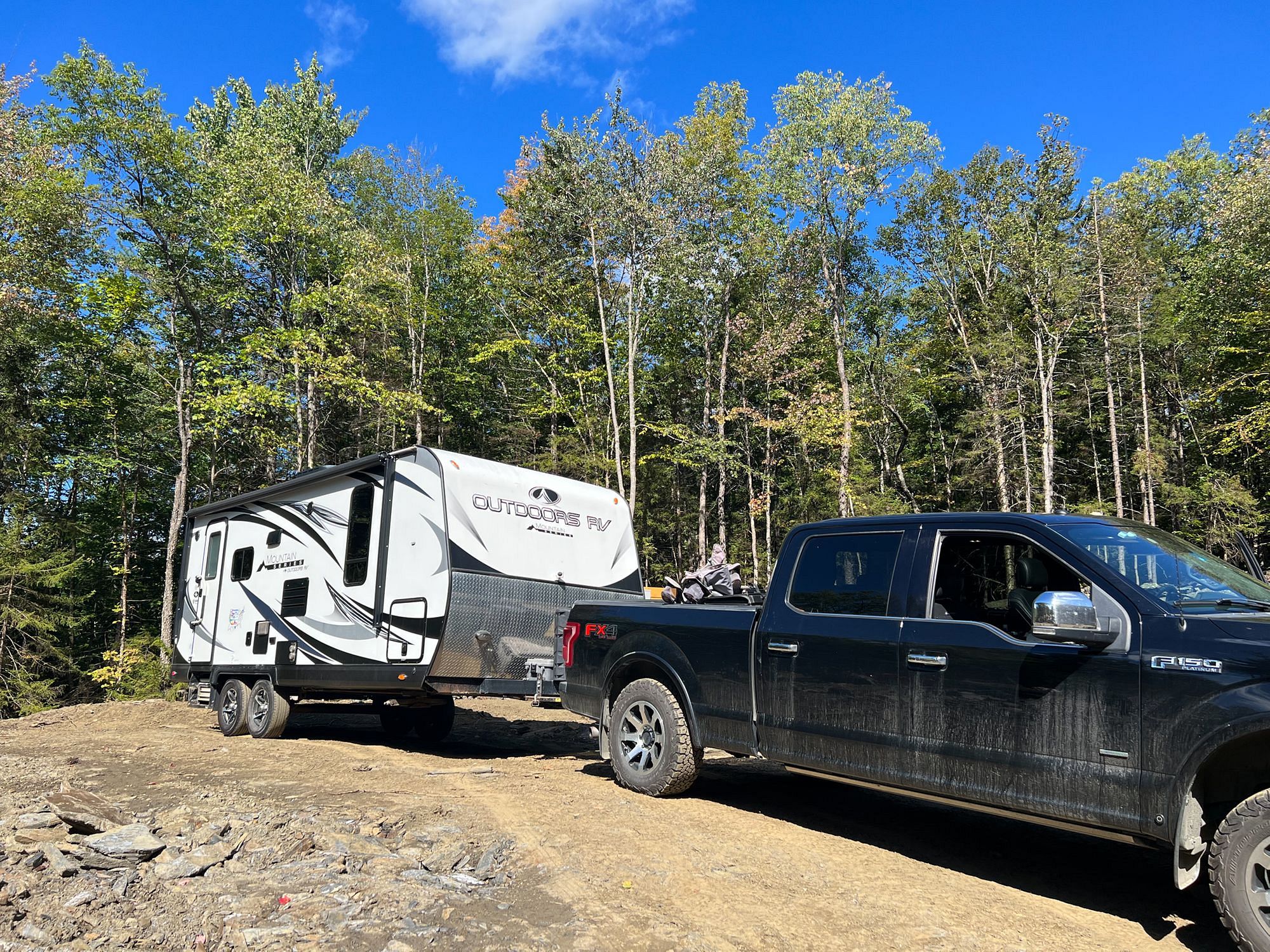 Well, kind of. Back on the driveway anyway.
In what is probably our shortest towing day in 4+ years of full-time RV living, we moved our RV 1,000ft up our driveway to the house site. For us, this is a monumental milestone - we're now living just feet away from where our house will eventually sit!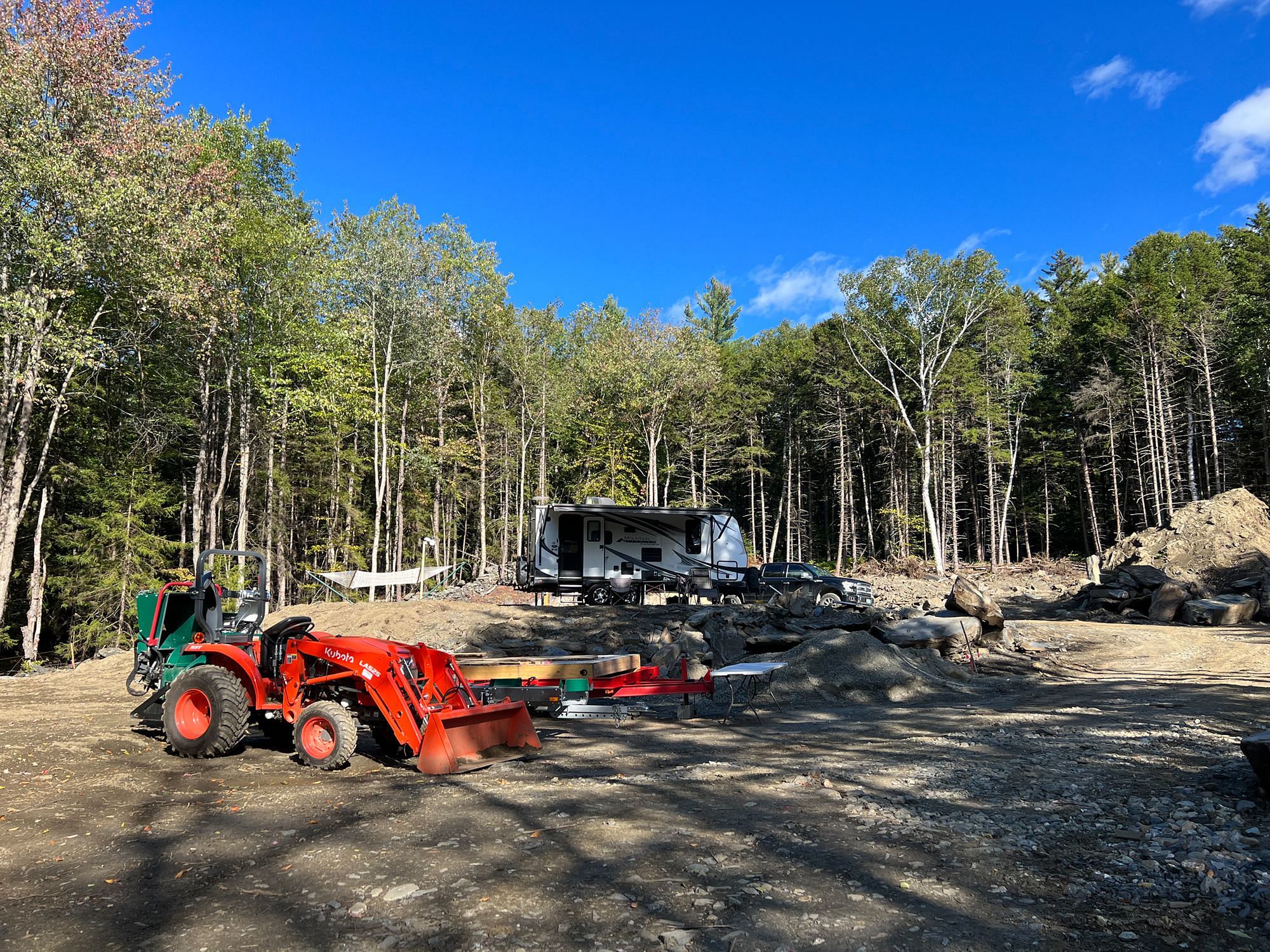 But it's more than just that. By moving up here not only have we gained the privacy and seclusion that led us to build up here in the first place, but there are practical benefits too.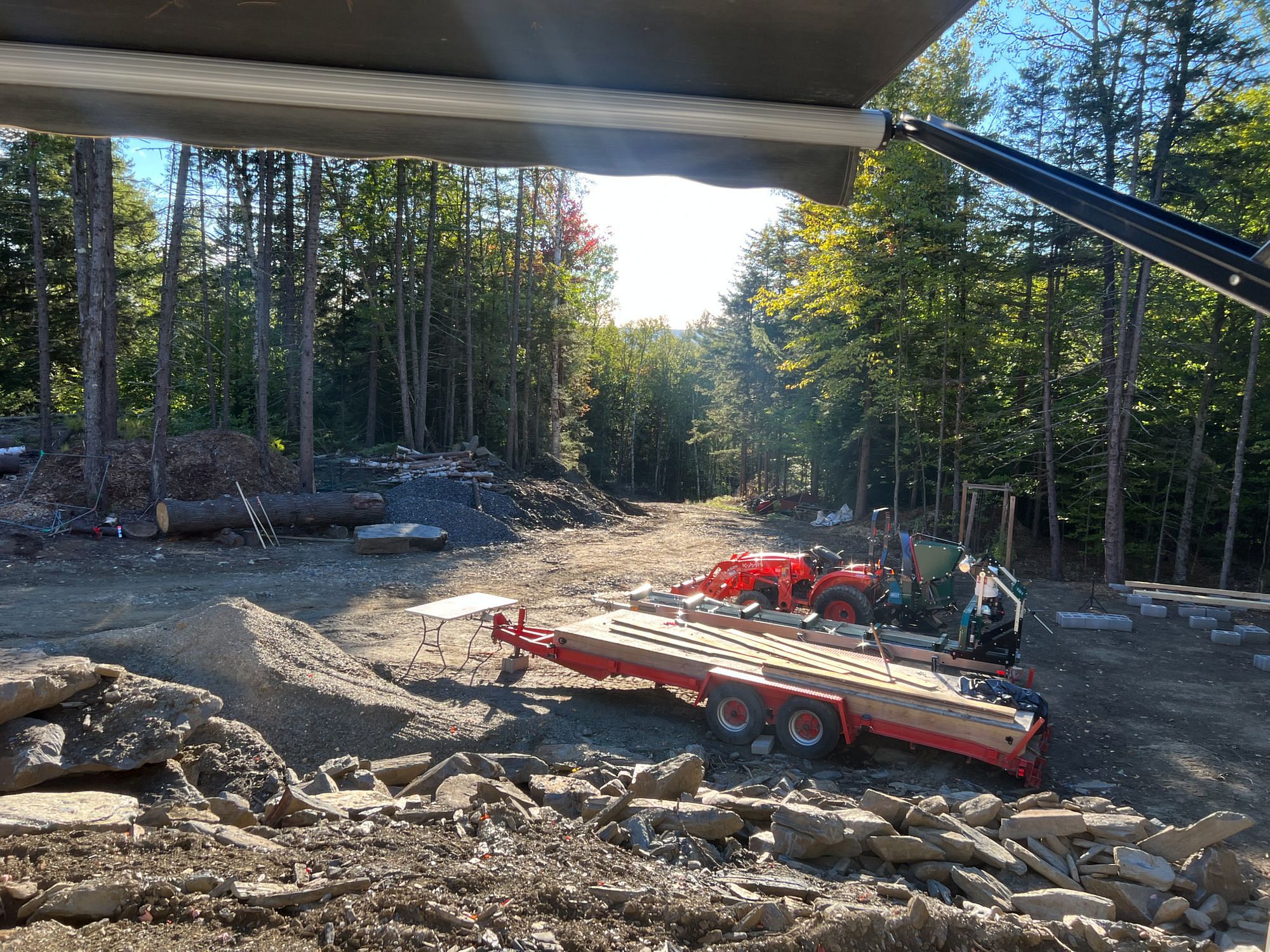 Our RV parking spot is just a short distance from the well, meaning we no longer need to haul water in our water bladder - instead we can just connect a hose directly to fill our tanks.
Furthermore, when, hopefully in the next week or so, our power is connected, we're also within easy reach of the electric backboard and will finally have electricity in the RV!
So, lots has been going on, but there's a lot more to do.
And the clock is ticking because we have winter plans....stay tuned for details!