As an Amazon Associate we earn from qualifying purchases.
Introduction
For many people, camping in their RV is about getting away from technology - a break from the day-to-day rat race. But for us, living and working full-time in our RV, we like to enjoy the same modern conveniences that we would have in a house.
One such item is our Google Home Mini smart speaker. We find it very useful in the RV, particularly for setting timers while cooking.
In this simple guide, we'll show you where we mounted it and how we hardwired it into our RV's 12V wiring. Although this guide is for a Google Home Mini, the process is very similar for the Google Nest Mini and Amazon Echo Dot since both of these use Micro USB for power.
If you have a different smart speaker then check to see how it's powered and you may be able to find an appropriate adapter.
Similarly, if you have another USB device that you want to hardwire into your RV, this guide may help - for example, the awesome and inexpensive Wyze Cam v2.
Obviously you'll need WiFi in the RV for the speaker to work. We have this set up through our fantastic Pepwave MAX BR1 Mk II router, but it could be as simple as a hotspot on your phone or the campground's WiFi.
Mounting
We wanted to semi-permanently mount our smart speaker somewhere - preferably on a wall. That way we don't have to worry about packing it away each time we move the RV, something we do on a fairly regular basis.
For the Google Home Mini, we found a sturdy-looking wall mount online. That particular model is no longer available, but this one looks like a good replacement. I did try using Command Strips directly on the base of the Google Home Mini, but they just wouldn't adhere to the silicone base.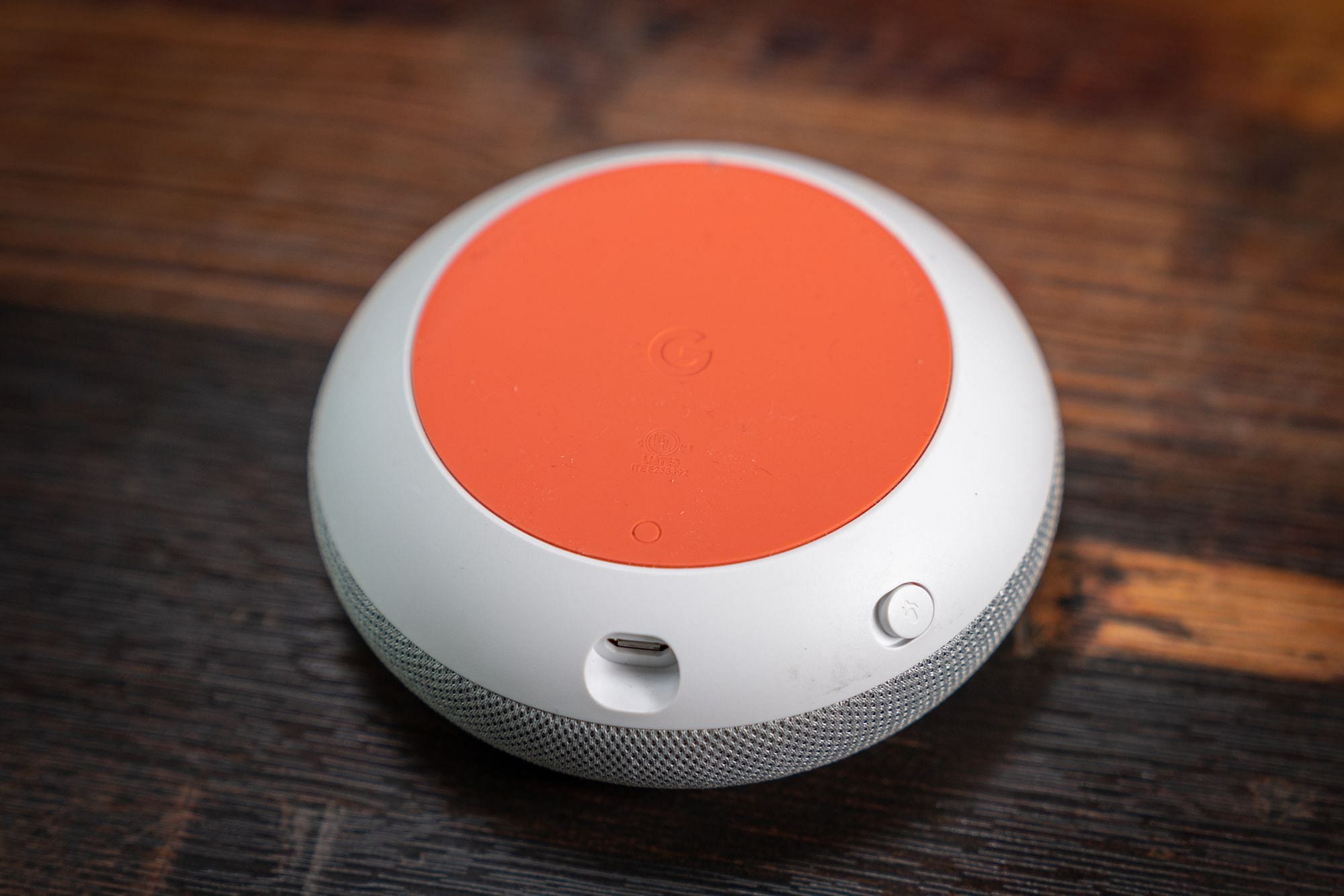 If you have a Google Nest Mini, then it has a screw hook on the back already, so that makes it really easy. But, if you would prefer to use Command Strips rather than screws, it should also fit in the mounts linked above.
For the Amazon Echo Dot, there are numerous options available, including this wall mount that affixes with Command Strips or screws.
Now we know how to wall mount it, the next question is where, and that depends on finding power.
Wiring
There are of course a few ways to power a smart speaker. The simplest and most obvious is to plug it in using the supplied adapter to a 110V wall outlet. If you always have shore power in your RV or always run an inverter, then this is a great option. While we have an inverter, we keep it turned off most of the time to save power, so that option wouldn't work for us.
Alternatively, if there is a 12V outlet nearby, then a simple 12V to USB adapter is all you need. While many RVs now come with USB outlets, most are just 1A outlets, only capable of delivering 5W. Since the smart speakers typically need 9W, you'll need a high-power USB outlet if you want to use it to power the speaker.
However, we didn't want wires trailing across the wall. I wanted to hardwire the speaker directly into 12V.
The solution is a 12V to 5V regulator with a Micro USB plug on the end. You can buy versions with all kinds of different plugs on the end - both Mini and Micro USB in a range of angles. For us, the 1.2m cable with a straight Micro USB plug made sense.
The next question is where to put it. For this, I simply had to find somewhere with 12V positive and negative.
That may be a little harder than you think, depending on how your RV is wired. Although you might assume that there is 12V power near every light switch, that may not be the case. At least in our RV, only the 12V positive wire is routed through the switch - there is no 12V negative (aka ground) present.
Fortunately, our preferred location for the smart speaker was right above our thermostat - and I know from installing our smart thermostat that it has 12V power and ground available. Adding an extra ~1A of load onto this circuit is no problem.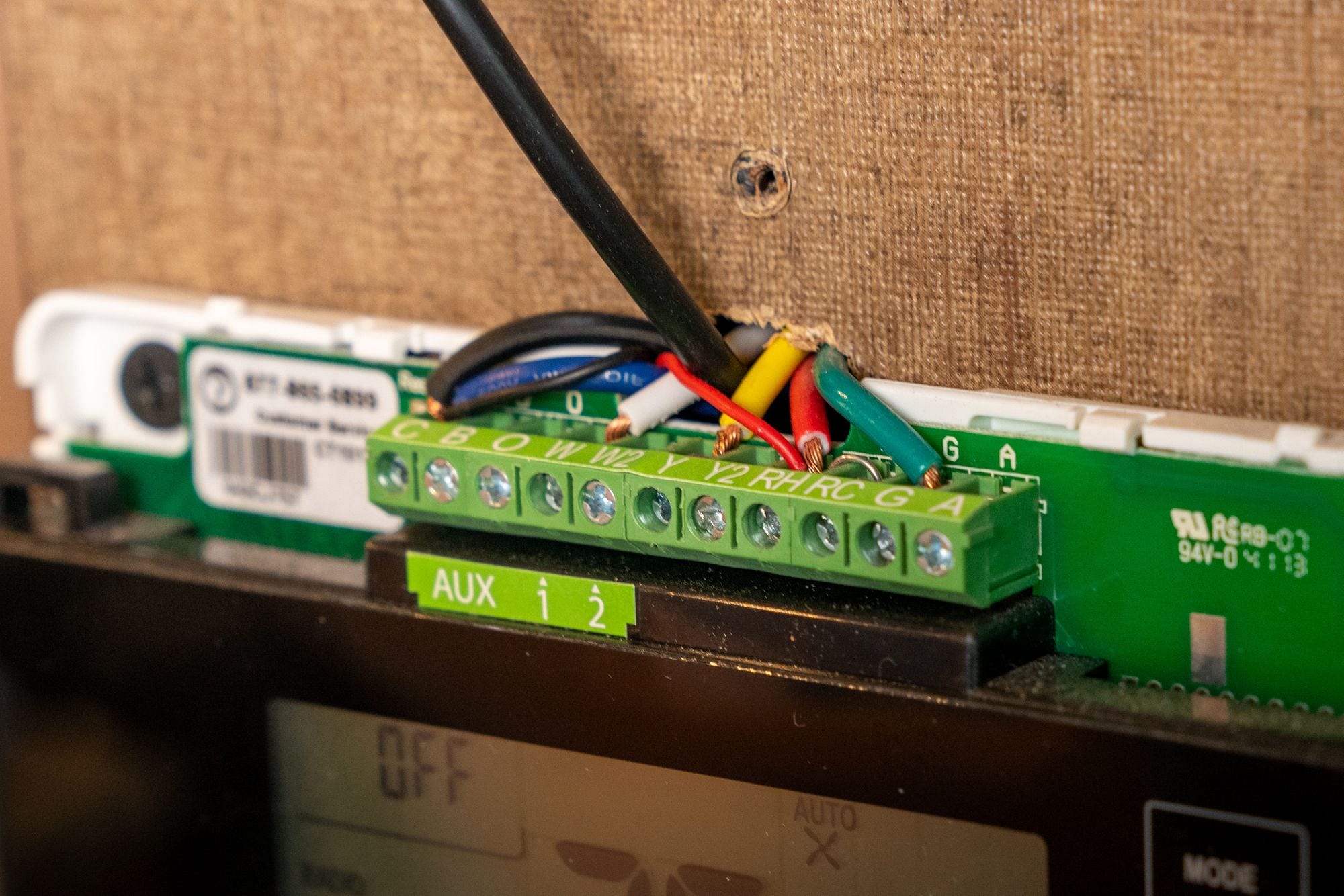 I removed the cover from our thermostat, and connected the red and black wires of the regulator to the red and blue wires (respectively) on the thermostat. I plugged in the Google Home Mini to make sure it worked - success!
Wiring complete, I carefully stuffed the excess wire into the wall (I had to loosen the thermostat screws), making sure it wouldn't stress the connections. I positioned the mount carefully so that the USB cable would be hidden as much as possible, and attached it to the wall with both Command Strips and some self-tapping screws I had on hand.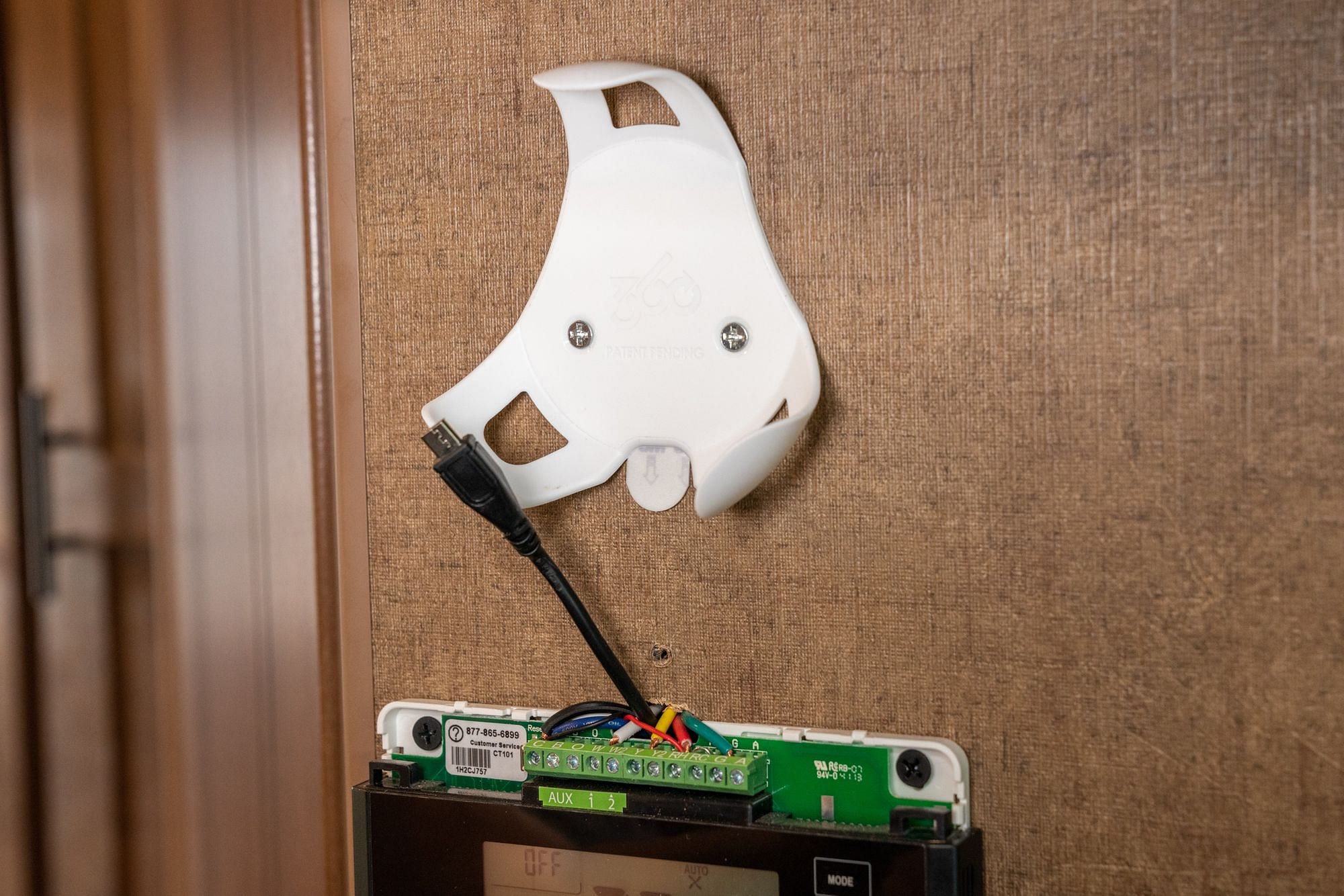 The final step was to put the cover back on the thermostat, and plug in our Google Home Mini. Success!
Conclusion
With our always-on Internet connection, we use our smart speaker on a regular basis. It's great for setting timers while cooking (especially if your hands are wet or dirty), setting reminders and alarms, and even asking questions when we don't have our phones on hand. In a small space like an RV, the speaker has no problems whatsoever filling the space with music!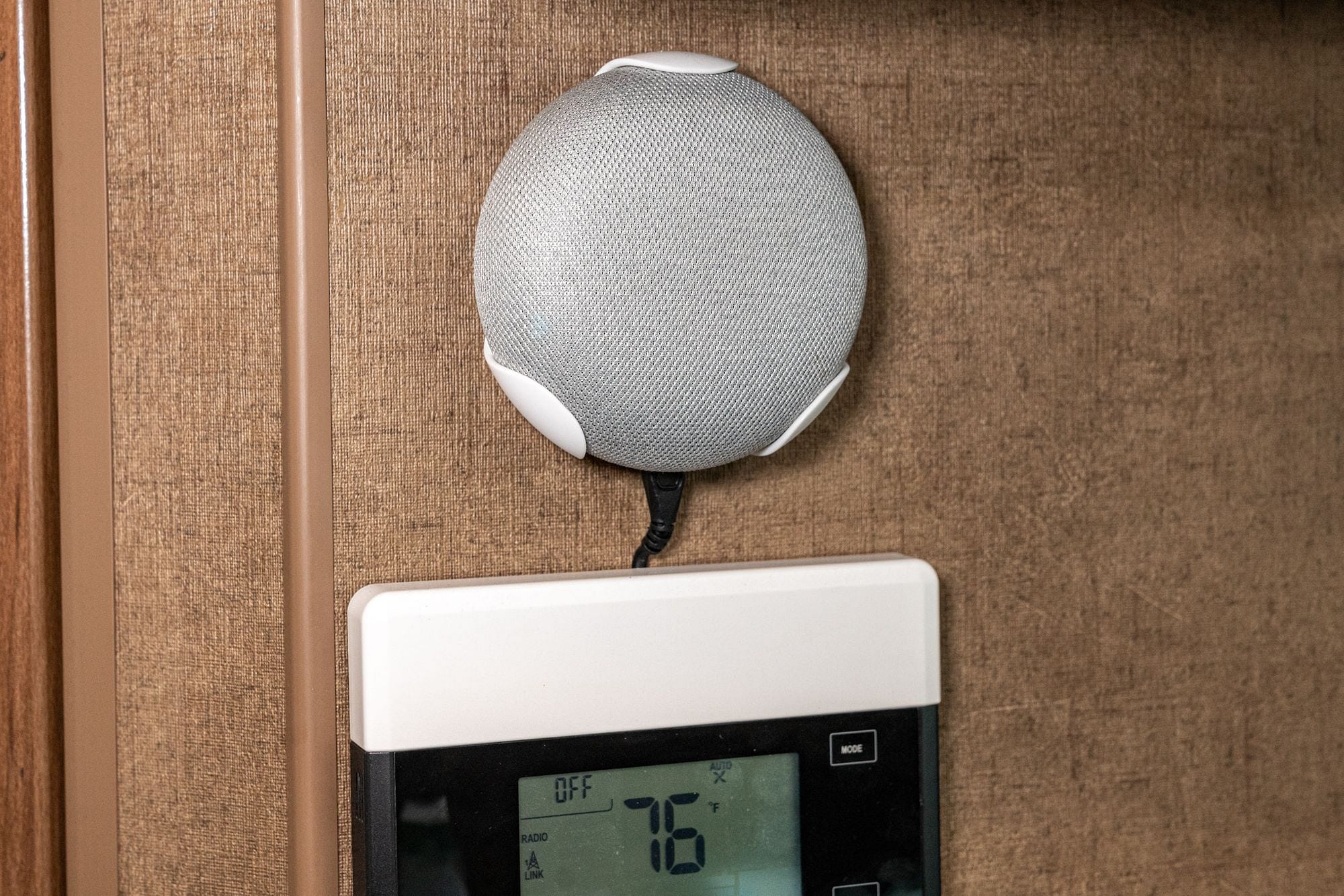 Since we're always on the move, we do have to manually set our location the Google preferences each time we arrive somewhere new - that keeps the timezone and weather forecast accurate.
We've also begun integrating it into our home automation system. For now, ew have it configured to give us spoken alerts in particular situations - such as when the fridge automatically switches to AC mode when the batteries are nearly full. But down the line, our goal is to use it for voice recognition to control our lighting, appliances and other smart systems in our RV.
Let us know in the comments below if you have a smart speaker in your RV, and what some of your favorite uses of it are?