Introduction
Guadalupe Mountains National Park was #2 on our journey to visit all 400+ National Park Units in the US, and despite being just 32 miles southeast of its sister park, Carlsbad Caverns National Park where we had visited the week before, it could not be more different.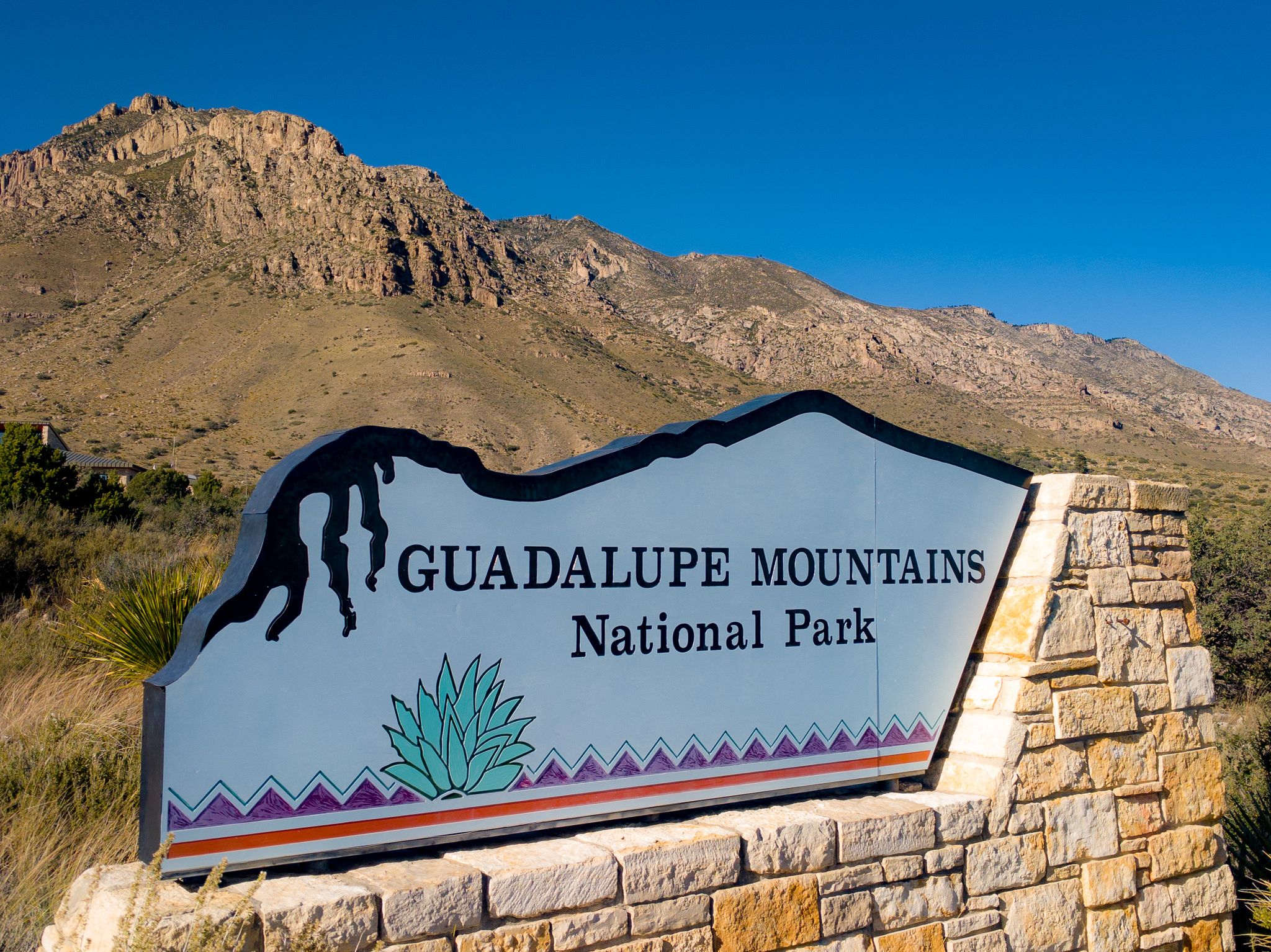 With just a week to explore nearly 90,000 acres of this park, we knew we wouldn't have a chance to see everything, but would try our best to explore as much as possible. Not only is the park large, but it's split into a few different sections - Pine Springs and McKittrick Canyon accessible from the southeast, Dog Canyon from the north, and the Dunes on the west. Unfortunately we knew we wouldn't be able to explore the Dog Canyon area as there's no short way to drive there from Pine Springs - it's over 100 miles one-way!
Adventurous Tip: If you really want to visit Dog Canyon, consider a longer hike and camping in the backcountry.
We still managed to explore a lot of what Guadalupe has to offer, and it just gives us an excuse to come back again in future!
Location
Know Before You Go
We arrived on Monday November 5th 2018, and camped in the Pine Springs RV Campground near the Pine Springs Visitor Center - for $8 per night, this no-frills campground is just a pavemented parking lot for dry camping. They do have fresh water available, but it's via a push-button faucet so don't expect to fill your fresh tank from that! There are no hookups for electricity, and no dump station. Knowing this ahead of time, we arrived with full batteries, a full fresh tank and empty grey & black tanks.
During our week there, we saw a similar pattern each day (weekdays and weekends) at the RV campground - each morning it would empty out to leave lots of spaces, but it was full again nearly every night, so get there early to be sure of a spot!
The Google satellite view of the campground let us get a sense for the layout ahead of time, and where we might fit our rig - they have a variety of spaces to fit anything from Class B vans to larger coaches and 5th wheels. That being said, there is a sign at the entrance advising against rigs longer than 55ft total length.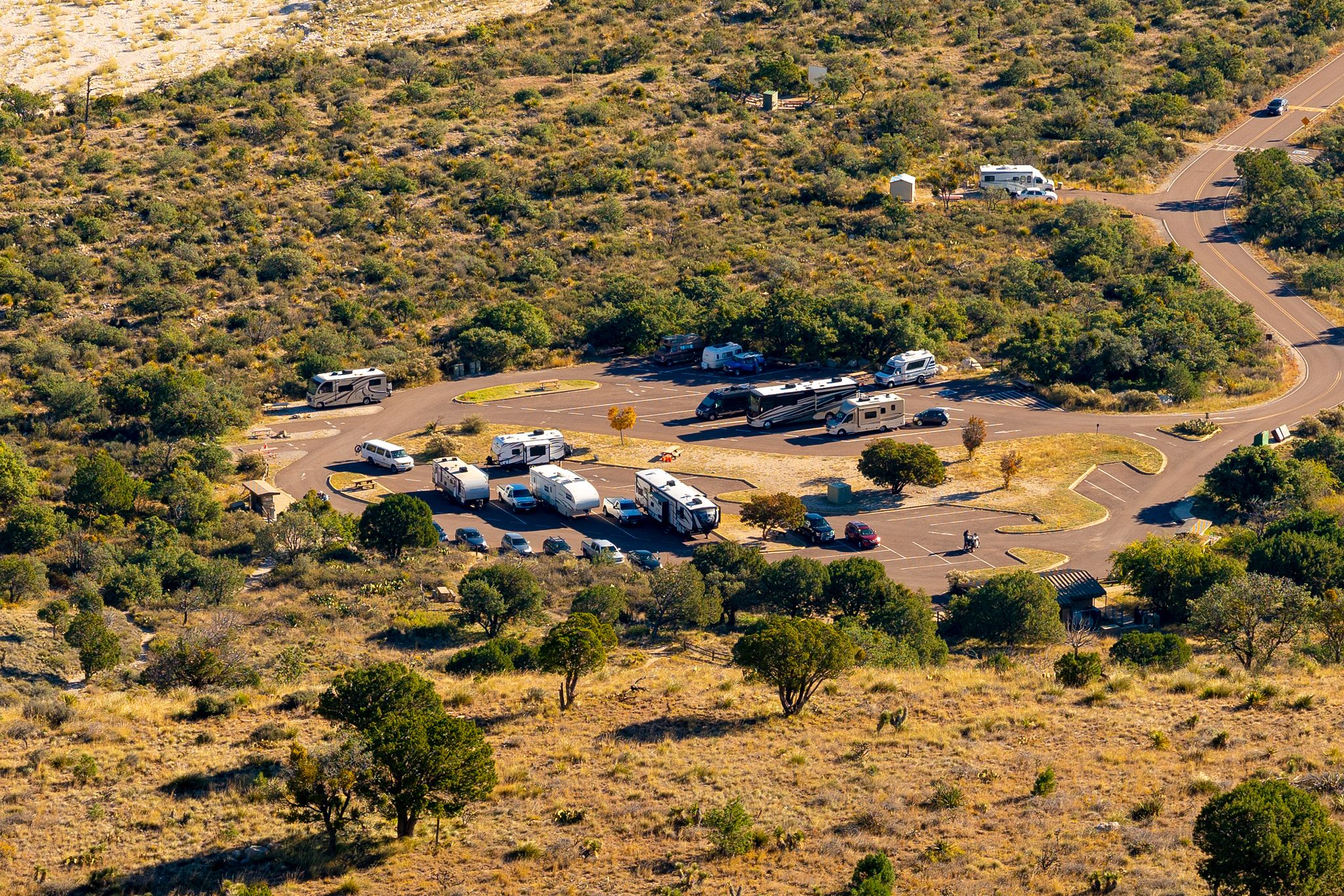 Adventurous Tip: If you have any concerns about whether your RV will fit, call the park ahead of time and check. There's also tent camping available here and we had a quick stroll through - it looked really nice so check that out if you're of the canvas-persuasion!
Guadalupe Mountains is also very remote - don't expect to find a Walmart next door! The nearest gas station is 44 miles away in Dell City, or you can drive 57 miles back to Carlsbad. The roads aren't crazy mountain roads, but they're not flat either - make sure you have enough gas in your tank, especially if you're towing. We filled up in Carlsbad and brought a 2.5 gallon gas can as an emergency backup. We also filled up in Dell City when we visited the Dunes - more on that later!
Last, be aware that unlike most of Texas, Guadalupe Mountains National Park follows the Mountain Timezone. If like me you are thinking "who cares? my phone will update automatically" then let me disappoint you. Your phone will enter a hitherto unknown state where it constantly changes timezone - but without telling you, so you don't know whether the time is correct or not.
Adventurous Tip: Manually set your phone's timezone to Mountain Timezone by just setting the location to El Paso, Texas. Confusion over.
Hikes
If Guadalupe Mountains National Park is great for one thing, it would be the hiking - over 80 miles of trails in the "Top of Texas"! Our goal during our visit was to hike as many different trails as we could.
On arrival at the Park, our first port of call (as always) was the Visitor Center - we chatted with Park Ranger Brian about our planned itinerary. He agreed that we would be hitting all the major highlights during our visit and no changes were made - boom!
Below, I'll describe each of the hikes we did during our week at Guadalupe Mountains National Park. Each hike offers something different, so if you won't be able to hike them all, hopefully this guide will help you choose which hikes you might enjoy most.
McKittrick Canyon
Often considered to be the most beautiful trail in Texas, this is arguably the jewel in the Park's crown. It's particularly stunning during fall, when the fall colors turn the canyon into an incredibly patchwork of yellow, orange and red hues. Arriving in early November, we were cutting it dangerously close to a first freeze which would cause most of the leaves to fall - and hence our reason for making this our first hike of our visit!
It did not disappoint!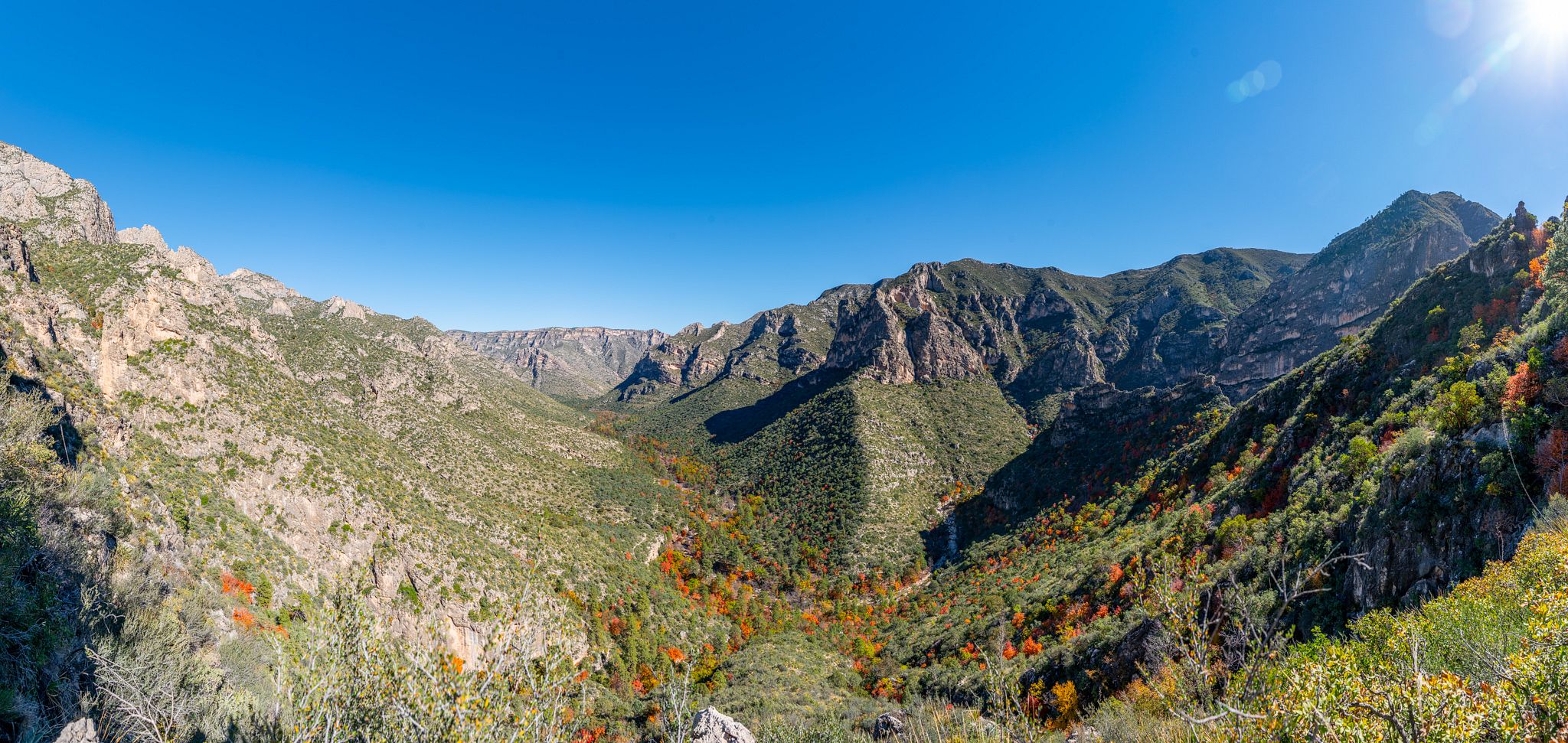 The trail is an in-and-out trail - in other words, hike in until you decide to turn around and come back. There are several logical stopping points on the trail, but we were recommended to hike to The Notch - the point where the trail crosses through a ridge and you get stunning views on both sides.
Our hike started from the McKittrick Canyon Visitor Center - although the visitor center was closed, this is the parking lot and trailhead for McKittrick Canyon. This is about 12 miles from Pine Springs, so we drove over in the truck.
The first 4 miles or so of the hike is a gradual climb of about 250ft along an easy trail. Along the way, we took short detours of a couple hundred yards each to visit Pratt Cabin and the Grotto.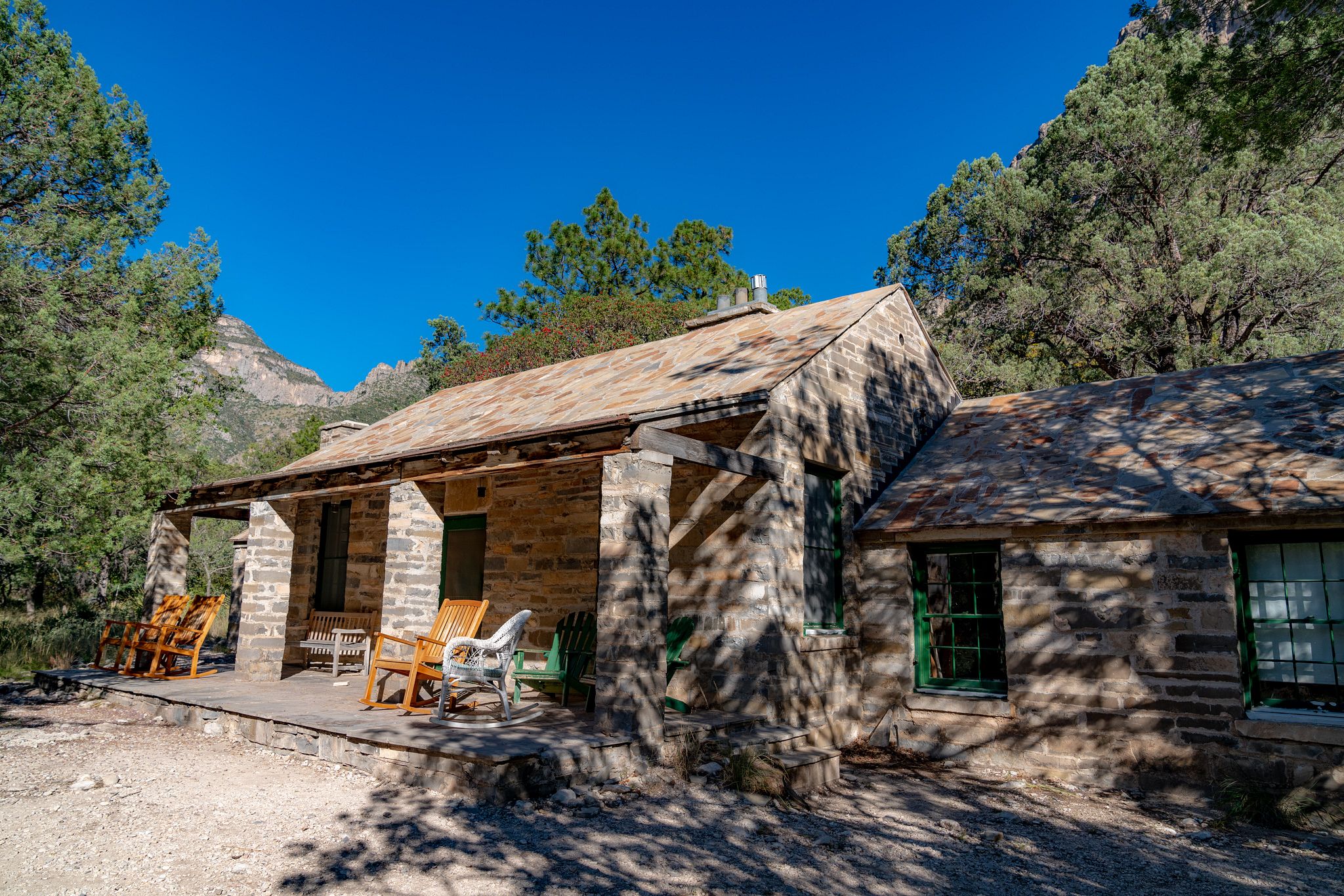 If you want a shorter hike, these are both good stopping points, and would serve well as a lunch or refreshment stop too. There are some nice rocking chairs at Pratt Cabin to sit in, and a seating area at the Grotto.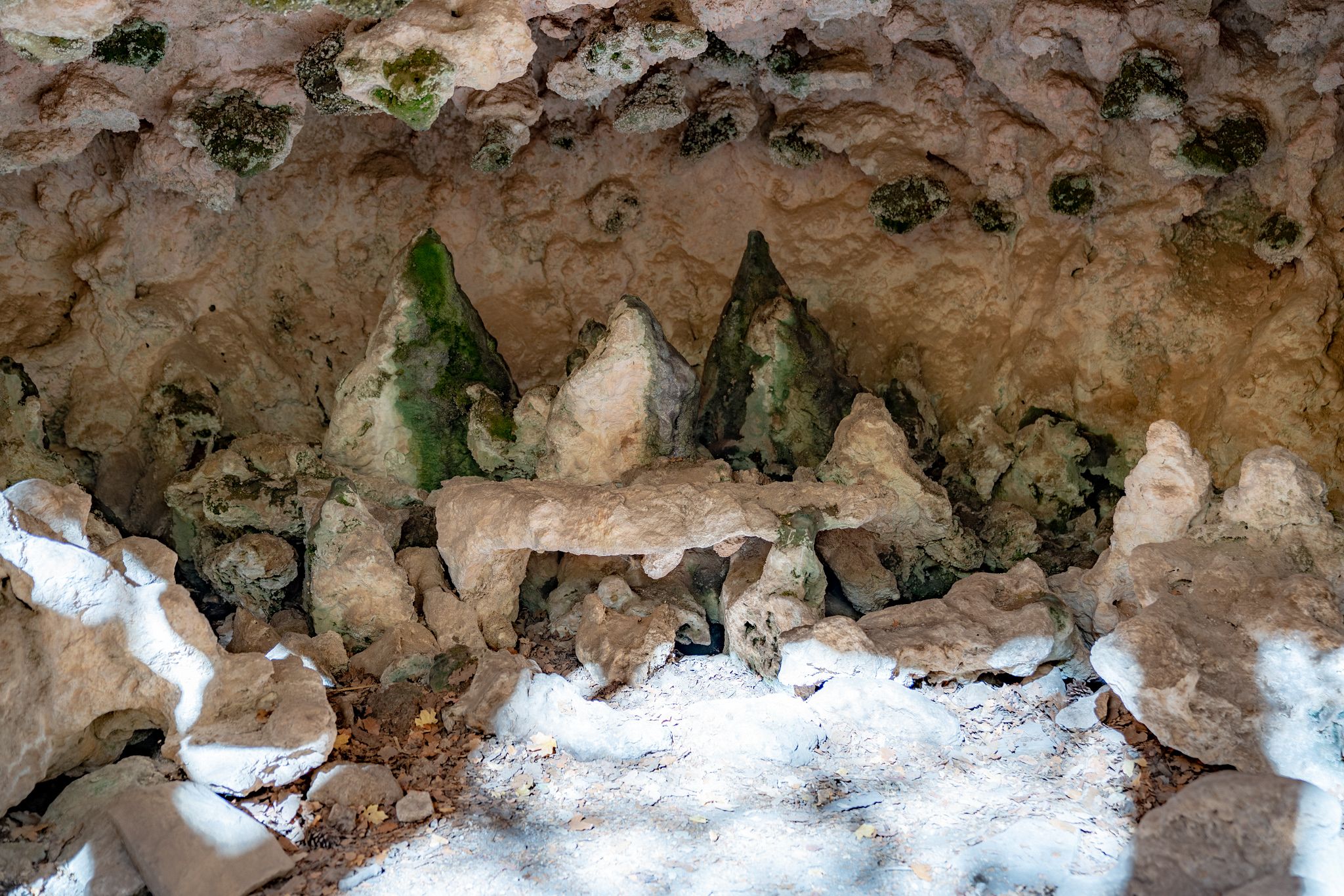 Shortly after the turning to the Grotto, the trail turned steeper, and we climbed about 700ft on a rocky trail in the next 1.4 miles. The views from the top were absolutely beautiful though, so I'd definitely recommend this if you're able to make it - we stopped and had lunch here.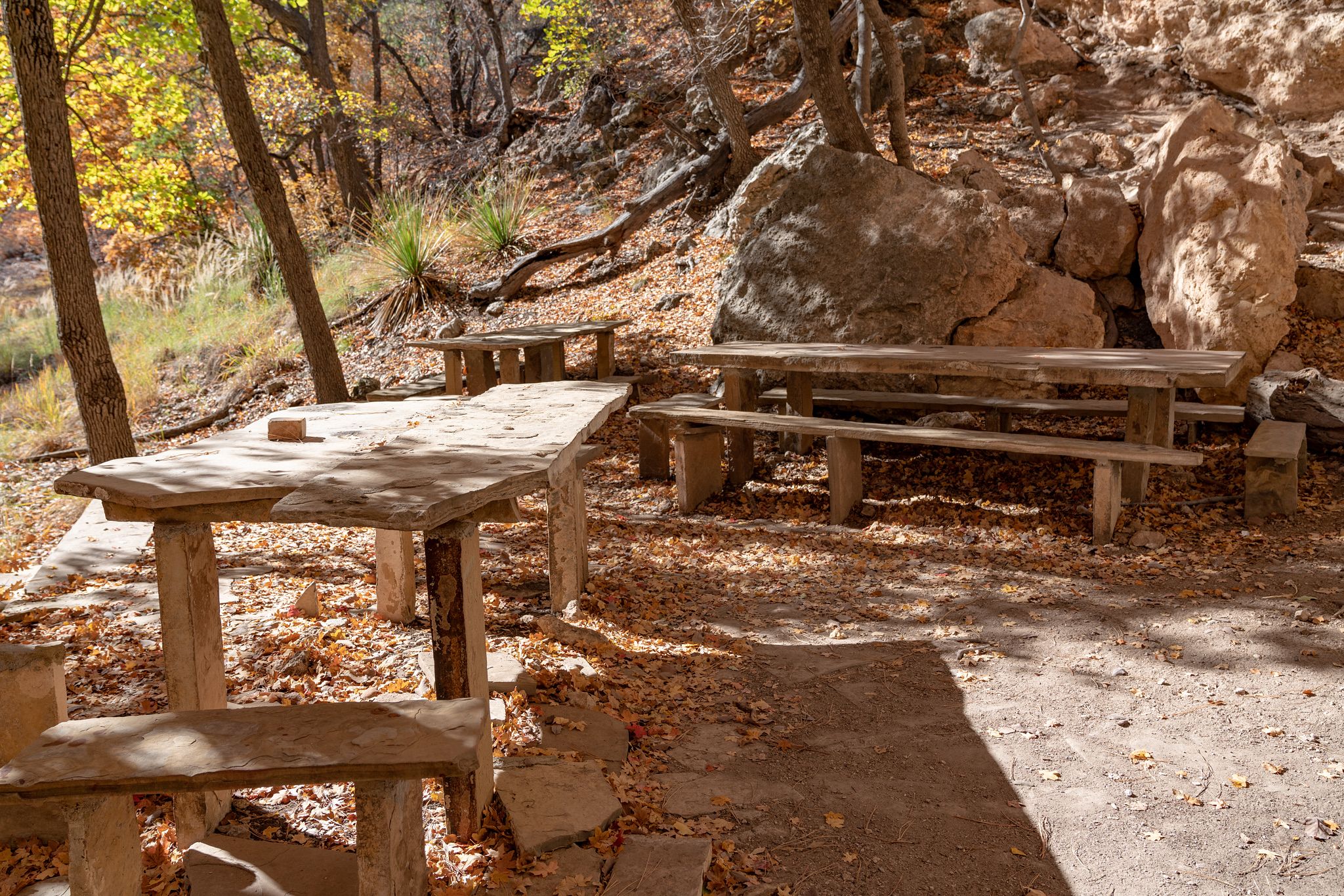 Adventurous Tip: Don't rush this hike - there are lots of opportunities to stop and take photos along the way, so savor the moment and take your time!
In total, our hike was 10.26 miles and we were hiking for a little over 4 hours, not including our lunch stop. If you're visiting in Fall, then you absolutely must do this hike. Even without the stunning colors, this is still an enjoyable hike through beautiful scenery - the trail is easy-going for the first 4 miles and there are several nice stops along the way.
Devil's Hall
Along with several other hikes, the Devil's Hall Trail starts from the Pine Springs campground so it was very convenient for us. We did this in the afternoon after hiking McKittrick Canyon in the morning, and it's a very different hike.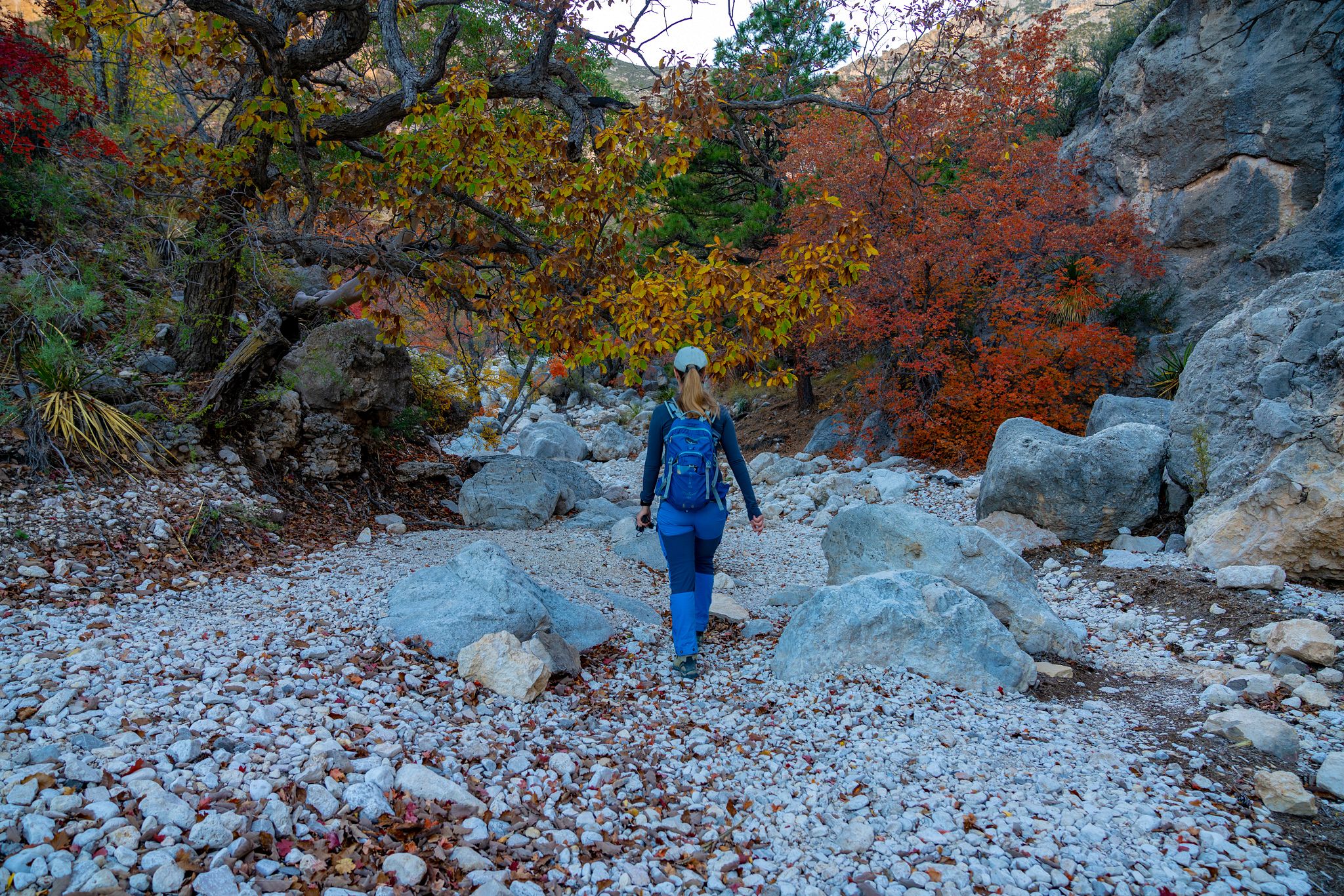 Also an in-and-out hike, this was a total of 3.95 miles that took us just under 2 hours to complete. But unlike McKittrick Canyon which was easy going most of the way, the Devil's Hall Trail enters a rocky wash after about 1 mile, so the rest of the way is climbing over rocks and generally trickier hiking. Since you're hiking in a wash in a canyon, don't expect big views - the highlight of this hike is a natural rock staircase leading to narrow hallway between steep canyon walls.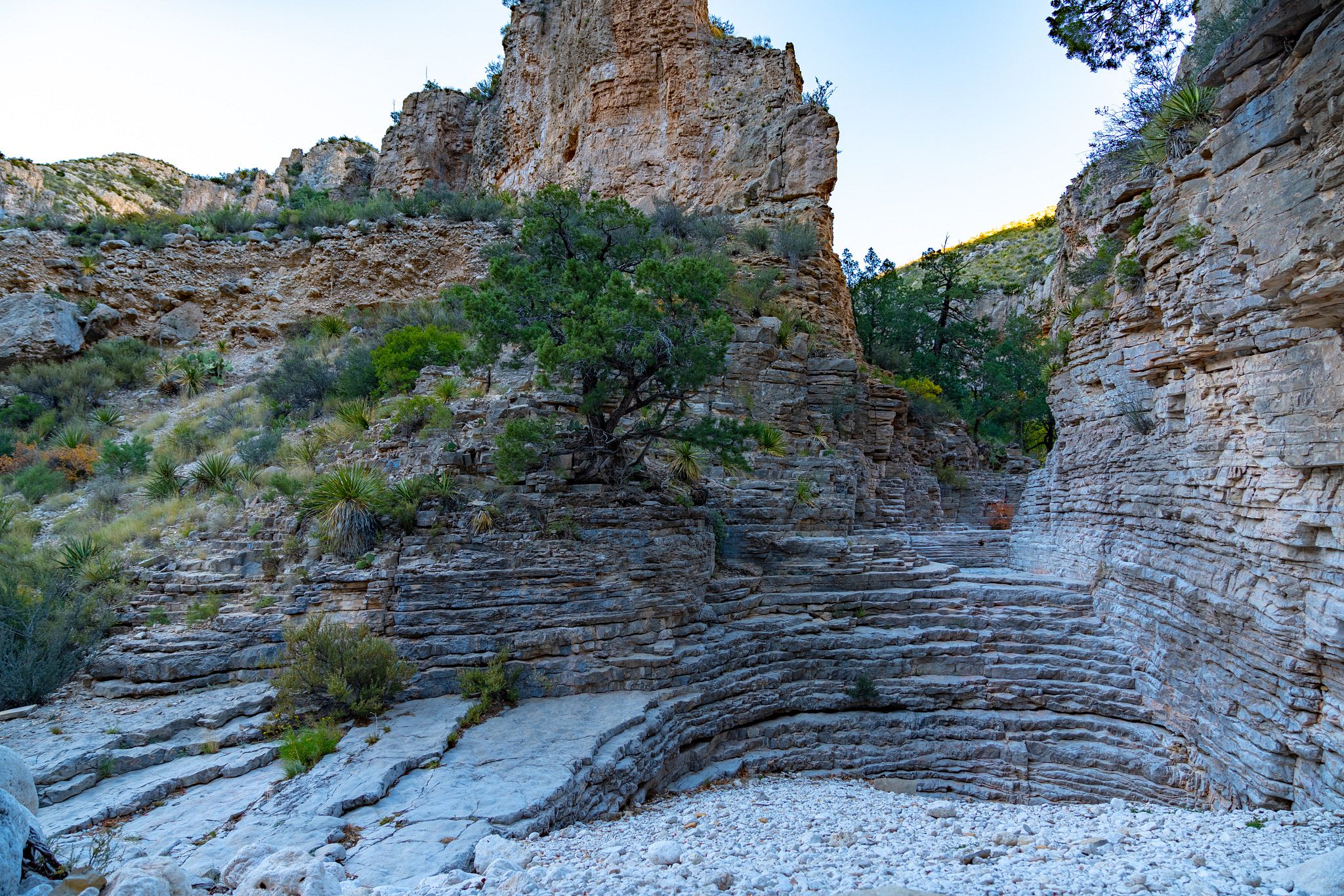 This was a fun, short hike with an interesting formation to see at the end. If you don't have much time, or want to see something a little different, this is good fun, but be aware that the trail quickly turns rocky and rough.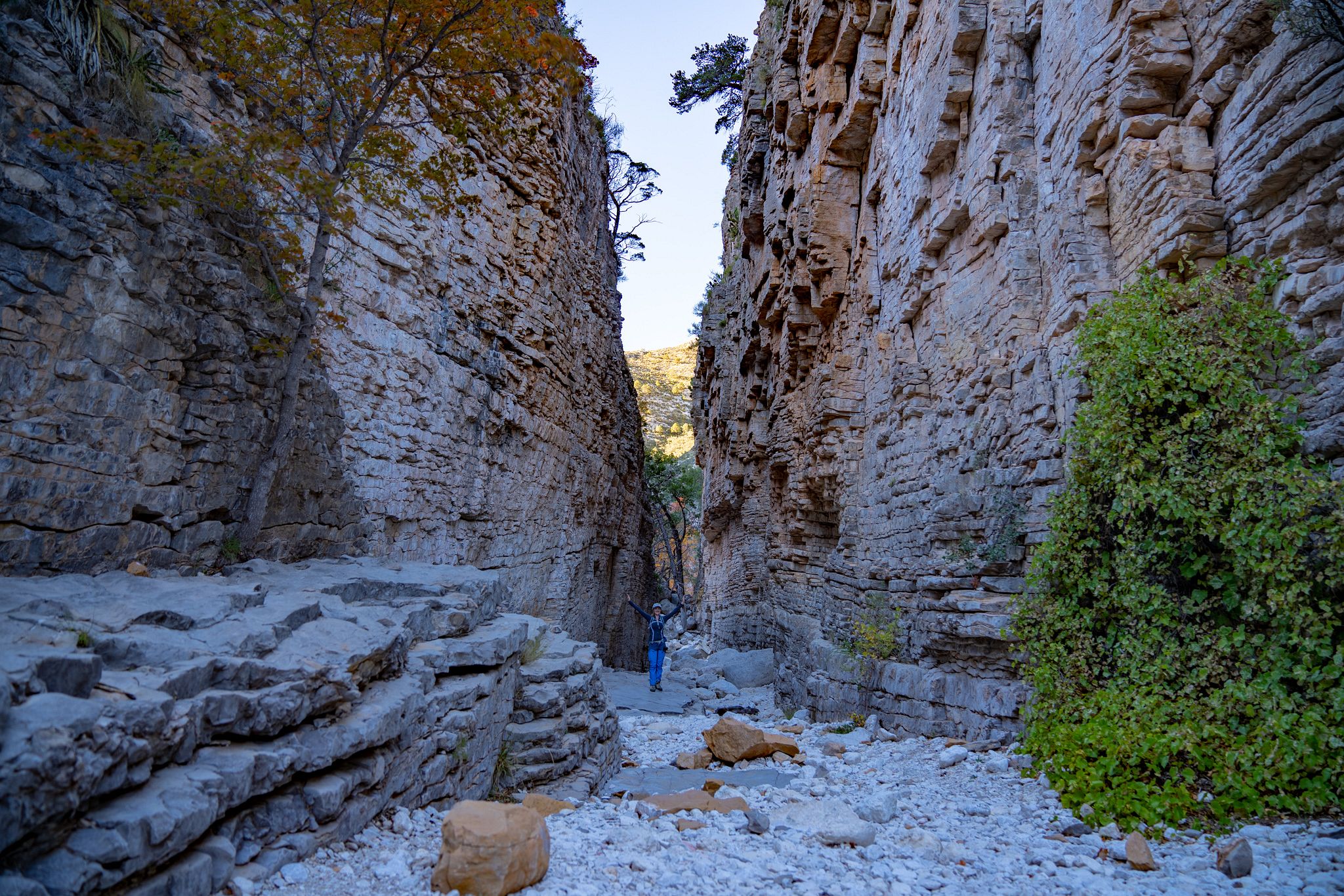 Guadalupe Peak
At 8,751ft, Guadalupe Peak is the highest point in Texas, rising up 3,029ft above the surrounding area. Having packed our lunch with us, we set out to hike to the top of this peak on the Guadalupe Peak Trail that starts from the Pine Springs Campground.
It's a relentlessly long climb, rising steadily about 2,800ft over 4.3 miles to the top. The trail is fairly well maintained, although quite rocky in places, right up until the last couple hundred yards where we were holding onto rocks in places as we climbed the last stretch to the peak.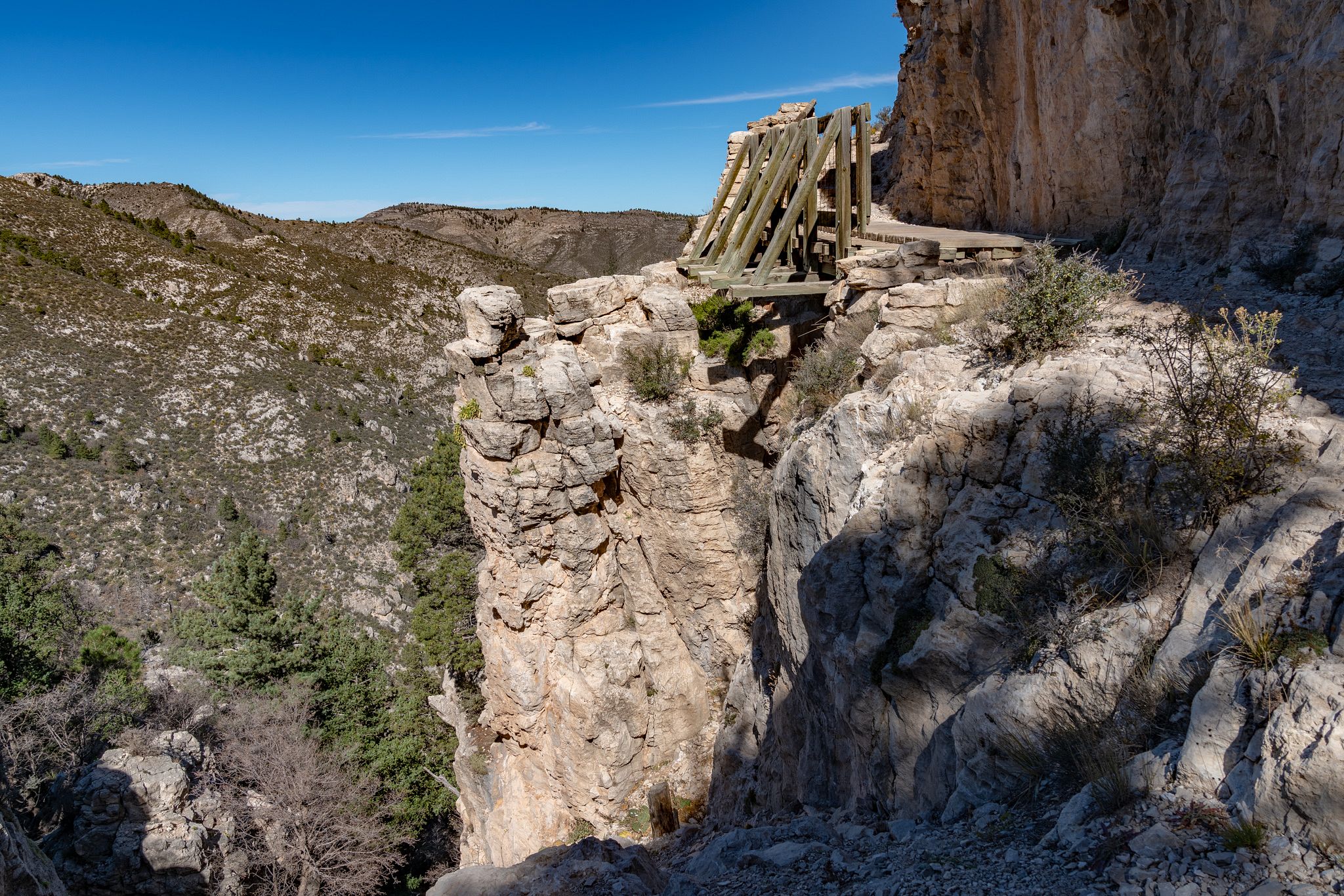 Adventurous Tip: Wear hiking boots if you have them. I did a couple of hikes in less rigid hiking shoes and the hard rocky trails really started to make my feet ache.
As you might expect, the views from the top are amazing - we were lucky to have clear weather and were able to see for miles all around, including El Capitan just below us.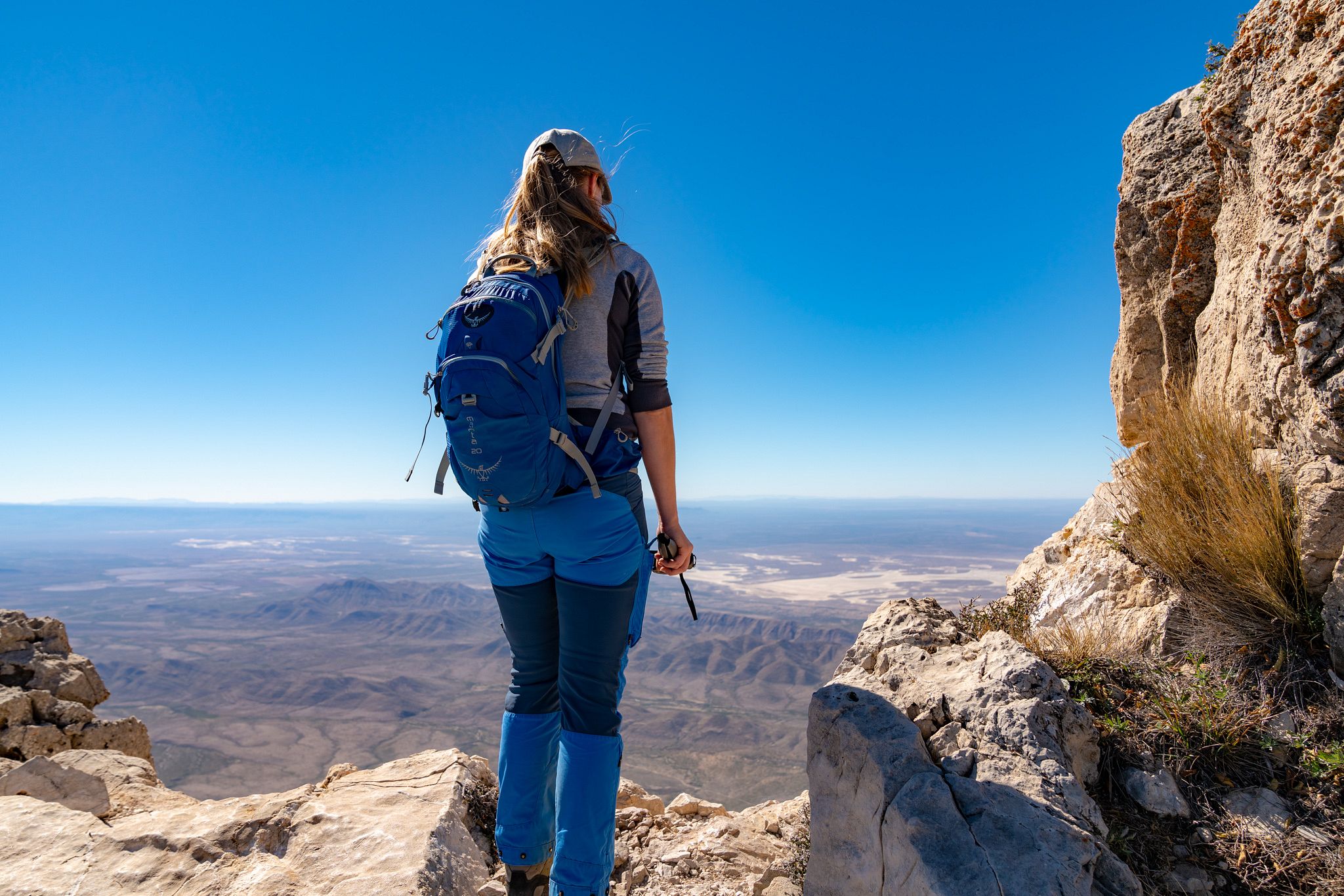 The summit is marked by a stainless steel pyramid, installed by American Airlines in 1958 to commemorate the 100th anniversary of the Pony Express stagecoach route of the Butterfield Overland Mail service. We also signed the visitor log book in the ammunition box lodged next to the peak marker.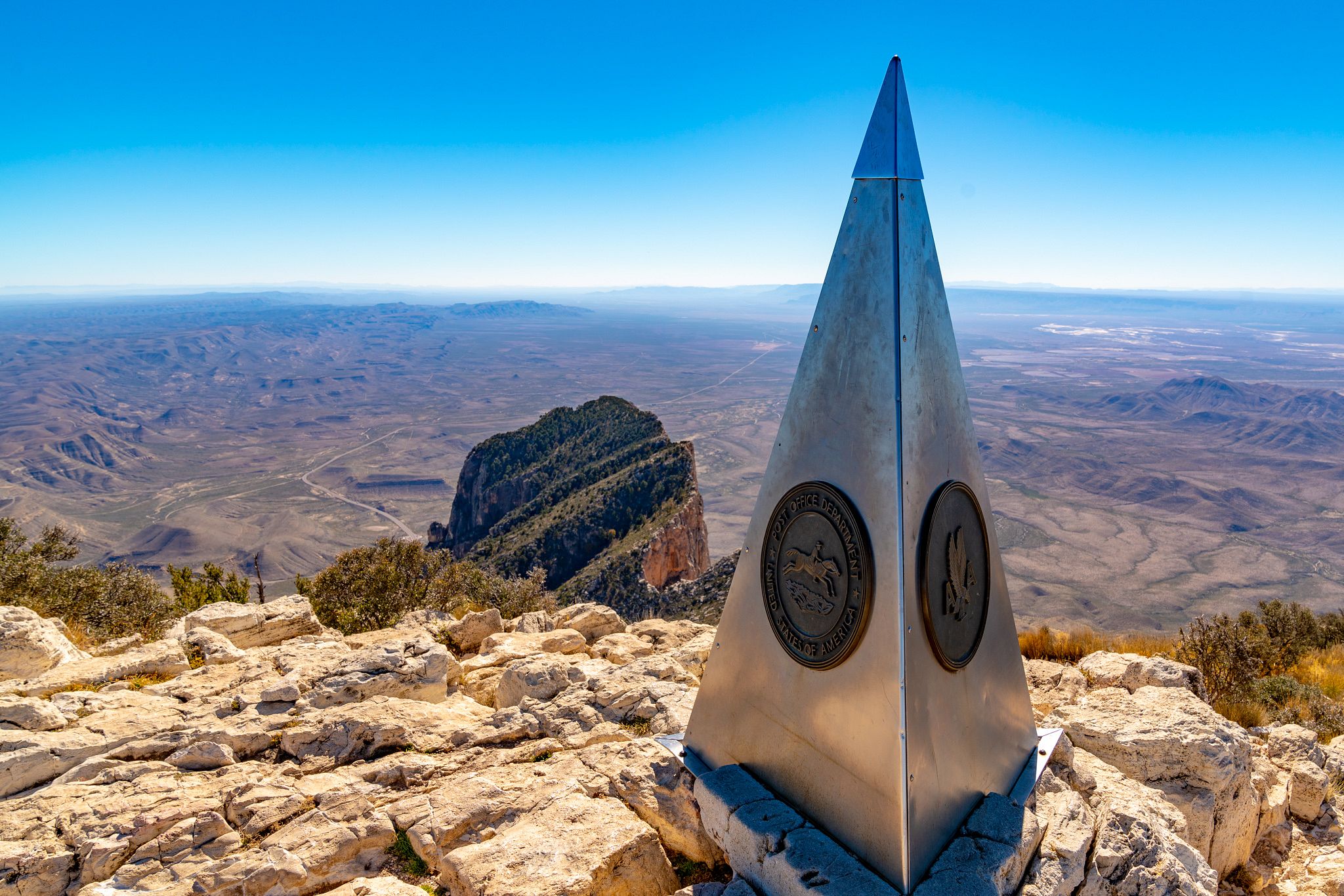 After a healthy but filling lunch of hummus, crackers, cucumbers and nuts (and some chocolate, but shhh), our hike back down was much faster than the steep climb up had been!
In total, we were hiking for just over 5 hours on the 8.52 mile trail, but we also had about an hour worth of stops on top of that. The recommendation from the Rangers is to allow 6-8 hours for this hike - athletic hikers can do it faster, but what's the rush in beautiful scenery like this?
If you want to hit the bucket-list item of having been to the highest point in Texas, then Guadalupe Peak has to make the cut for you. Snaking its way up the side of the mountain, you are treated to some beautiful views of the mountains, and the vistas at the top are unparalleled.
Smith Spring Trail
This gentle, circular hike departs from the Frijole Ranch Trailhead, a few miles down the road from the Pine Springs Visitor Center. However, don't let its short distance (2.8 miles) or mild elevation gain (387 ft) mislead you - this is a beautiful hike.
I'd recommend doing what we did - head out early and watch the sunrise as you hike. Doing so gives you the best chance or seeing animals - they're often active at dawn and dusk. Unfortunately we didn't see any signs of wildlife, but it was still worth waking up early to try!
Because what we did see was a stunning sunrise. The weather was so foggy when we left our RV that the visibility driving over was barely 100ft! And we watched as this fog battled the breaking dawn for supremacy over the foothills of the Guadalupe Mountains.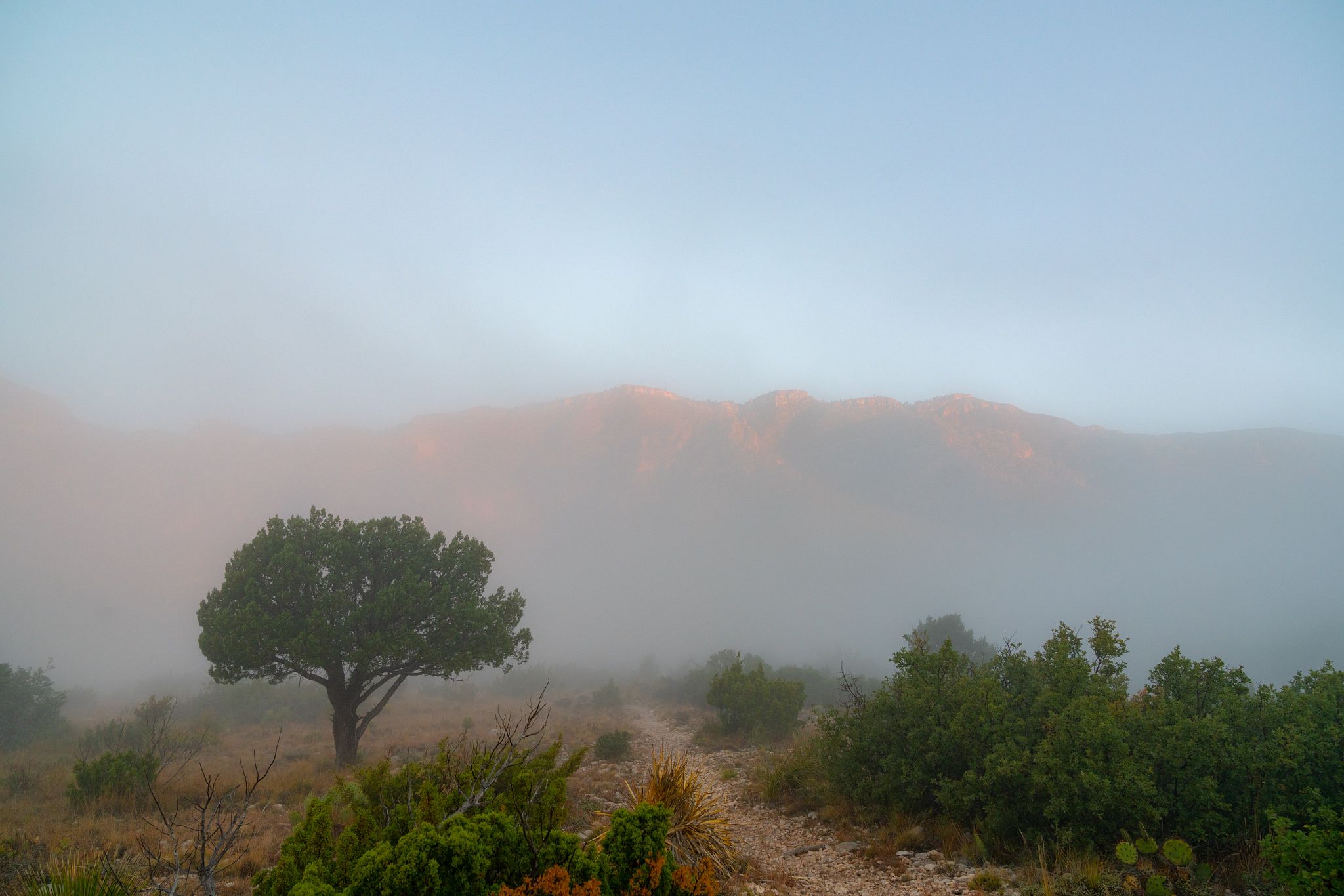 The highlight of the trail is Smith Spring, a bubbling waterfall and creek that crosses the trail about halfway around. Manzanita Spring is also worth seeing - this small pond was once used as a leisure lake by the local residents. There's lots to learn in the Frijole Ranch which is now operated as a museum by the National Park Service, but check the opening times before you go.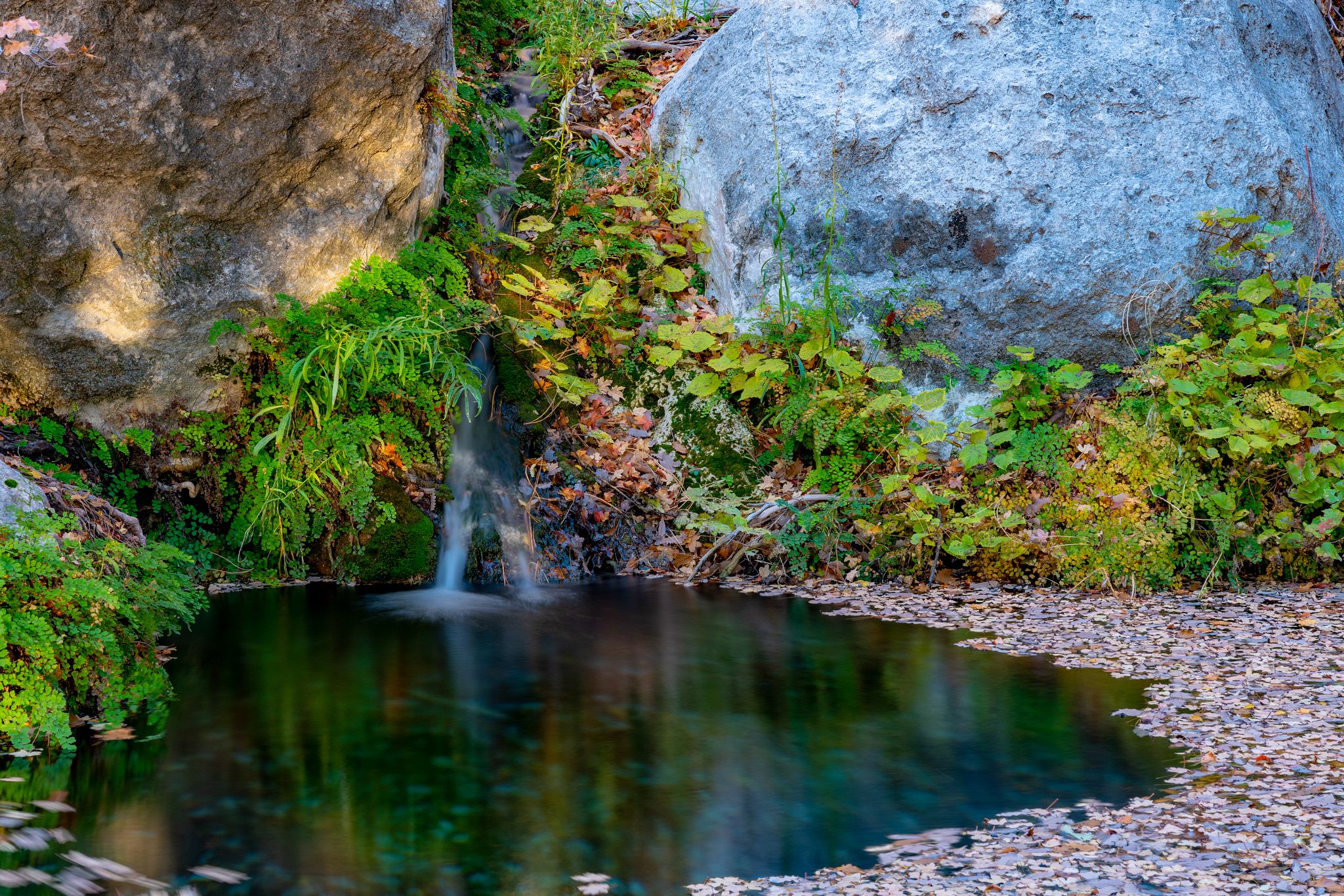 For me, this was one of the most surprising hikes. It's fair to say my enthusiasm for getting out of bed on a cold, foggy morning wasn't at a record high, but this trail punches above its weight in terms of views. If you're looking for a small hike with big scenery and a real connection to the people who once lived here, this hike is not to be missed.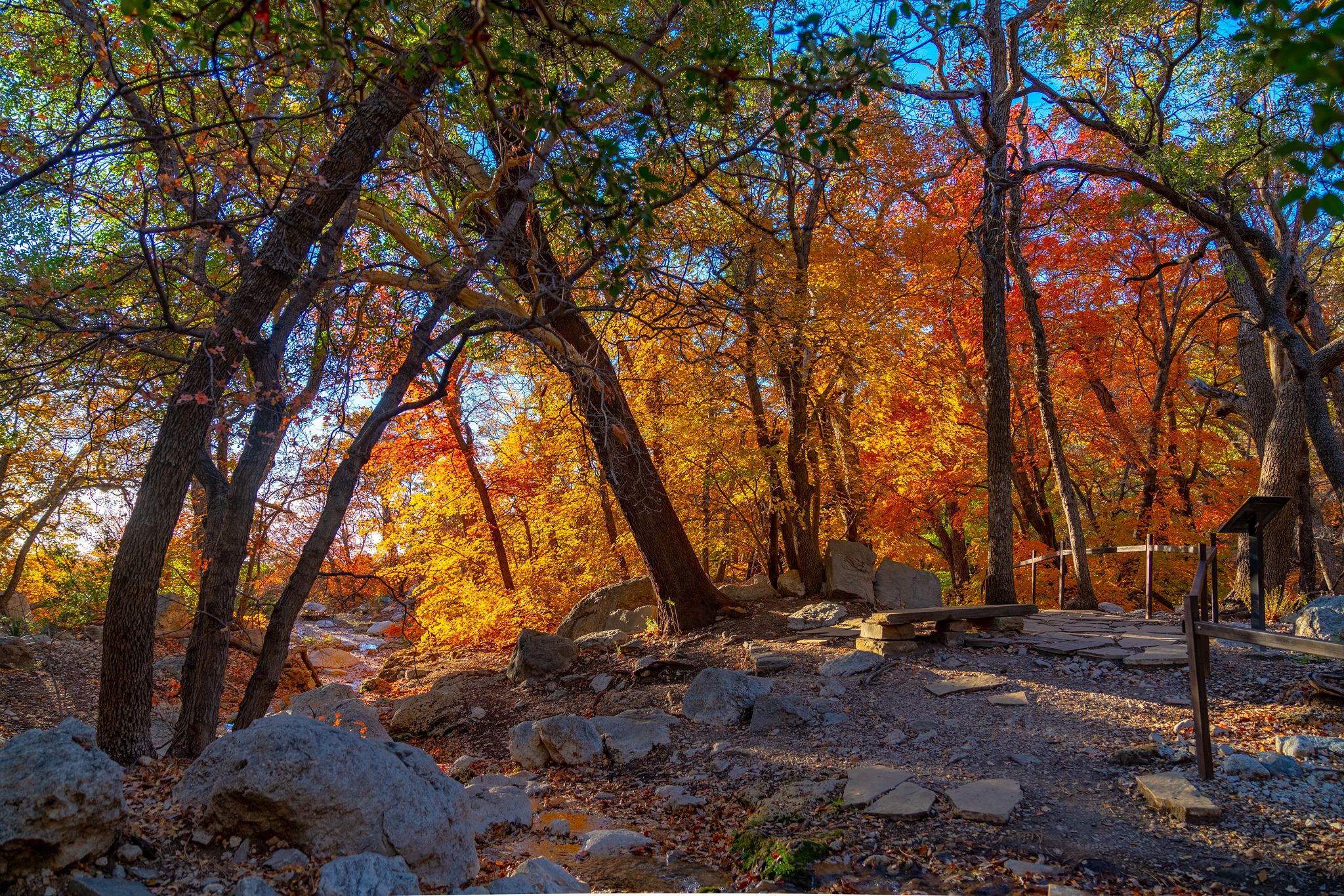 Permian Reef Geology Trail
The Permian Reef Geology Trail mixes things up yet again with a totally different hiking experience. The blue skies and sunny weather of the previous few days clearly decided to take a break, as we had unending fog for the duration of this hike. And it didn't matter one bit.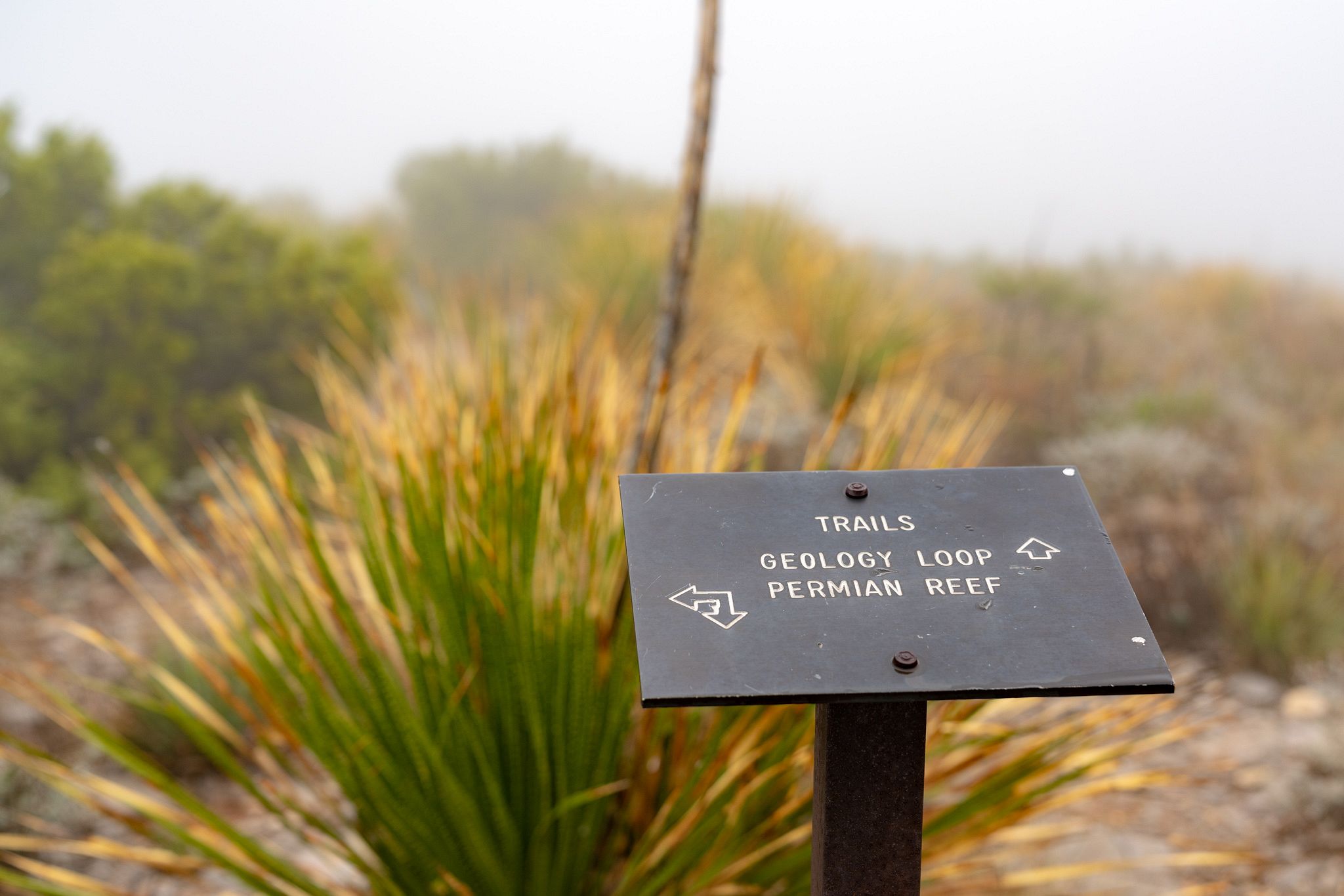 This trail focuses less on the surrounding landscape for its panoramic views, and instead takes you on a journey of education about the geological history of the area. We picked up a free guide from the Visitor Center, which maps to numbered markers on the trail. Although we chose the technical guide, there is also a children's version available too.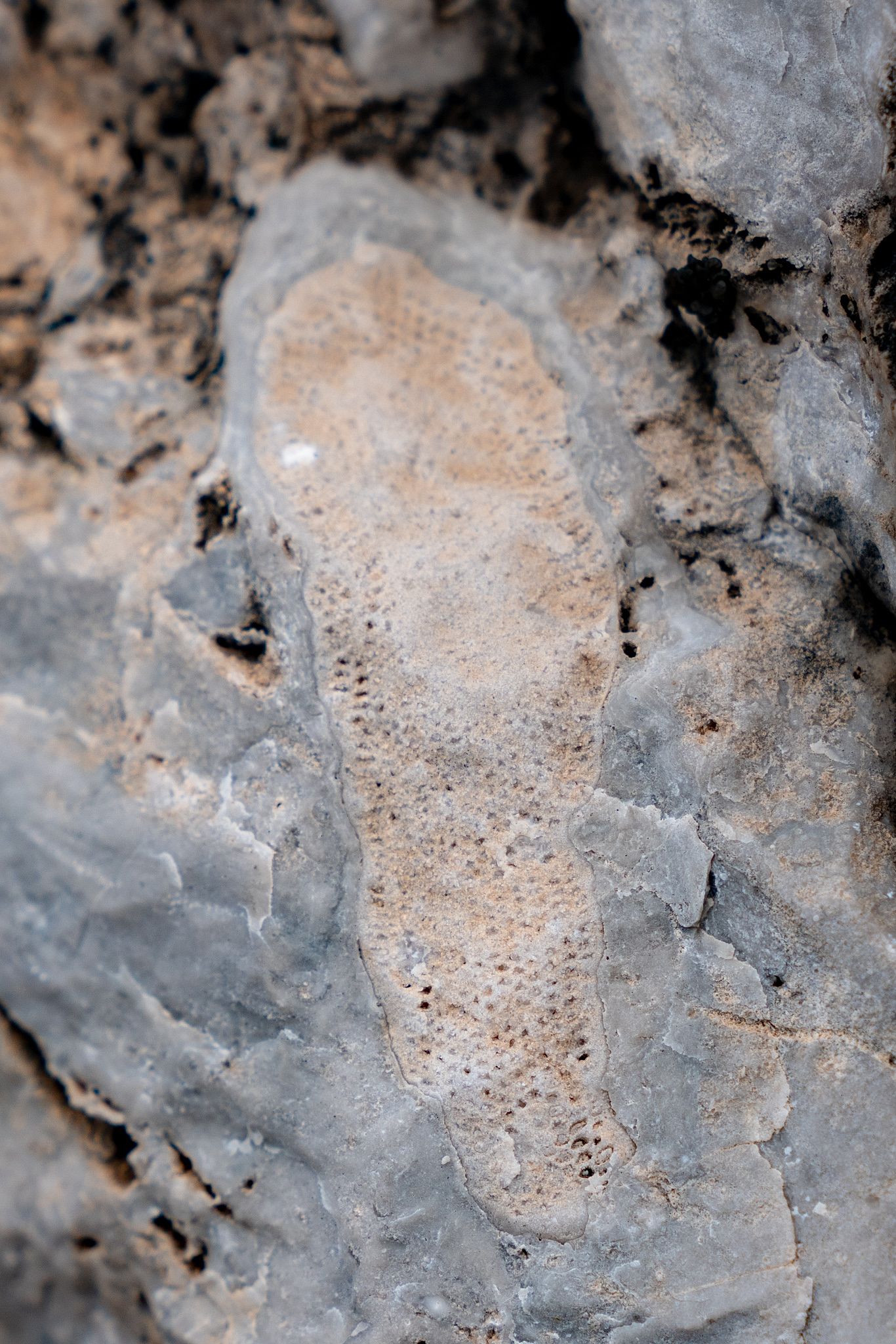 Each marker tells a different story, but ties it specifically to what you see at that point - fossils in the rock, crystal structures, fallen boulders and much more. The National Park Service lists this trail in their Education section, aimed at classes of children, but we enjoyed it too!
The trail leads to the border with New Mexico which we found pretty cool - it felt weirdly surreal to hike to New Mexico! It's a strenuous hike, with an unrelenting 2,000ft climb over 3.1 miles to a plateau on top, where another 1.5 miles takes you all the way to the state border. Unsurprisingly, we were yet again much faster on the way down - the cold fog encouraging us to keep moving to stay warm as we descended!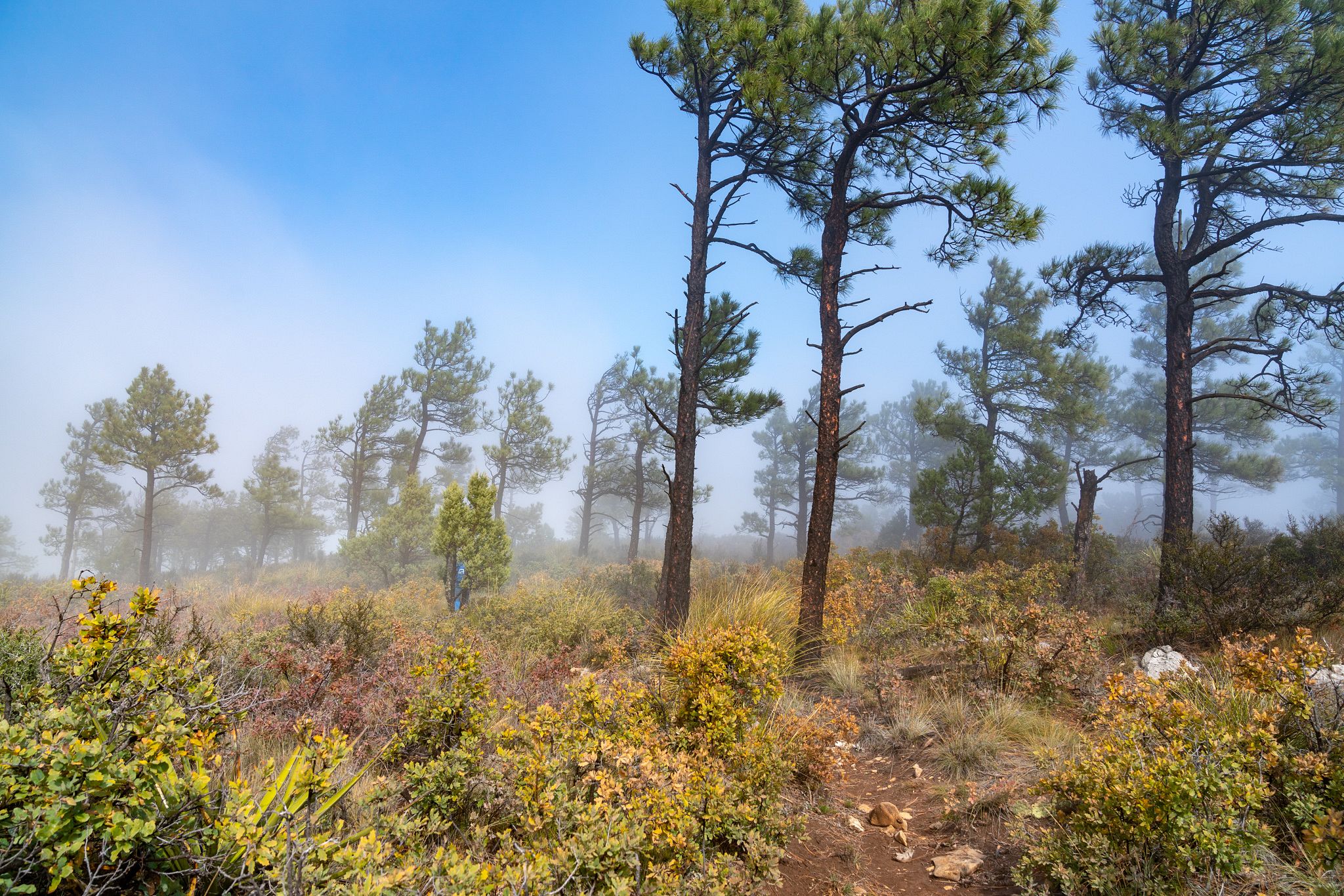 If you're interested in knowing how the Guadalupe Mountains emerged from the Capitán Reef that formed millions of years ago during the Permian Period, then take a look at this strenuous but rewarding hike. Although we were hiking in fog, in clear weather you'd be looking down over McKittrick Canyon and its stunning fall colors - adding yet another dimension to an already rich trail.
The Bowl
The last trail we hiked during our week-long visit to Guadalupe Mountains National Park is known as The Bowl - a strenuous 9.1 mile circular hike from Pine Springs, climbing 2,500ft to Hunter Peak. This it typically hiked counter-clockwise, climbing Bear Canyon Trail to the Bowl Trail at the top, on round to Hunter Peak (named after Judge JC Hunter, one-time inhabitant of the Frijole Ranch) via a short detour, before descending back down the Tejas Trail.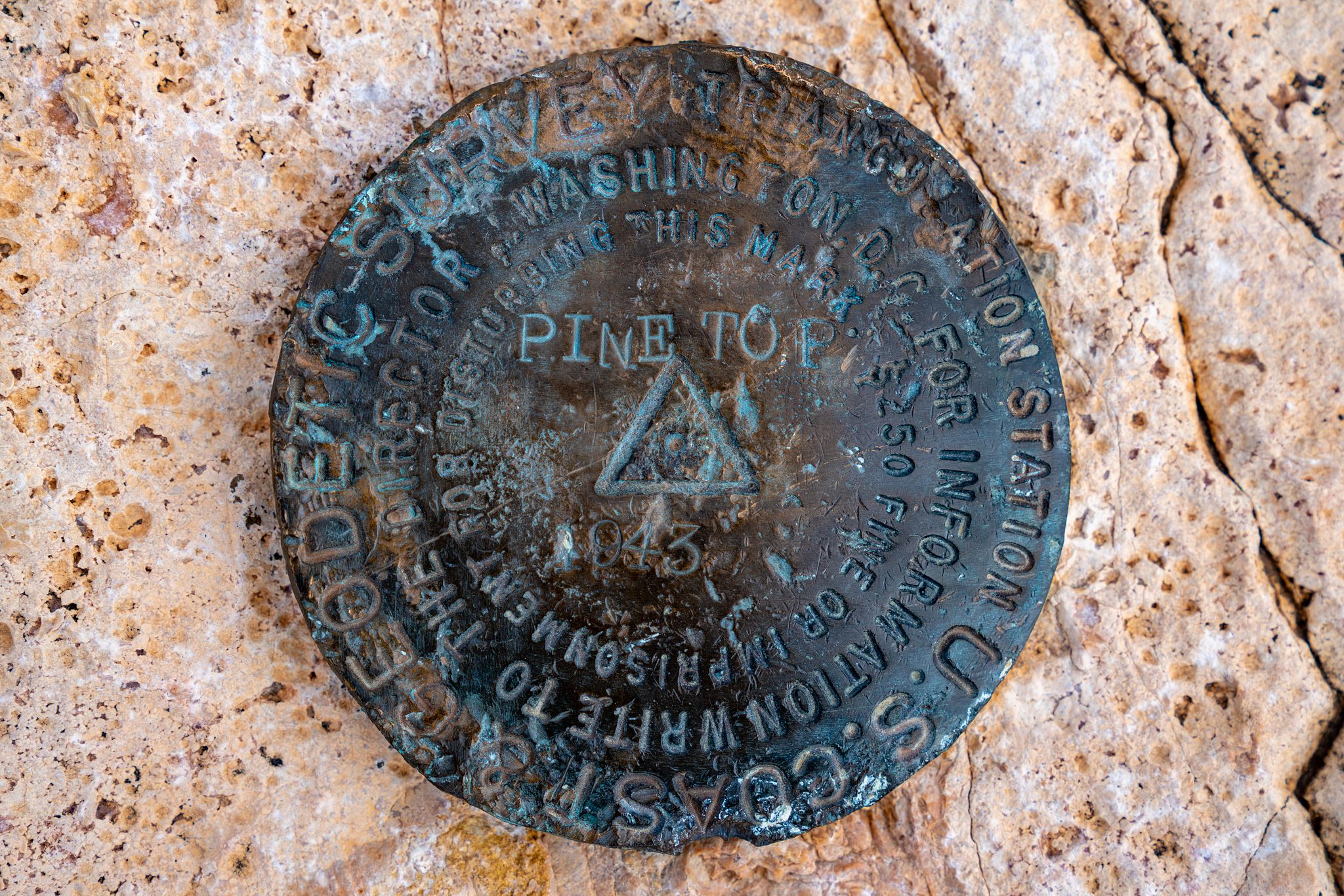 Bear Canyon is the steepest section, and most people prefer to climb up that section than down. But we're not most people, so we chose to do it backwards - ascending via Tejas Trail and descending down Bear Canyon Trail. Although the trail looked daunting from the top, it was actually fine; I was nursing a recovering knee injury and had no problems on the path down.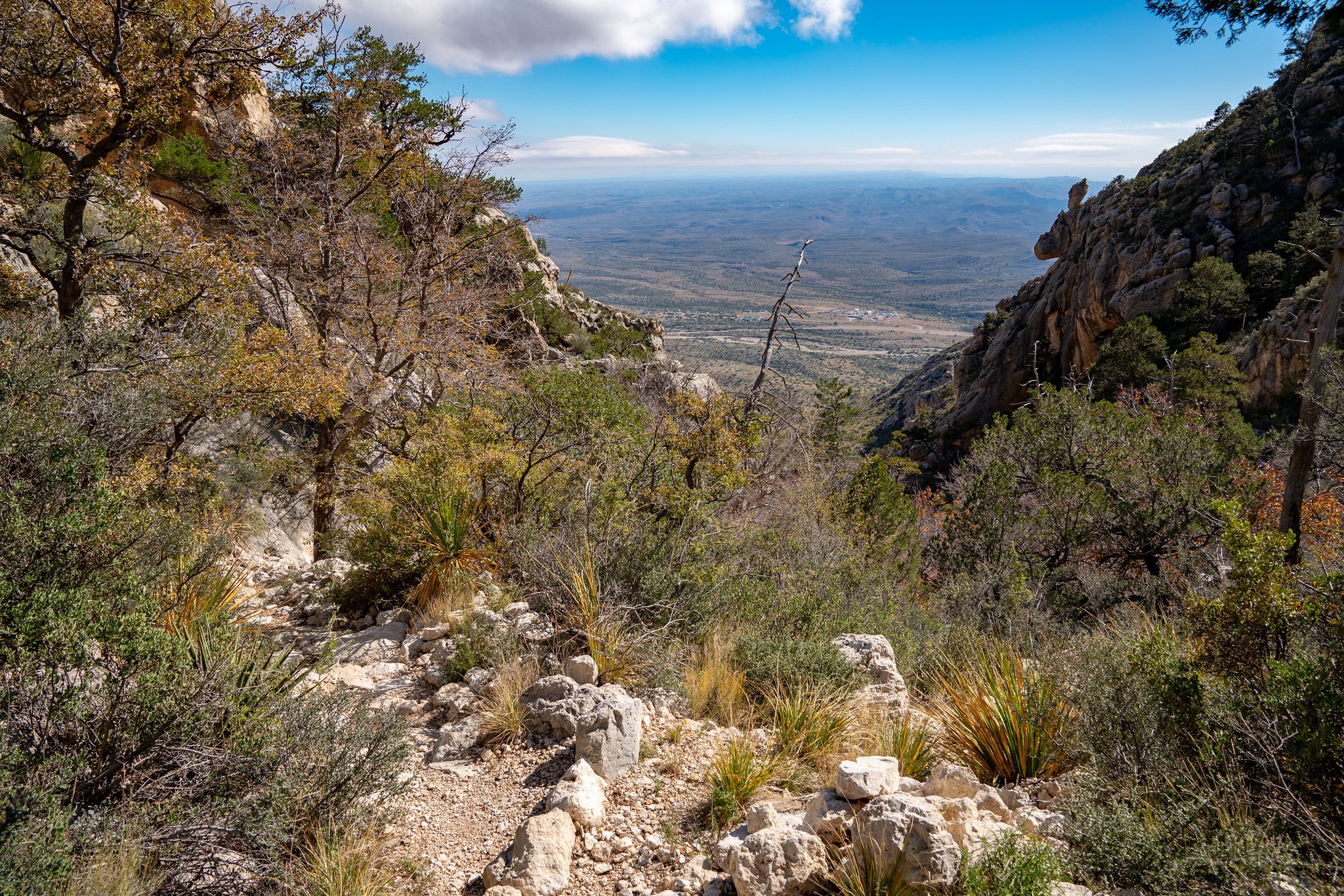 When we had hiked to Guadalupe Peak earlier in the week, we could see the Tejas Trail snaking up the side of the mountain, so we knew what we were letting ourselves in for - steep winding switchbacks!
I really enjoyed this particular hike - it was the only strenuous hike we did that was circular rather than in-and-out. I prefer circular hikes - you see more because you don't hike the same trail twice. That holds true for The Bowl too - hiking 3 different sections of trail, each with different landscape and views.
Hunter Peak is the 6th highest peak in Texas, so if you're on a peak-bagging mission then be sure to include this hike in your itinerary. Although it doesn't have a single focus point like Guadalupe Peak or Devil's Hall, this is a scenic if strenuous circular hike that lets you see several different areas of the Guadalupe Mountains.
Sand Dunes
Although hiking within the mountains is a big draw of Guadalupe Mountains National Park, don't miss the 2,000 acres of gypsum dunes to the west. Unfortunately camping at the dunes is not permitted, and they're only accessible from sunrise until 30 minutes after sunset.
It used to be necessary to collect an access key to the dunes from the Visitor Center, but the National Park Service recently changed that - no key necessary! After speaking with Park Ranger Brian, we decided that we would visit in the afternoon and enjoy the sunset at the dunes.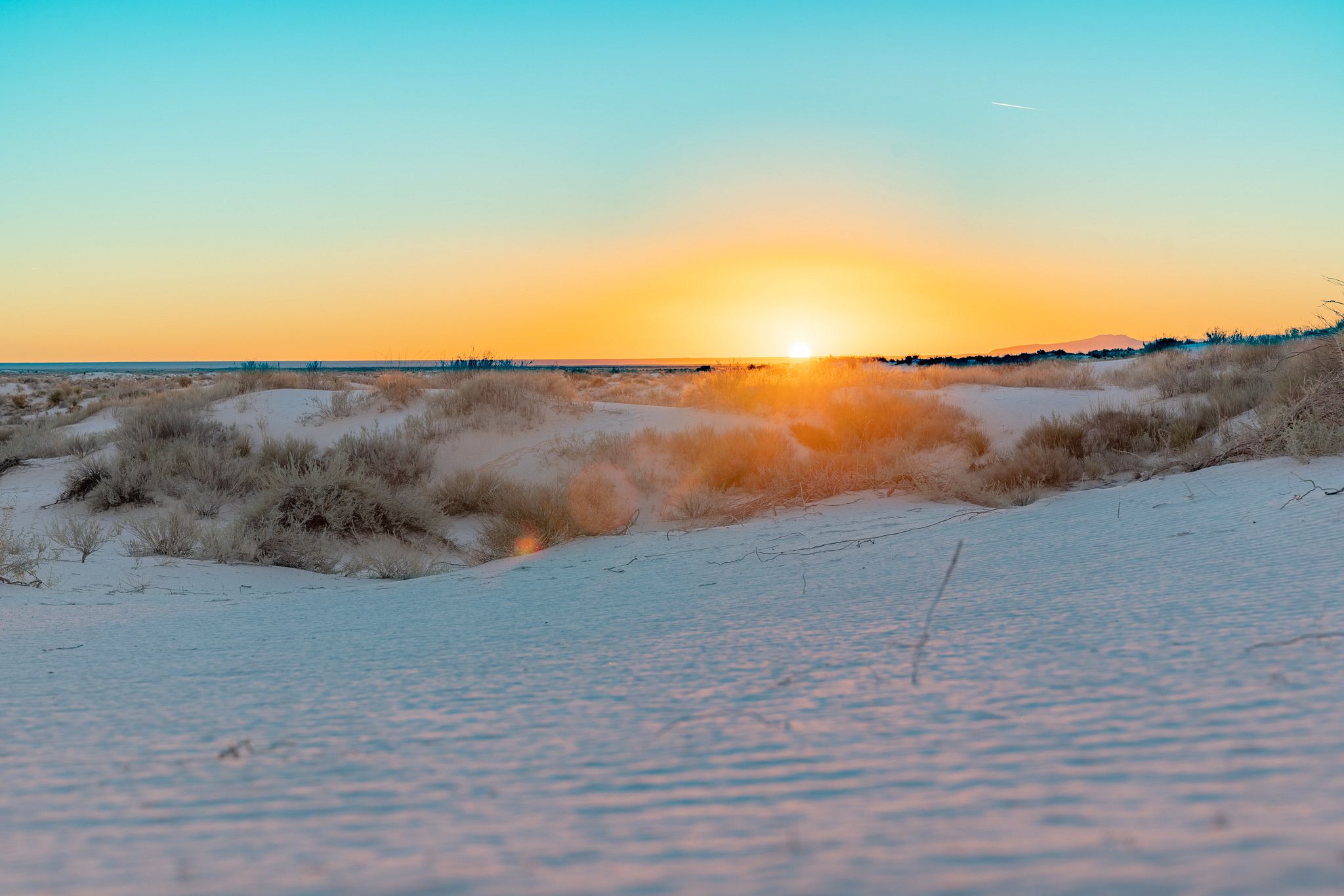 Although the dunes are on the western edge of the mountains, the drive from Pine Springs Visitor Center is about 47 miles. Along the way, we took a short detour to pass through Dell City and fill up with gas. This is an unmanned, automated gas station - you insert your credit card to dispense gas.
Adventurous Tip: If the gas is flowing very slowly, stop filling and wait for 10-20 seconds. A friendly local told us there's a safety valve that's a little overzealous, so pausing for a short while gives it time to regain its composure and let the gas flow!
There's also a small convenience store in Dell City - we stopped in for eggs (it was my birthday and I wanted to bake a cake, but forgot to buy eggs in Carlsbad - we also forgot to buy baking powder as it turned out, so the cake had to wait until El Paso) but they also had a small selection of groceries and other items.
The last stretch of the drive to the dunes is about 7.5 miles down an unpaved road - we had no problems whatsoever in the dry weather when we visited, but the NPS advise that the clay surface becomes dangerously slippery when wet.
Adventurous Tip: As always, check with the Park Rangers for the latest weather conditions so you know what to expect!
These dunes are unusual in that they're not sand - they're actually gypsum, the same as the more famous dunes at White Sands National Monument. Although the Guadalupe dunes aren't as expansive as those at White Sands, they're still beautiful at sunset.
We parked at the trailhead about an hour before sunset, and headed into the dunes. The trail quickly became difficult to follow, but we followed what looked like a path and headed out onto the dunes. Bear in mind we had GPS watches and phones to track our position and find our way out - it's easy to become disoriented in the dunes, and summer temperatures can exceed 100F so be careful!
Adventurous Tip: Although we saw no signs of snakes, we spoke to someone earlier in the week who had encountered a rattlesnake on the trail - keep your eyes open!
As the sun set, we followed our path back to the car - darkness having already fallen by the time we arrived - and drove the hour or so back to Pine Springs in the dark.
Other Activities
Stargazing Program
Although not a designated Dark Sky location, Guadalupe Mountains National Park's remote location offers some excellent night sky viewing opportunities. The NPS is working to replace some older lighting systems with newer fixtures in a bid to reduce local light pollution.
On the Saturday whilst we were there, a local astronomy group came to the park and, along with the Rangers, hosted an astronomy and stargazing event. This event took place in the RV campground - the focus of the event being more on participation than perfect dark sky conditions. Nonetheless, it was a fun event and thanks to cloudless skies, we captured some wonderful photos of the Milky Way.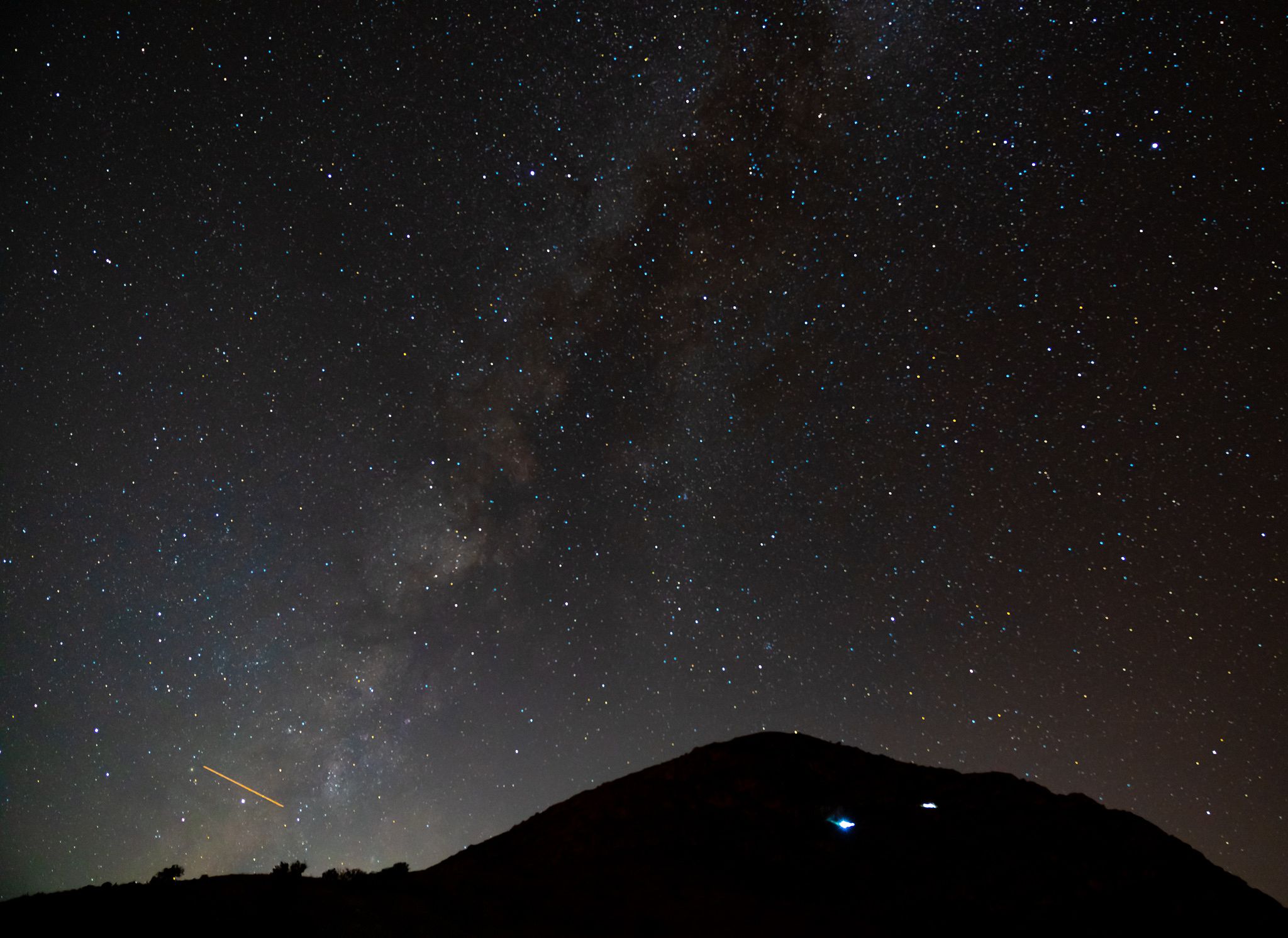 Williams Ranch Road
We had planned to drive Williams Ranch Road, but unfortunately we couldn't squeeze it into our itinerary. This is a challenging 4WD road that leads up to an abandoned ranch in the foothills of the mountains.
If you're considering this, I'd advise a) watch some YouTube videos first to see if your vehicle can make it, and b) check with the Rangers for current conditions.
Adventurous Tip: This is a technical route so be prepared - the trail is steep, rocky and narrow in places, so stock 4WD vehicles may struggle.
Conclusion
We accomplished a lot in our short time at Guadalupe Mountains National Park - racking up 47 miles hiked in just 5 hiking days. The Pine Springs RV Campground is basic, but was perfectly functional for our needs - and the location was perfect!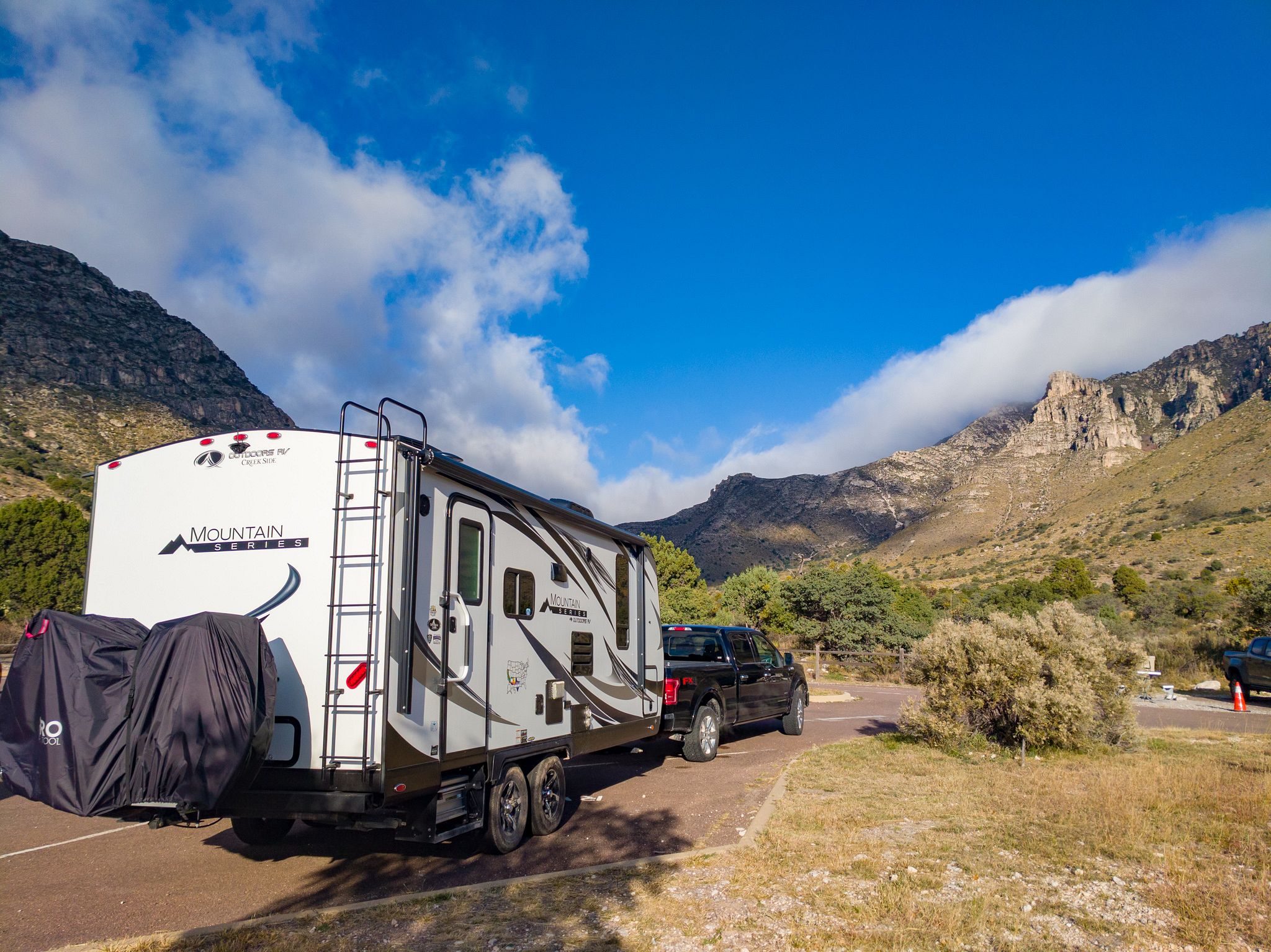 You could spend weeks more exploring the park - there are many more trails, especially up in the back country and up towards Dog Canyon. I'd also love to hike the Smith Spring trail a few more times to have more chance to see some animals. But overall, I think our week-long visit was just about a perfect duration.
Once again, I'd like to give a shout out to the NPS staff, in particular Park Ranger Brian who we spoke to at length about our plans. Guadalupe Mountains National Park is not only preserving the natural beauty, but the history of the inhabitants at Frijole Ranch is a story that I'm pleased is being shared.
From here, our journey takes us further west, to the very corner of Texas - El Paso - to visit Chamizal National Memorial so make sure you subscribe to our newsletter and follow our journey on Facebook, Instagram and YouTube.