Introduction
Our circuit around Colorado with Diana's brother Jānis to visit its National Parks on his 2-week vacation was coming to an end.
Heading in an anti clockwise direction, we had already visited several other National Parks, most recently Mesa Verde National Park which we loved!
So one morning late last July, we drove from our boondocking spot near Durango, CO to Sand Dunes Swimming Pool & RV Park near Great Sand Dunes National Park ready to explore.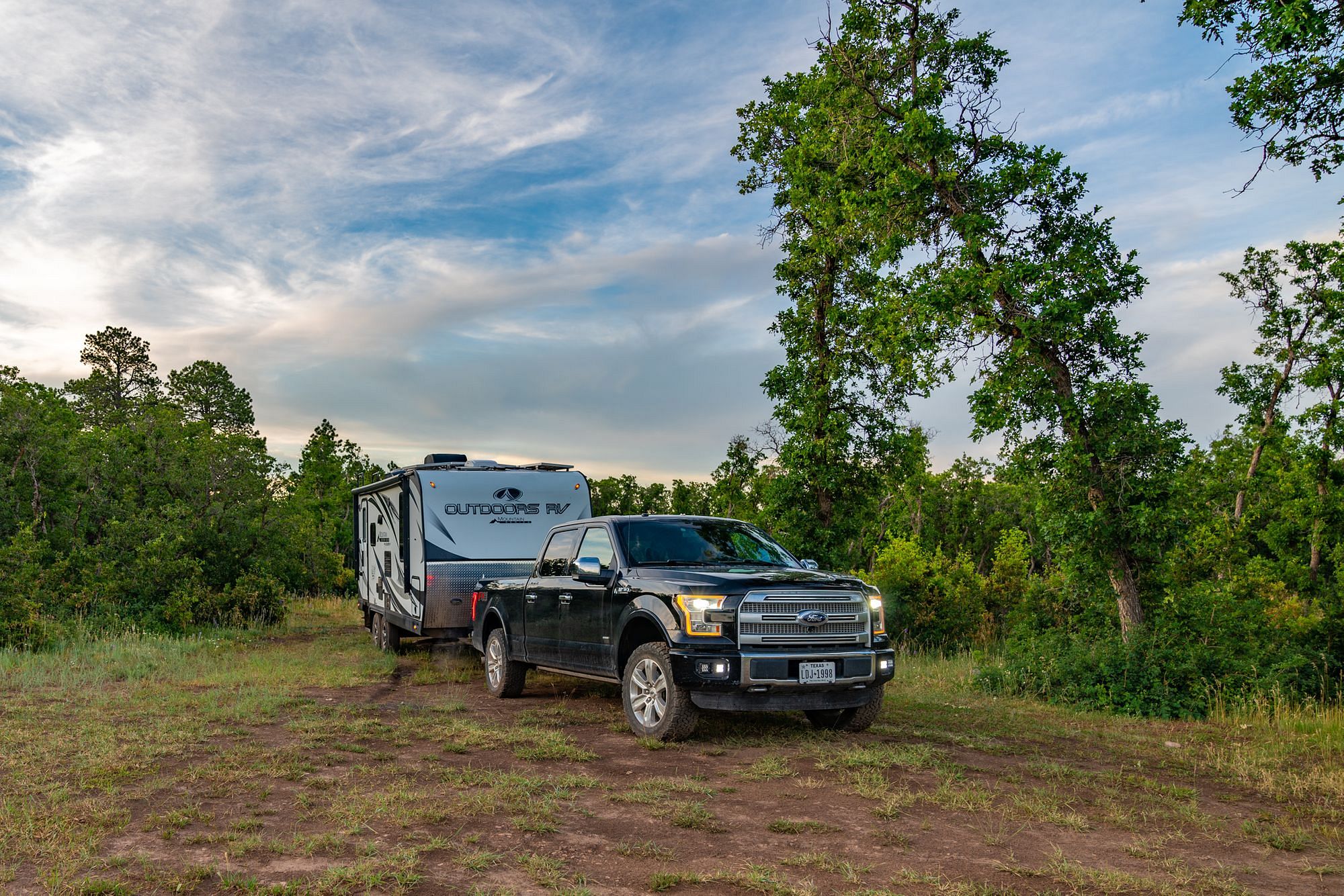 Technically, Great Sand Dunes consists of both a National Park and National Preserve (with slightly different boundaries), so this counts as two units - numbers 31 and 32 on our quest to visit ALL the National Park Units in the US.
Location
Great Sand Dunes National Park is about 35 miles northeast of Alamosa in southern Colorado. It's about a 4 hour drive south of Denver, CO, west of I-25 towards Albuquerque, NM.
Video
Background
While sand dunes are found across the country, the Great Sand Dunes earned their name for being the tallest sand dunes in the US.
Sand Dunes
Standing up to 750ft high, these dunes are truly impressive! The dunes themselves cover 30 square miles, while the National Park encompasses 167.7 square miles, and the National Preserve includes a further 65 square miles!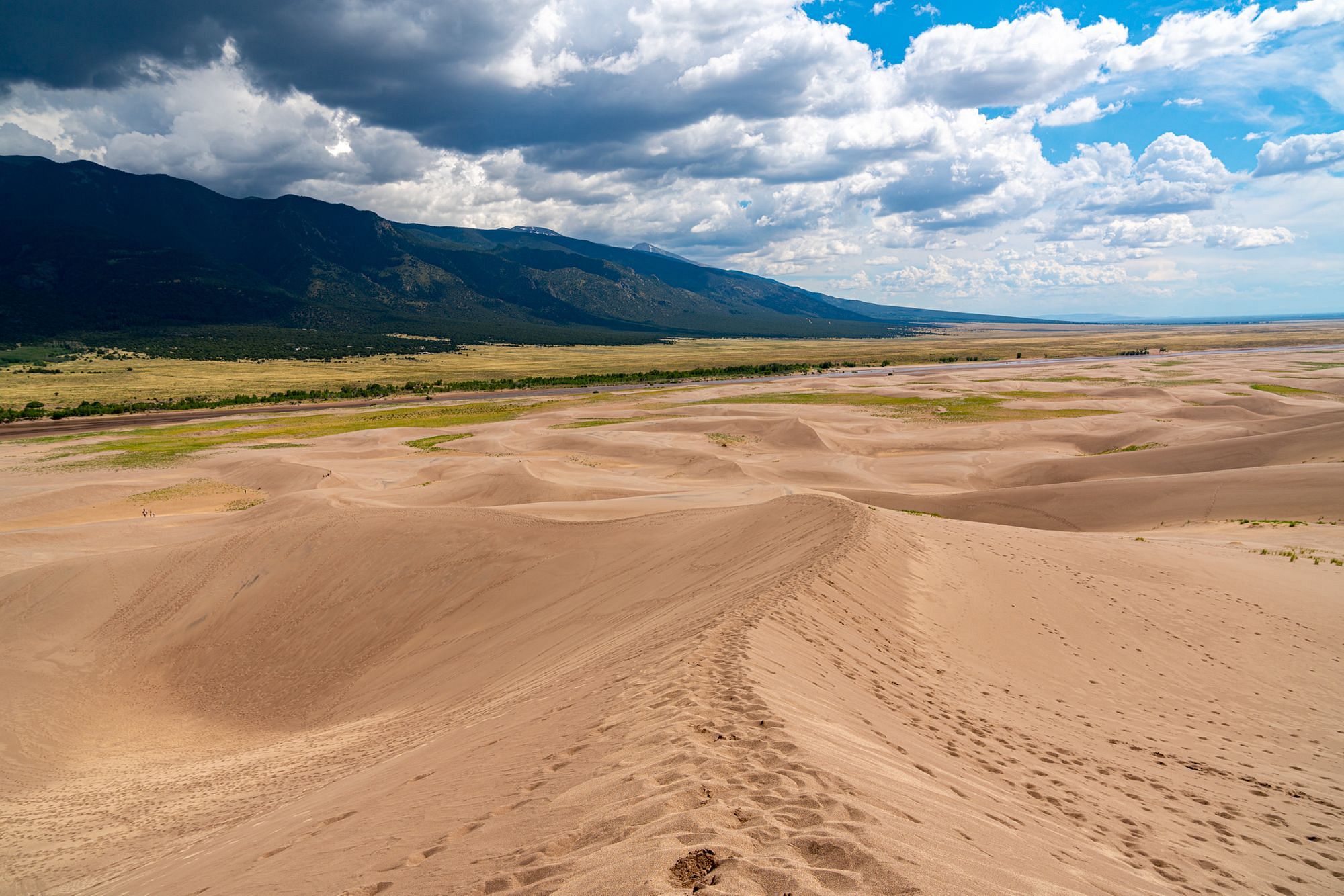 The sand dunes lie in an area known as the San Luis Valley, between the Sangre de Cristo Mountains to the east and the San Juan Mountains to the west. The Sangre de Cristo Mountains formed when tectonic plate movement rotated a large plate, lifting the Earths's surface. By contrast, the San Juan Mountains were created through a long process of violent volcanic activity.
As sediment from both mountain ranges washed down, it collected in the valley. Rich magnetite rock, formed when lightning hits lodestone, is also eroded and the magnetic sand accumulates in the dunes. Magnetite can be seen as black streaks or patches on the dunes.
In 2002, geologists were able to confirm the theory that there was once a lake in the valley - known as Lake Alamosa. Around 440,000 years ago, this lake broke through at the southern end, draining into the Rio Grande River.
Small lakes remained, continually filled with sediment from mountain streams. But eventually these lakes disappeared too.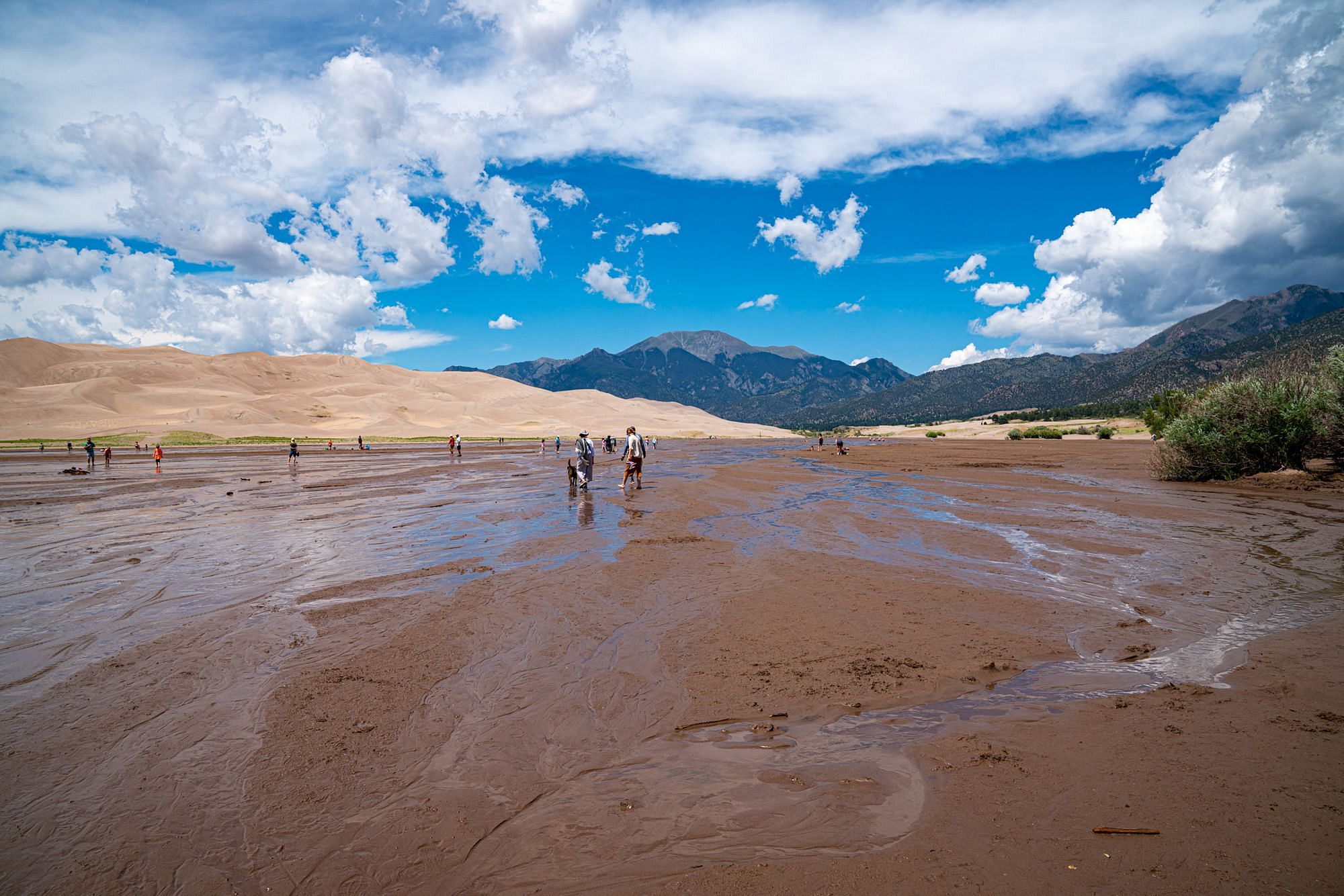 Prevailing winds from the southwest blew sands towards a low curve in the Sangre de Cristo Mountains, causing the sand to accumulate here. During storms, winds come from the east, blowing the sand back toward the valley.
Caught between the two opposing winds, the dunes have nowhere to go but up, giving these dunes their characteristic height.
National Park Designation
Great Sand Dunes was original designated as a National Monument on March 17, 1932, by President Herbert Hoover. It was established to protect the area from gold mining and the threat of concrete-manufacturing - issues that alarmed local residents.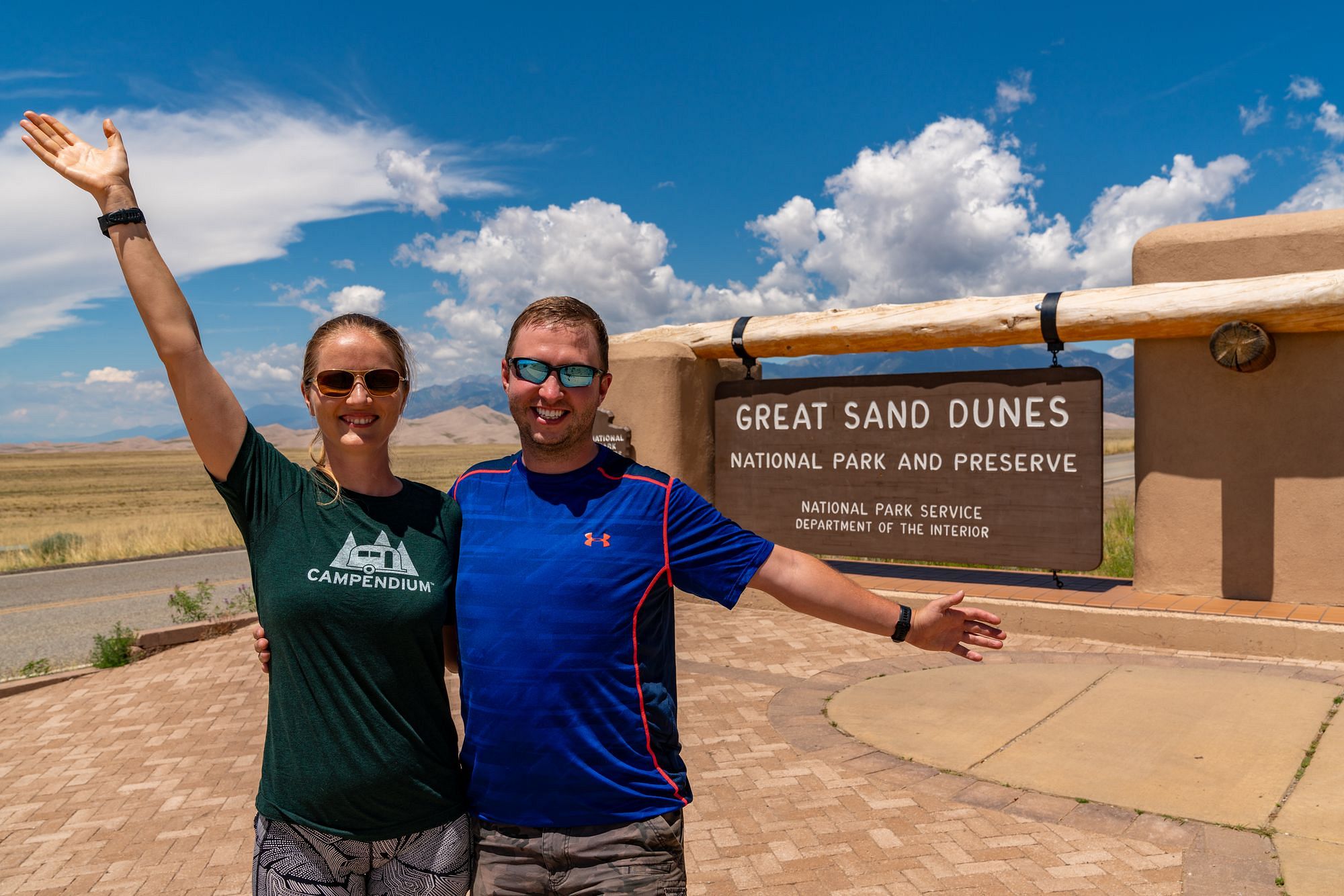 Similar support in the 1990s led to it being redesignated as a National Park and Preserve. The redesignation was proposed by Congress and signed by President Bill Clinton on November 22, 2000, with the Great Sand Dunes National Park and Preserve Act. It took 4 more years to acquire the land before the designation was made official in 2004.
Itinerary
We arrived at the RV park shortly before lunch, but had to wait a little while before we could check-in to our site.
Still, Jānis's flight from Denver wasn't for 2 days, so that gave us an afternoon and the following morning to explore before driving up to Denver. Or so we thought....
Visitor Center
As usual, our first stop was the Visitor Center. Obviously we had to stamp our National Park Passport, but we also had a chat with the Park staff about our plans.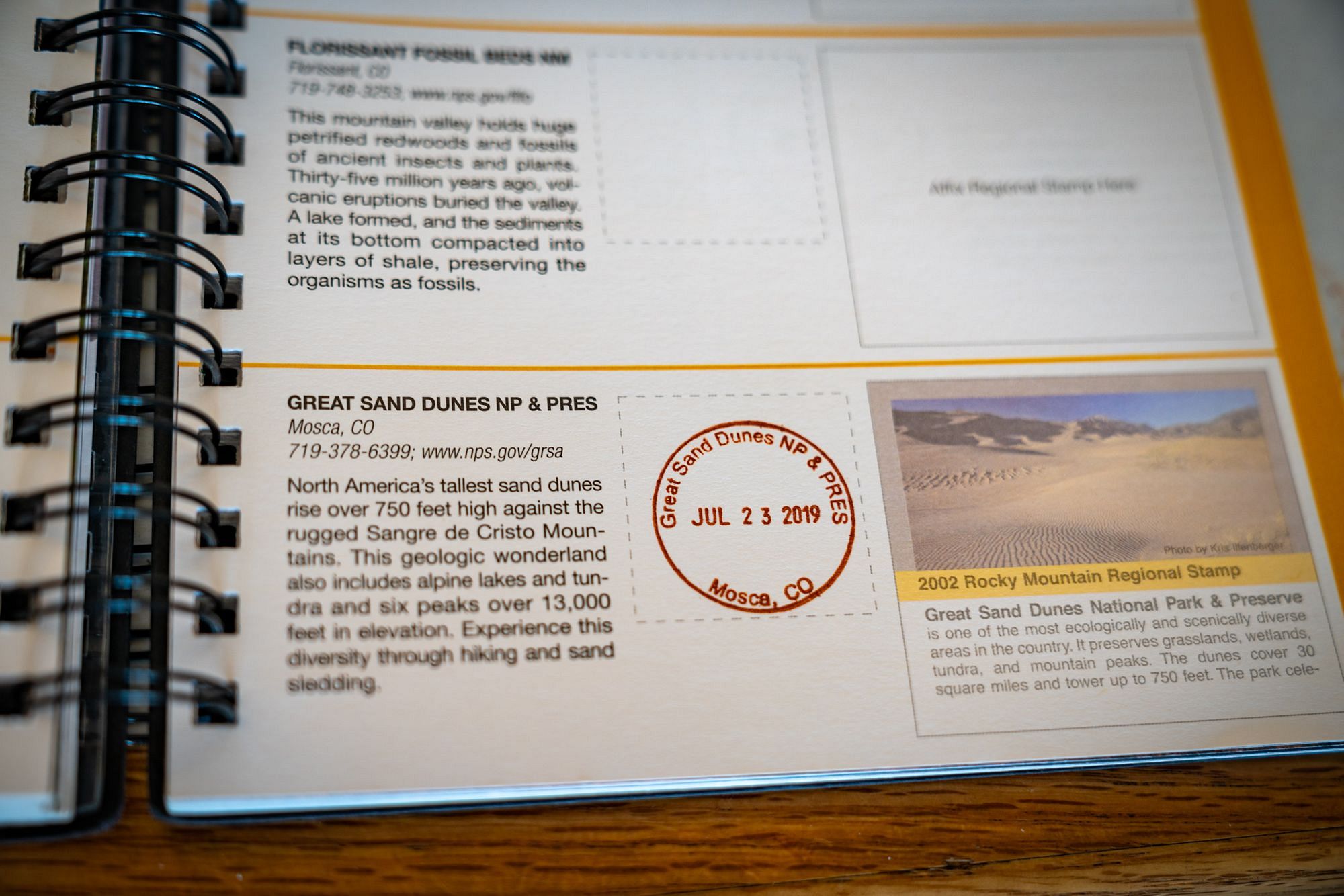 In particular, we wanted to learn more about Medano Pass Primitive Road - the 11-mile each-way dirt road that leads up to Medano Pass.
A high-clearance 4WD vehicle is required, and they even recommend airing down tires to about 20psi if the sand is dry and soft. But they gave us a map and told us that conditions were great - that we should go and have fun!
Dunes
But before the off-roading, it was time to hit the dunes. We parked at the Medano Creek parking lot, and headed out to the dune field.
In our defense, the past couple weeks we had been very busy and we hadn't researched our visit as much as we normally do. So that's our excuse for not realizing we had to cross Medano Creek to get to the dunes.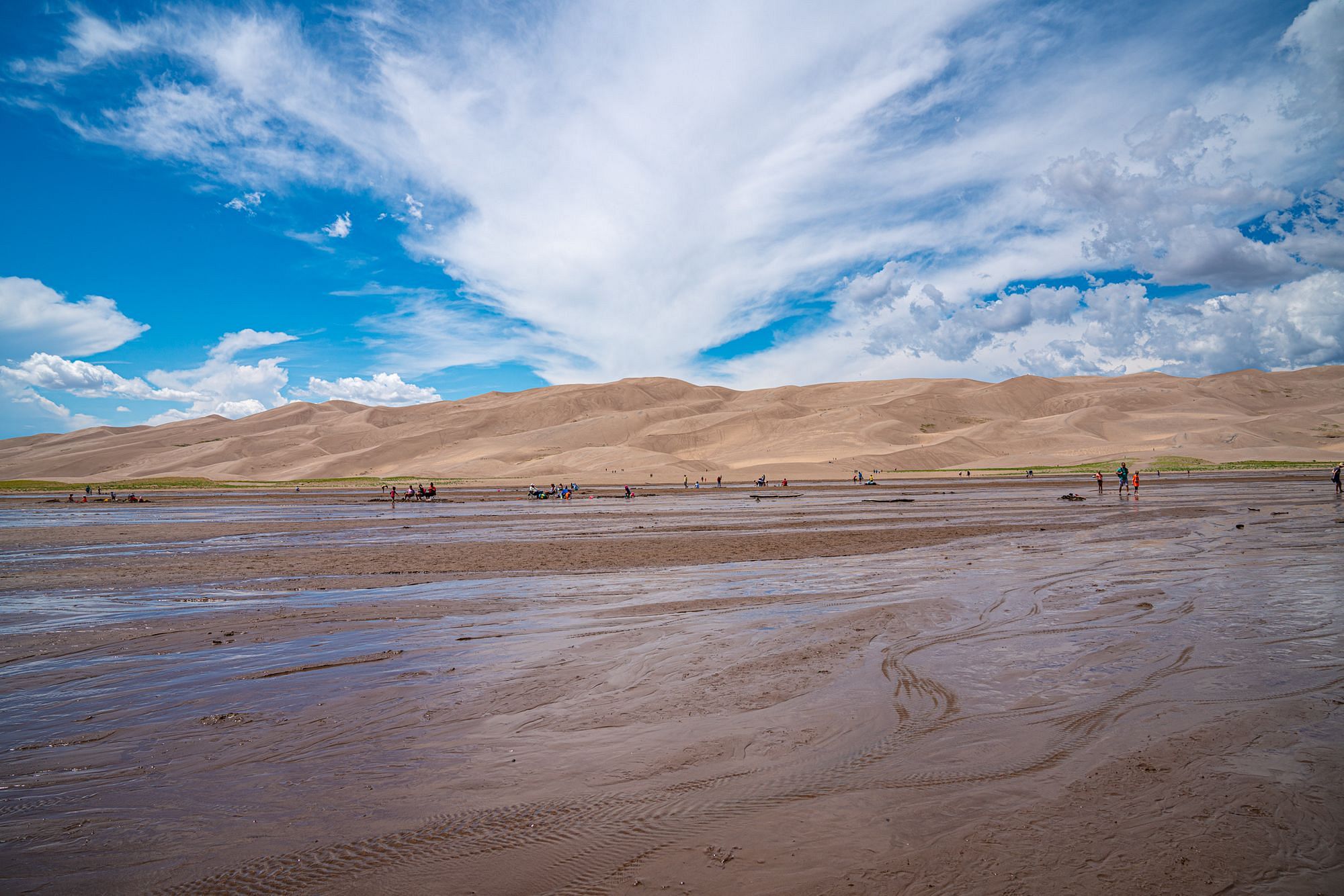 Medano Creek rises and falls with the season, and the levels in 2019 were well above average following the exceptionally cold and wet 2018-19 winter in Colorado. Rather than a narrow stream, Medano Creek is a sprawling wide flow, and when we visited it was a few inches deep. It can be more than a foot deep though!
We hadn't brought our river shoes with us, so we removed our hiking shoes and walked barefoot through the water. The cold mountain water warms up quickly when it hits the hot sand.
But not as fast as our feet warmed up when they hit the sand. That stuff was HOT under the midday sand in July! Ouch!
We hurriedly put our sandy feet back into our shoes and began hiking up the dunes.
We had no real destination in mind - we didn't have enough time to make it to the stop - so instead we just slowly made our way up the dunes.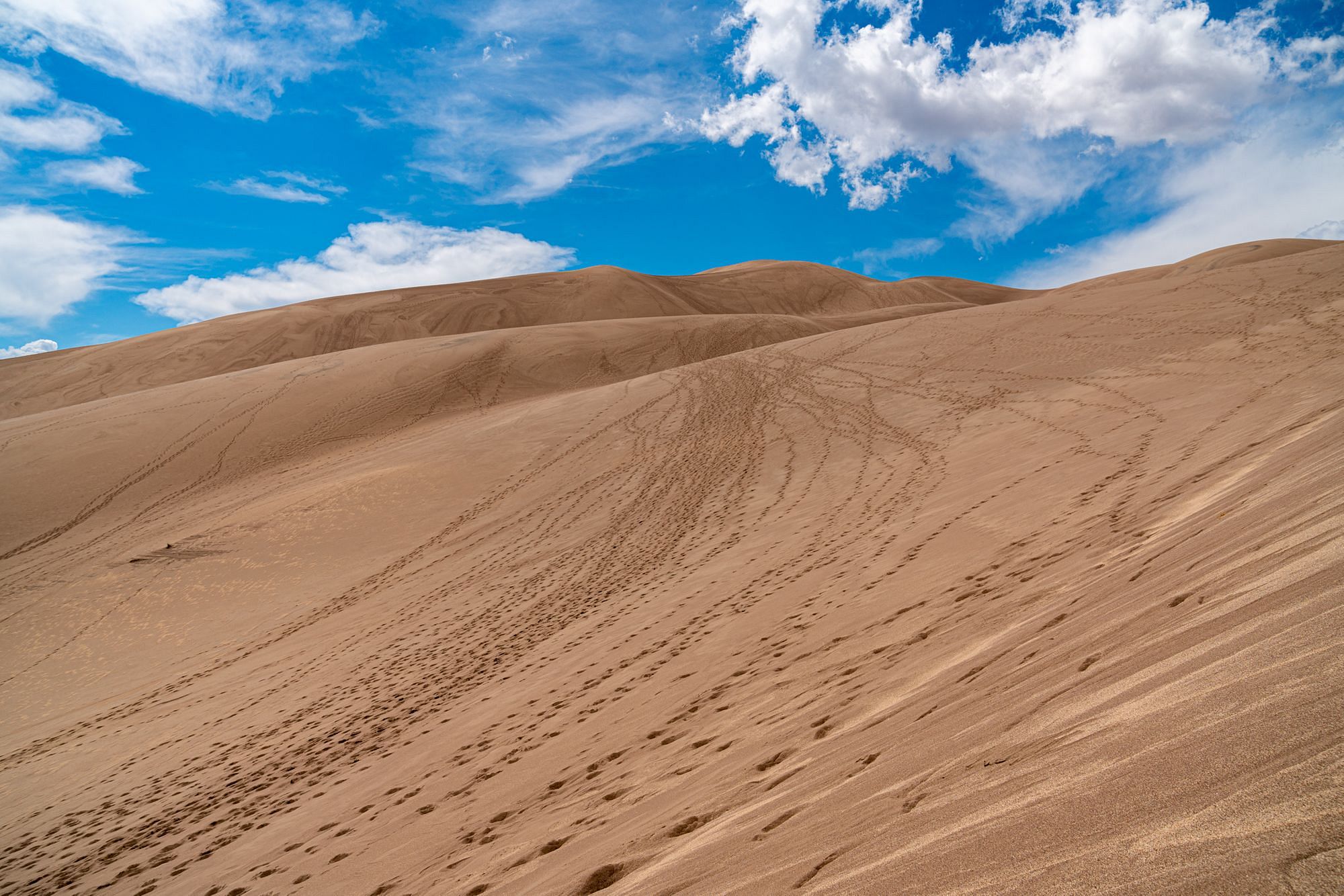 We saw a group of people coming towards us, something clearly amiss. One of their group had fallen and dislocated his collarbone. Despite being a group of around a dozen Air Force Medics, they didn't have any first aid supplies with them. They had fashioned a crude sling from a t-shirt, but it wasn't holding.
We had been repeatedly extolling to Jānis the virtues of being prepared, and this was just such an occasion. Having completed our Wilderness First Aid course just a couple of months before, we jumped into action.
Well, Diana did! Although she didn't have a sling, she was carrying an elastic bandage and fashioned a sling for him. It wasn't perfect, but was enough to stabilize his arm to get him down the dunes. They were very grateful!
We continued hiking up the dunes, enjoying the spectacular views all around!
Sand-Boarding
It's hard work walking in sand, let alone climbing up a sand dune! But it's totally worth it when the way back down involves sand boarding!
As the name suggests, this is just like snowboarding, but on sand!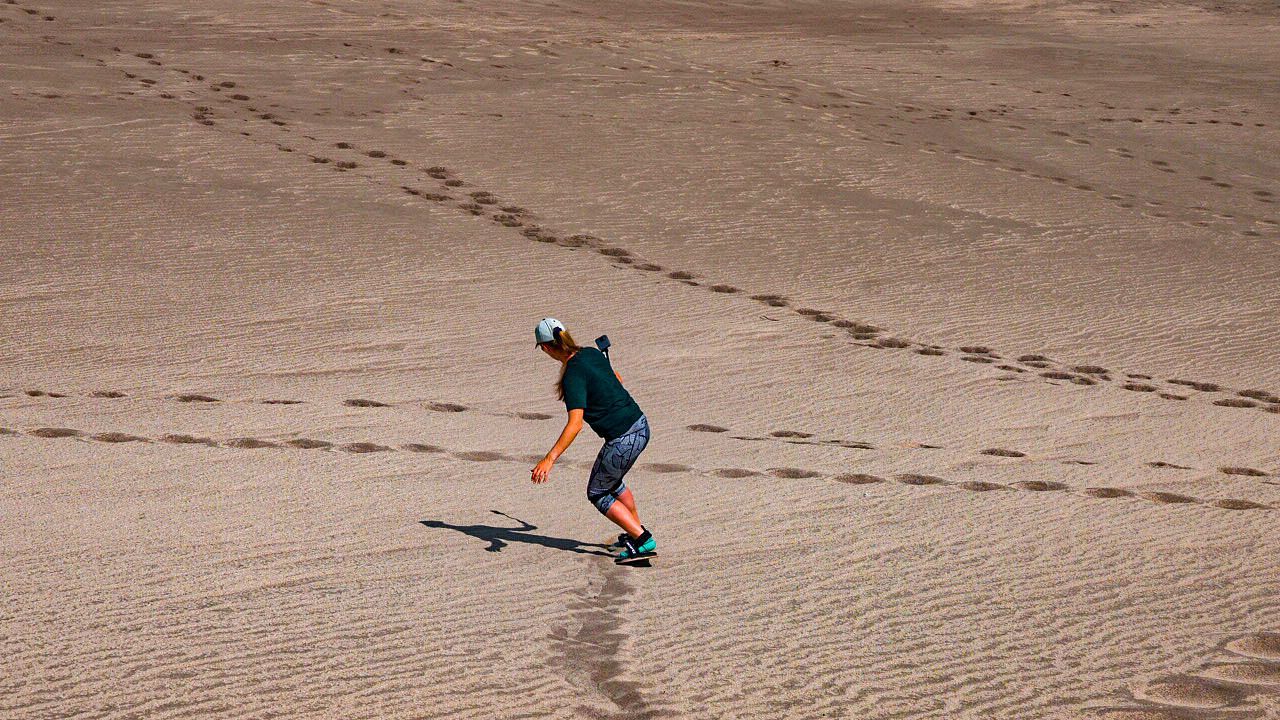 Although we carry our ski and snowboard equipment in our RV, there was no way we were going to use that on sand - it'd be a very quick way to destroy the smooth finish!
Fortunately, sand boarding on the dunes is a common activity, and our RV park actually rents boards just for this purpose! So before we had left the RV park, we had rented boards and brought them out onto the dunes!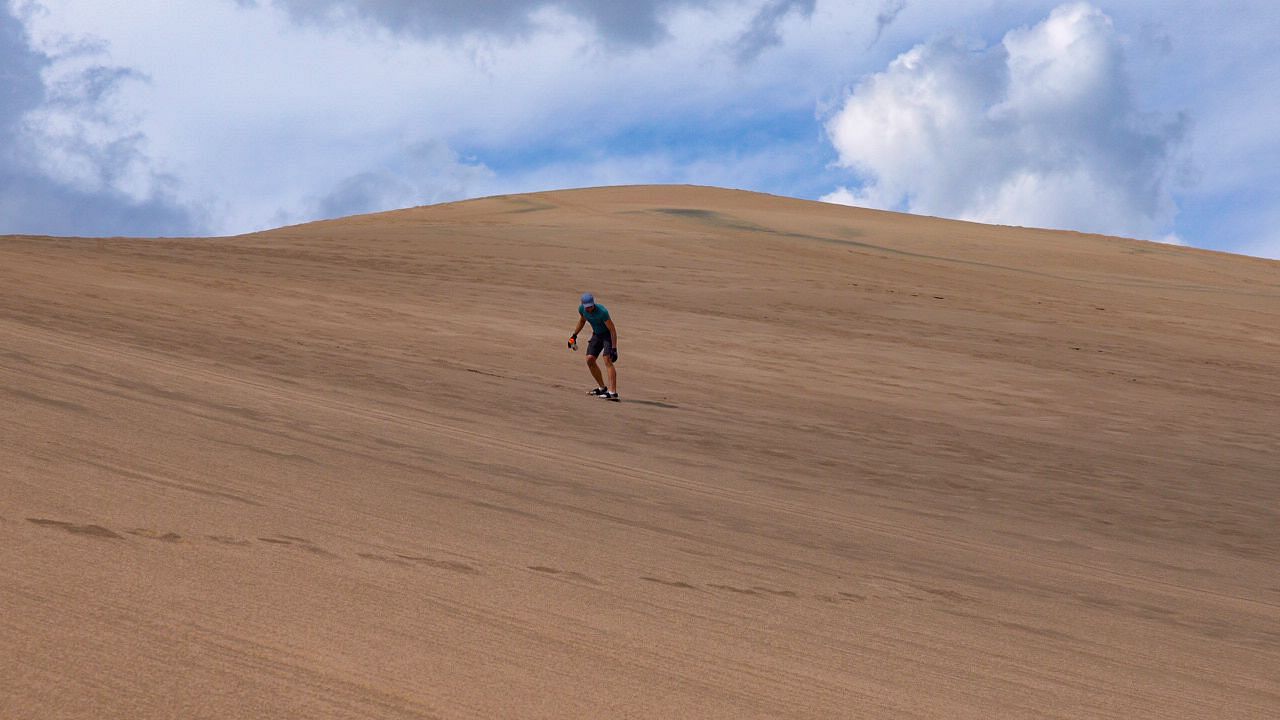 Or more specifically, Diana and Jānis had brought boards up. I had sand boarded once before (in Dubai) so was happy to let them enjoy the experience.
Since the sand is so rough, you don't pick up a lot of speed. In fact, I had no problems getting down on foot faster than they could on the boards! Regardless, we all had a lot of fun, and even we all ended up covered in sand!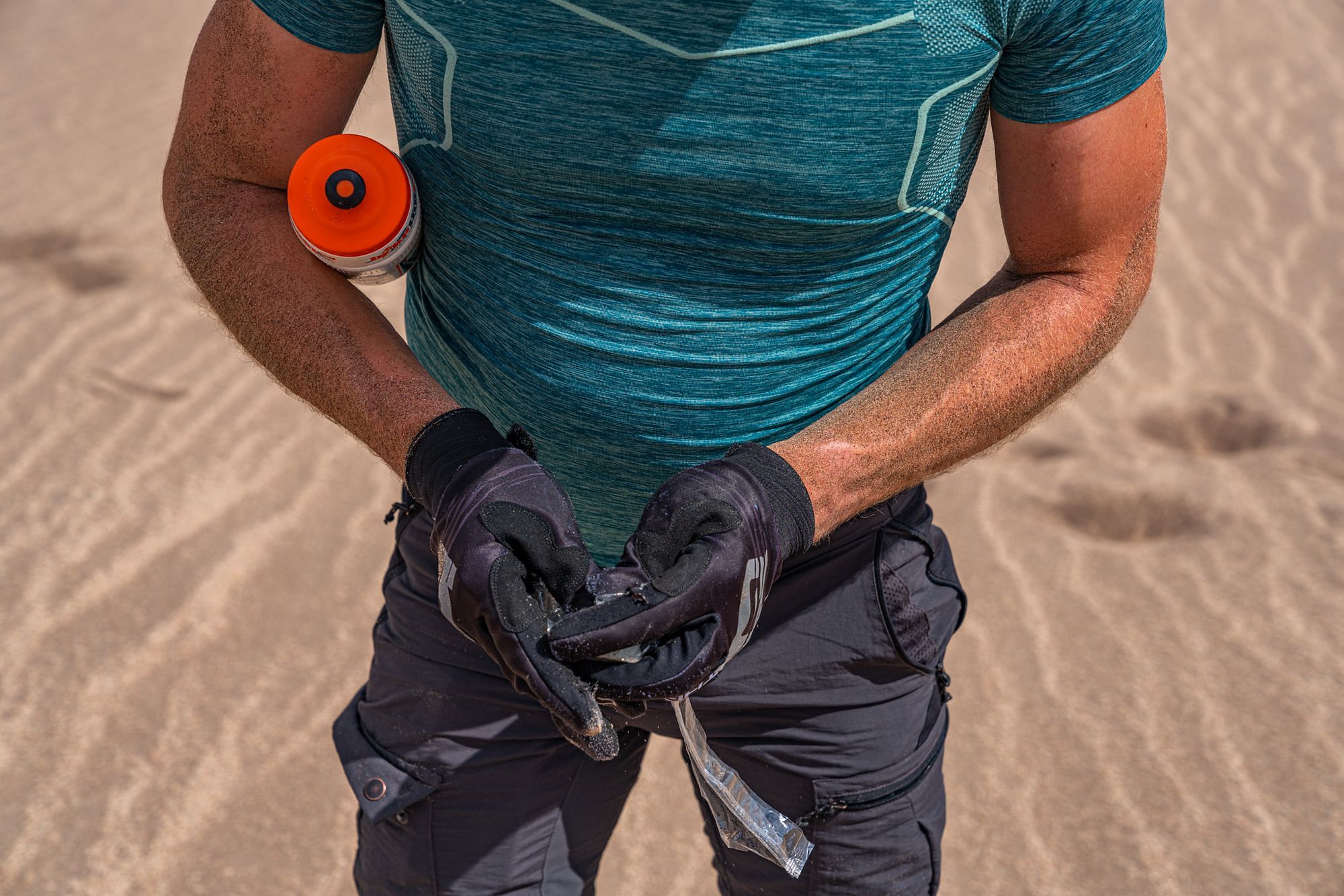 Back at the car, we shook off as much of the sand as we could, ready to head to our next adventure, Medano Pass Road.
Off-Roading...
But, that's going to have to wait until next time. What should have been a simple 2-3 hour trip turned into a crazy 24-hour ordeal involving 911!
So stay tuned for more details, and make sure to subscribe to our YouTube channel for all the details, because you don't want to miss this!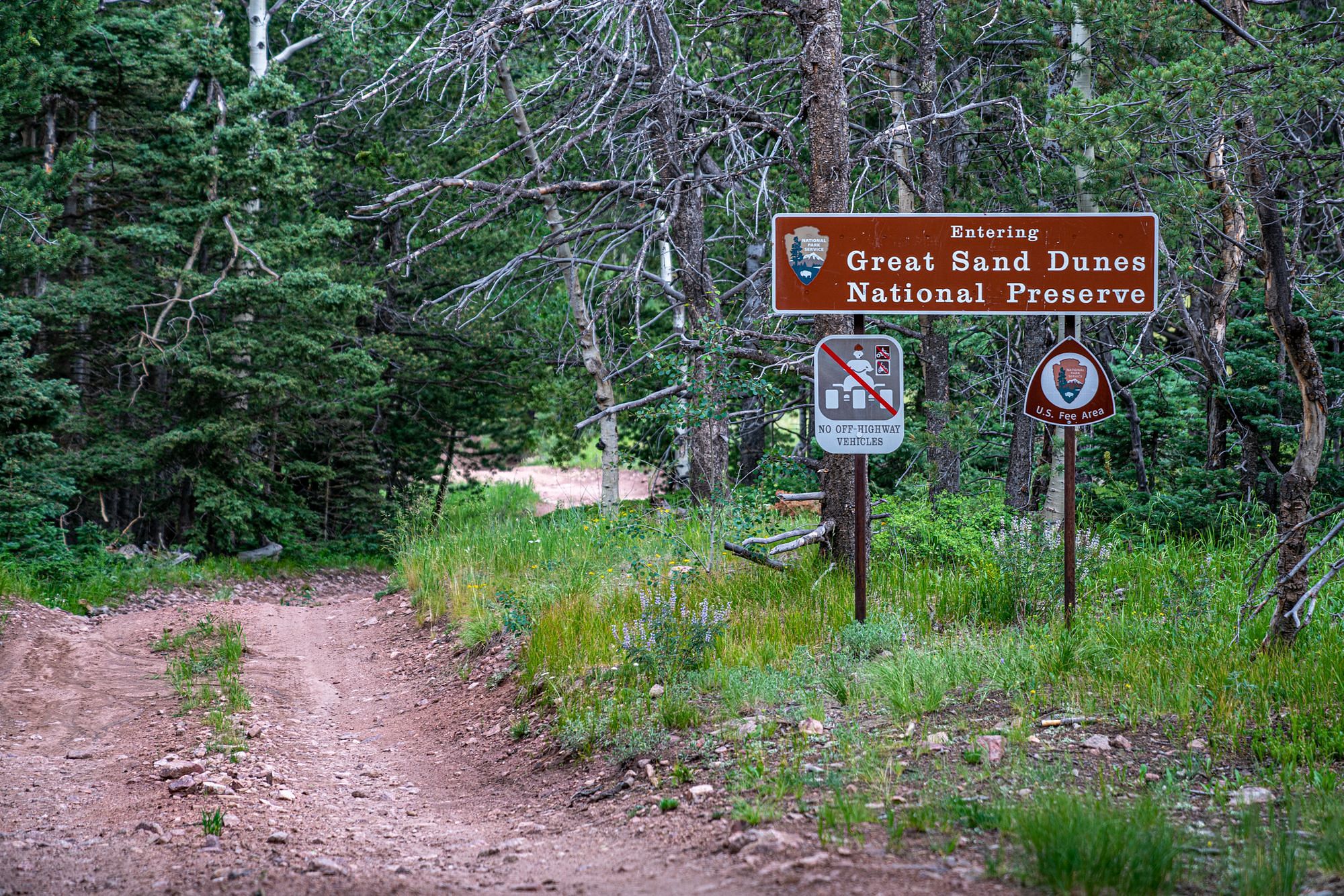 Conclusion
As for Great Sand Dunes National Park, it's a really fun place to visit. I can imagine with children it would be just like a day out at the beach, except your in Colorado!
Our adventures on Medano Pass Road cut short our exploration of Great Sand Dunes National Park & Preserve, but this is a special area that we look forward to visiting again!