As an Amazon Associate we earn from qualifying purchases.
We've talked several times in the past about how important we believe it is to use a Tire Pressure Monitoring System (TPMS) on a travel trailer or fifth wheel. Ours has saved us a couple of times - like when we left Boise, ID and had a puncture-induced rapid flat just 30 miles after leaving.
While our 2016 Ford F-150 includes a built-in TPMS, it only covers the four tires on the truck, not the trailer - although newer models can include this feature.
One of the first accessories we bought for our Outdoors RV 21RBS travel trailer was the EEZTire Tire Pressure Monitoring System (newer model) and TPMS Booster. That was back in 2018, and we've since then we've covered 30,000 miles with our trailer while living in it full-time - and had our fair share of flat tires too!
While our EEZTire TPMS has done its job perfectly, we've been through a few iterations to make it fit in better with our truck.
Paint it Black
Since we bought ours back in 2018, the product has evolved. One big difference being it now comes with a fancy color screen in an elegant silver plastic body.
Ours has a more basic green and black LCD in a olive-green plastic enclosure - not exactly a good fit for the black and silver interior of our Ford F-150 Platinum!
Fortunately it's easy enough to disassemble, so I unscrewed the case, spray painted it all black and re-assembled it - much better!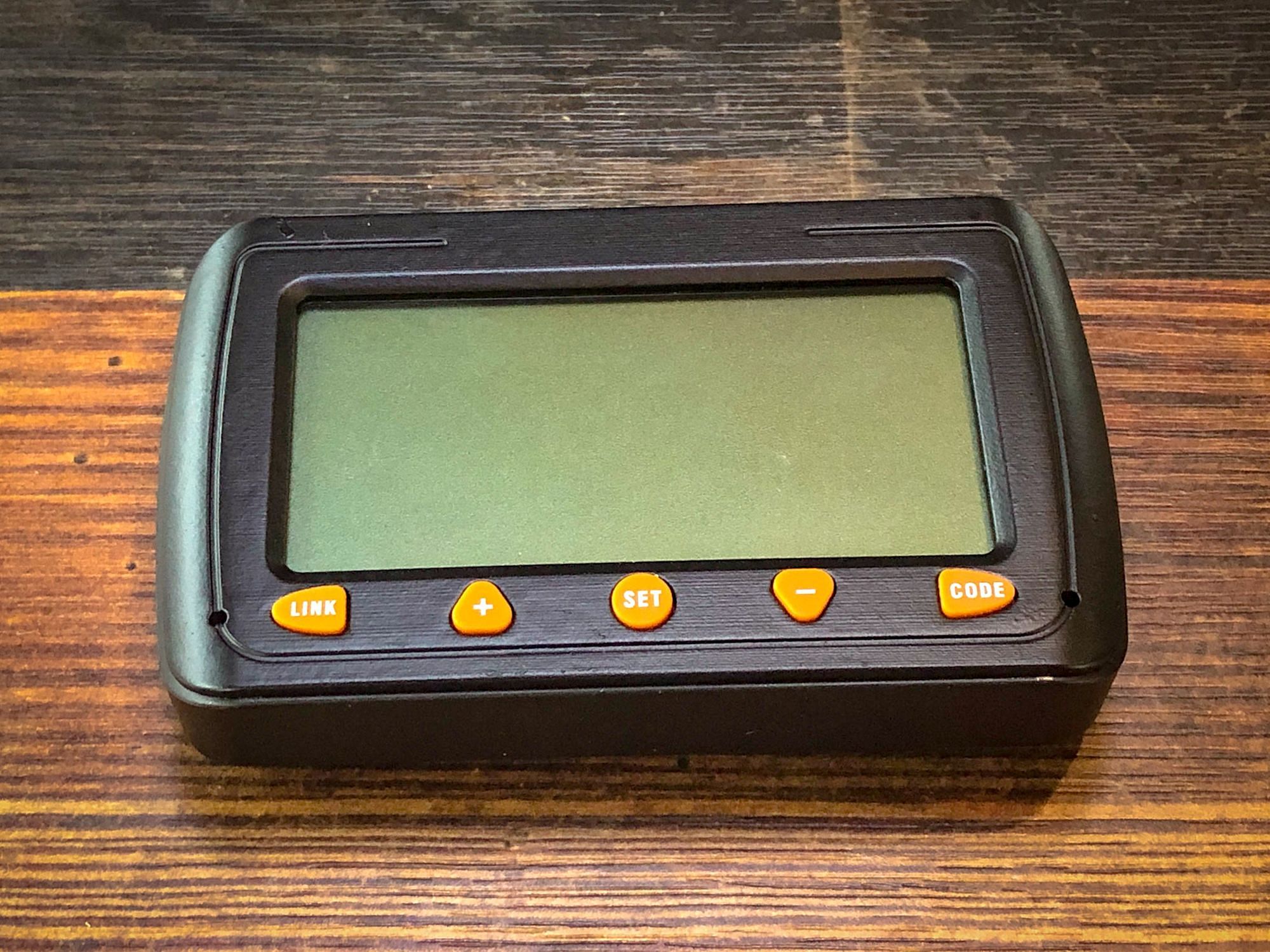 Replacing Batteries
On our recent drive from Vermont down to Virginia, we found that one of our sensors wasn't working - the battery had died.
I'm not sure how long the batteries are supposed to last on the sensors, but after 30,000 miles and 3½ years of full-time use in conditions ranging from the extreme heat of the Arizona desert to winter in Vermont last year, it doesn't seem unreasonable that they need changing!
We bought the TPMS model with the theft-protected sensors, and although I'm not convinced that's ever been a real threat, they've worked fine until now. I have heard some people express concern around the weight of the sensor, particularly on rubber stems, but we've never had an issue.
Using the removal tool that came with the TPMS, it's easy enough to unscrew the sensors, and replace the battery inside. We chose to use these LiCB Lithium CR1632 batteries as a 10-pack was really affordable and reviews seemed reasonable - hopefully they'll last another 3 years!
GoPro Mount
While I was messing around changing the batteries on the sensors, I decided to finally do something about the display because it's been bugging me.
The TPMS display came with a windshield mount, but honestly, it's just not very good - in particular, the suction cup isn't very strong. In a bid to improve its adhesion to the windshield, I picked up a 70mm adhesive mounting disc. The mounting location worked well as I was able to run a microUSB charging cable to a 12V supply line connected to the upfitter switches I installed, allowing me to turn it on and off easily.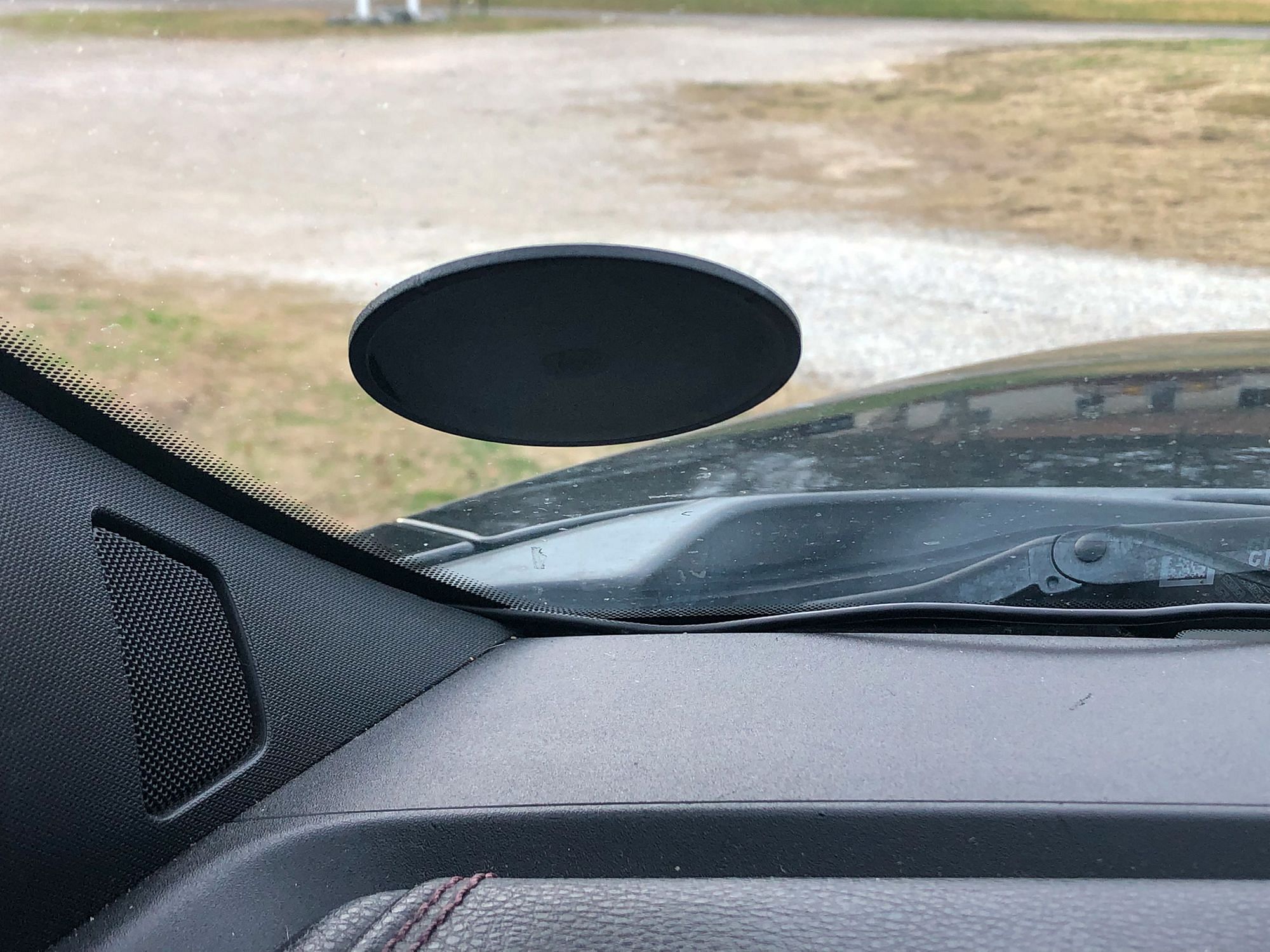 The adhesive disc sticks to the windshield and provides a rubberized surface for the suction cup. While this was a big improvement vs directly mounting it on the windshield, it wasn't perfect, and the TPMS would still fall off from time to time.
So this week I finally decided to do something about it. My plan was to design a custom 3D-printed mount that would allow me to attach the TPMS display to a GoPro mount that we have in the center of our dashboard anyway.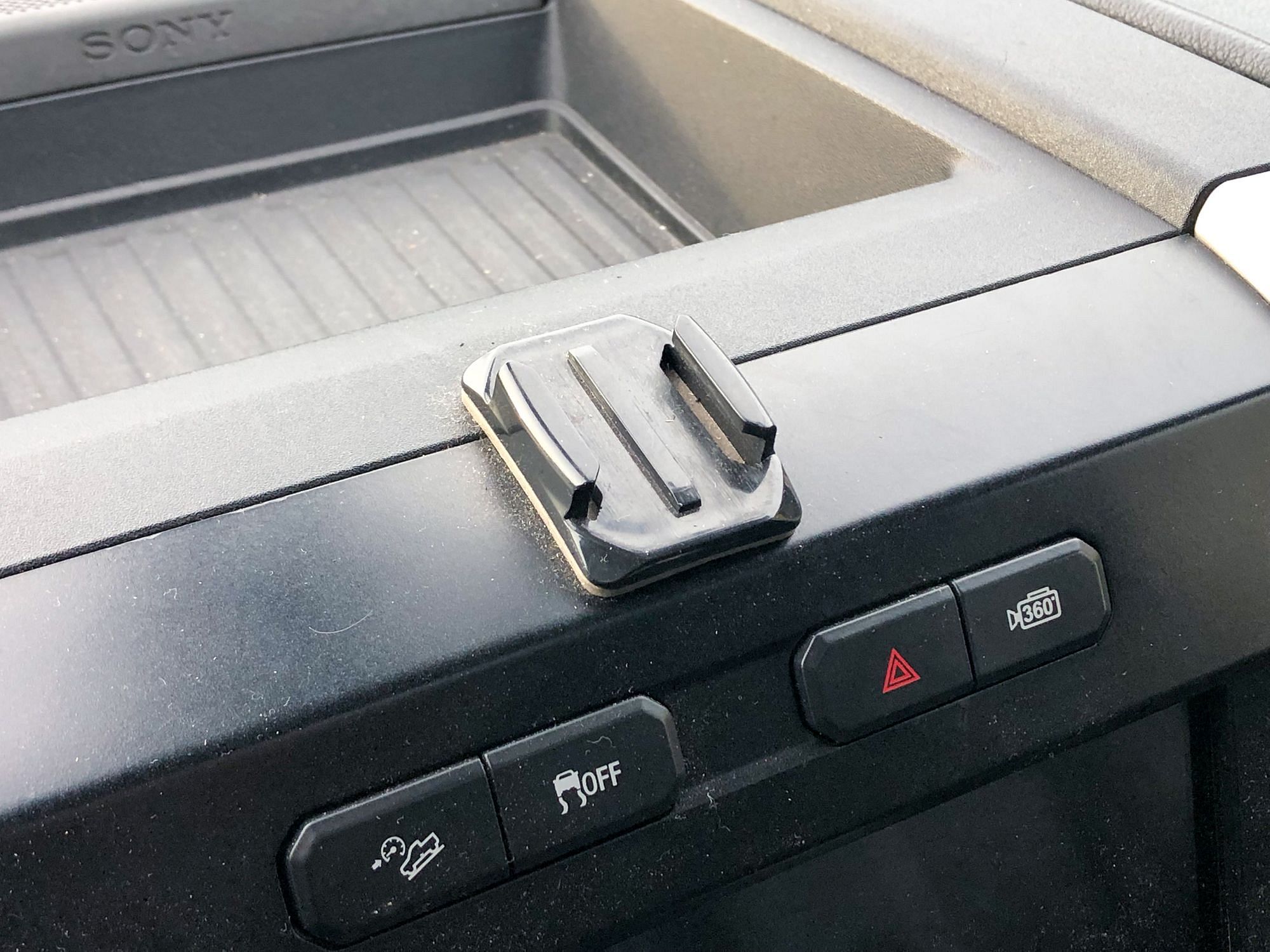 But as I started looking at the windshield mounting bracket to take some measurements, I realized it was almost identical to a GoPro connector. A quick test fit proved that it would indeed mate with a 3-pronged GoPro connector, but that the hole was too small for a GoPro threaded screw to fit.
Fortunately all it took was a few turns from a 3/16" drill bit (by hand, not even using the drill) to ream out the hole on the TPMS mount to fit the GoPro screw.
The next problem - the connector is 90° rotated compared to where it needed to be for the GoPro mount on the dashboard. Mining our stash of GoPro, I managed to dig out a right-angle connector.
And with that, the new mount was complete!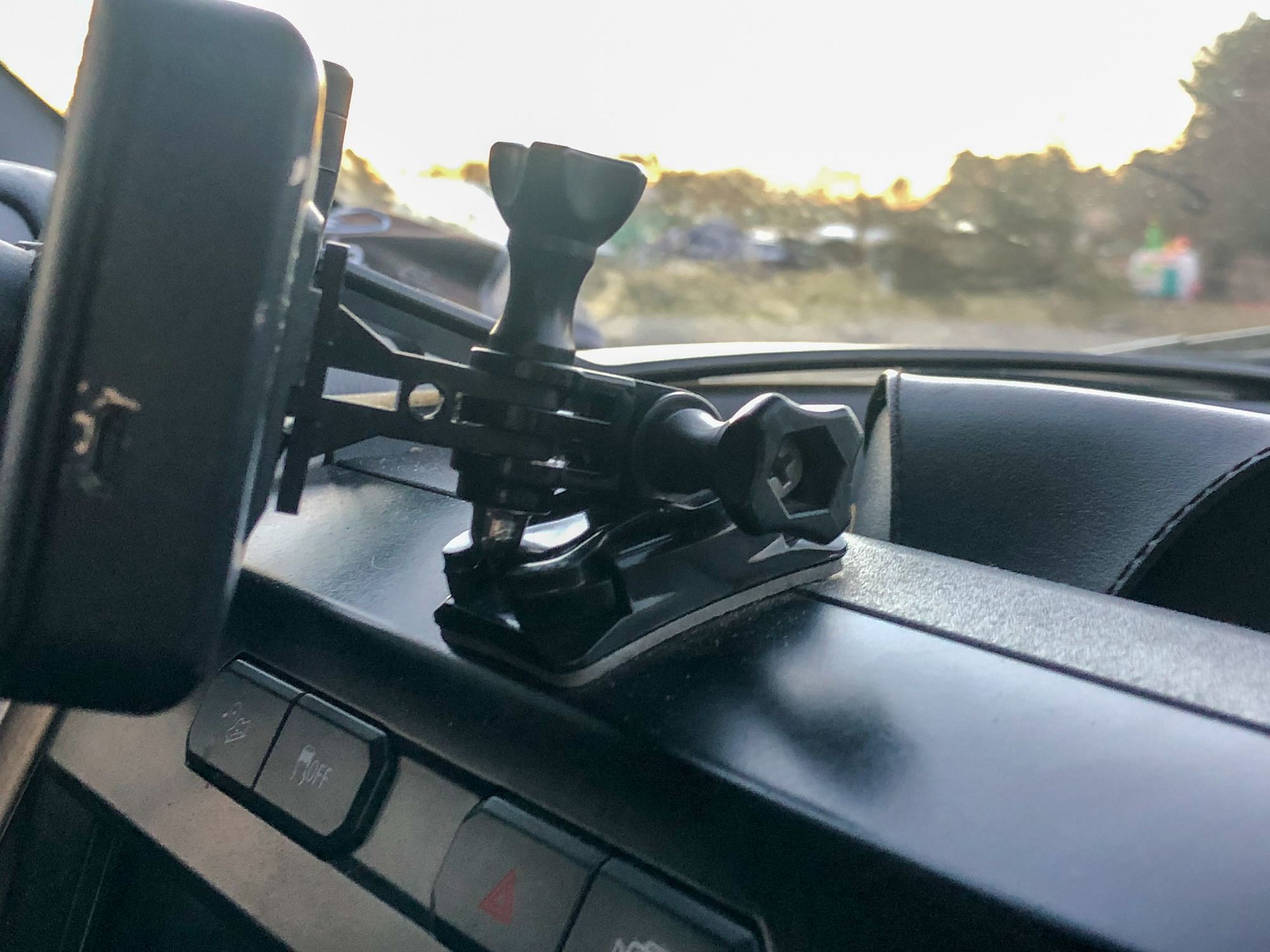 One of the nice things about the EEZTire TPMS is that in addition to being powered by USB, it also has a built-in battery which means that although we can just plug it in while mounted, we can easily remove it temporarily if we need to mount a camera there.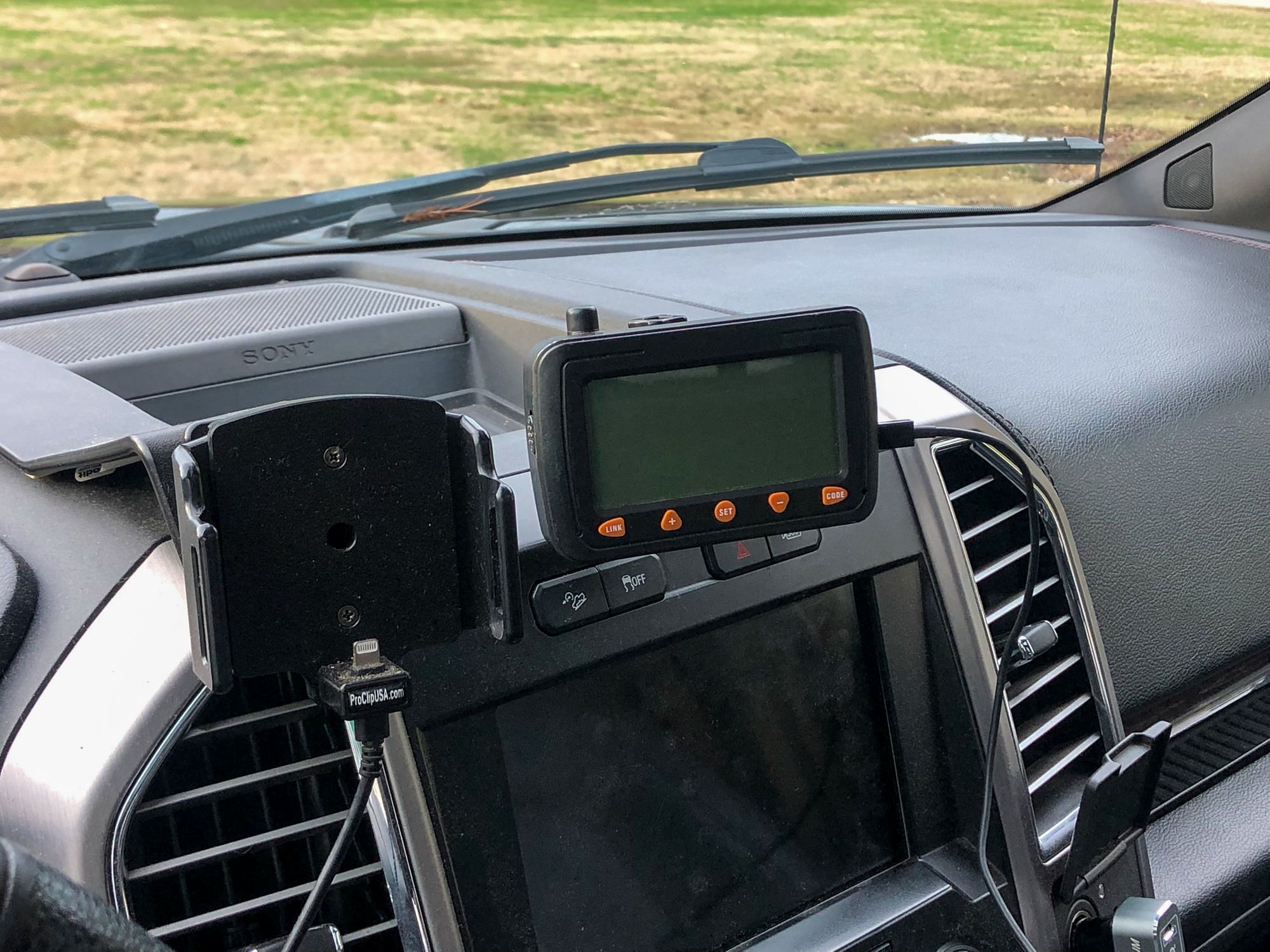 Summary
A TPMS is, in my opinion, one of the most important safety items you can have as an RVer. We've heard countless horror stories, including from close friends, of how a TPMS had helped avert a major crisis - or sometimes, sadly, how it could have done had they had one.
We not only want it to be functional but also to be mounted securely in an easy-to-view location. This modification to fit a GoPro mount took me a couple of minutes, basic tools and a handful of GoPro accessories that I already had.
If you're looking for a way to mount a TPMS or any other similar accessory, check to see if its mount might already be GoPro compatible - if so, it may unlock a lot of options!