As an Amazon Associate we earn from qualifying purchases.
End of quarantine!
Because we had traveled across the country to get here, when we arrived in New York state we had to quarantine. Our quarantine officially finished on Sunday, which means we're now free to travel again!
It's already beginning to feel like fall. When we left Washington, we were still getting temperatures up towards 90°F and yesterday we turned the furnace on in the RV for the first time in a very long time! I've even switched from my favorite shorts (I own three pairs of the same shorts - two black and two black camo) to pants for the first time in as long as I can remember!
As Florence and the Machine told us, the dog days are over!
Our thoughts are with all the people impacted by the wildfires sweeping through much of the western US, including very close to the area in Washington we were in before heading east just a few weeks ago.
We're only going to be here a few more days before we begin our journey north to New Hampshire to see the fall colors, so we're trying to make the most of our time here to explore the local area.
However, before we could do anything else, we had to take care of some priorities. We arrived here two weeks ago and have been totally self-contained in our RV - though I must confess, we did have to plug our RV into our friends' for shore power since the solar hasn't been great, particularly given the tree cover! Two weeks of dry camping means very full tanks, so yesterday we had to go and dump and fill.
Fun fact - there aren't many places to dump around here! I guess since boondocking and dry camping spots are less common than out west, there aren't as many dump stations as we're used to either. I phoned around all the RV parks in the area and only one had a dump station available to non-guests - and they wanted to charge $25! What?!
I kept researching and found a cheaper option - state parks. There are several state parks in the area, and since they offer dry camping in their campgrounds, they also have dump stations. We only had to pay a $6 day use fee to dump and fill - much better!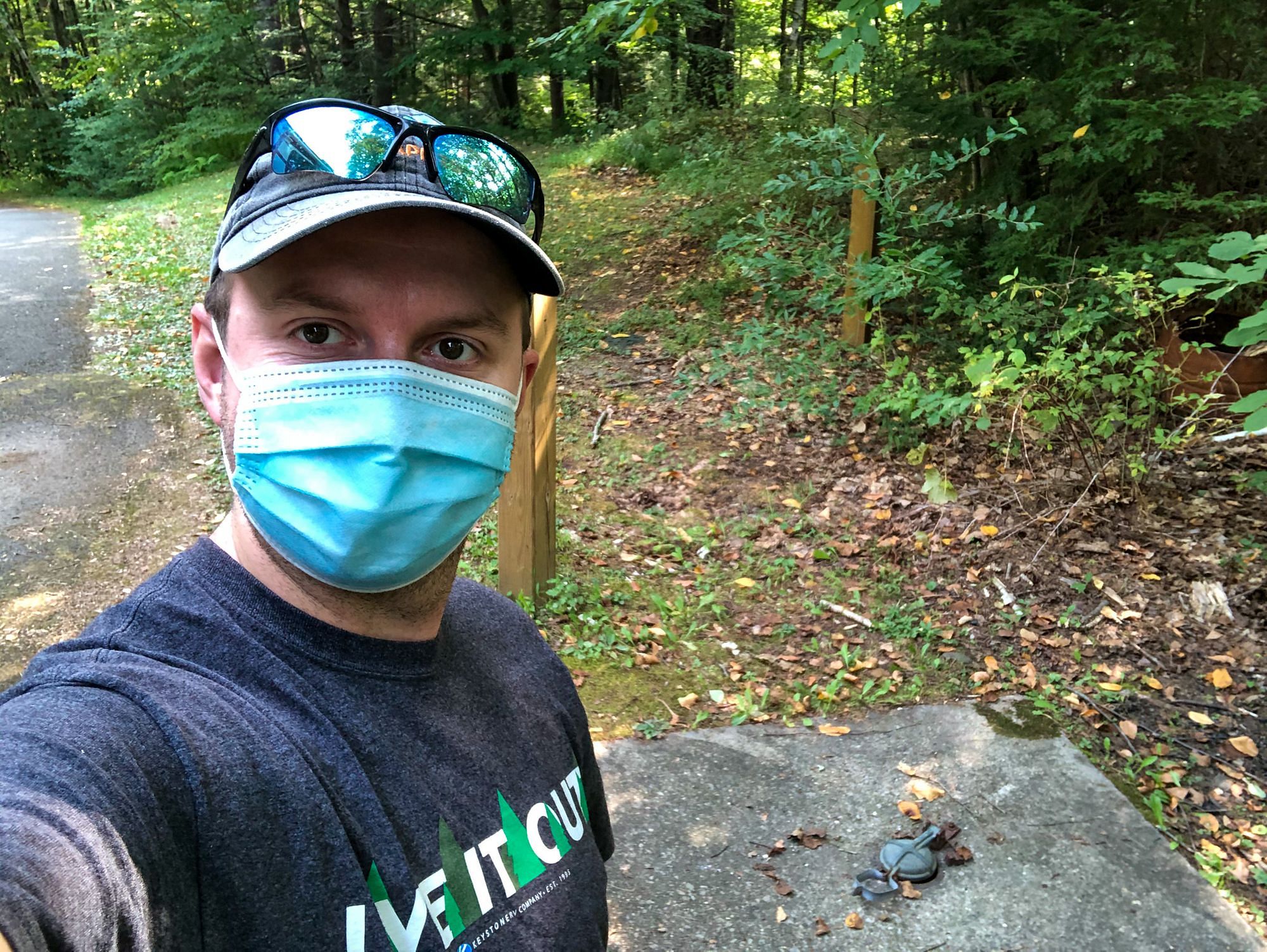 It's also been two weeks since we last went grocery shopping, so yesterday we went to check out a local farm stand that our friends had recommended. We managed to pick up some great, fresh, local produce - see the cover photo above!
While you may not think that RVing and Costco go together, I would beg to differ! We love Costco! We have a list of staples and produce that we like to buy there - it's great quality, they have a good selection of organic varieties, and we save a lot of money. Our friends aren't Costco members so we took them along yesterday evening too. The nearest Costco is 80 miles away, but we all stocked up and easily made the trip worthwhile.
We're looking forward to seeing more of the area around Woodstock, NY this weekend - we're planning a short hike on Saturday.
Survey results
Last week we asked if you'd do us a small favor and fill in a very short survey for us so we can get to know you better and help make even better content!
Wow! We've had hundreds of responses; thank you so much!
People have so many positive things to say, and it's hugely motivating for us to read all the lovely comments. There were also some great suggestions for us in there too - several of which we're already working on! Seriously, THANK YOU!
We're going to keep the survey open for just a little bit longer so if you haven't filled it in yet, we'd love to hear from you too!
Click here to fill in the survey.
We'll share more details in our upcoming email newsletter as a special exclusive for our newsletter subscribers, so be sure to subscribe if you haven't already!
YouTube update
We love the National Parks - in fact, we hit the road with the goal of visiting all 419 National Park Units. Nothing there has changed, but with COVID we've decided to pause things for a little while.
It's not that the parks are closed. Far from it - many are incredibly busy as people turn to outdoor recreation in lieu of other pastimes restricted by the pandemic.
And that's one of the reasons we're not visiting any new National Park Units just at the moment. Not only do we want to avoid mingling with lots of people, but we want to enjoy the National Parks at their best - without the crowds. We also want to be respectful of the National Park Service staff who are working hard at the moment to deal with the double whammy of high visitation and difficult conditions.
But don't worry - as soon as we feel comfortable, we'll be back out there exploring the National Parks and sharing our adventures!
People have long been asking (and the survey confirmed this yet again) for us to share more about our life on the road in our RV, so this felt as good a time as any to publish some videos that we've been wanting to share for a long time about RV life.
A few weeks ago, we published a video with 37 mods and upgrades that we've done in 2 years of full-time living in our RV. The video has gone crazy - in just 3 weeks, it's already our most viewed video of all time, so if you haven't seen it already then be sure to take a look!
Then last week we shared part 1 of our RV remodel series which has also been really well received. Today, we just published part 2 where we paint the walls in our RV. Be sure to check it out to see just how much work went into doing the best quality paint job we could manage!
And remember, you can read our blog post about the full remodel including our ergonomic workspace install too!
Smart RV
Another topic that we've long been asked to share more about is the home automation system that we've been integrating into our RV - what we affectionately call our Smart RV.
The wait is over! This week we added a brand new category to our blog, all about our Smart RV upgrades.
In these articles I'll be addressing different aspects of the things we've integrated to make our RV more efficient, more secure and more comfortable to live in.
Recently, I wrote about the new MicroAir EasyTouch RV thermostat - a brand new WiFi and Bluetooth enabled thermostat designed for RVs. While we've long had our own DIY Smart WiFi Thermostat, I'm really excited to see an RV component manufacturer finally innovating in this space.
In my "first impressions" blog post, I shared my take on it based on publicly available information, but I was reluctant to buy one without knowing if it would integrate with our home automation system. Well yesterday, this happened....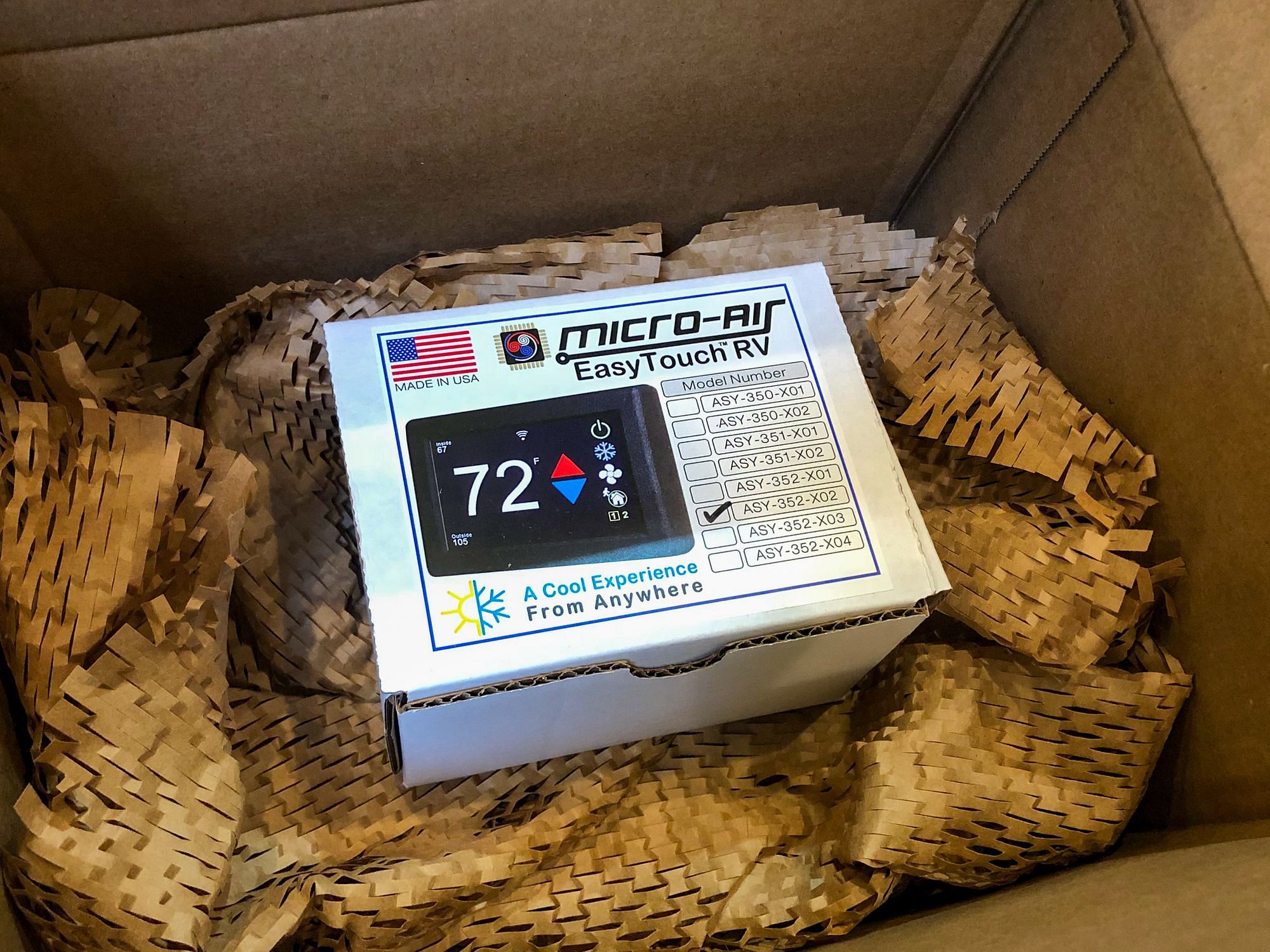 It looks like I'm going to be doing a full installation and review of the MicroAir EasyTouch RV thermostat in the near future, so stay tuned!