As an Amazon Associate we earn from qualifying purchases.
It's Thursday morning and I'm writing this blog post while sitting in our RV in an RV park in Pennsylvania, just a week since we left Washington state. What a week it's been!
In that time we've checked off lots of firsts - including Waldocking, Harvest Hosts, moochdocking and even our first RV park of 2020!
Ooops, spoilers; keep reading to find out more!
Day 1: Washington, Idaho and Montana (592 miles)
As planned, we left our friends' place in northeastern Washington early on Thursday morning - we were on the road at 5:21am.
Our first day was also our longest, at 591.7 miles! Not just that, but we also wanted to stop at Costco in Spokane, WA to stock up on supplies before leaving the state. Oh, and timezones were working against us. We left Washington, drove straight across Idaho and into Montana.
Our plan had been to spend the night at a rest stop near Bozeman, MT, however we checked it out after filling up with gas at the Costco next door and it was full. Fortunately, we had foreseen that possibility (it looked pretty small on the satellite view), so we had a plan B.
We had called ahead to a Walmart in Bozeman and asked if they allowed overnight camping and they did! Walmart is renowned for offering overnight parking for RVs - typically the only time they don't is if local ordinances don't allow it.
We were in luck - we found ourselves a quiet (if not very level) spot in the back of the parking lot. Camping overnight at Walmart (aka Waldocking) is almost a rite of passage for RVers - but this was our first time!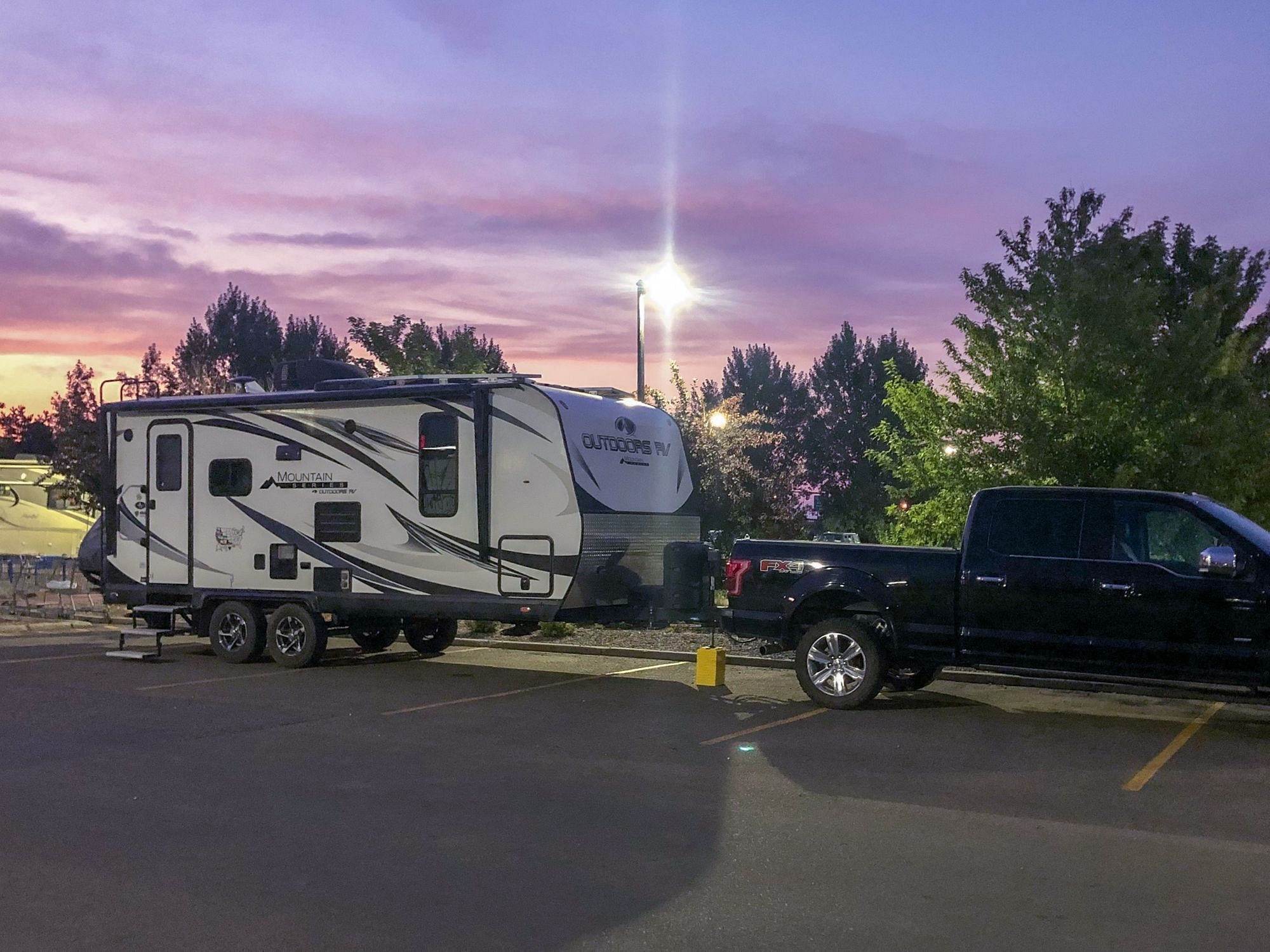 It was surprisingly busy in the parking lot - plenty of RVs and other people too. I was a little nervous about the security of the truck (I think you're always extra weary about things the first time) so I left our Wyze camera in the truck. This let me keep an eye on thing and was also set up to automatically record if it detected movement.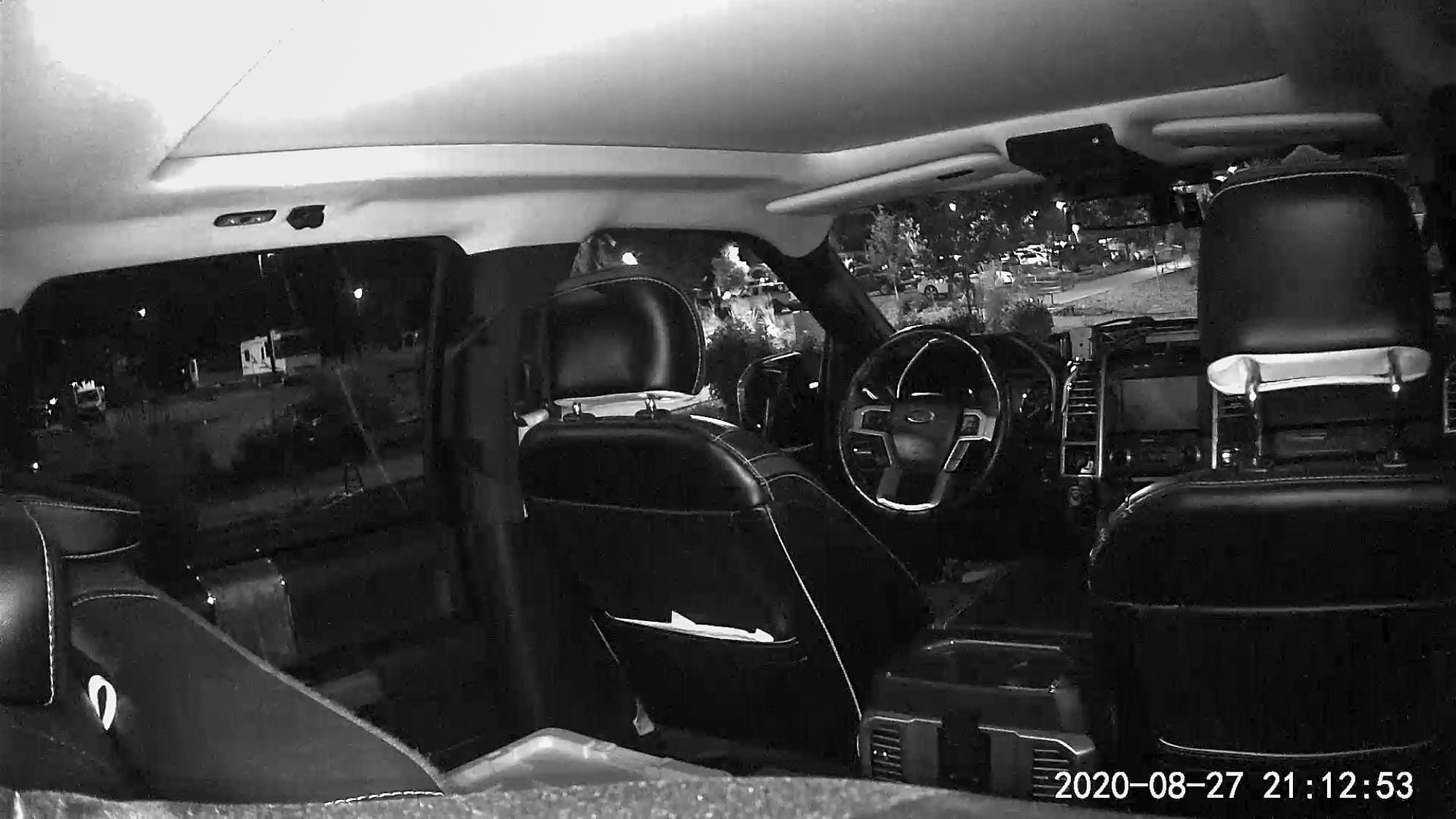 Our REDARC DC-to-DC charger had not only been keeping our batteries charged while running the fridge on AC all day (so we could turn off our propane but keep the fridge running), with some extra help from our solar panels it had even run the electric water heater so we had a full tank of hot water. After a nice hot shower, we went to bed.
Day 2: Wyoming and South Dakota (463 miles)
We awoke early the next morning; to the sound of a two-stroke engine not too far away. Diana was concerned at first that someone was using an angle grinder to steal our bikes, but that wasn't the case - I guess it was some industrial equipment over at the store.
Regardless, we had still managed a reasonable night's sleep, and it was time to get back on the road. This time, it was destination South Dakota!
As much as we'd been looking forward to getting back out on the road, sitting at 55mph (for fuel economy reasons) on the interstate for days on end isn't necessarily my idea of fun! However, another big day put a lot more more miles behind us and we left Montana, cutting through the corner of Wyoming and landing in Rapid City, South Dakota.
We spent the night in another store parking lot, but rather than Walmart, this time it was Cabela's. They're known to be very supportive of the RV community, and after phoning ahead to check with the manager, they assured us there would be space for us to stay. This is known as lotdocking, and while we've lotdocked before, this was our first time at Cabela's.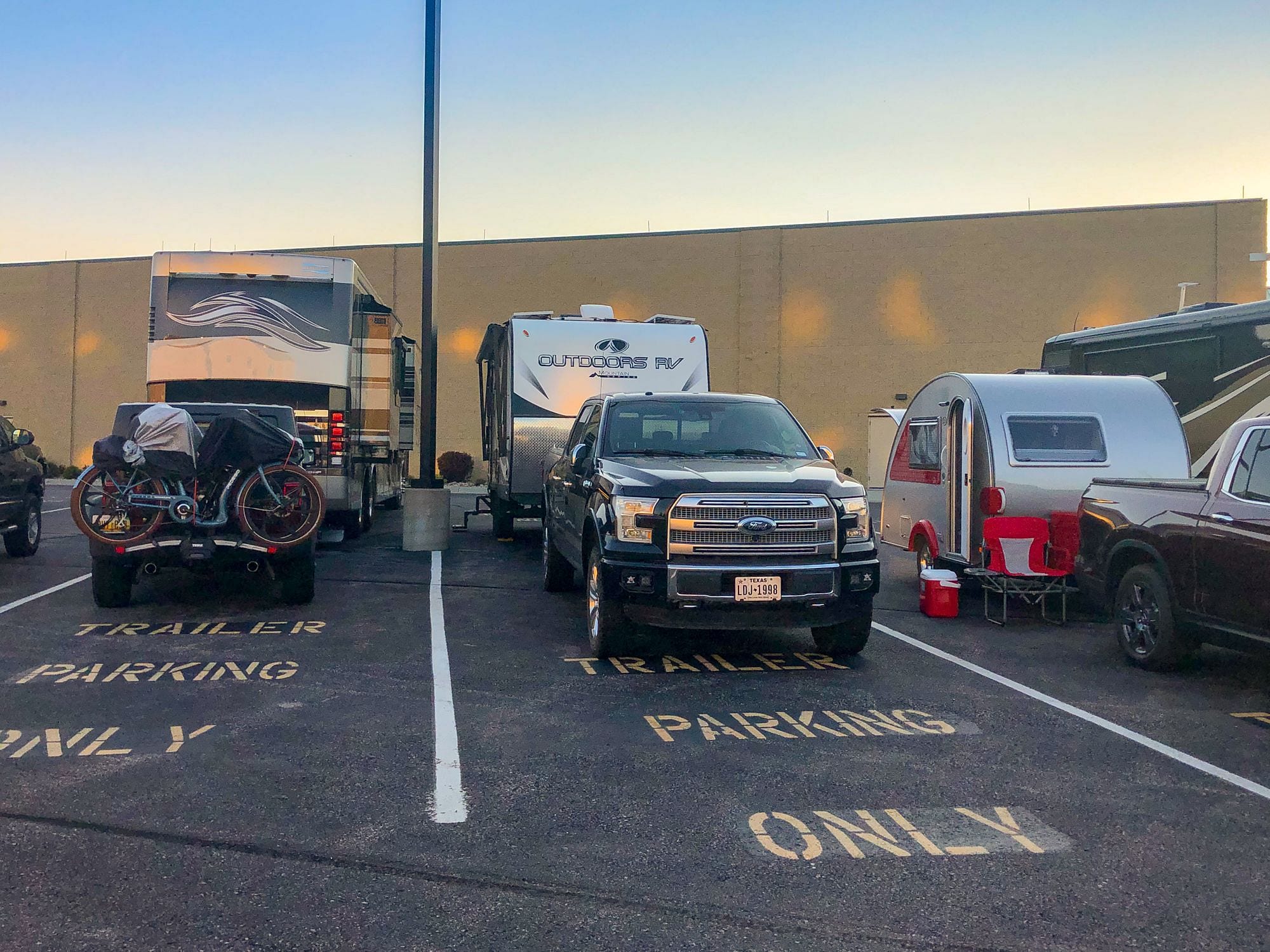 They had dedicated RV parking alongside the building, though some had shunned this in favor of the main parking lot - perhaps due to the sloping spaces. We had to unhook to level, but we made it work. Like the night before, we leveled but didn't put the stabilizers down (we think it's just good etiquette) which meant we also didn't extend our slide (we prefer not to extend the slide unless the stabilizers are down). No big deal - perfectly fine for one night!
We had a walk around inside the store and didn't see anything we needed, but were impressed by the exhibits!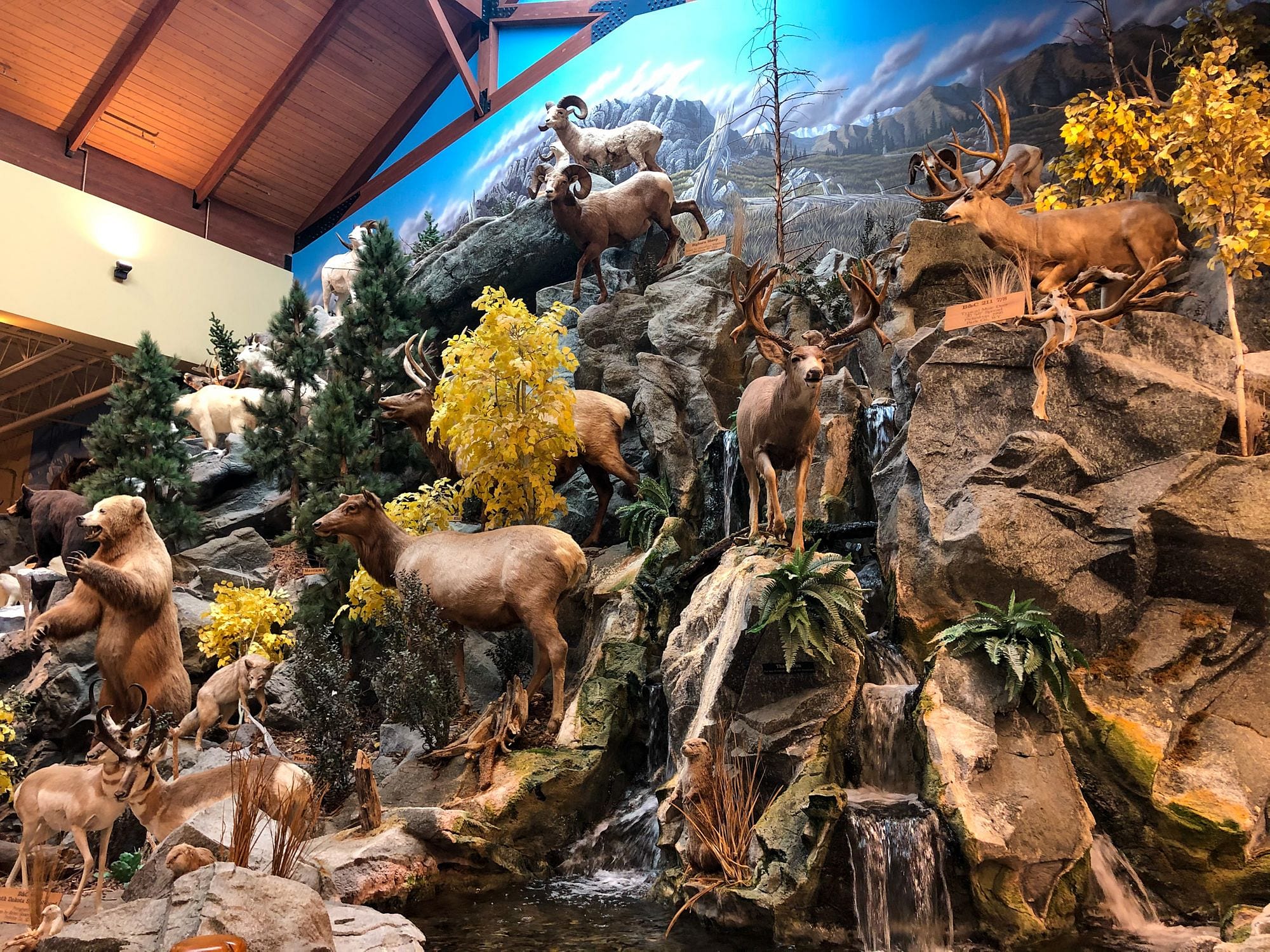 Day 3: South Dakota ... again! (347 miles)
Rapid City is on the far west of South Dakota, and even driving for almost 350 miles, we were still in South Dakota by evening - in Sioux Falls.
Our plan had been to stay in a rest stop overnight, but during the drive we had come up with a new idea. After two nights in parking lots, we were ready to treat ourselves, so we signed up with Harvest Hosts!
If you haven't heard of Harvest Hosts before, allow me to explain. Businesses such as wineries, breweries, farms and museums sign up to the scheme and allow Harvest Hosts members to stay overnight (usually just for one night) for free in their RV. In return, visitors are expected to buy something from their store in return.
In other words, it's free ... but not free. You don't pay for camping, but you do pay for wine, beer, etc.
We signed up, found a winery just off the Interstate near Sioux Falls, SD and phoned ahead to confirm availability.
It was beautiful! Our parking spot was nestled in between the vineyards and cornfields - much better than a Walmart parking lot!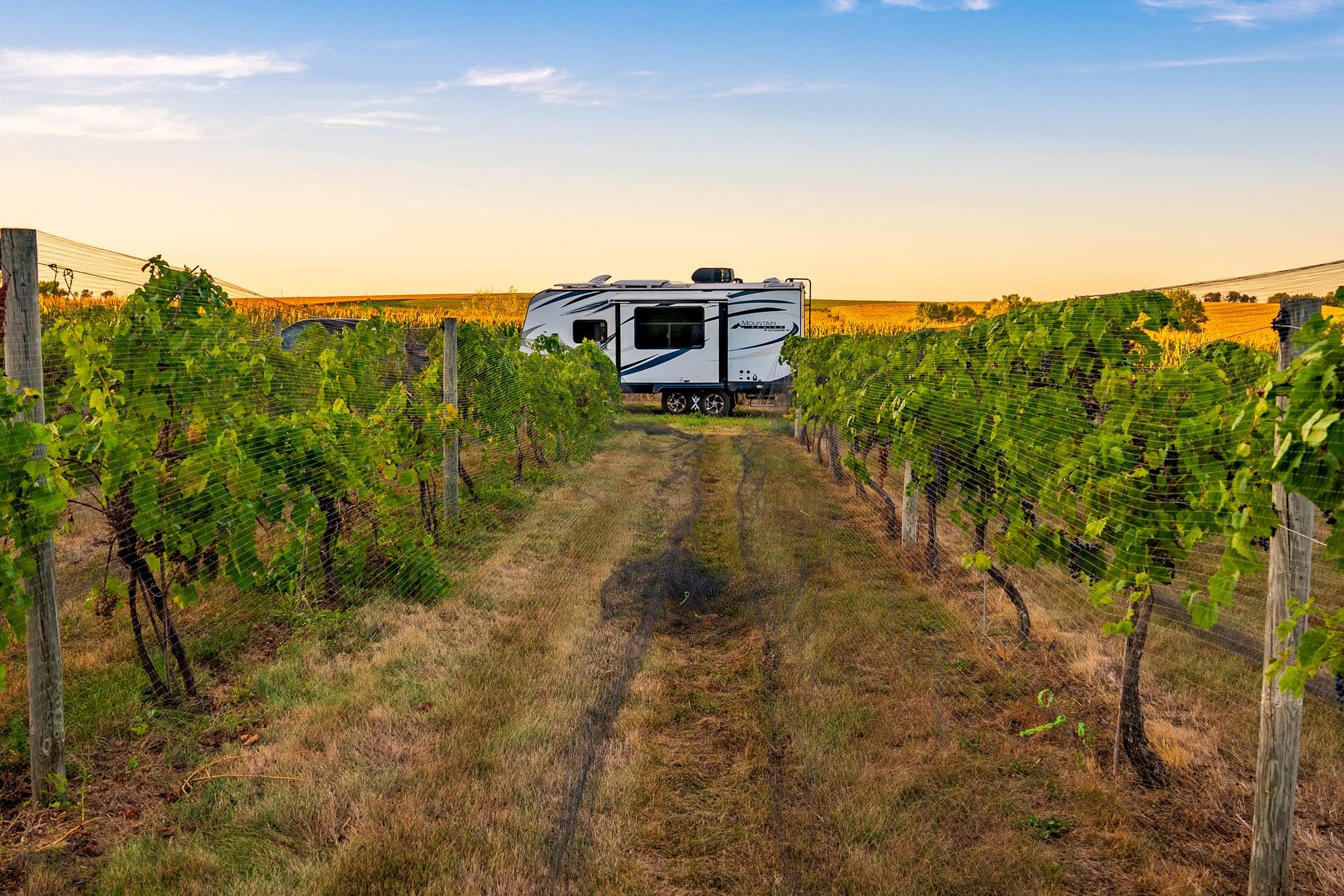 We arrived a couple of hours before they closed, so what else to do but head inside for a wine tasting! We tasted 6 local wines (which were fantastic), had an extra drink, snacked on some cheese and meat, and bought a bottle of our favorite wine as well. All in, it came to $48 - more expensive than a Walmart parking lot, but so much better!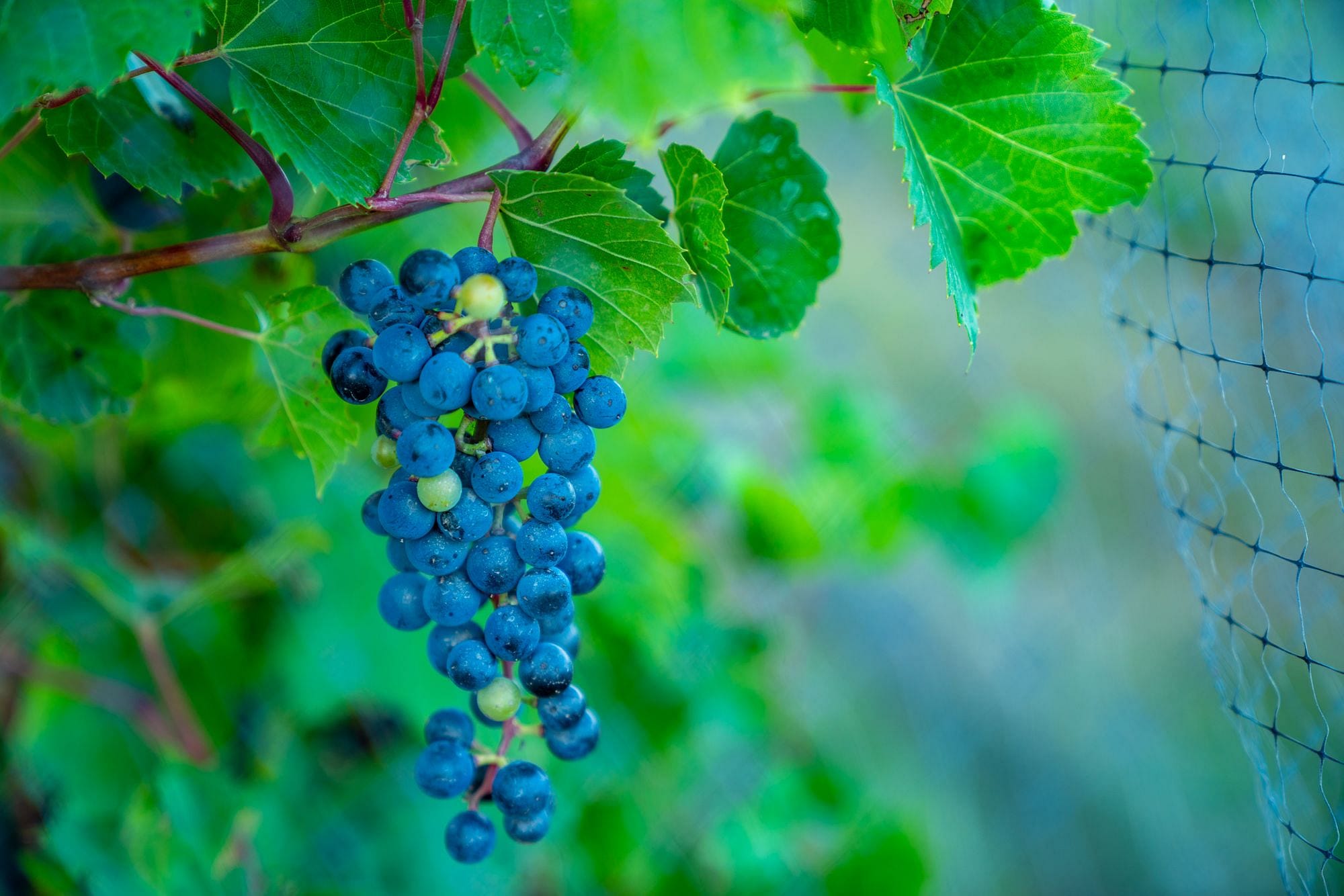 Day 4: Minnesota and Wisconsin (353 miles)
With no traffic nearby, loud vehicles or in fact any noise at all, we slept like babies! Well, until the alarm went off! It was cool and dark outside when we left - and dew had formed on the trailer.
We had left Washington state with a partially full fresh tank and empty grey and black tanks. After several showers, our fresh water was beginning to get a little low, and we were keen to dump the water from our grey and black tanks to save weight.
We found a Burger King along the route with a dump station - we dumped, but unfortunately they had no potable water. No biggie!
Our day's drive took us all the way from one side to the other across Minnesota, before finally reaching Wisconsin. After a great experience at our Harvest Hosts winery the previous night, we decided to try it again.
We found another winery not too far from our route near New Lisbon, WI and called ahead to check availability. While the winery was closed due to COVID-19, the owner was still welcoming Harvest Hosts members to stay overnight - awesome!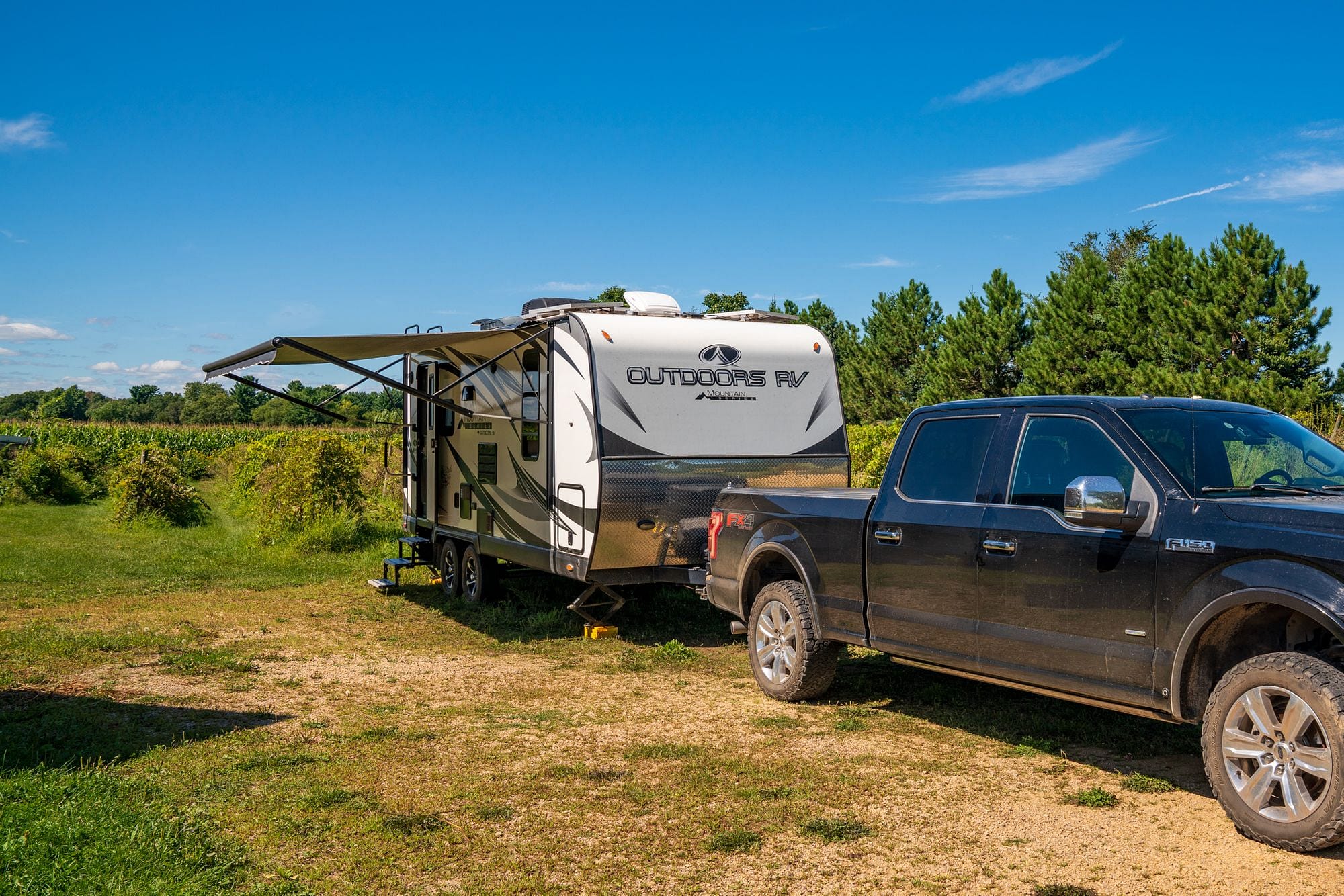 The winery was beautiful - an old wooden barn nestled in amongst the vineyards and cornfields. It was a shame that the winery was closed but we had a great chat with the owner about the history of the winery and the buildings. There was nothing to buy but he sent us on our way with a selection of fresh tomatoes that we watched him pick from the plants just outside our RV. Farm fresh!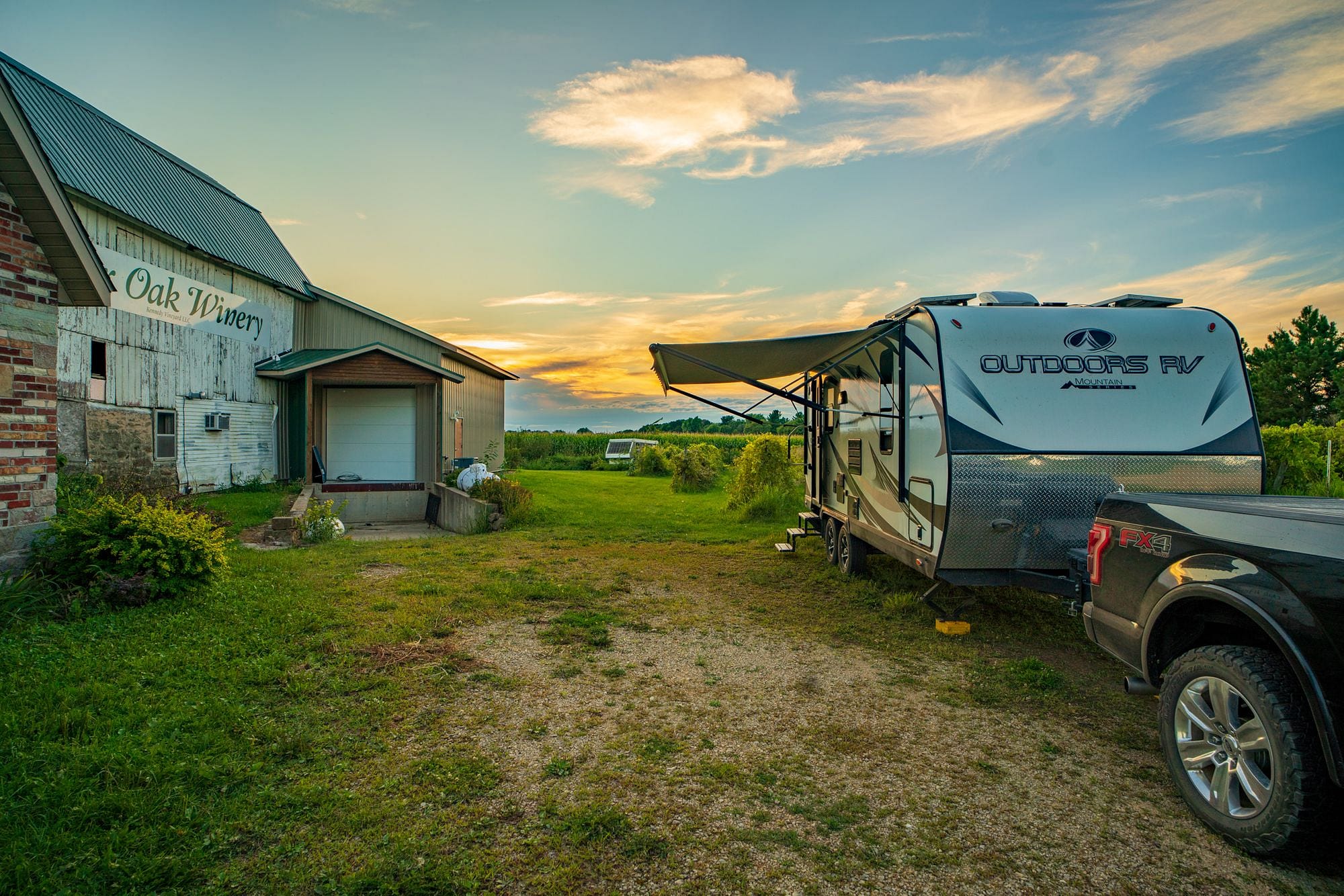 Day 5: Illinois and Indiana (349 miles)
We set out early again (noticing a trend here?!), this time because we had to pass through Chicago and I wanted to hit the area in late morning to hopefully find the lightest Monday morning traffic.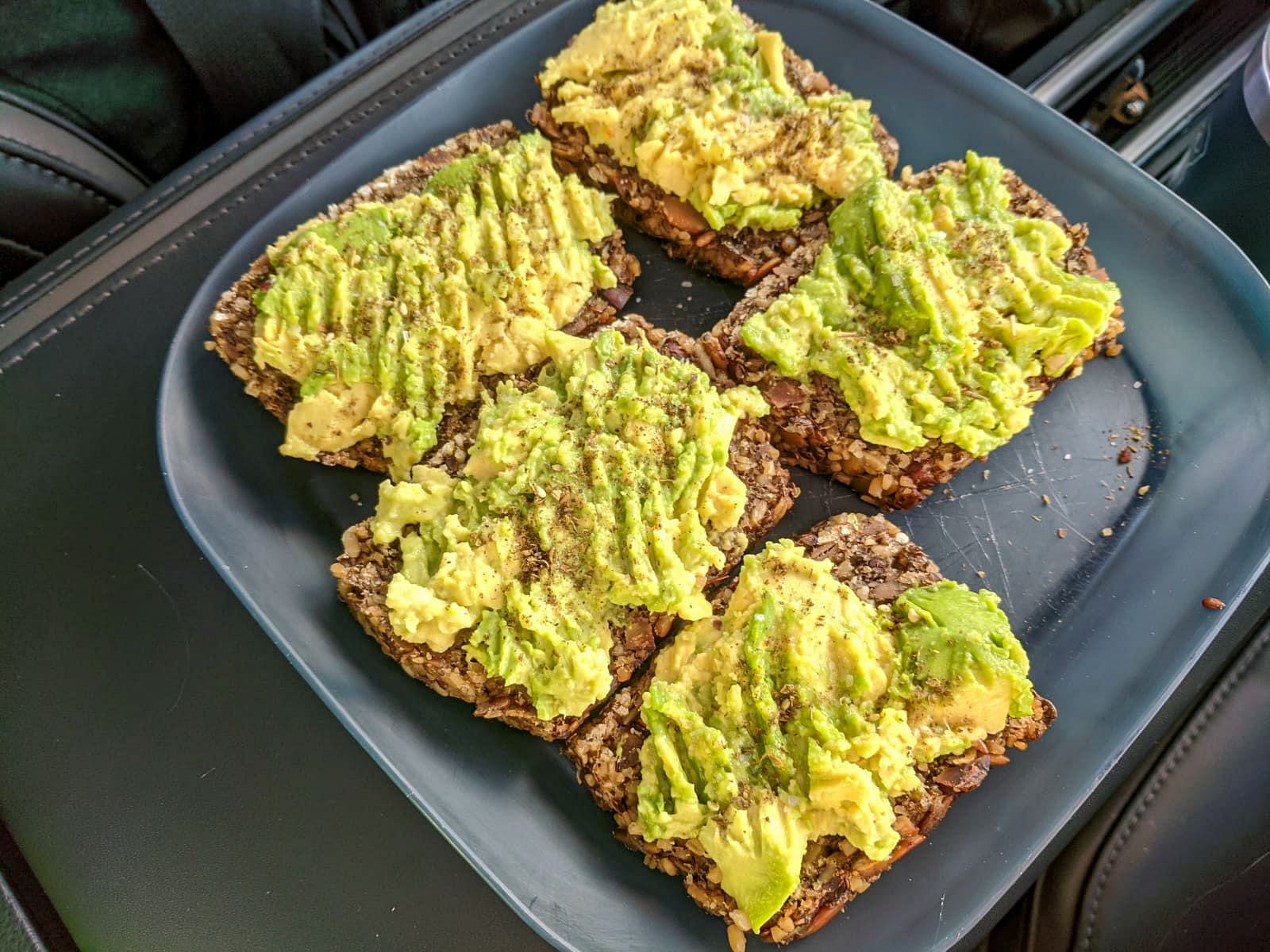 Our plan worked well, and other than a little slowdown in the heart of Chicago, the miles passed uneventfully. On the other side of the Windy City, we found a Love's travel stop and put some water in our fresh tank so we could continue to shower each evening.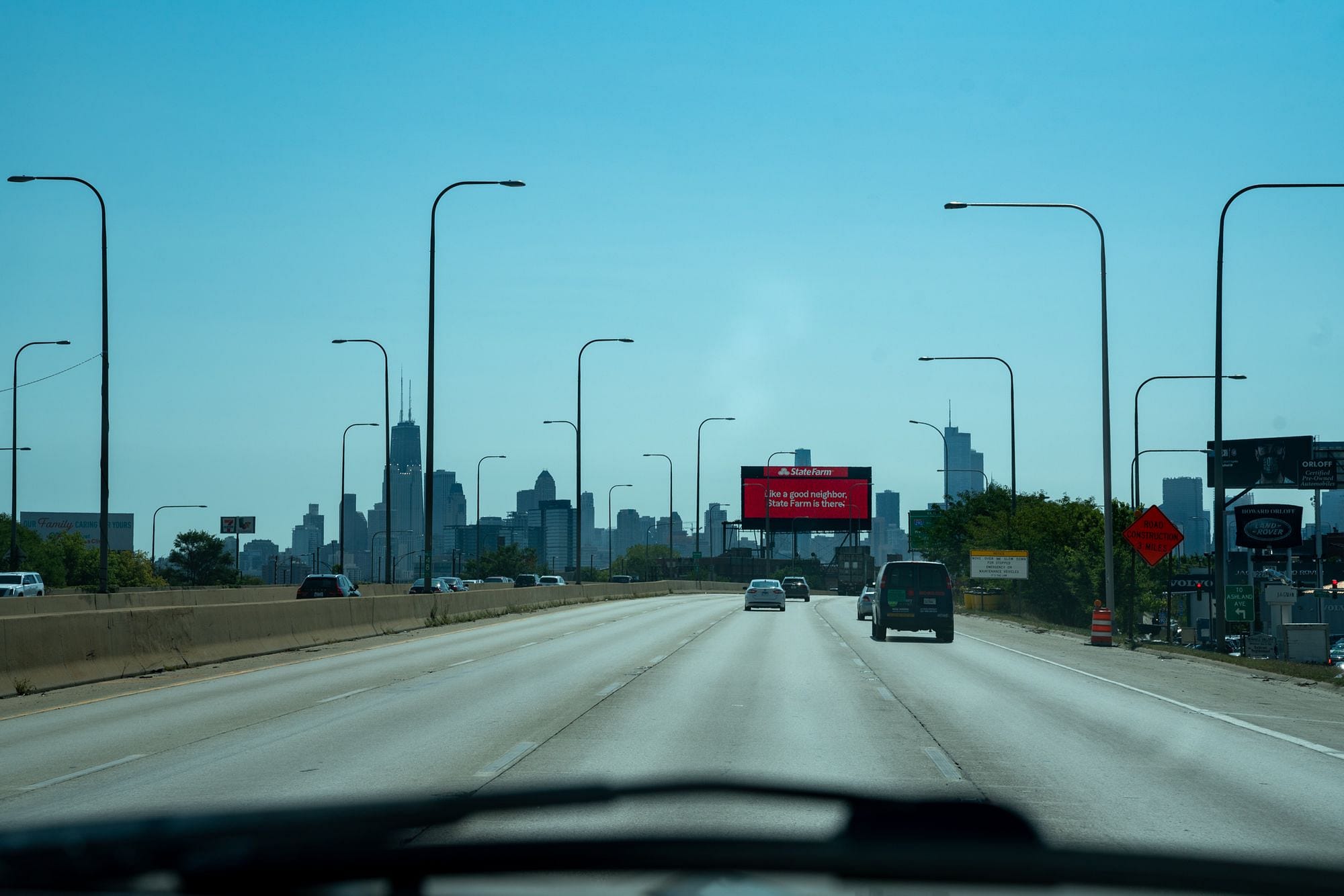 Monday's destination was Elkhart, IN - the RVing capital of the US! It is to the RV industry what Detroit, MI is to the automotive industry. Many RV manufacturers (but notably not Outdoors RV) are based there, as are their supply chain partners.
We were on our way to visit Dometic - a company we have been partnering with for well over a year. We hadn't seen their team in person since the Dometic in the Desert event back in February, and we were looking forward to showing them the latest updates (including the remodel) to our RV!
It wasn't until we had the RV set up in their parking lot that we realized just how filthy the RV was! Remember that cold, dewy morning start from the first winery? Well, the winery was several miles down a very dusty road - I guess that dust had stuck to the wet trailer. Ooops!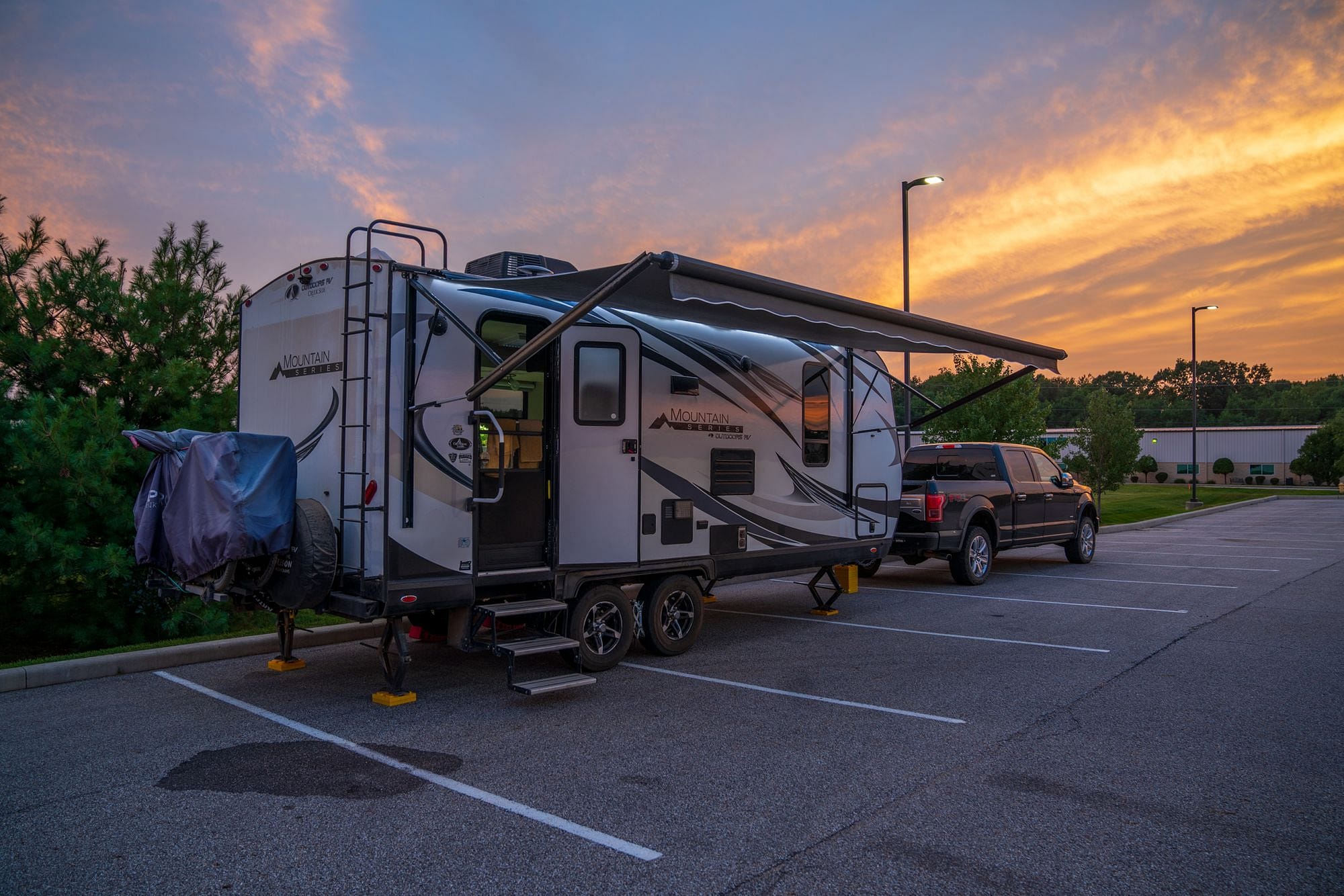 Never mind, it was a beautiful sunset and we were making great progress on our journey east.
Day 6: Ohio (237 miles)
We spent the first few hours of Tuesday morning several members of the Dometic product team the latest mods to our RV. As a former Product Management leader, it's always good to see a company that really wants to listen to their customers, understand their pain points and build great products.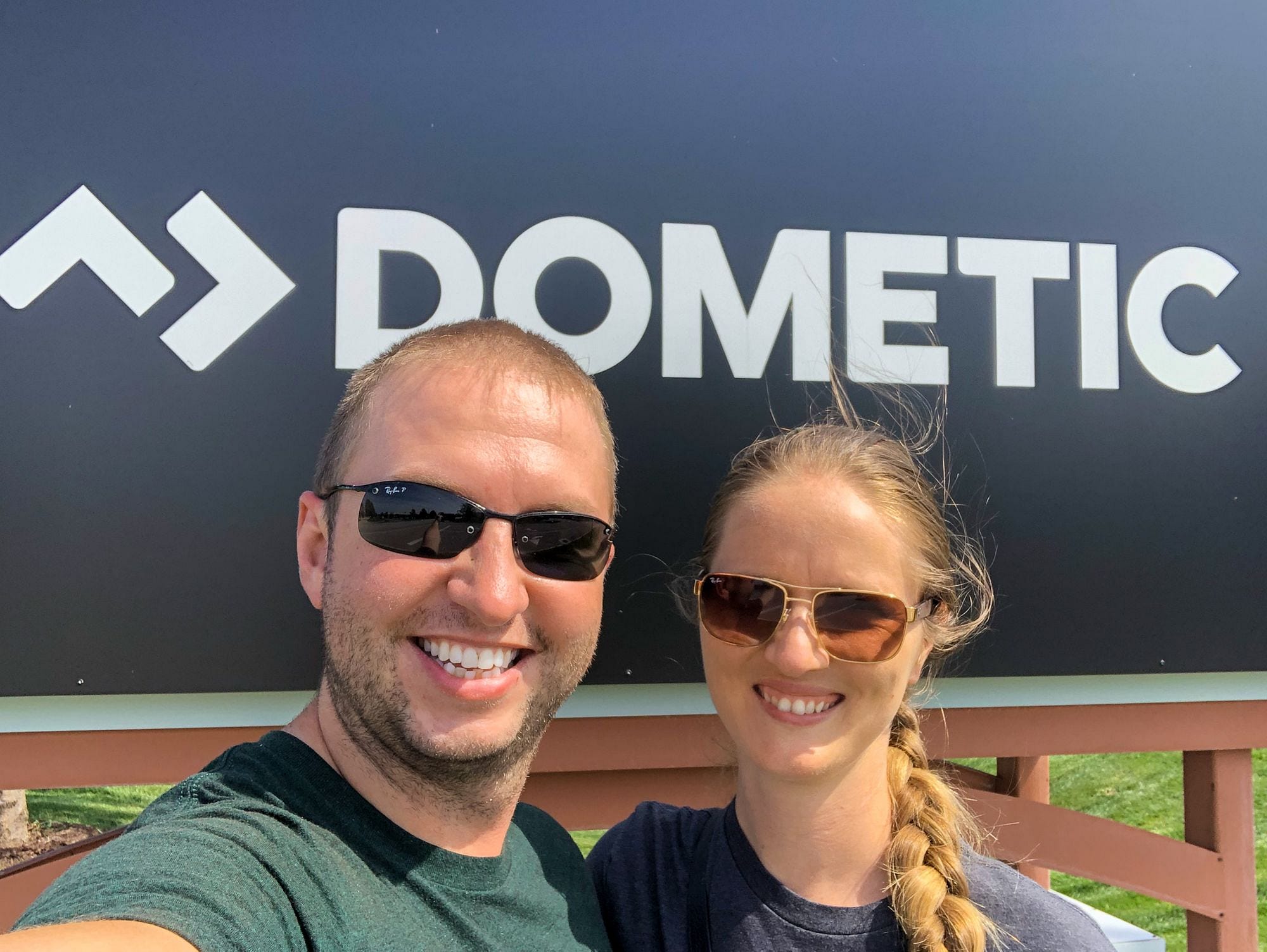 The half-hour meeting turned into two hours, but by 11am we really had to hit the road.
Sadly, our RV had other plans. We started the truck as we were hooking up, and a few minutes later we heard the unfortunately-all-too-familiar alarm from the Tire Pressure Monitoring System (TPMS). We had a problem.
It didn't take us long to find it; there was a screw embedded in our tire.
Three of the tires on our RV are original - now with over 20,000 miles on them without issue. One of those tires we had replaced by Discount Tire in September last year when we noticed it had picked up some sidewall damage - probably from a rough dirt road we'd been on.
When we had Discount Tire replace it, we took out their Road Hazard Warranty - a program that means they will repair or replace the tire free of charge for the life of the tire, regardless of the cause.
Since then, we've had three screws (including this one) in our trailer tires - and all three times have been in that same tire. The one with the free repair or replacement service!
If you're thinking that we're pretending it's in that tire just to get the free repair, I promise we're not! Not only does it have a different DOT manufacturing date to the other three tires, but you can also see the old repairs!
This time, the screw had caused the tire pressure to drop, but it was still at 52psi - high enough that we felt we could safely tow it a few miles down the road to Discount Tire. As always, the service was fantastic - despite having no appointment, within an hour they had removed the wheel, repaired the tire and fitted it back on the trailer.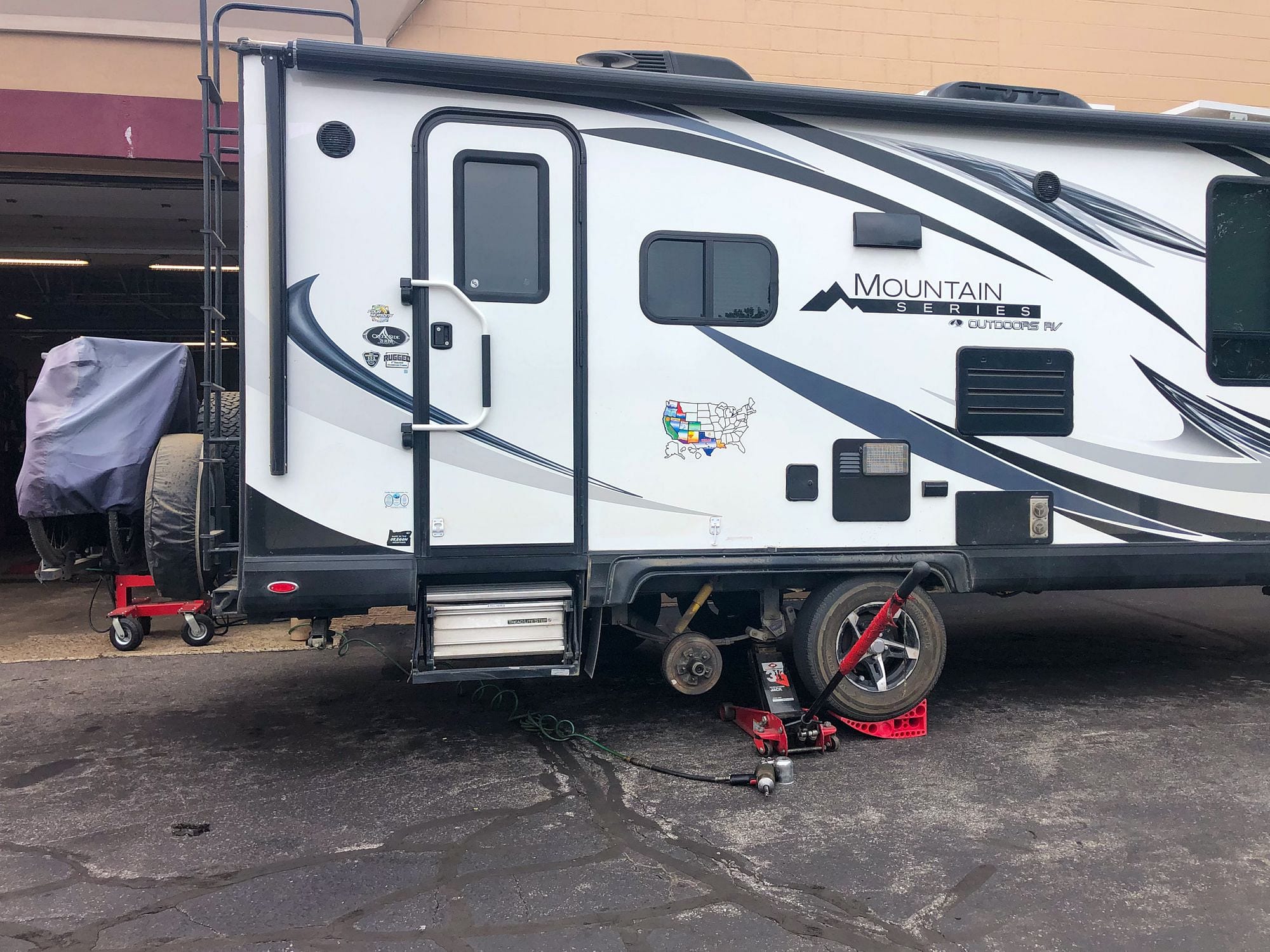 We were back on the road!
Today we had another "first" planned. We were going to camp in the RV on the driveway outside a friend's house (aka moochdocking) in Cleveland, OH. Can you believe that in 2 years of full-time RVing, we've never moochdocked outside someone's house before?!
We arrived later than planned (thanks to the tire incident), but fortunately it was a shorter day anyway and we made it in time for dinner! We had no problems parking our truck and trailer on their driveway, and enjoyed dinner outside (with appropriate social distancing, of course).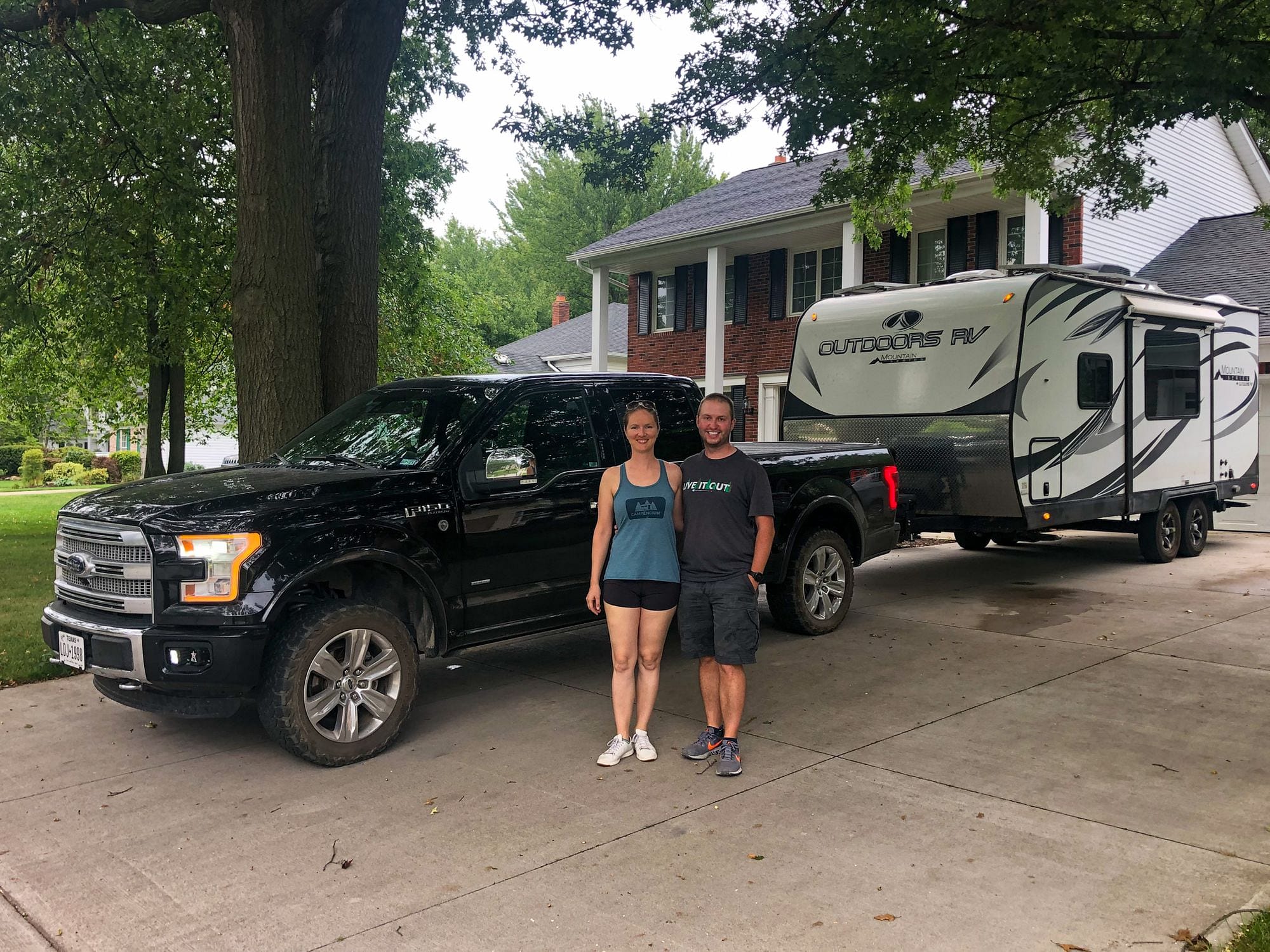 It was hot (85°F) and humid (90%) at 9pm when we were getting ready for bed. But thanks to the DC-to-DC charger, we'd arrived with full batteries so we were able to run the AC for an hour just from our batteries to cool things off.
Day 7: Pennsylvania
Yesterday was our last full day of driving before we make it to New York today. Once we arrive, we have to quarantine for 2 weeks - no contact with other people, no trips out for "essentials". We'll be stuck in our RV for two weeks.
So yesterday was all about preparation. Our friends gave us a bag of tomatoes as we left (we have a LOT of tomatoes now!) and we stopped by a grocery store and Costco to stock up on more food.
In contrast to our dry camping the previous nights of the trip, here we have full hookups. Yes, we're in an RV park! Would you believe that this is the first time we've been to an RV park in the whole of 2020!
It's true! The last time we were in an RV park was December 30th last year (more than 8 months ago). While we had hookups outside our friend's shop in Boise, ID this year, it certainly wasn't an RV park. And even then we only had a 15A hookup - this is the first time all year we've had a 30A electrical hookup.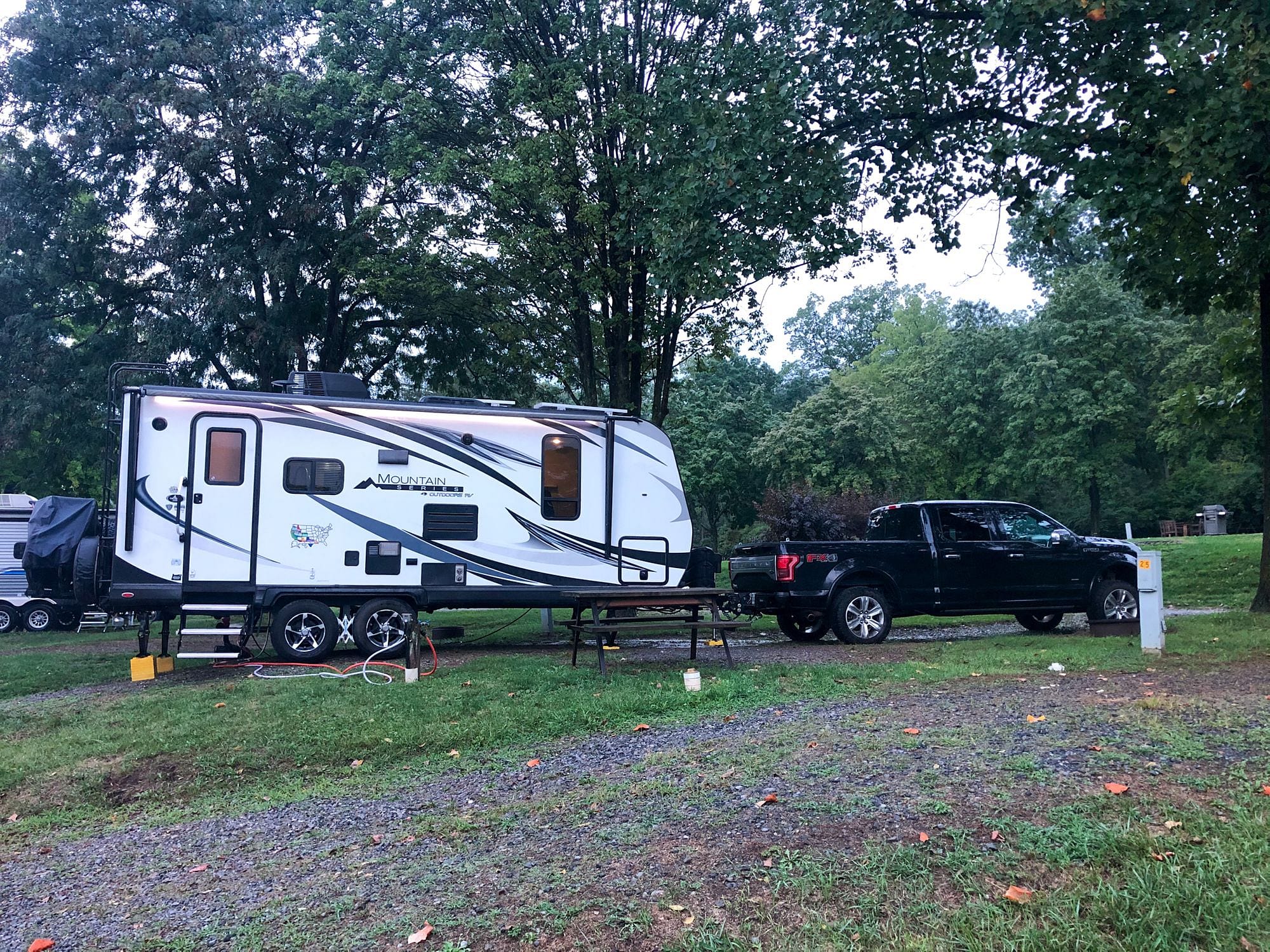 And we are making the most of it!
We arrived shortly before 4pm, and the Instant Pot was been running almost non-stop until we went to bed - cooking beans, chili and more to stock up our fridge and freezer for the next two weeks. We've still got a few more things to cook this morning.
We've done a big load of laundry, and this morning we'll give the RV a thorough clean, dump and flush the tanks, and top up our fresh water and propane before heading to upstate New York.
Day 8: New York
Fingers crossed everything goes smoothly later today.
We have to fill out an online Traveler Health Form and we'll be heading directly to our friends' house to quarantine.
The past week of travel has been tiring, but we really enjoyed driving through parts of the country that ordinarily we might have just flown over. Even from the Interstate, we saw some beautiful landscapes and look forward to a time when we can go back and explore those areas some more.
Personally, we're doing everything we possibly can to protect ourselves and those around us from COVID, and for now that means quarantining.
See you soon!