Introduction
I've been an amateur photographer for a long time - many years before we started this journey. When I was younger I'd often hear: "don't just look through the lens, see it with your own eyes".
But somehow, as I grew older, I learned that looking through the lens helped me see more. I would seek out more shots. I would climb or hike further to find the angle I wanted. I'd sit and watch longer, waiting for the right lighting. I saw more.
As we were planning this journey to visit every National Park Unit in the US, we knew that photography would be a big part of it. We wanted to capture what we saw - not just for our own enjoyment, but to share the journey with others.
In addition to my interest in photography, Diana and I both come from technology backgrounds and we're full-on techie geeks - there's no denying it! This would be a once-in-a-lifetime journey, and we wanted the very best equipment to photograph it with.
Although most of my photography hasn't made it further than my own screen or social media, I do have ambitions of one day sharing some of my photos in print form. Our video is destined for YouTube where we want to put out the highest quality videos we can.
There's always more to learn, and there will always be continually better equipment being released, but this blog post is all about what we use to shoot.
4K Videos
A decision we made early on is that we wanted to produce our videos in 4K wherever possible. In case you're not sure what this means, this is essentially the highest video quality available to most people today - it's the highest YouTube typically supports and needs a 4K TV to play it. It's four times the resolution of HD TV.
Recording 4K needs high-end cameras, editing it demands powerful computers, and uploading it to YouTube consumes valuable bandwidth (especially hard as full-time RVers). So why do we do it?
Our focus is on the National Parks, and we want to show them in their fully glory so that the experience of watching our videos is as immersive as possible!
So anyway, let's jump right in!
As an Amazon Associate we earn from qualifying purchases.
Cameras & Lenses
It all starts with the cameras. Over the years as we have bought new cameras, we have held onto our older ones - oftentimes there is nothing wrong with them, and they work great as backup cameras.
Sony a7R III
Our main camera is the Sony a7R III full-frame mirrorless camera. I absolutely love this camera - it's incredible! We bought it with the Sony FE 24-70mm f/2.8 GM lens which is tack sharp and creates beautiful images. I have my eye on the new Sony FE 200-600mm f/5.6-6.3 lens too....
It shoots still photos at an enormous 42MP resolution which gives me plenty of pixels to work with. The dynamic range is off the charts, allowing me to shoot directly into the sun without losing the shadows - works great for shooting sunsets.
One of the main reasons we bought it was because it can shoot very high-quality 4K video at 30fps. The 399-point autofocus is incredible with built-in face and eye tracking.
Being a mirrorless rather than a DSLR, what you see on the screen is exactly what you're going to shoot. It's also slightly smaller than most DSLRs, but the lens is heavy and bulky. That being said, this is our primary camera, and we absolutely love it!
Battery life is pretty good, but it's always useful to have spare batteries on hand. We like the Wasabi Power Battery (2-Pack) and Dual USB Charger since it lets us charge all the Sony batteries via USB.
The latest version of the Sony firmware includes an intervalometer capability, but before this was launched I bought the JJC TM-F2 Wire Multi-Function LCD Timer Remote. I bought it mainly for the intervalometer capability (8K timelapses anyone?), but remote triggering is useful too.
Canon EOS 6D
Before buying the Sony camera, I was a Canon guy, my most recent Canon DSLR being the full-frame Canon EOS 6D. I have the Mk I version (the Canon EOS 6D Mk II is its successor), and it's a really great camera. Optically, it shares many optical features in common with the Canon's prosumer flagship EOS 5D of the same generation, but has only a single memory card slot, a plastic body and a more limited autofocus.
For my previous needs, these limitations weren't an issue - I was mainly doing landscape photography for my own purposes. Unfortunately the Canon EOS 6D lacks when it comes to video - it only supports 1080p, and the autofocus on the Mk I was terrible for video.
However, it's still a great camera for landscape photography, and as a backup camera. We have several lenses for this camera: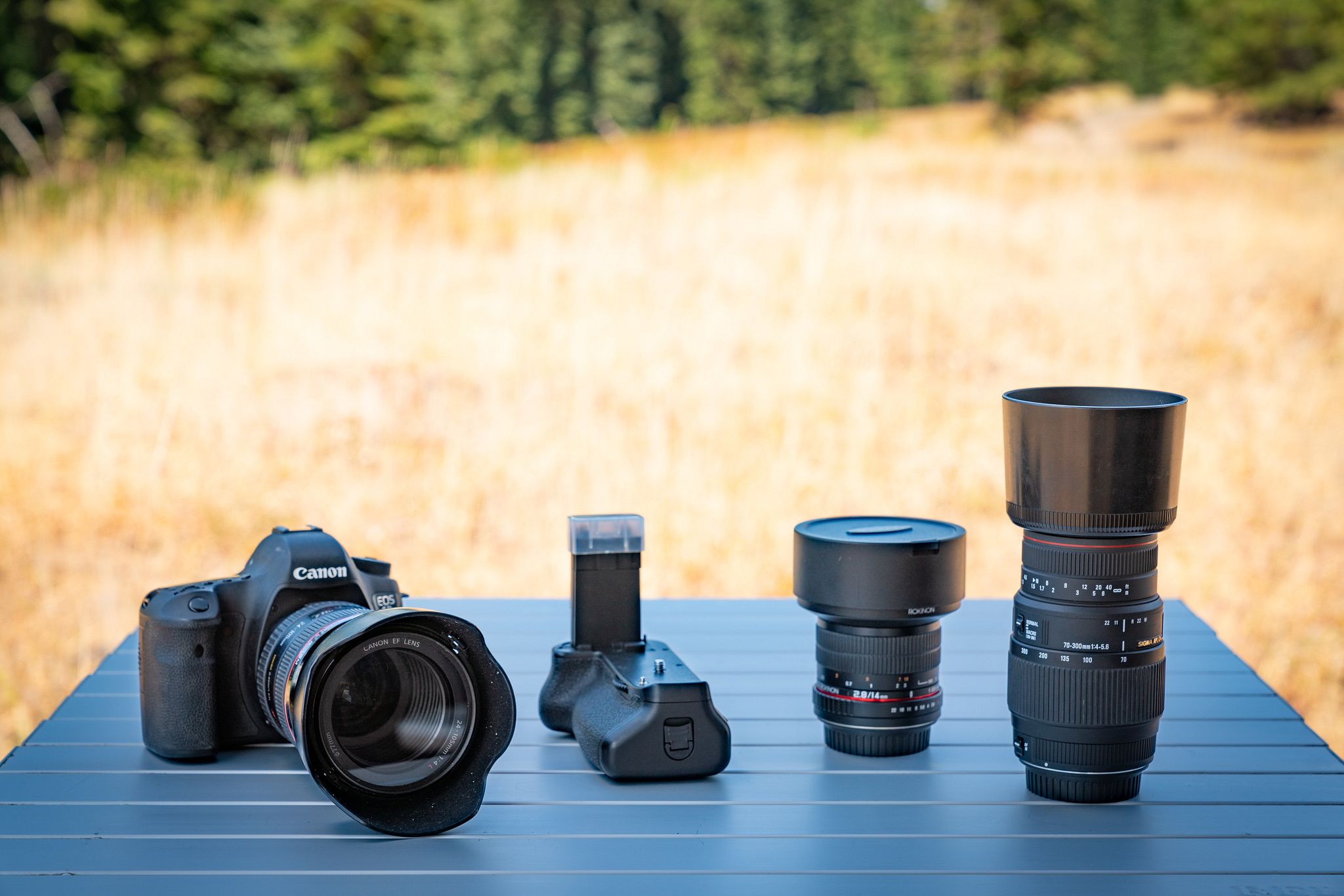 Again, we carry spare batteries for the Canon - we use two Wasabi Power Batteries and a Newmowa Dual USB Charger. We have several other accessories for the Canon, including the Canon Speedlite 430EX III-RT flash and a Camera Battery Grip (useful for long, overnight timelapses).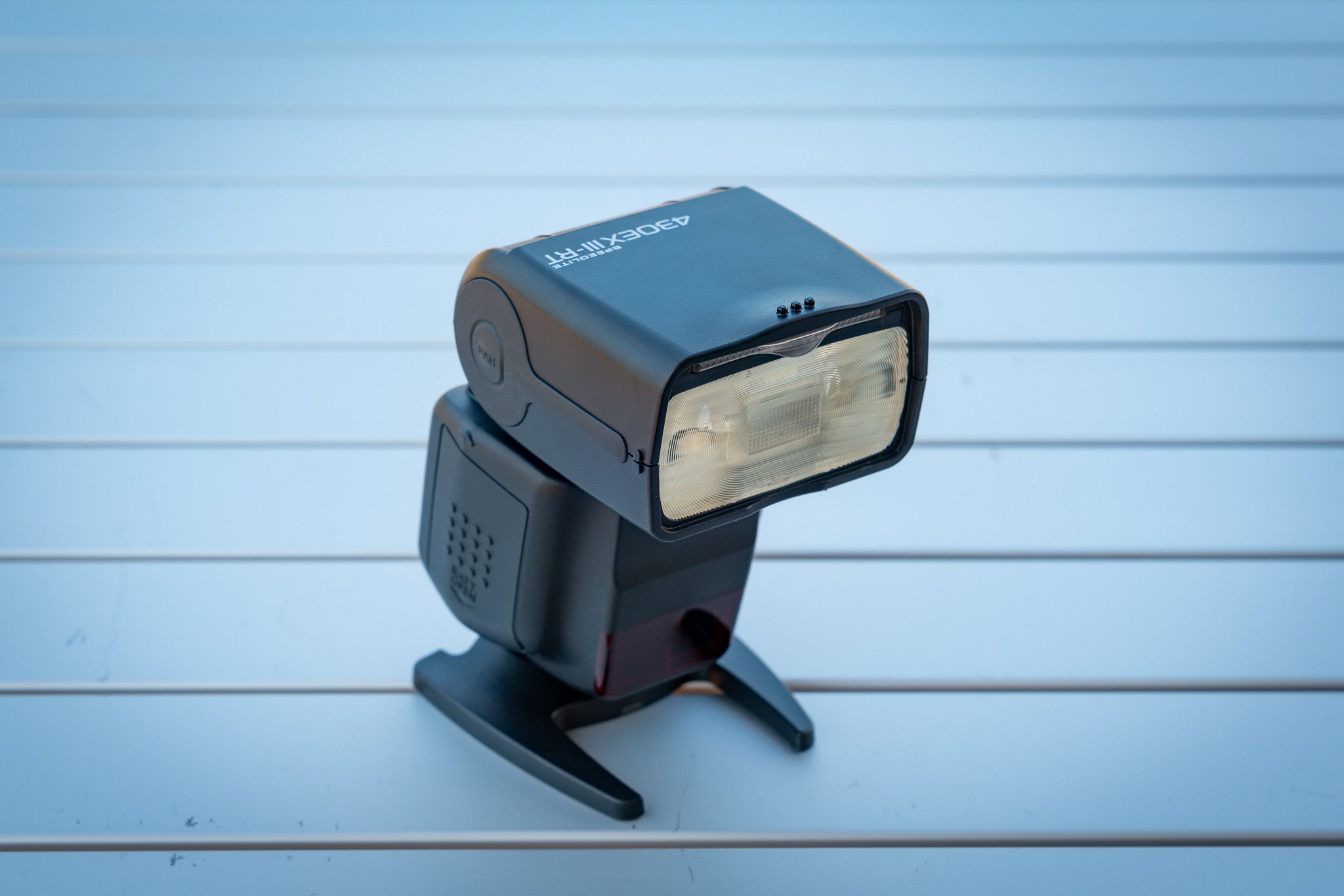 Canon G7X Mk II
They say the best camera is the one you have with you, and this is where the Canon G7X Mk II shines! I bought this for Diana for Christmas a couple years ago as part of the Canon G7X Mk II Video Creator Kit, and I don't think she's let go of it since!
It's so small, it comes with us everywhere, and the quality is very good - although it's HD 1080p rather than 4K! We use it for a lot of B-roll video footage when the Sony would be too bulky.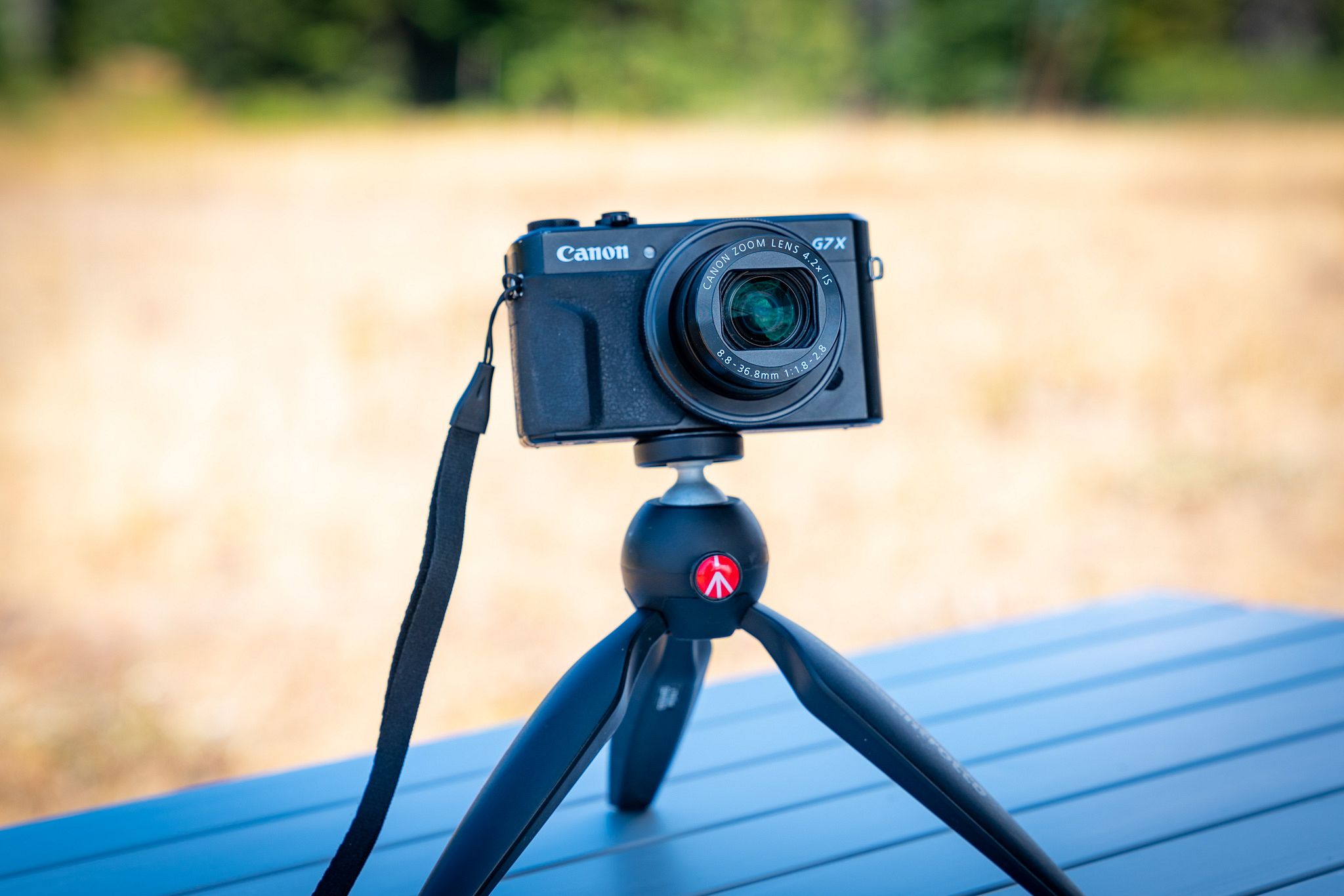 The Video Creator kit came with a small tripod which also works great as a selfie-stick. The Newmowa NB-13L USB Battery Charger lets us charge the batteries from USB.
Canon have recently launched a new version, the Canon G7X Mk III which looks to be a nice upgrade on the Mk II model. The big item of interest to us is the 4K video recording!
GoPro Action Cameras
There are a lot of opinions out there on which are the best action cameras, but our collection of GoPros has grown somewhat organically over time.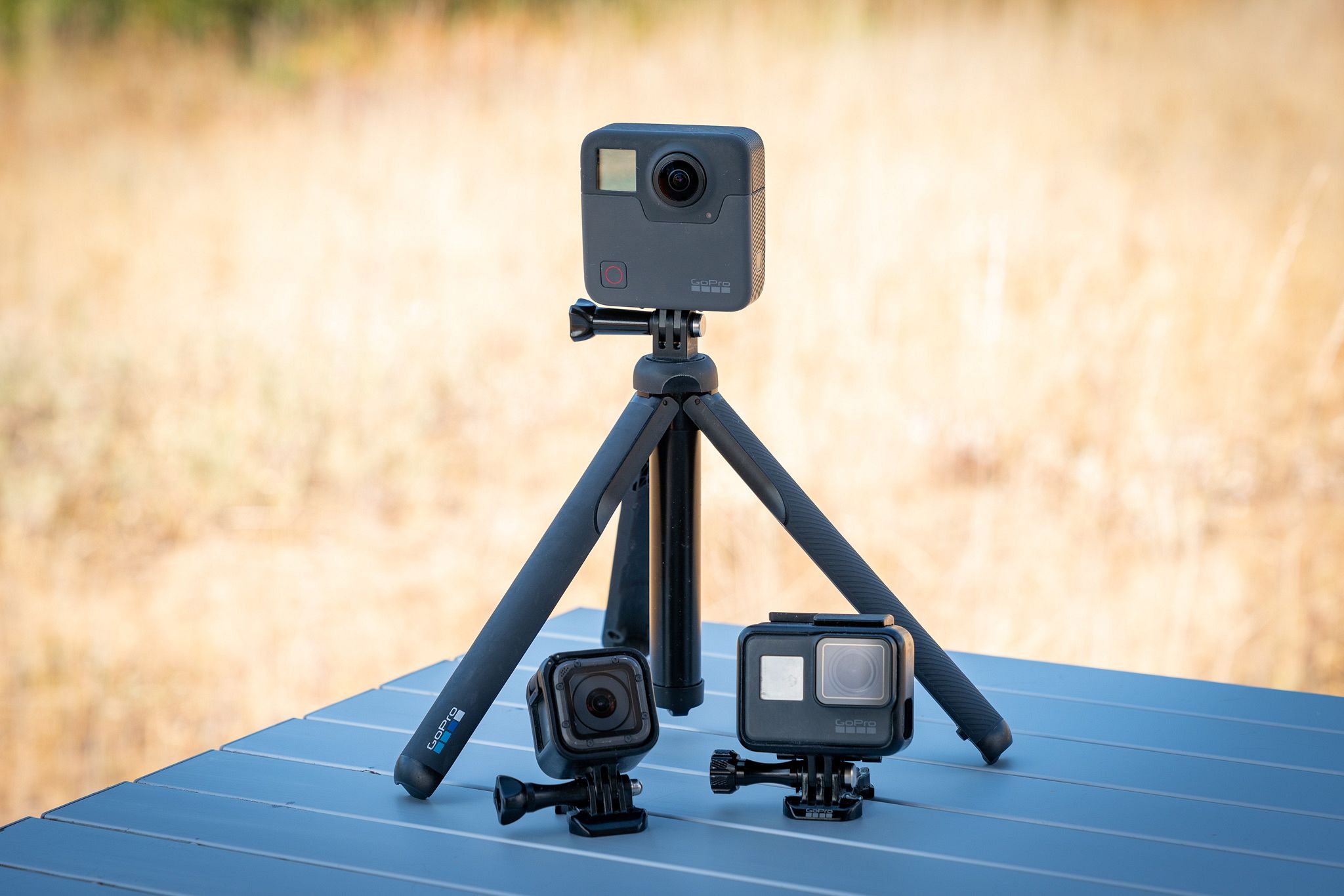 Mounts & Attachments
As such, we have adhesive GoPro mounts attached all over our truck. I permanently bolted a GoPro mount to the underside of our rear truck bumper, and we have GoPro aluminum handlebar mounts on our bikes.
For more temporary mounting, we have the official GoPro suction mount, a small triple-suction mount, and the super sturdy Delkin Triple Fat Gecko Three-Arm Suction Mount. Whenever we're mounting a GoPro on the outside of a vehicle, we use either these 12" steel tether cables, or this longer 3ft steel tether cable.
We've found it can also be useful to have a GoPro tripod adapter, as well as an adapter for turning a GoPro foot into a tripod screw.
Lastly, you can never have too many quick release feet, but we also like our aluminum ball joint mount and rotary extension arm - these make it much easier to position the GoPro right where you want it.
GoPro Hero6 Black
If we need a more rugged or smaller camera than the Canon G7X Mk II, then the GoPro Hero6 Black (now succeeded by the GoPro Hero7 Black) is our go-to. It's small, the stabilization and 4K video quality are generally excellent and it fits on our EVO GP-PRO 3 Axis GoPro Gimbal (no longer available). Since it's waterproof, whenever we're doing activities like kayaking, this is our main go-to camera.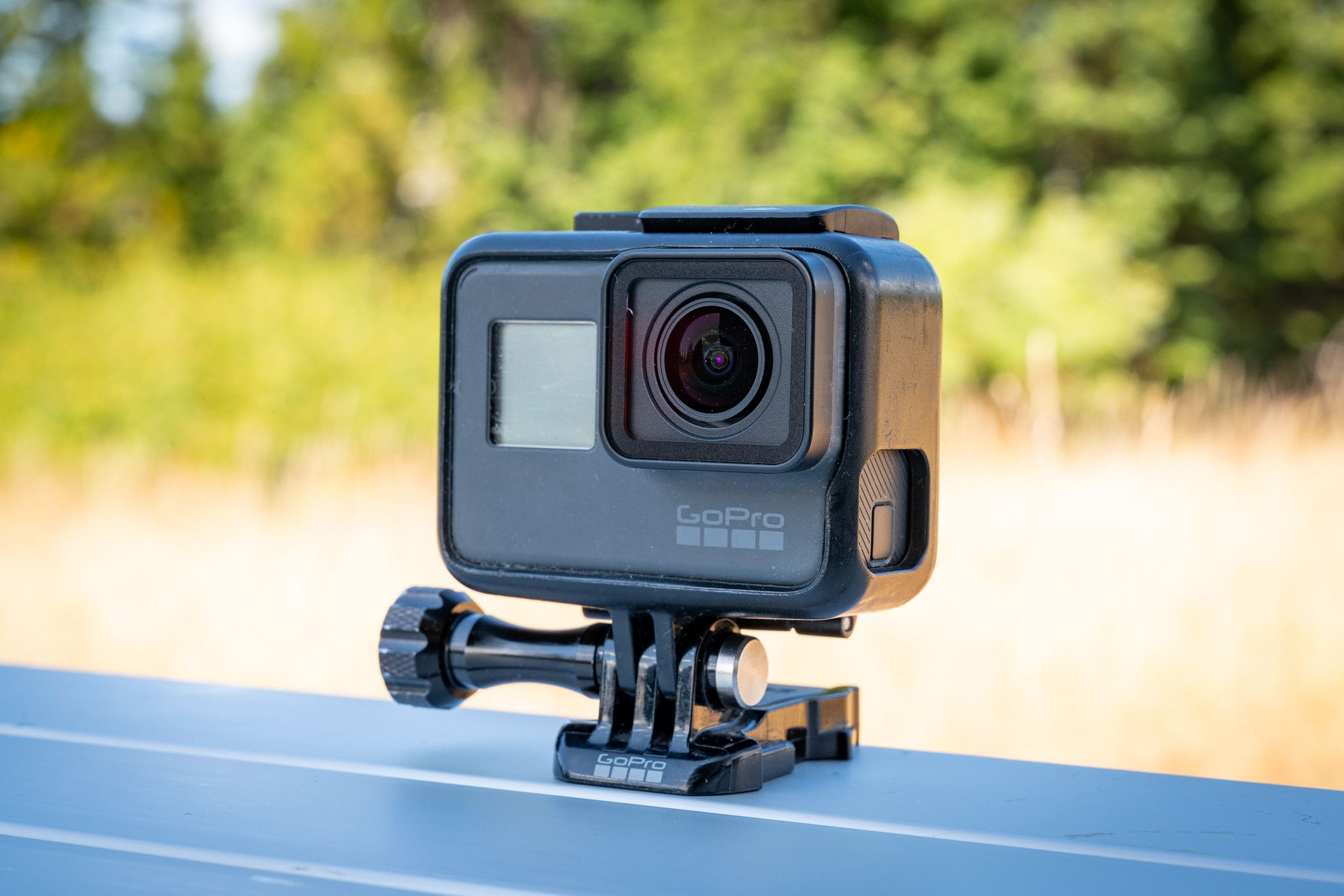 Audio quality isn't great, but it's OK, so we tend to use it for B-roll and timelapses where audio doesn't matter. If we use it inside the truck, then we use our external audio recorder (more on that later).
The GoPro will chew through batteries pretty quickly, especially when filming in 4K, so we have 3 replacement batteries and USB charger.
The GoPro Hero6 Black doesn't need a case to be waterproof, but that does mean it's less well protected from damage. Recently we dropped it and cracked the lens, but fortunately it's easy to replace - the replacement lens for the GoPro Hero7 was much cheaper than the one for the Hero6 and it fits fine, it's just black not grey. OK.
GoPro Hero5 Session
GoPro announced last year that they were going to stop making the GoPro Session. We quickly decided to buy one before they all disappeared.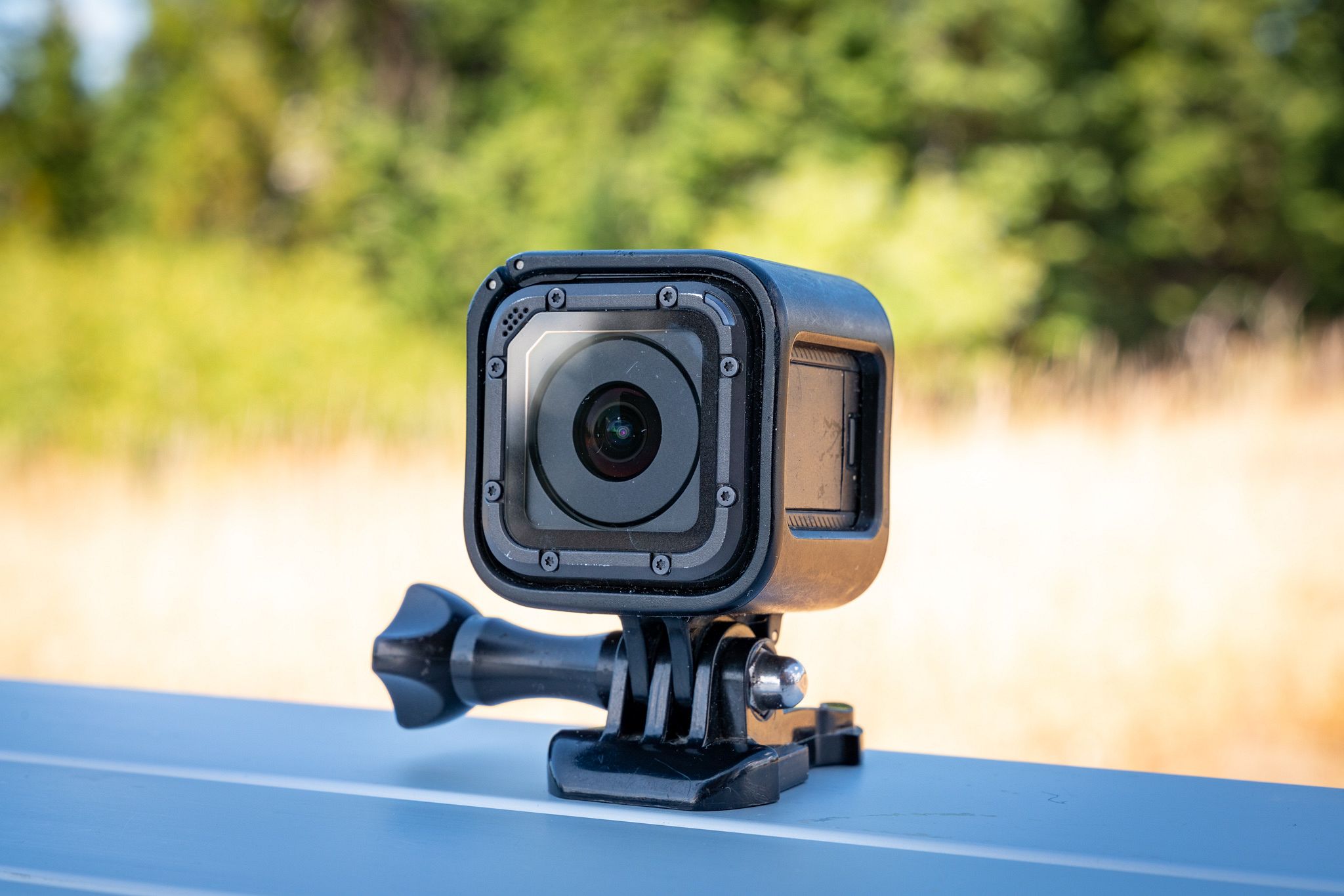 We love the GoPro Hero5 Session because it's so small. Most of the time we use it in the car for taking timelapses out of the front windshield, but its small size makes it great for those shots where we need a really small camera. We even used it in a church to film a wedding - again, its small size meant we could hide it where it wouldn't be distracting.
GoPro Fusion
Many people haven't heard of the GoPro Fusion, but it's kind of a cool camera! Unlike other GoPro cameras, the GoPro Fusion is a 360 camera - with a lens on both sides!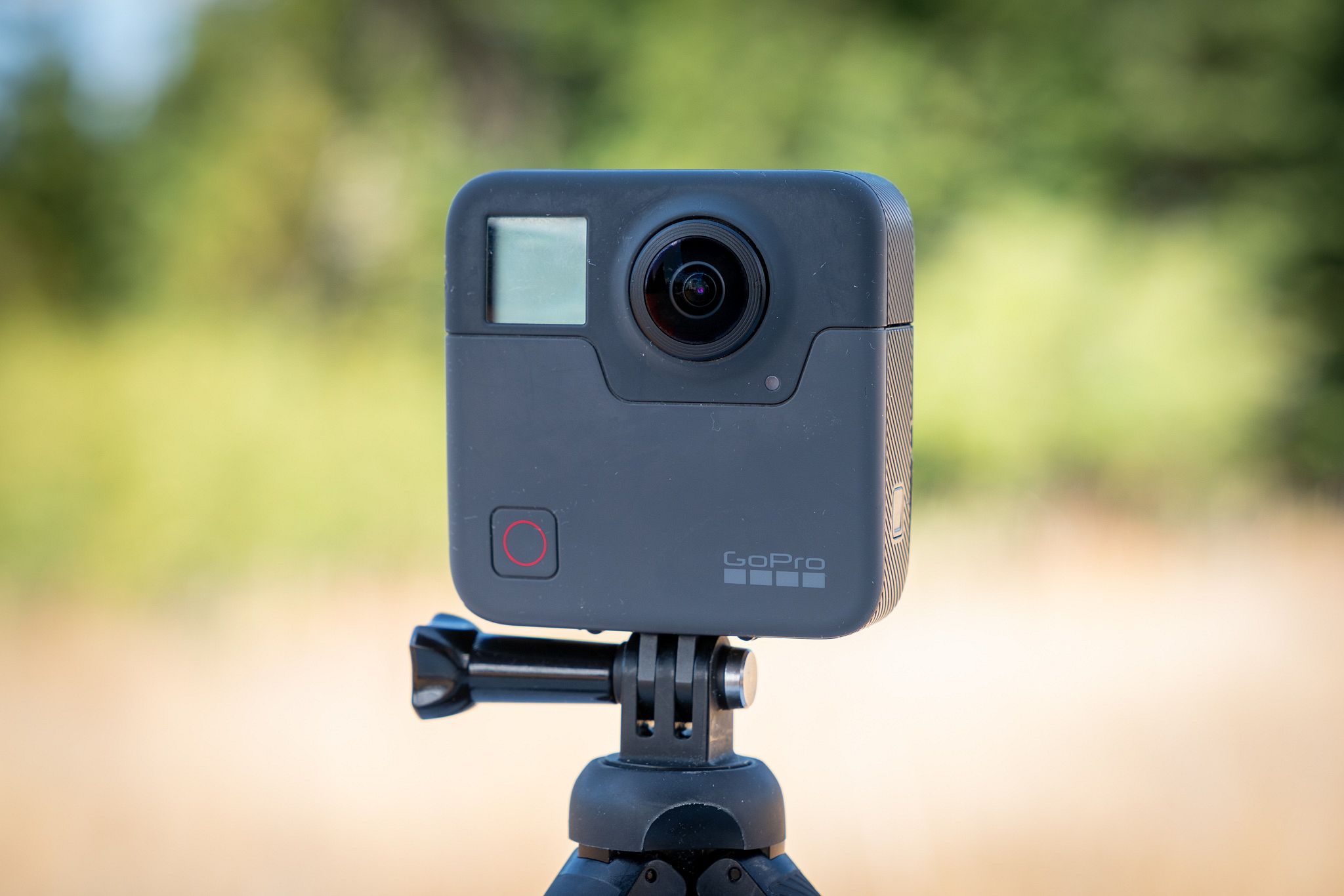 We don't use it all that often because it takes hours to process the footage afterwards, but it can create some really unique angles! A favorite is to mount it on our skis or snowboard to capture some really cool shots! It also works great for shots where we walk past the camera on the trail, as we can pan the video in post.
GoPro Hero4 Black
This is our oldest GoPro, and we very rarely use it - the quality just isn't as high as our newer cameras either. We have lots of accessories for it (colored lens covers, cases, etc) that don't fit the other GoPros, so we've held onto it just in case we need those capabilities.
Also, because it's so old, we're less precious about it, so if we had to put a camera somewhere it might get damaged (e.g. mounted under the truck bumper for some tough off-roading) then we would use the GoPro Hero4.
Audio Equipment
They say that when watching a video, people will excuse poor video but not poor audio. Unfortunately, while bad sound is obvious, good sound is invisible!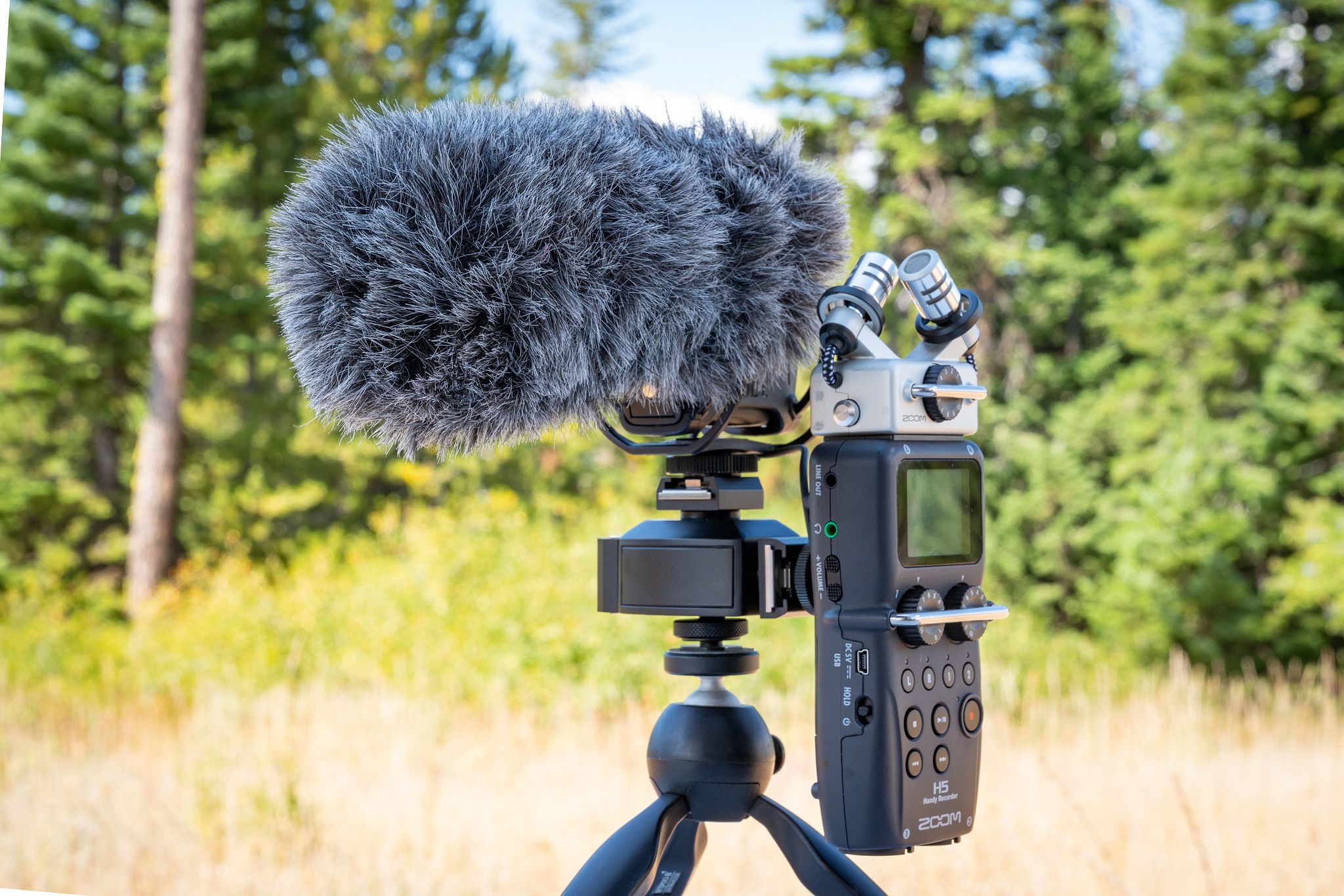 When we started out, we were using an external microphone, but still struggling with wind noise as well as some artifacts from noise reduction processing in post. People commented on our videos about it. We had to do something to improve the audio.
Zoom H5 Recorder
The Zoom H5 Four-Track Portable Recorder isn't cheap, but we feel it's well worth the money. The difference in quality since we've had this recorder has been fantastic!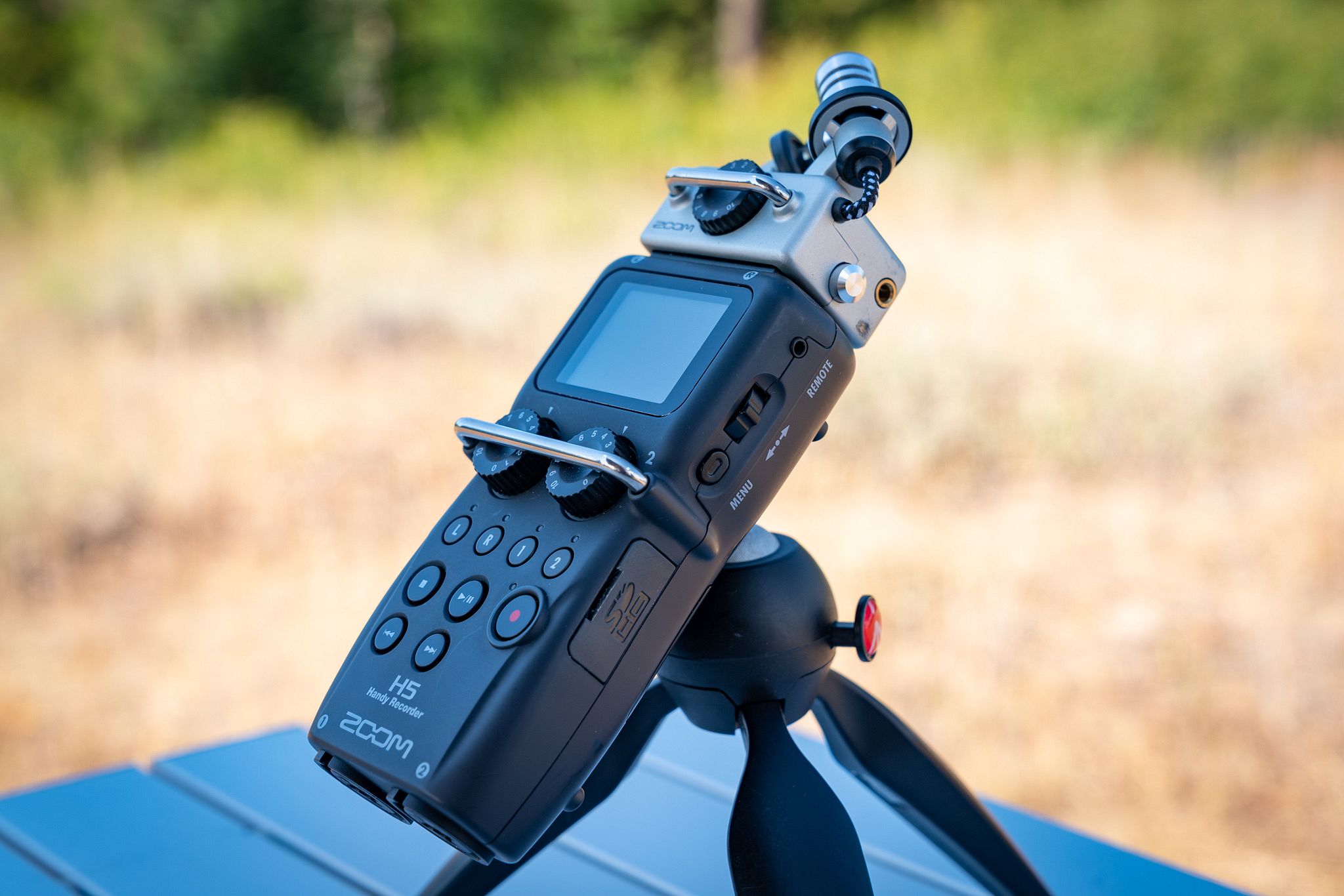 Not only does it have a built-in XY mic capsule which can also accept an external stereo input, but it supports two additional external microphones as well. It has audio level controls for all channels, and also records a backup audio channel at -12dB too for the microphone capsule.
We use it for any standalone audio recording (e.g. interviews, voiceovers, etc) but we also mount it on top of our Sony a7R III too. It's larger than you might expect, but still handhold the camera with the Zoom H5 and a separate shotgun microphone attached using a triple shoe bracket and hot shoe tripod mount adapters. We connect the Line Out on the Zoom H5 to the microphone socket on the camera using a short, coiled connector cable.
Røde Video Mic Pro
The Røde Video Mic Pro is a high quality shotgun microphone that mounts on top of our camera. We bought the version with the built-in Rycote Lyre Shockmount which helps to reduce vibration noise the audio recording.
The quality is very good, but in our experience the shotgun microphone is really only effective over short distances - say, up to 10ft at most. We also found that the foam windscreen wasn't particularly effective at reducing wind noise so we added a dead cat wind shield - a thick, fluffy shield for the microphone.
Lavalier Microphones
Even with the dead cat wind shield on the Røde Video Mic Pro, we were still picking up a lot of wind noise. Also, sometimes we wanted to be further away from the camera, or we wouldn't be standing directly in front of the shotgun mic.
What we needed were lavalier (aka lapel) microphones. I had a cheap lavalier microphone from a few years ago, but the quality was pretty terrible.
We decided to invest in a pair of BOYA BY-M1 3.5mm Lavalier Condenser Microphones. These aren't super expensive, and come with an adapter, wind shield and 20ft wire.
They are amazing! We can now happily record audio even in high winds with almost no wind noise apparent on the recording. Similarly, if we're recording in the car, we'll typically wear them too so the audio doesn't pick up engine or road noise.
They do use button cell batteries so we make sure to keep a stash of LR44 batteries on hand!
When we need the best audio quality possible, or if there's any wind at all, we always use our BOYA BY-M1 lavalier microphones and the Zoom H5 audio recorder.
Tripods, Heads & Mounts
Our primary tripod is the Vanguard Alta Pro 263AB 100 Aluminum Tripod with SBH-100 Ball Head. At 5.4lbs it's not too heavy, yet is large and stable enough for our needs. There are certainly lighter, stronger tripods out there, but this was a good compromise for us in terms of price.
Even for video, we use the ball head because most of the time the camera doesn't move - but maybe one day we'll invest in a nice fluid video head.
We have a Manfrotto Carbon Fiber Monopod that's a little lighter to take hiking, but we don't use it as often as I think we would if it had a foot like the Manfrotto Xpro Aluminum Video Monopod.
If we need multiple tripods for a single scene - for example multiple sunset timelapses - or just want something smaller for hiking, then we use our JOBY GorillaPod 3K. Putting the Sony a7R III with the big lens attached is at the limit of what this can hold, but it works fine.
Belts & Bags
With all this equipment, especially in a small space like our RV, we need somewhere to store it and carry it when out exploring.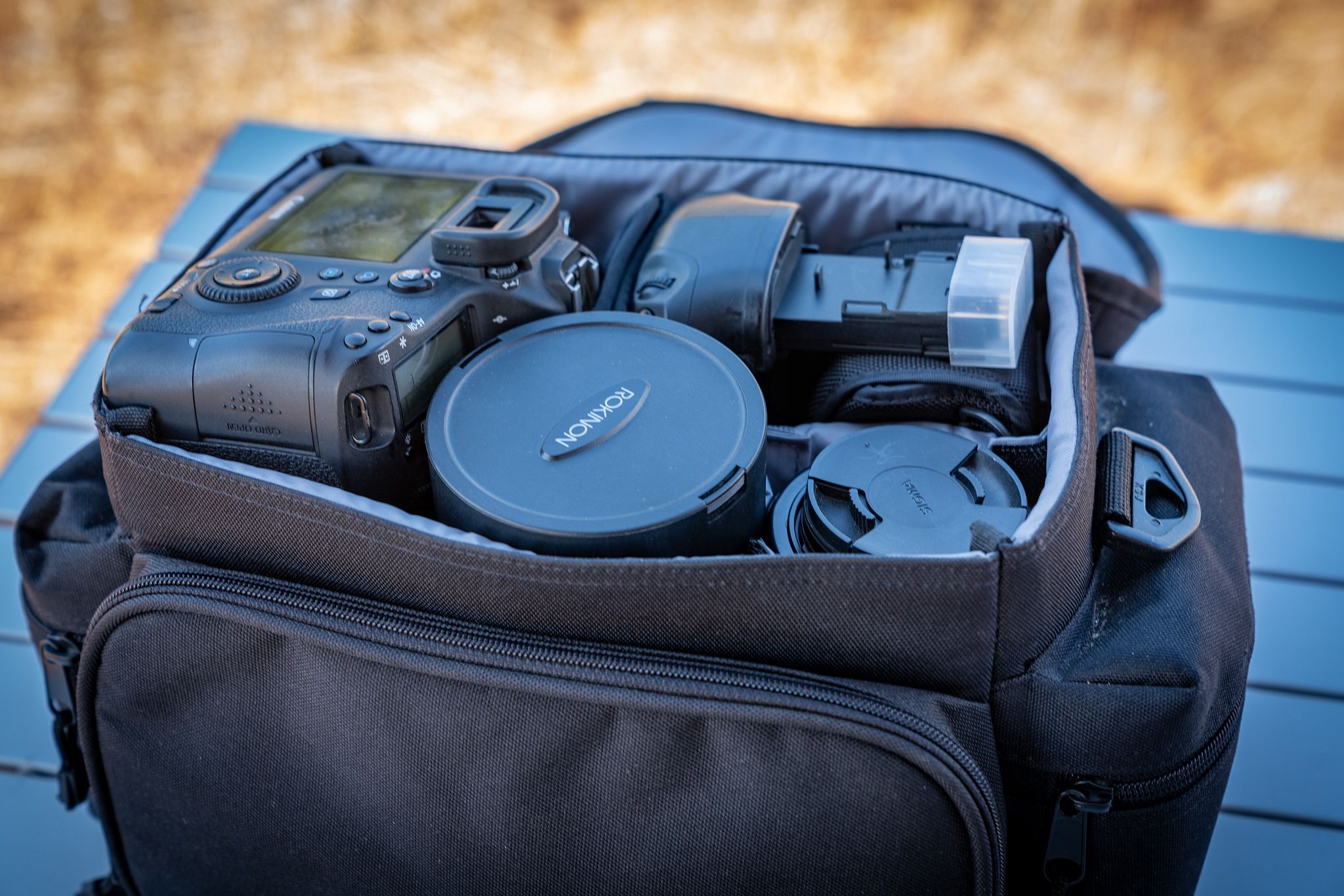 Spider Pro Camera Holster
By far the piece of camera gear we get the most questions about is our Spider Pro camera holster (apparently there is a newer version available too now).
I absolutely love this thing. After years of messing around with neck straps, shoulder bags and backpacks, I eventually found this system and I've never looked back. The holster holds the camera really securely (it has a locking mechanism too) and it doesn't bounce around when you're hiking. It has no problem holding either the Sony a7R III or my Canon EOS 6D.
I'm even tempted to buy a new one, the Spider Pro double camera holster, so I can carry two cameras at once - and give the single holster to Diana to wear as sometimes she carries the camera to take B-roll footage.
Storage Bags
To store all our camera equipment we use two camera bags, the Canon 2400 SLR Gadget Bag and a Lowepro ProTactic BP 250 AW (a slightly smaller version of the Lowepro ProTactic 350 AW II).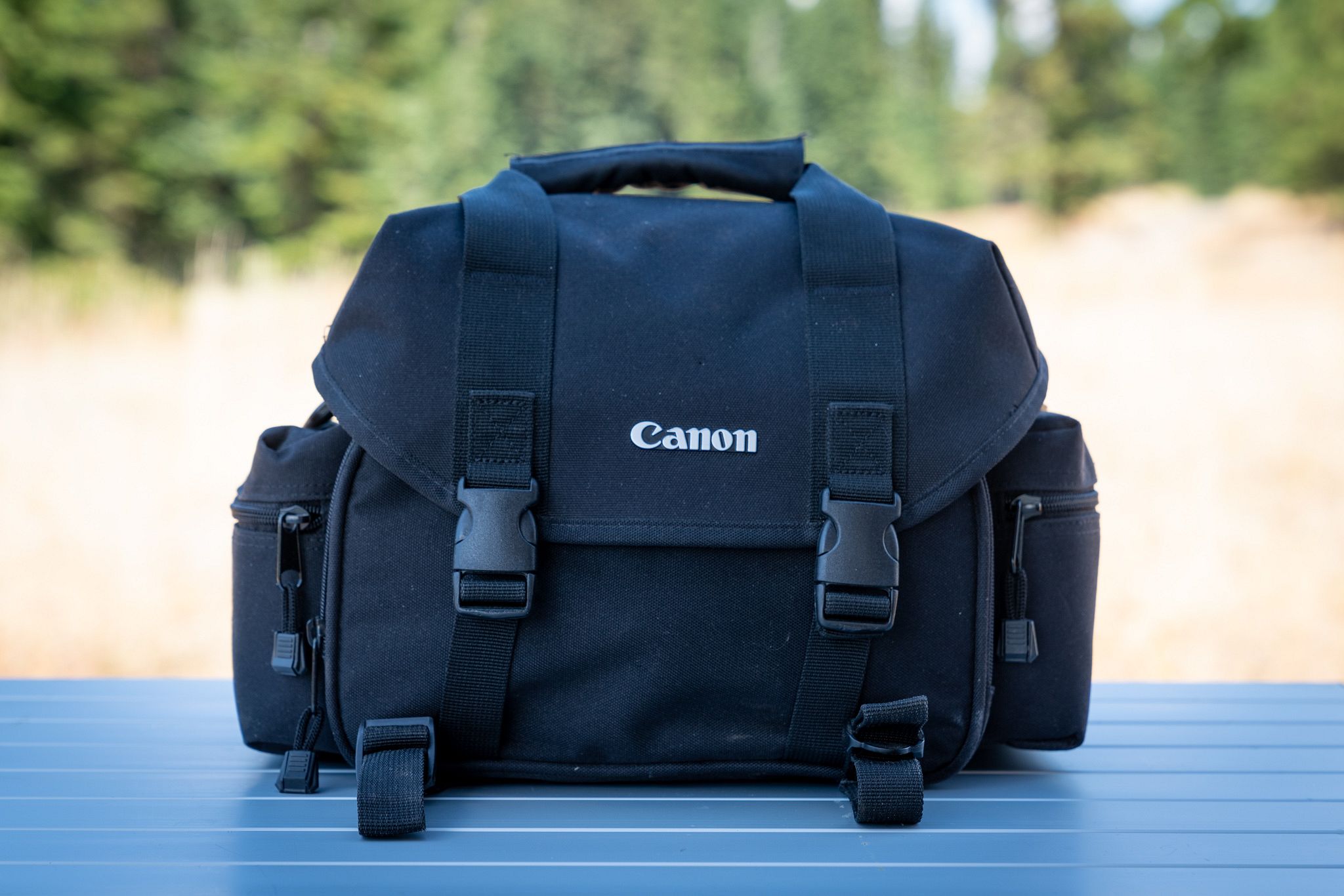 Our GoPro equipment tends to be with us most of the time, but when it's not in use we keep it in a Smatree GA700-3 Waterproof Hard Case.
Memory Cards & Storage
All these cameras need memory cards, and big ones! 4K footage takes up a lot of storage, and every single RAW photo on the Sony a7R III takes up 83MB - since it can burst at 10fps, it will eat up 1GB of memory card capacity in a little over a second!
MicroSD Cards
The Sony a7R III has two memory slots, and the primary slot is able to take a UHS-II card for higher writing speeds. I have a 128GB Sandisk Extreme Pro UHS-II SD Card in there. That can hold about 1,400 photos.
Almost all our other memory cards are microSD cards, and we just use an adapter if the device takes SD cards. We've acquired lots of different microSD cards over the years, but have had good success with the 128GB Samsung microSD Evo Select cards.
Memory cards are becoming so cheap nowadays that we never buy anything smaller than 128GB, and we'll probably step up to 256GB or larger as they continue to fall in price. Using similar microSD across all our devices makes it easy to have spares on hand in case one is damaged or we need more storage.
SD Card Storage
We try and be disciplined about copying photos and video footage off the memory cards after each day of filming. Once we've copied the files off and backed up the images to two drives, we put the cards back in the cameras and format them.
However, we also keep several spare memory cards on hand in case we need extras, or simply because we have some spares we've picked up over the years. We've been very happy with the Kiorafoto Professional Water-Resistant Anti-Shock Holders - they're compact and store SD cards (or microSD cards in their adapters) securely.
Hard Drives
I'm not joking when I say all the footage takes up a lot of space. In our sticks & bricks house, we had a NAS that we could store our files on, but that's not practical in an RV - particularly the always-on electrical demands and vibration when traveling.
Instead, we now use external hard drives. Lots of external hard drives. Everyone has opinions on which brand of hard drive they find most reliable, but in our experience, Western Digital has worked well for us.
We're fans of the WD 4TB My Passport Portable External Hard Drives. They come in a range of colors, and are reasonably priced for the size of drive. We don't use them for editing, but just for storing raw and completed footage.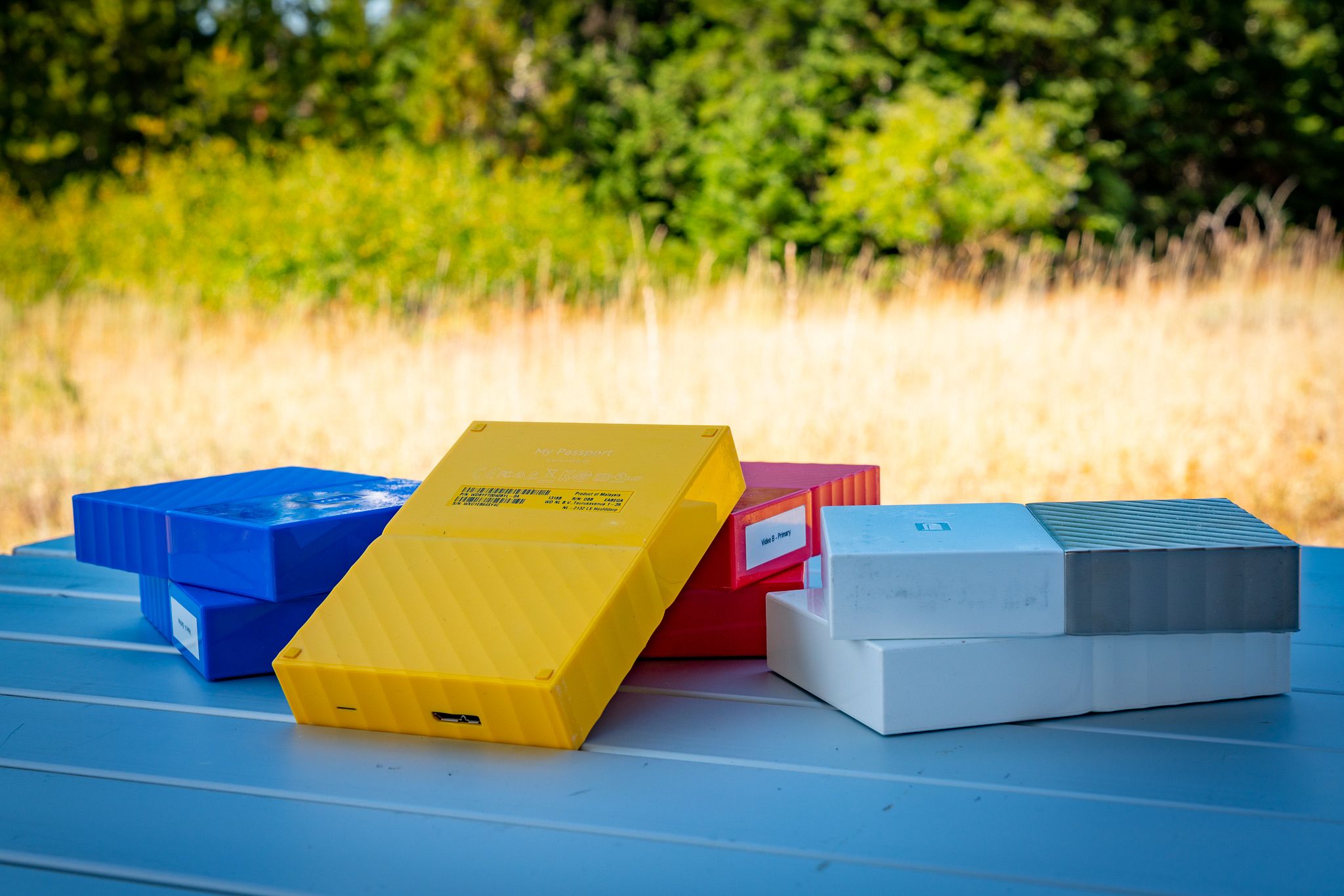 Diana is the main user of these (she manages all our video footage), and manually copies all the video footage to two different drives - so we essentially have two identical copies of everything. Right now, we have 12 of these 4TB drives - that's 48TB in total!
A key part of all having so many drives is to keep track of which is which, so we use a label maker to ensure they're all clearly labelled.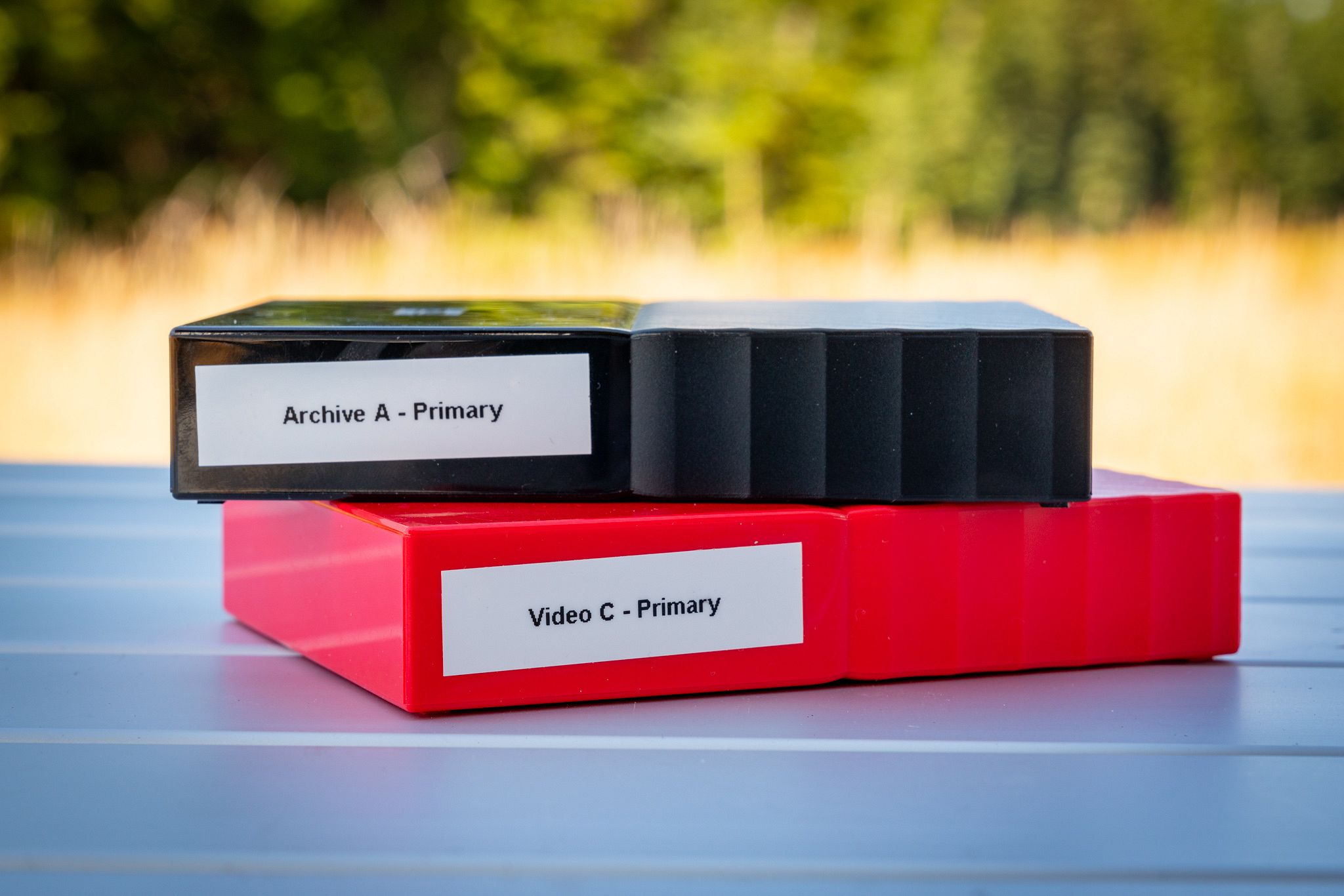 Editing is done locally, either on the laptop drive or an external SSD - Diana uses a 1TB Samsung T5 Portable SSD and I use a SanDisk 2TB Extreme Portable SSD.
Conclusion
Yes, we carry a lot of gear. But we use the majority of it regularly - on a weekly basis at least.
We are fortunate enough to be traveling to, exploring, and staying in some of the most beautiful areas that the US has to offer - plus some international travel too. Having camera gear that is high quality, but still portable and easy to use, helps us to share that journey with you.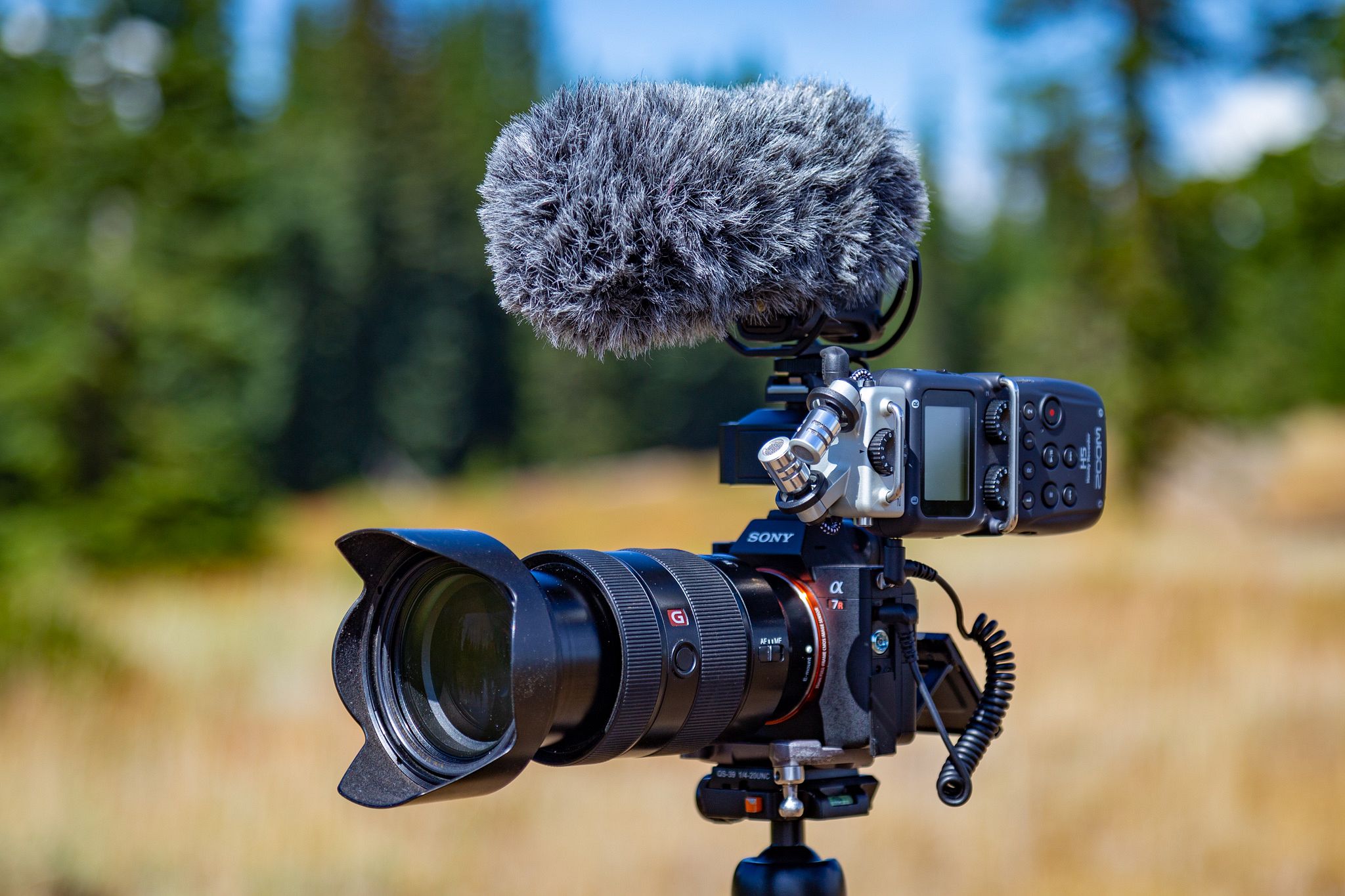 If you haven't already done so, make sure to check out our YouTube channel and let us know what you think!
What's your favorite piece of camera gear for photography and videography in the outdoors? Let us know in the comments below.