November was a whirlwind of a month. We knew cold weather was coming, and had a long to-do list to work through before leaving Vermont on December 1st - the date we had agreed we'd be checking out of the Green Mountain Family Campground where we had been staying more than a year!
Wrapping Up
Originally, our plan had been to get as much work done on the property as we could before Thanksgiving, and then we'd use the few days after Thanksgiving to get things packed up and ready to leave. We were having a lot of fun playing working with our new sawmill.
Our goal was to mill as much pine as possible so it could dry over winter (yes, green wood can dry even in freezing temperatures) and would be ready for us to frame out the solar kiln we had started building.
But as we worked, checking items of our to-do list, we realized that leaving the packing up until after Thanksgiving was cutting things tight. Packing up meant moving everything we could into our shipping container and winterizing it - changing oil, drain fluids, removing wheels (preventing flat-spots and theft!), etc.
Then everything smaller would be taken to our climate-controlled storage unit. Not to mention all the work to prepare our RV for travel having barely moved for 9 months! What if it rained or worse, snowed, for those days? Packing away would be miserable, and storing things wet is a recipe for rust and mold.
No, our plan was too ambitious, so rather than stress ourselves, we stopped work early and began our preparations to leave in mid-November.
Thanksgiving
By the time Thanksgiving rolled around, we had completed almost everything on our checklist - the tractor and sawmill were winterized and securely locked away in our shipping container, the equipment trailer had been immobilized, the lumber piles were tidy and secure, everything valuable that we could move was packed in our heated storage unit and the RV was just about ready to roll!
In retrospect, we made a good decision to bring our plans forward and not leave everything to the last minute. We were able to enjoy a relaxing Thanksgiving without worrying.
Thanksgiving itself was dry, but by Saturday a thick layer of snow covered the ground. Packing away in this would have been miserable. As it was, we spent a couple of days relaxing, before one final visit to the property for a hike around in the snow and to say goodbye to our neighbors.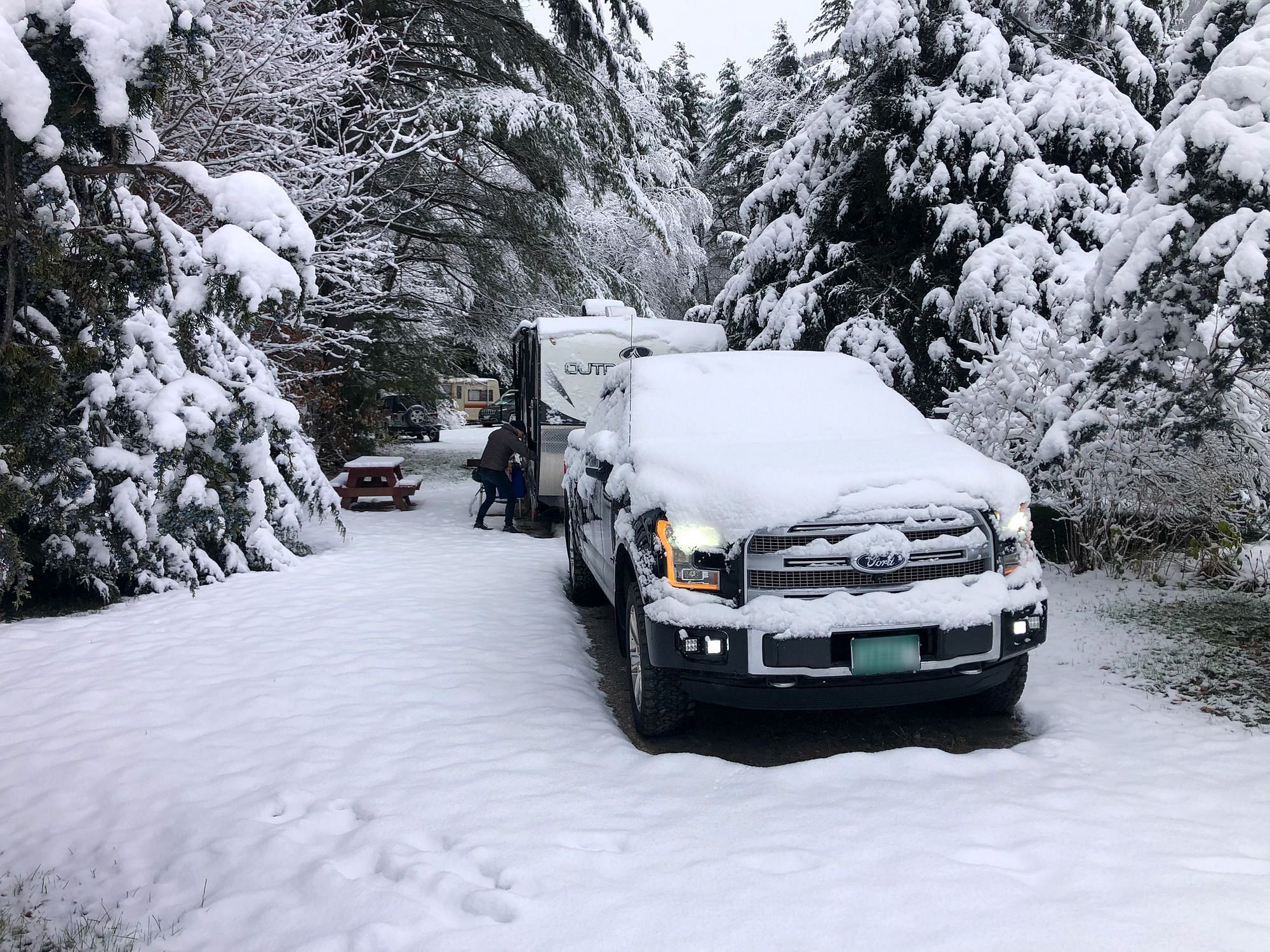 Leaving Vermont
Soon enough though, it was time for us to leave. We were checking out on Wednesday morning, and would be heading to upstate New York to stay with our friends for a week or so. We didn't need to leave desperately early, but still wanted to get on the road sooner rather than later.
On Tuesday afternoon we finished our preparations - including clearing the RV roof of snow and excavating the door mats we'd forgotten to pack away before it snowed!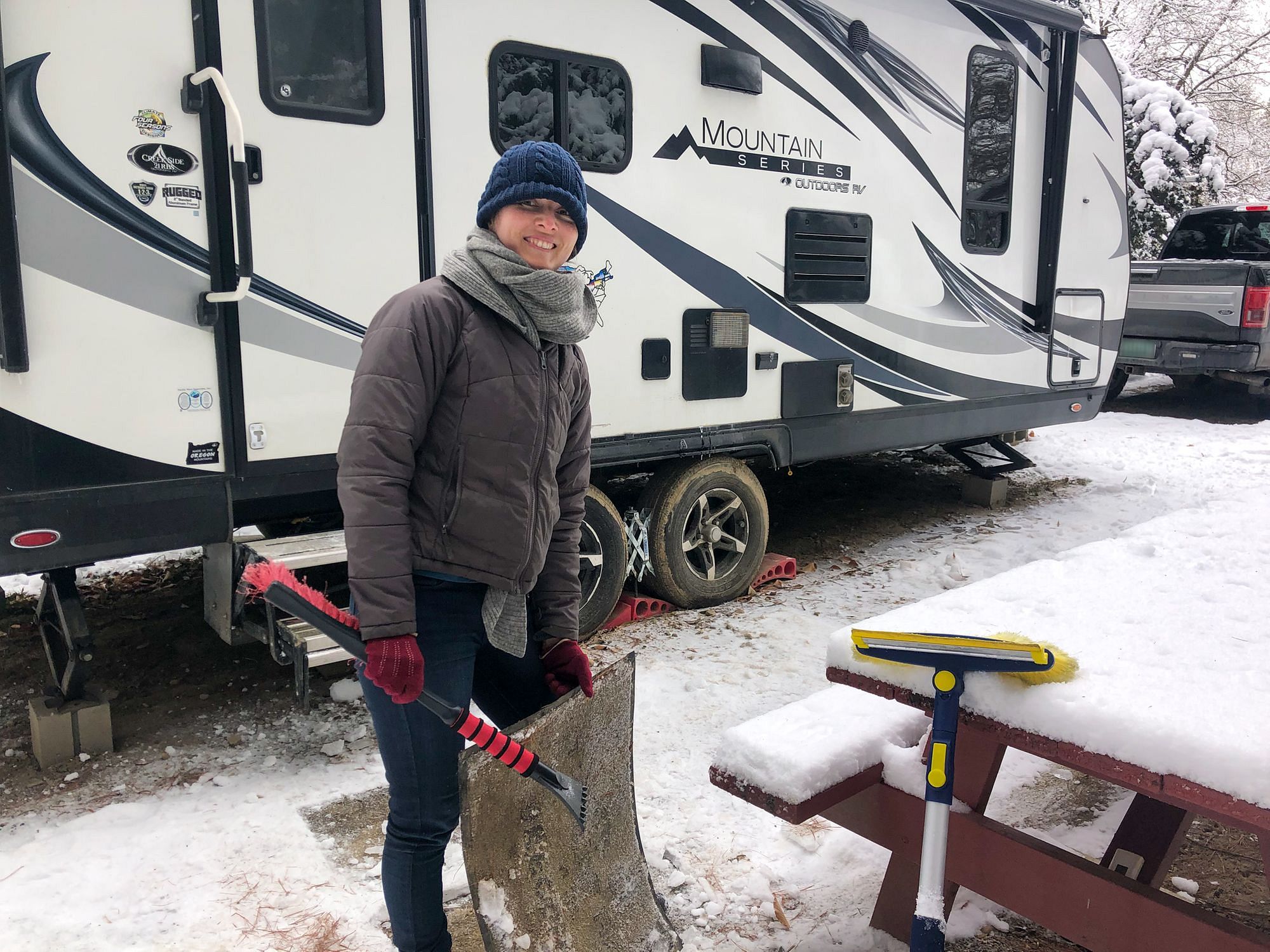 Hooking up on Wednesday morning was relatively uneventful - it had been a long time since we'd done it so we weren't a slick as we used to be, but we took our time and before long we were ready to roll. The only challenge was removing the concrete blocks that were frozen to the ground!
Moving the RV, however, wasn't quite so simple. The site we were in slopes up to the campground road, and that road then slopes downhill. The road hadn't been plowed since the snowstorm at the weekend, and the campground traffic had turned it into slick ice. In fact, that morning when the person from the propane company came to remove our large propane tank, both of us slipped and fell on the ice!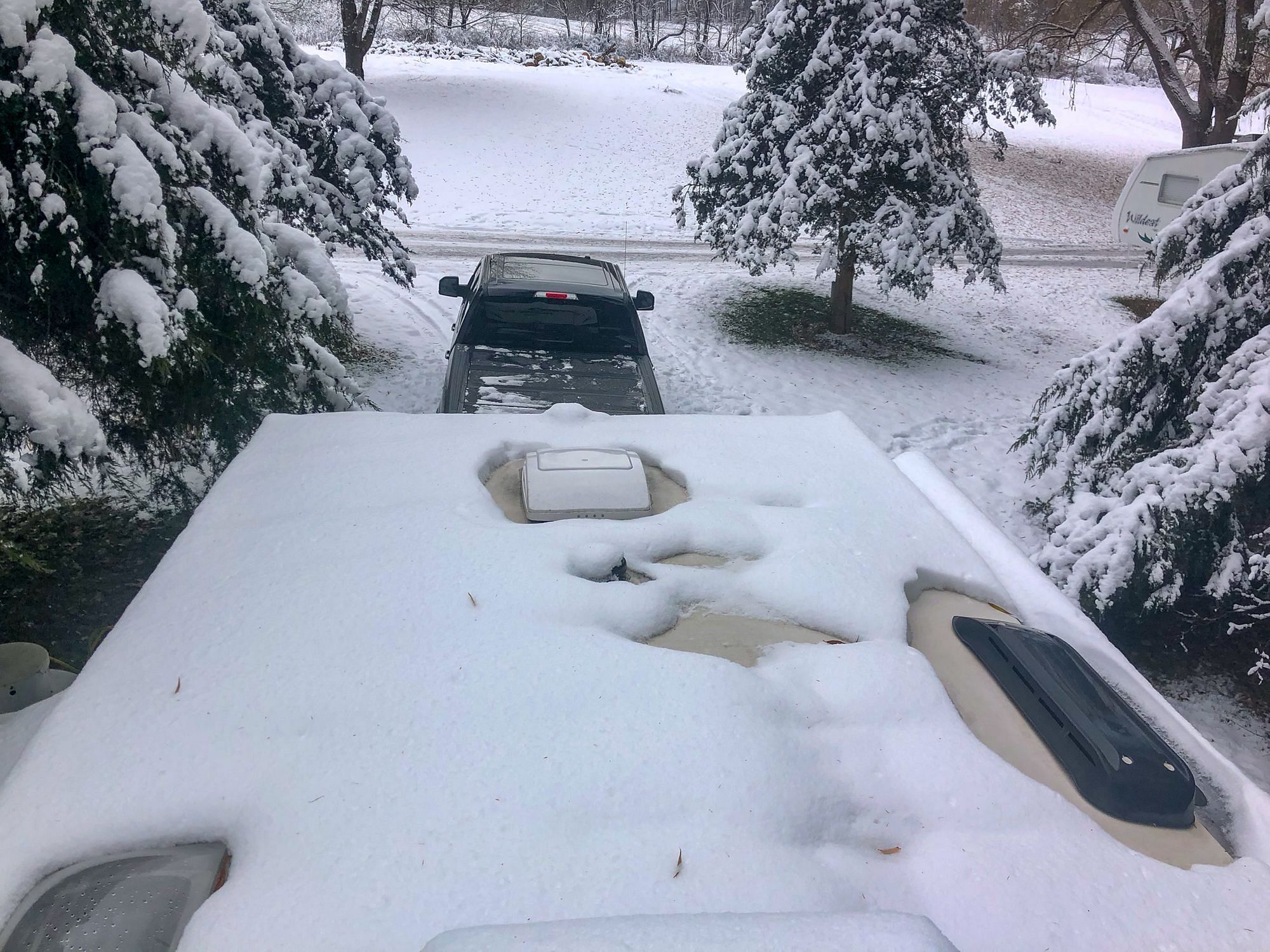 My first attempt was unsuccessful - without enough momentum the truck couldn't find the traction to pull the RV up onto the road and the wheels began to spin. For my second attempt I accelerated a little harder and managed to get over the hump and up onto the road. At which point both the truck and trailer began to slide diagonally down the icy road!
Fortunately we were prepared for this and I was able to turn the truck into the slide and slow us to a stop. From here we proceeded (incredibly) slowly down the icy road to the campground exit. Even with a brief stop to drop off a bag of trash, I'm pleased to say we made it without incident!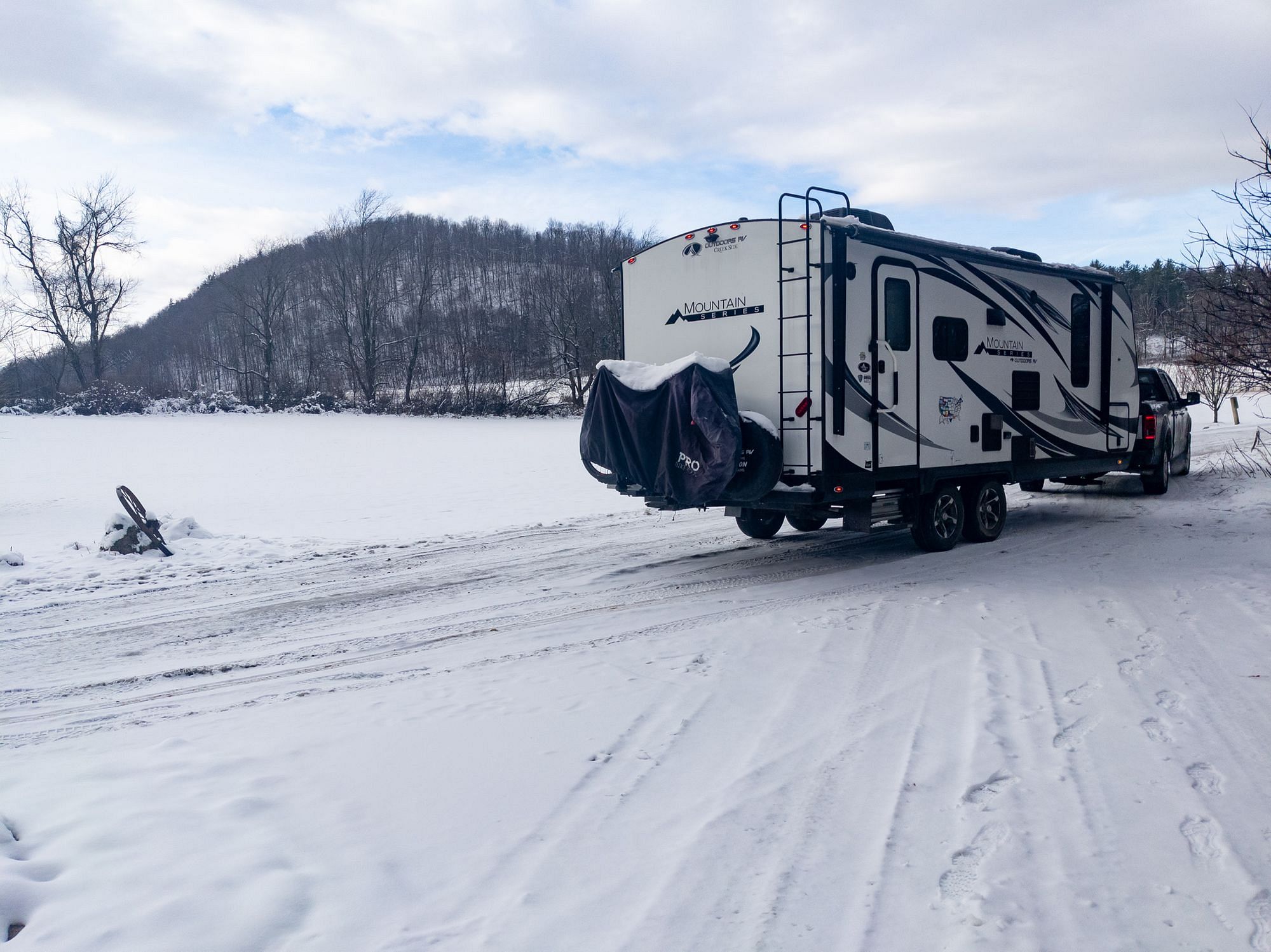 Back on the road I had to remember what it was like to tow our trailer! After not towing for so long it definitely felt odd, but within an hour or two I had settled into my groove and we were making progress.
New York, New York!
Several hours later we arrived at our destination in New York. We have a reserved spot on their driveway with 20A electric hookups. They do have water if we need it, but no sewer. We would be there for a week and we're quite happy to dry-camp for that long, although since we were able to use their bathroom and were eating meals with them, we could easily have gone for much longer!
It was wonderful to see them again, and honestly it was nice just to be able to relax a little. We also put our truck to good use to help them collect a Christmas tree.
We did have one job to do though - find a campground for winter! Yes, although we've been saying for months that we would be spending the winter in Virginia, we hadn't even begun to look at campgrounds, let alone booked anywhere!
While many people would want to have somewhere booked long in advance, in general, we prefer to leave things like this to the last minute. Why? In a word: flexibility. What if our plans changed? We're pretty flexible and had no real reason why we had to stay in Virginia, so why commit?
We looked at dozens of campgrounds - and a particular thanks to everyone on our mailing list who emailed us recommendations! In the end we narrowed it down to a shortlist of three, based on location, price, cell signal reports and reviews. Our first choice had no availability, but our second one did - we booked for a month!
Harvest Hosts in Maryland
We had been looking at the area around Richmond to Virginia Beach, which meant a drive of well over 500 miles. While we're no strangers to long travel days, we decided to break this journey into two days, and stop over for a night somewhere
We have a map on the side of our RV, and we attach stickers for each state we've been to. Everyone has their own definition for what constitutes a visit to a state, but for us the rule is that we've spent a night there since we started RVing (i.e. we don't need to stay there with the RV).
Which meant we had the opportunity to check off a new state! We already had New York and Pennsylvania, and there was no point stopping in Virginia since we'd be staying there anyway, which left ... Maryland (technically we could have taken a different route and picked up New Jersey or Delaware, but we wanted to stay west)!
On long travel days we prefer to use travel plazas (not truck-only stops) - they're free, conveniently located, often have RV-specific areas to park, typically don't need to unhook, and it doesn't matter what time we arrive or depart.
But when we're not pushing quite so hard, we prefer somewhere a little nicer, and Harvest Hosts fits the bill. We stopped at our first Harvest Hosts as we crossed the country from coast to coast back in August 2020. Since then the network has expanded significantly, and we had no problem finding somewhere to stay!
We booked a night at BlueLand Farm near Frederick, MD - just a short detour from our route. The deal with Harvest Hosts is simple - it's free to stay but only for one night and you're asked to buy something from the host (usually a farm, vineyard, brewery, museum, etc). They also typically have a "check-in by" time, often 5pm or earlier, which is why we don't use them on long travel days when we might not stop driving until gone 9pm.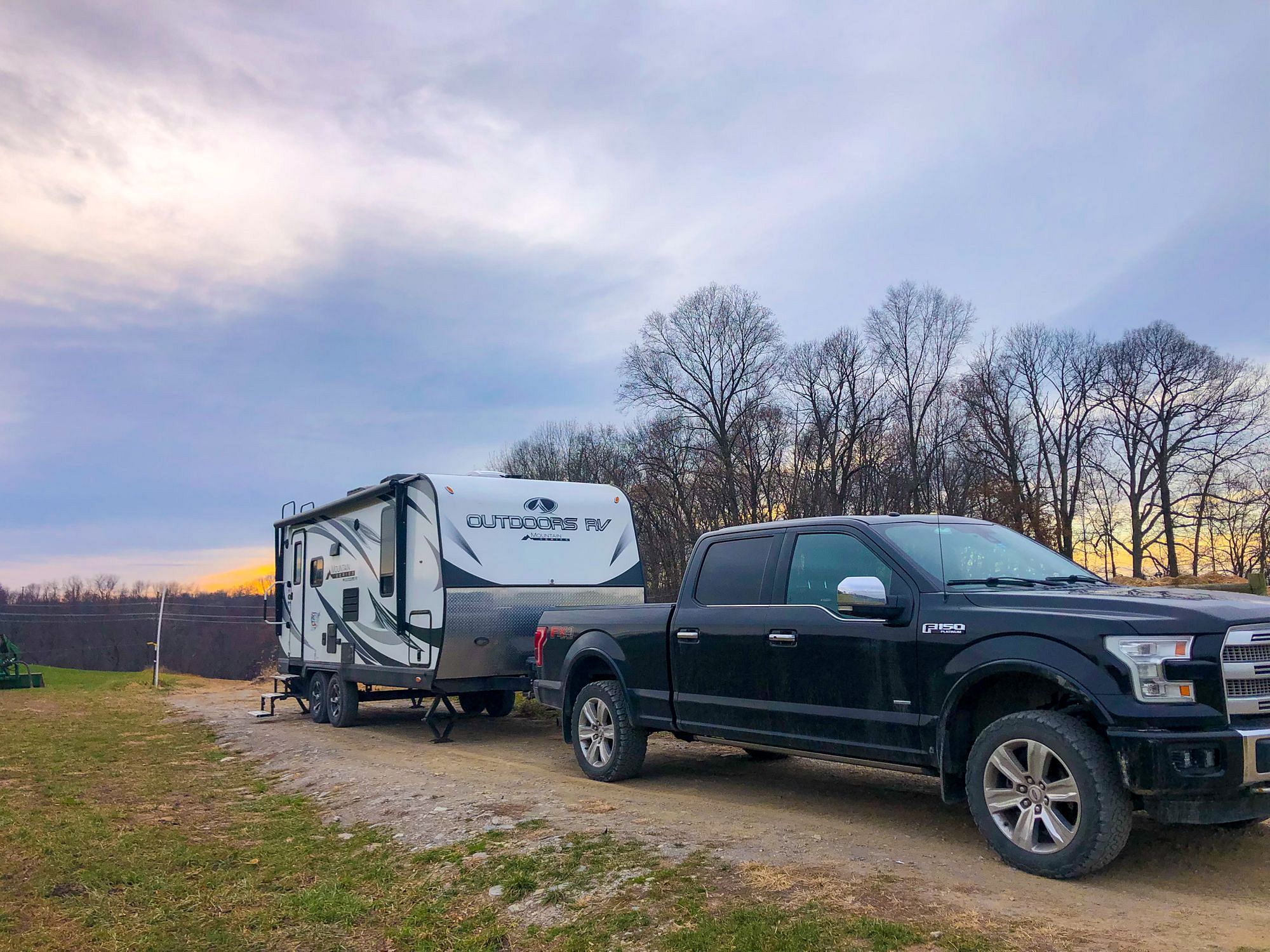 In our case, we had no problem arriving by 3:30pm as requested by the host. We parked the RV and were pleased to find that not only was it almost perfectly level side-to-side, but also that we only needed to slightly raise the tongue to level it front-to-back so we didn't have to unhook the truck either.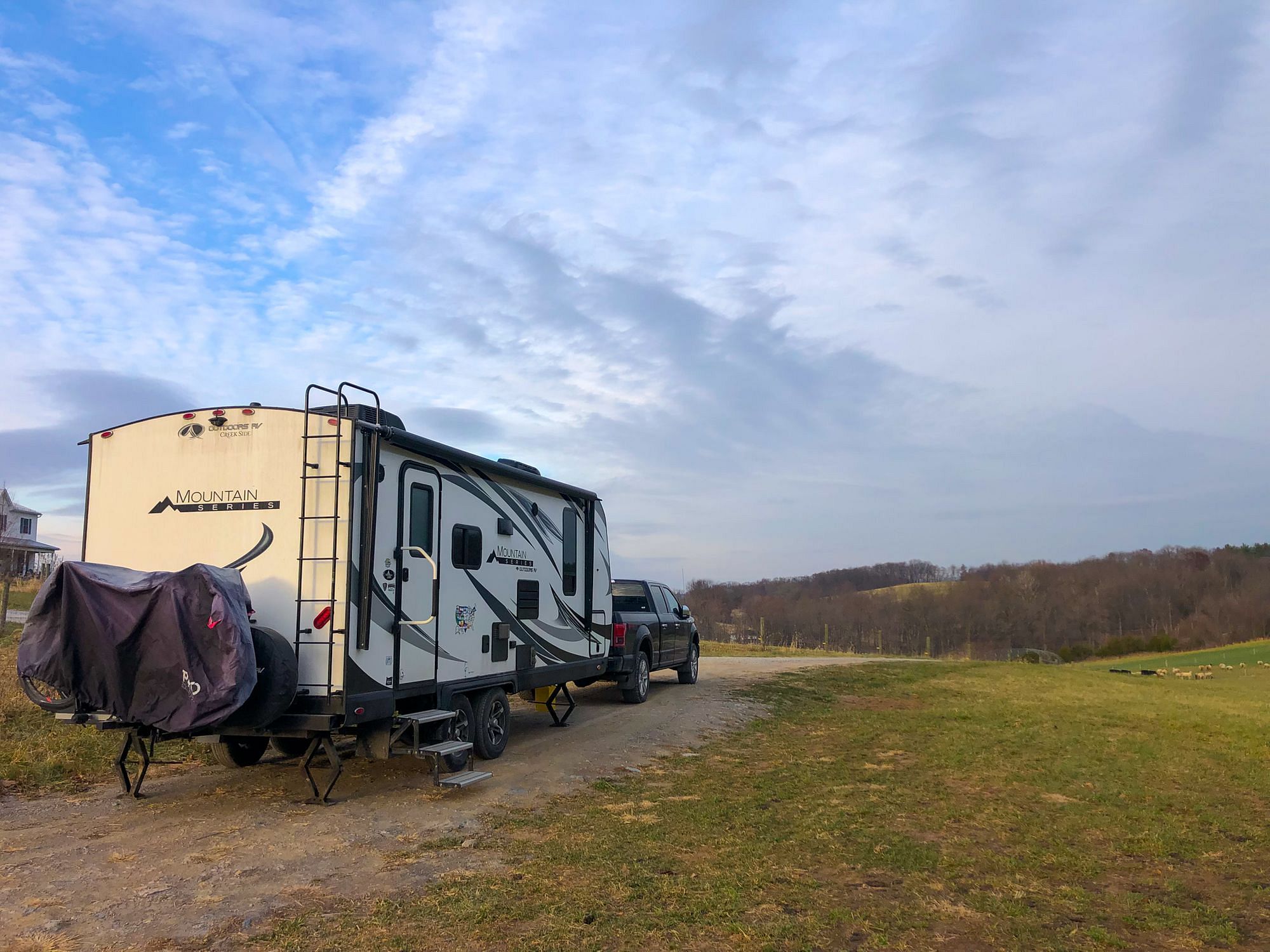 As is customary, we went and said hello to the host and bought some delicious farm products - fresh eggs as well as some frozen lamb chops and stewing lamb. We had 2 of the lamb chops for dinner that night - they were delicious!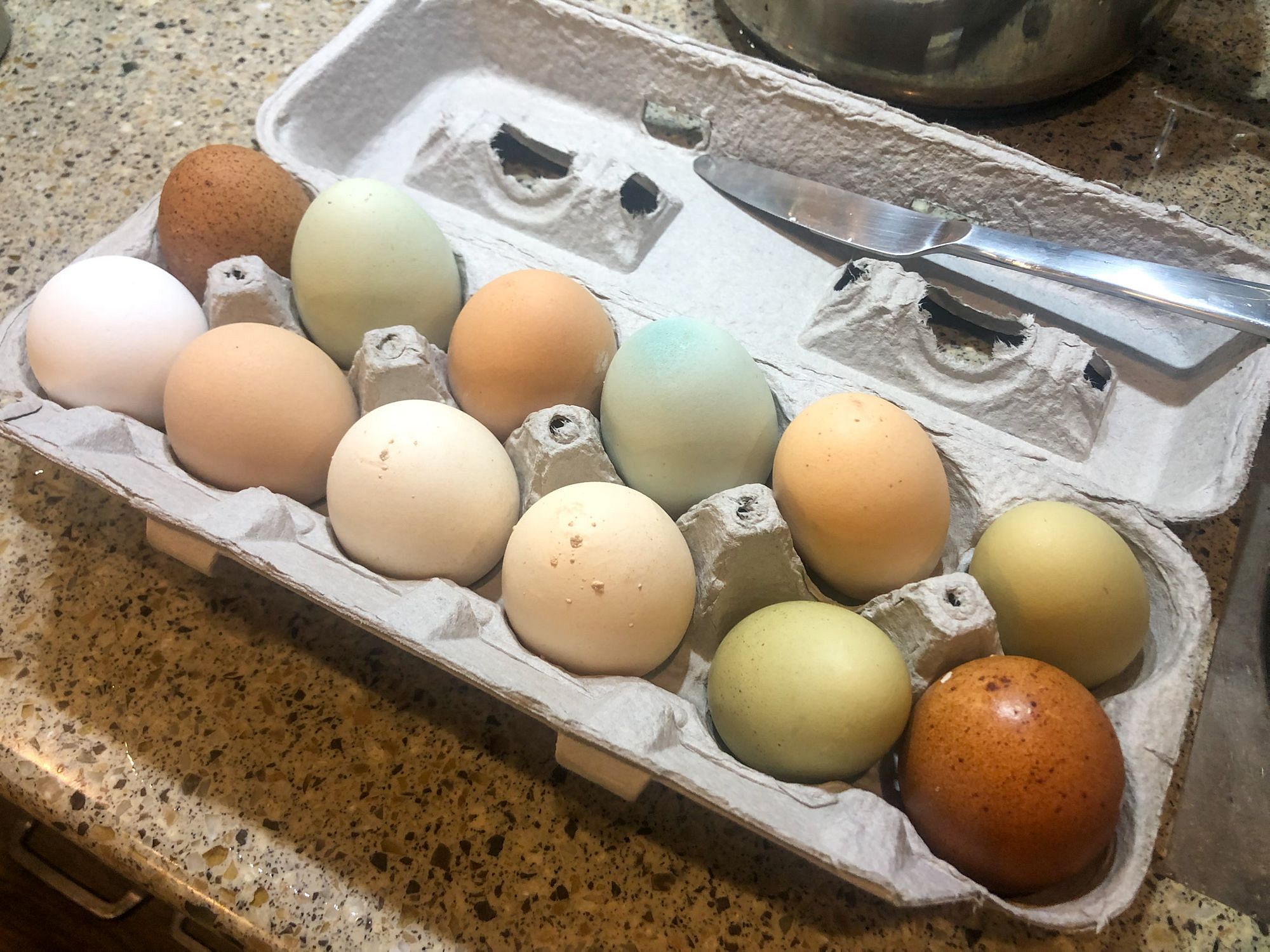 Virginia
Thanks to the easy parking situation at the farm, it took us less than 10 minutes to get rolling the next morning. We soon crossed the state border and continued our journey south. But we had two stops along the way.
First, Discount Tire near Fredericksburg, VA.
If you've been following us for a while, you'll know that we're no strangers to changing tires - it's almost inevitable when you live on the road! On our journey back from Oregon earlier in the year, we noticed one of our trailer tires was wearing unevenly, with that particular wear pattern suggesting a bent axle.
Our last stop before leaving Oregon had been to Les Schwab to have our bearings repacked. The tires were fine when we went there, yet 2,000 miles later this particular tire was so badly worn that we decided to swap it out for the spare for the remainder of the drive to Vermont.
However, having put almost 1,000 miles on the spare tire and seeing no signs of uneven wear, I'm inclined to think (and hope!) that the axle is fine and maybe the wheel wasn't torqued evenly or something. Regardless, we had had a new tire put on the old wheel, but were still running on our spare. We wanted to keep the spare tire on the trailer, but move it to the nice wheel (instead of our non-matching spare) since the spare had a similar amount of wear to the other 3 trailer tires.
So having phoned them the night before, we stopped in at Discount Tire and within an hour we were all done and back on the road. We're not sponsored or affiliated with Discount Tire in any way, but we've always had amazing service from them and were disappointed to find they don't have any stores in New England!
Our second, and final stop of the day was a truck wash. Our trailer was filthy anyway, and combined with the brutally corrosive salt and chemicals they use to treat the winter roads in Vermont, we were keen to get it washed ASAP!
We called ahead to Blue Beacon on I-95, north of Richmond and they said they weren't too busy, but by the time we got there, a huge line of semis had formed and we were told the wait was likely a couple of hours.
Not wanting to wait that long, we instead headed a few miles south to Keep 'em Clean Truck Wash in Doswell, VA - apart from the semi being washed, there was no line! We paid $90, including tip, for a full wash and spray wax of both the truck and trailer. They did a really nice job and both vehicles came out looking a lot cleaner than they have done in a long time!
From there it wasn't much further to our campground. With riverside views from our window, this campground is absolutely beautiful!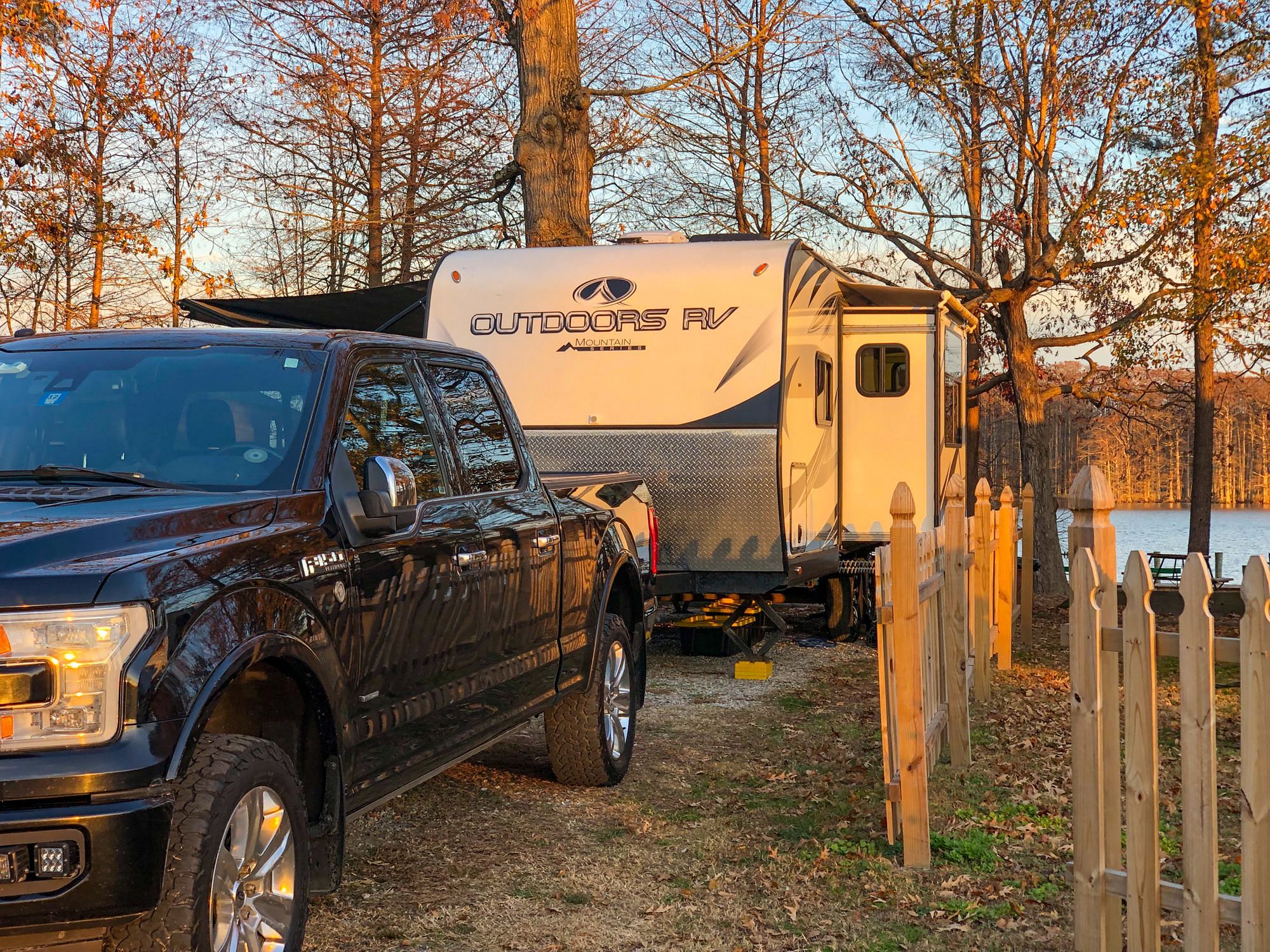 As always, we prefer not to share where we're staying until we've left - in this case, that will be some time in January. It was nice to roll into the campground with a clean truck and trailer though!
Virginia is much warmer than Vermont was (it was over 70°F on Christmas Day and we even turned on the AC at one point) but temperatures overnight can (and do) still dip below freezing. As such, we deployed our NoFreezeWaterHose heated fresh water and sewer hoses.
We took our time with hooking up, making sure everything is completely level and secure to minimize any wobble in the RV - after all, we'll be here a month so we want to be comfortable!
The last few weeks we've just been unwinding, which is why you haven't seen too many blog post updates or email newsletters! It's been a much needed break after the hectic whirlwind of activity in November.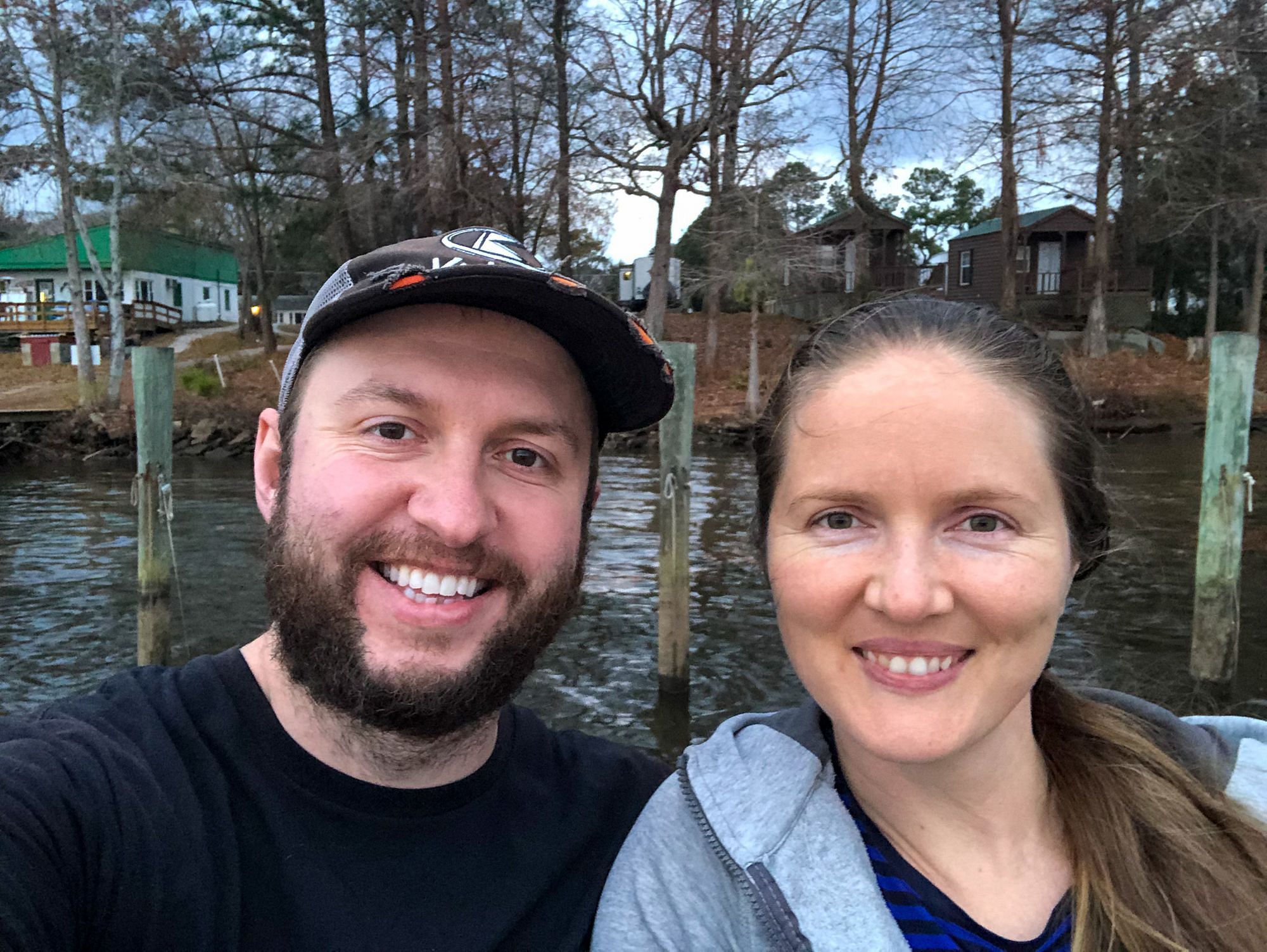 As I sit here writing this now, we've just enjoyed a lovely, relaxing Christmas. As has been the case the past few years, we've happily celebrated Christmas on our own - Diana's Latvian-inspired celebration on December 24th, followed by my own British version on December 25th.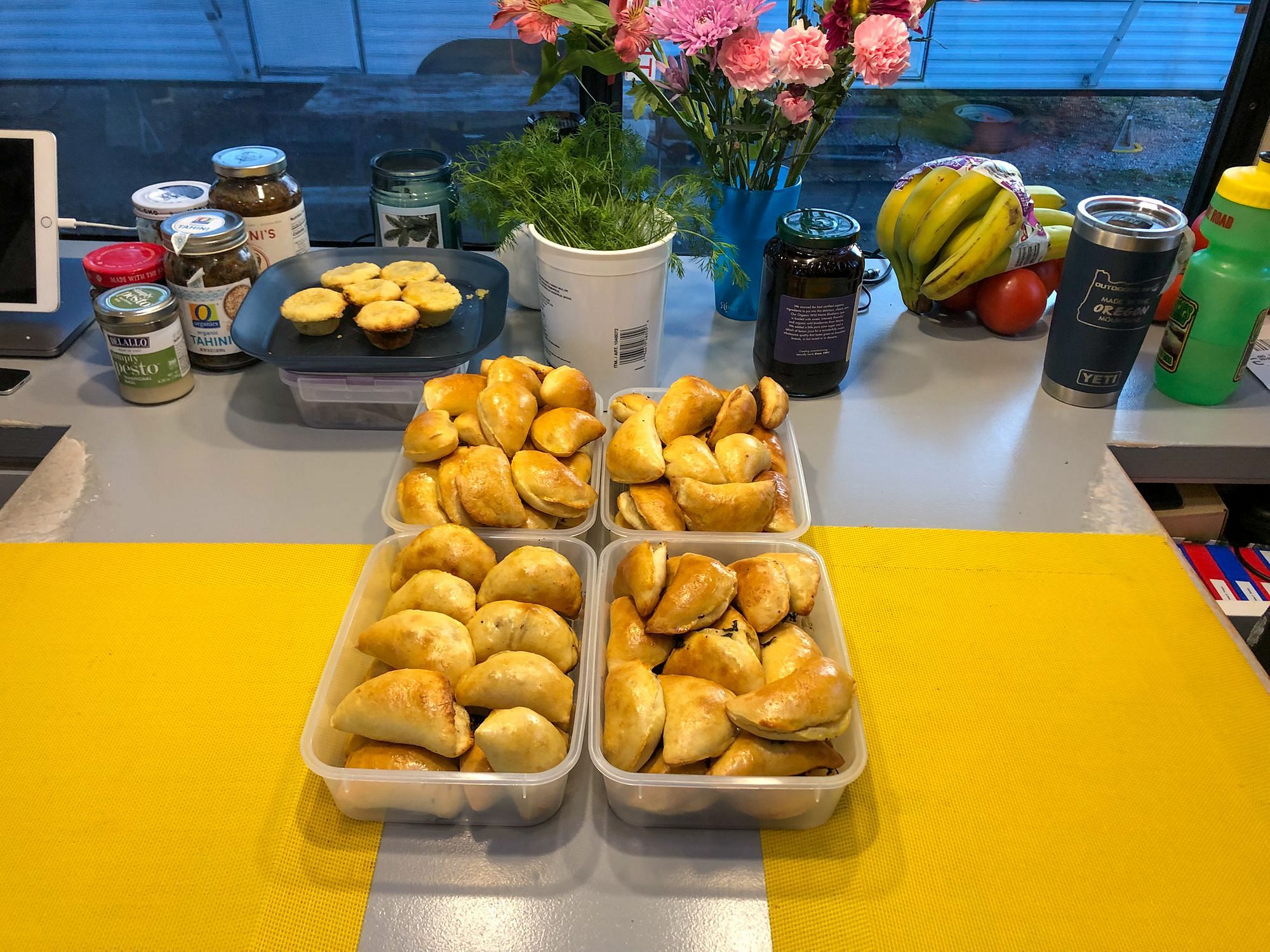 We've cooked (and eaten) far too much, and are left wondering how we're going to use all those leftovers - as always, we're determined not to throw any food out!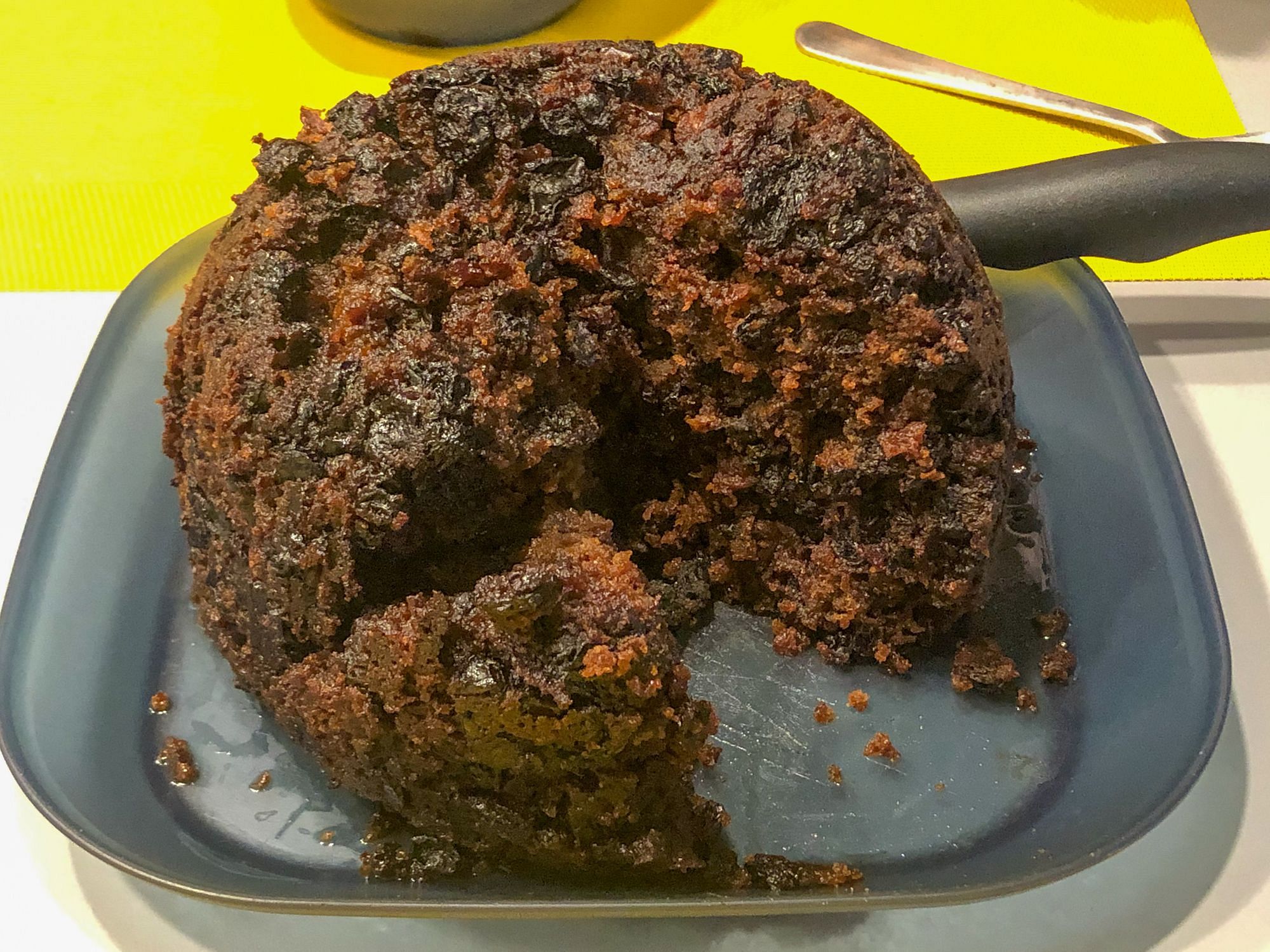 Property Update
Even though we're not in Vermont, things have still been progressing in our absence.
We've heard from the state that our Current Use Exemption application (this is what we need to begin clearing trees) had been lost after they first received it, but they've found it now and they should be processing it imminently. While disappointing to hear we had a needless delay of 6+ weeks after they lost it, at least it's moving again now.
Meanwhile, our Wastewater Application has been finalized, signed and approved and should be going in this week. That's a big milestone as not only does that lock in our site plan, but an approved Wastewater Permit is a dependency for our Zoning Permit, which is what we need before we can start developing the site - bringing in utilities, excavating, building, etc.
While things are obviously slowed by the holidays, fingers crossed we'll see some movement in the coming weeks, and hopefully we'll have what we need by the time we return to Vermont in spring.
Next Stop: Florida
Although we're in Virginia now, we're not staying here all winter.
As always, nothing is finalized (or booked) yet, but our plan is to leave this campground in mid-January, put our RV into storage and drive down with just the truck to Florida to visit the RV Supershow in Tampa, FL! Several of our friends as well as some companies that we work with will be there, and it's been a very long time since we've seen them!
From Florida, we then plan on driving all the way to Houston, TX. When we became full-time RVers we established residency in Texas, and we still have a storage unit down there with things we emptied from our house in California.
We've been looking for the right opportunity to go to Texas and empty out the storage unit, and this winter seems as good a time as any - it avoids wasting a week of good building weather next summer!
The plan is to empty the storage unit into a U-Haul trailer (which is why we're leaving our RV in Virginia) and then drive that all the way back to Vermont and unload it into our storage unit there.
By that time it'll be late January, still a month or so before we want to be returning to Vermont (we're provisionally targeting March 1st). Although we do plan to rendezvous back with our RV in Virginia, we're toying with a few ideas along the way first!
Phew - that was a long post! Wherever you are in the world, I hope you had a wonderful Christmas and were able to celebrate with those you love most! Stay safe!